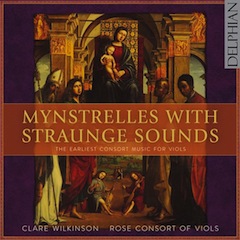 26. MYNSTRELLES WITH STRAUNGE SOUNDS: THE EARLIEST CONSORT MUSIC FOR VIOLS, Clare Wilkinson, Rose Consort of Viols (Delphian)– The consort of viols developed around the turn of the 15th century, in the years before and after 1500. This new disc on Delphian presents music from some of the earliest manuscripts surviving as performed by the Rose Consort of Viols (John Bryan, Alison Crum, Andrew Kerr, Roy Marks) playing a set of modern instruments reconstructing those earliest of viols; joining them is mezzo-soprano Clare Wilkinson. The music ranges from the earliest Italian manuscript to the Spanish court and eventually to England. Several pieces are anonymous, but among the listed composers are Josquin des Prez, Francisco de Penalosa, Alexander Agricola, Juan del Encina, Johannes Martini, Joan Ponce, William Cornysh, Juan de Ancieta, Henricus Isaac and, yes, Henry VIII.
Many of the pieces here are indeed short, and often quite folk-ish in sound. The overall sense is of lyric melancholy, doubtless due to the viols' mournful sound. Juan del Encina's Triste espana, possibly a lament for the death of Prince Juan in 1497, is one of the finest of the hauntingly elegiac pieces. Other songs, such as the anonymous Fortuna desperata, have clear links to the French chansons. The accompaniments are not homophonic and you sense composers using polyphonic vocal music as a model, so that one part sometimes shadows the voice and sometimes there is a strong counter-melody in the tenor. The livelier pieces, like Josquin's Fortuna desperata, use the viols' superb articulation to surround a quite lyrical vocal line with a lively accompaniment. Some of the later items on the disc are in fact positively upbeat, such as William Cornysh's Fa la sol, which uses the example of Agricola and others to create a substantial piece. We have to imagine Catherine of Aragon and Henry VIII sitting listening to this, or perhaps joining in…or even dancing!
Adieu Mes Amours, composed by Josquin des Prez. Rose Consort of Viols with Clare Wilkinson (vocal), from Mynstrelles with Straunge Sounds: The Earliest Consort Music for Viols
Clare Wilkinson makes a fabulous sound–clear, even and bright, forming a lovely contrast with the viols. But I had to scurry back to the disc's booklet as her words are largely rather occluded. The Rose Consort of Viols make the music seem as fresh as it must have to those 15th and 16th century listeners. Follow this link to Robert Hugill's complete review…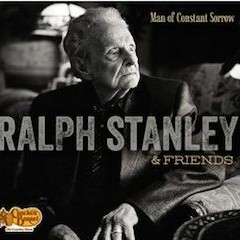 27. MAN OF CONSTANT SORROW, Ralph Stanley & Friends (Cracker Barrel Music)– The rubber meets the road immediately on this alternately rousing and stirring collection of duets pairing 87-year-old bluegrass giant Ralph Stanley with various roots-centric partners. A Resurrection celebration, "We Shall Rise," jets into Gloryland fueled by Josh Turner's jubilant vocal and a rustic Wall of Sound comprised of furiously charging banjo, fiddle and mandolin. Sometimes records get off to a fast start such as this only to get bogged down along the way, for any number of reasons, and may or may not regain that initial electrifying jolt that tells a listener serious business is underway. Not so with Man of Constant Sorrow. Under the savvy, empathetic guidance of co-producers Buddy Miller and Jim Lauderdale (the latter having a storied history with Dr. Ralph, starting with one of modern bluegrass's greatest albums, the 1999 duet classic, I Feel Like Singing Today), the octogenarian legend steps up to the mic with a bevy of mostly compatible duet partners (the lone clunker in the bunch being Elvis Costello, whose status as a roots artist remains most mystifying and who further does nothing with John Preston's "Red Wicked Wine" beyond inducing sleep in a listener) on some classic numbers and periodically cedes the lead to others on songs Dr. Stanley might well have trademarked had he wanted to. Among this latter group it's a close call indeed as to who stands out from the gathering, but a case can certainly be made for the star of the show to be none other than Dr. Ralph's grandson, Nathan Stanley, whose warm, earthy voice is a striking, powerful instrument, so full of deeply felt emotion and wisdom it sounds like it should belong to someone much older—what he does to the towering "Rank Stranger" (with harmony help from granddad) is beautiful and genuinely soul stirring. More here…
SELECTED TRACK: 'Hills of Home,' Ralph Stanley, from Man of Constant Sorrow featuring Ralph Stanley & Friends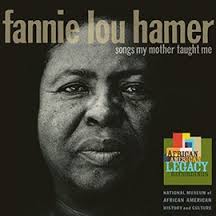 28. SONGS MY MOTHER TAUGHT ME, Fannie Lou Hamer (Smithsonian Folkways Recordings)– While it took a recent act of domestic terror for the polarizing Confederate flag to begin coming down throughout the South, let us not forget that much of the way was paved more than a half-century ago by such freedom fighters as Fannie Lou Hamer.
Hamer, who died in 1977 at age 59, is renowned for her leadership in the Civil Rights movement and specifically for her work with the Mississippi Freedom Party. Equally well known, albeit a sidebar to her life, was her talent as a religious singer. Fannie Lou Hamer was a powerful activist and a stone singer, and her authenticity in oratory and song moved thousands to action.
It is Hamer's authenticity that comes through most clearly on Smithsonian Folkways' Songs My Mother Taught Me. Part of the African American Legacy Series co-produced with the Museum of African American History and Culture, the CD is a survey of Hamer's life as told through her singing, oratory and a 1965 interview with Julius Lester. Follow this link to Bob Marovich's Album of the Week review in Deep Roots…
From Songs My Mother Taught Me, Fannie Lou Hamer leading a mass meeting in singing the Civil Rights classic 'Woke Up This Morning'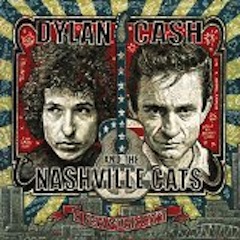 29. DYLAN, CASH & THE NASHVILLE CATS: A NEW MUSIC CITY, Various Artists (Legacy Recordings)– In 1966 Bob Dylan came to Nashville to record his double-LP masterpiece Blonde on Blonde. With that Dylan changed the thinking of a younger generation raised on rock 'n' roll, too many of whom mistakenly thought of Music City as a place where hayseeds produced music for hayseeds. Three years after Blonde on Blonde appeared Johnny Cash's weekly ABC-TV was doing nothing less than defining a whole new aesthetic for network music shows in the dazzling breadth and depth of musical artists he featured as special guests. Nashville, of course, was always more catholic in its musical tastes than many outsiders cared to admit but in the mid- to late '60s Dylan and Cash became the twin poles drawing to town a raft of great artists of various stripes to record with some of the finest studio musicians in the world. This heady time is the focus of an amazing double-CD collection that will have your head spinning from all the great music it contains.
Disc 1 has in its song selections an overriding theme of disconnects, mostly of the romantic kind, sometimes owing to idealistic pursuits of a personal and/or spiritual nature (a la "Gentle On My Mind," as well as the Beau Brummels' roiling "Turn Around" and most certainly Gram Parsons' desolate cry of alienation on The Byrds' monumental "Hickory Wind"), sometimes to pure, bitter disillusion with the whole dance (The Monkees' unforgiving rendering of Michael Nesmith's "Some of Shelly's Blues," keyed by Nesmith's own scalding vocal).
Ringo Starr, 'Beaucoups of Blues,' recorded n Nashville in 1970, produced by Pete Drake, engineered by Scotty Moore, featuring D.J. Fontana on drums and the Jordanaires on backing vocals.
Disc 2 is less thematically coherent and on balance less emotionally gripping than its companion disc. Which is not to suggest the recordings lack substance or soul. It does contain, after all, the aforementioned "Behind That Locked Door" (George Harrison), Neil's "Heart of Gold," Steve Young's classic "Seven Bridges Road," Paulie's "Sally G," the Nitty Gritty Dirt Band's "Will the Circle Be Unbroken," Dylan's "If Not for You," Ringo's "Beaucoups of Blues," J.J. Cale's delightfully greasy "Crazy Mama," among others. More here…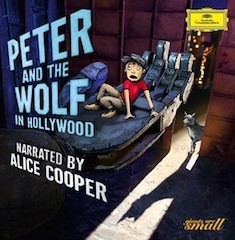 30. PETER AND THE WOLF IN HOLLYWOOD, Giants Are Small; Bundesjugendorchester; Alexander Shelley, conductor; Alice Cooper, narrator; by Sergei Prokofiev with excerpts from music by Paul Dukas, Sir Edward Elgar, Edvard Grieg, Gustav Mahler, Modest Mussorgsky, Giacomo Puccini, Erik Satie, Robert Schumann, Bedřich Smetana, Richard Wagner and Alexander von Zemlinsky (Deutsche Grammophon)– Neither recording Sergei Prokofiev's Peter and the Wolf with narrations provided by celebrities of all artistic (and non-artistic) varieties nor reimagining Classics with the goal of making them more accessible for 21st Century audiences is uncommon, but neither endeavor has produced results more delightful than Deutsche Grammophon's Peter and the Wolf in Hollywood. With the orphaned Peter relocated to the care of his Tommy Chong-esque grandfather in an idealized Los Angeles, Giants Are Small's concept places the familiar story in a context both timeless and surprisingly, menacingly, wondrously modern. Composed in four days in 1936 in fulfillment of a commission for a work designed to encourage the development of musical taste among young schoolchildren, Peter and the Wolf has in the past seventy years amassed a discography containing performances narrated by luminaries of culture and politics ranging from Eleanor Roosevelt to Dame Edna Everage. Like so many works of divergent degrees of profundity, Peter and the Wolf has retained the popularity that it garnered in the decade after its first performance, according to Prokofiev a failure played to a mostly-empty house, not because it is a simplistic piece but because it cleverly, almost unperceivably inspires listeners of all ages to think and imagine. Prokofiev's Leitmotivs in Peter and the Wolf are hardly of Wagnerian dimensions, musically or dramatically, but associating Prokofiev's melodic units and instrumental timbres with Peter, his Grandfather, and the creatures of their acquaintance is a wonderful education in the art of interpreting musical characterization. Heightening the inherent eloquence of Prokofiev's score, the heart of Peter and the Wolf in Hollywood beats not in a caricatured musical marionette show but in a vibrant, earnest depiction of a displaced young boy's journey into a frightening, turbulent new world.
Official trailer #2 for Peter and the Wolf in Hollywood introducing the new app with the album
The brainchild of visual artist Doug Fitch, filmmaker and producer Edouard Getaz, and multimedia entrepreneur Frédéric Gumy, Giants Are Small is the product of an initiative focused on engendering fascinating new frames of reference for some of the most beloved works in the repertory. The prequel narrative devised for Peter and the Wolf, establishing Peter's origins in Russia and the circumstances of his transplantation into the strange world of Hollywood, is nothing short of brilliant, an extension of Prokofiev's metaphorical story that is a thoughtful, organic addendum rather than an imposition. Imaginative moments are plentiful, but the sequence at the end of the prequel linking Giants Are Small's backstory to the adaptation of Prokofiev's original tale proves unexpectedly moving. As Peter seeks sanctuary in his bedroom and peruses his photo album, seeing photos of himself as an infant, as a toddler, fishing by a lake, with his parents, and finally alone, the listener is given a window into the boy's very adult senses of loss and isolation. The subsequent encounters with each member of Peter's new milieu, including the wolf, therefore assume the increased significance of elements of the lad's assimilation into his new existence. Aided by the voice work of Cristina Aragon as Dr. Mendoza and Fitch as the newscasters, Alice Cooper's narration is an integral component of the tremendous success of Peter and the Wolf in Hollywood. Both in Giants Are Small's prequel and Prokofiev's score, Cooper's mellifluous voice is virtually an instrument in the orchestra, used like the bassoon, the clarinet, or the oboe. Cooper's voice is an instrument for which any composer might be proud to write. It is no surprise that Cooper's musicality is impressive, but his affinity for Dickensian narration is unexpected. Follow this link to Joseph Newsome's complete review…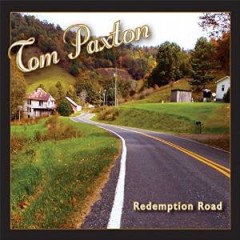 31. REDEMPTION ROAD, Tom Paxton (Pax Records)– The template Paxton constructed for himself in his early days has remained valid for him ever since. But be the topic civil rights, human rights, labor rights, environmentalism, political duplicity, racism, the 9/11 tragedy, various current events; the ways of the heart; or a fanciful tune for children (in the '90s he released nine children's albums that are too often overlooked in his body of work), Paxton has never forgotten to be tuneful and melodic or how to press his points with a gentle hand that makes his messages ever more resonant.
Tom Paxton, 'Susie Most of All,' from Redemption Road
Redemption Road's touchstones are the same as they ever were with Paxton but with a bit of a wistful quality, as the now-77-year-old artist transitions into taking stock mode. The largely serene soundscape features, in support of Paxton's warm vocals, the likes of Tim Crouch on fiddle; Pete Wasner on piano and Wurlitzer; Al Perkins on dobro; Kirk "Jellyroll" Johnson on harmonica; Kathy Fink on banjo; John Mock on whistle, among others. Harmony vocalists comprise an all-star lineup of Janis Ian, John Wesley Ryles, Suzi Ragsdale and Marcy Marxer. Paxton's old buddy John Prine makes a brief but memorable appearance singing a verse of the playful "Skeeters'll Gitcha" (sort of a sideways love song evolving out of pragmatic advice for avoiding a common summer pitfall). More here…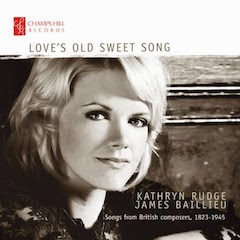 32. LOVE'S OLD SWEET SONG, Kathryn Rudge and James Baillieu (Champs Hill Records)– This debut disc, on the Champs Hill Records label, from mezzo-soprano Kathryn Rudge, accompanied by James Baillieu, is a selection of English songs from the first 50 years of the 20th century (with the exception of Britten's arrangement of "The Salley Gardens"). Where Rudge and Baillieu's selection differs from most other recitals on CD is that they have cast their net across a wide variety of composers so that songs by Edward Elgar, Ivor Gurney and Frank Bridge sit alongside those by Roger Quilter, William Denis Browne, Eric Coates, James Lynam Molloy, Ivor Novello and Haydn Wood. (Many tunes from the later years reflect their British composers' unsettling experiences in World War I; some of the songwriters actually served in WWI, in fact, notably William Denis Brown, one of the talents cut short by the War, represented by "To Gratiana Dancing and Singing," and Ivor Gurney, with two haunting tunes from the front lines, "Severn Meadows" ["And who loves joy as he/That dwells in shadows?/Do not forget me quite/O Severn Meadows"] and "By a Bierside.") You may not immediately recognize all the names in that list, but will with recognize the songs, which include "Love's Old Sweet Song" and "Roses of Picardy." Follow this link to the full review by Robert Hugill…
Kathryn Rudge accompanied by James Baillieu on Ivor Gurney's 'By a Bierside.' Gurney composed the song in August 1916, while the Gloucester regiment was in reserve between periods of front line duty opposite the Germans in Aubers, and finished it 'in two sittings, almost without effort.' Featured on Ms. Rudge's debut CD, Love's Old Sweet Song.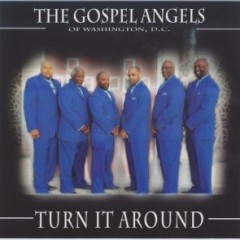 33. TURN IT AROUND, The Gospel Angels (www.thegospelangels.com)– The Gospel Angels of Washington, DC, have traveled the country and the world for more than three decades, serving up heaping helpings of church wisdom with a savory traditional gospel quartet flavor.
Some of the songs on the group's current album, Turn It Around, are newly composed, but all have an old school vibe. The whole CD rolls along like a live performance without an audience. Opening with the hip-slapping "Let Me Lean on You," the quartet blends bright tempo numbers with songs that stretch out for several minutes—-just as the group does at gospel programs where they are the headliners.
The Gospel Angels, the title track from Turn It Around
On some of the more elastic songs, such as "If I Die" and "Good Time," co-founder Preston Wiggins adds to the trad sound by preaching and shouting in his rough-hewn voice. The quartet imbues "He Gave His Life" with soft soul harmony but more often than not emulates the Violinaires' trendsetting high harmony. Follow this link to Bob Marovich's full review…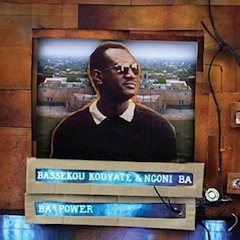 34. BA POWER, Bassekou Kouyaté & Ngoni Ba (Glitterbeat)– Blues legend Taj Mahal doesn't use the word "genius" lightly. But that's the title he gave Bassekou Kouyaté, the Malian virtuoso of the ngoni lute. And he earns it every time he takes the stage, and with each release by his band, Bassekou Kouyaté & Ngoni Ba. His vision and prowess keeps growing, and it reaches fresh electrifying heights with the group's new release, Ba Power, now being promoted via a North American tour.
"In Bambara, 'ba' means strong or great, but it also means group," Kouyaté explains. "This album is called Ba Power because the messages on it are important and strong. My ancestors played ngoni, I play ngoni, my son plays ngoni. That's my family's mission."
Made from a calabash, Kouyaté's has ngoni in his blood. But no one has revolutionized the instrument like him. Plugging in to distortion and wah-wah pedals with the instrument, he's brought the ngoni squarely into the 21st century. It's West African rock, steeped in history and stepping out into the future. It's a direction the band has been moving toward since their debut eight years ago, and with Ba Power, recorded in the studio owned by his son Mamadou, they've captured the sparking electricity they achieve in concert.
Bassekou Kouyaté & Ngoni Ba, 'Siran Fen,' from Ba Power
From the very first notes, Ba Power is a statement of intent. Recorded live, the instruments on "Siran Fen" ("Beware") crash out of the speakers, the lyrics comparing personal relations with the social strife that engulfed Mali, with Sacko's voice an impassioned, glorious wail. The disc was recorded in Bamako, Mali's capital last November, as the troubles that had torn the country apart seemed to be dying down. Follow this link to review/interview in Deep Roots…
35. B'S EXPRESSION, Al Basile (Sweetspot Records)– One of contemporary music's most literate men, Al Basile—published poet and fiction writer; holder of the first Master's Degree awarded by Brown U.'s Creative Writing program; philosopher, playwright and songwriter; and ace cornet player—has delivered another solid, thoughtful, thought provoking and funky solo album in B's Expression. A Roomful of Blues alum and frequent musical running partner to Roomful founder Duke Robillard, who produced this long player, making it an even dozen Robillard productions for Basile.
The groove is out of Memphis, and the players concocting it comprise a Duke all-star lineup of Bruce Bears on piano, Mark Texeira on drums and tambourine, and a horn section comprised of (in addition to Al) Doug James (tenor sax) and Carl Querfurth (trombone). No one will ever confuse Basile with Caruso as a singer, but his gritty, personable voice lacks nothing in feeling and commitment—you believe him when he sings; moreover, the joy he takes in telling his tales is quite infectious. Go with it, and you will not be disappointed.
'It Wasn't That Good,' Al Basile, from B's Expression, produced by Duke Robillard. Bruce Bears on B3, Duke Robillard on guitar, with Doug James (tenor sax) and Carl Querfurth (trombone) comprising the horn section along with Basile's cornet.
Al always has a point in writing a song, and many times it concerns the way people come apart, come together and all in all try to keep their own body and soul together when the sea of love gets choppy. In the CD booklet he provides concise summations of each song's theme—brief philosophical niblets of wisdom about a life lesson informing the narrative—but the execution is hardly academic. It's not every day you'll find an artist, especially a nominal blues artist, referencing Gertrude Stein but the strutting "It Wasn't That Good," with its bursts of horns and Bears's steady organ work underpinning the vocal, laments its narrator's misjudgment when it came to a certain female flame, a lesson learned too late and long after she revealed herself to be more style than substance. More here…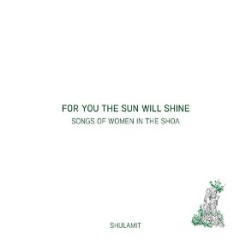 36. For You the Sun Will Shine: Songs of Women In the Shoa, Shulamit (Shulamit)— One woman's songs lay buried under the dirt of Theresienstadt, until the war's end. One woman carried her songs with her, out of the camp where she was a political prisoner. One woman remains a phantom, undocumented and unknown beyond her name and her chilling description of life in Auschwitz. They were arrested, worked to the bone, cut off from their children and loved ones, killed. Yet they never fell silent.
Their words, their haunting worlds find new life in striking interpretations by Italian-born, Jerusalem-based singer Shulamit Ottolenghi. Together with musical kindred spirits Frank London (trumpet), Shai Bachar (piano), and Yuval Lion (percussion), Shulamit sets aside the more conventional classical treatment of this repertoire for songs from the Shoa (Holocaust). These pieces sway, ache, and bite, evoking rage, heartbreak, and unending yearning on For You the Sun Will Shine: Songs of Women In the Shoa.
"My greatest aspiration is for this music to live on as beautiful music, to be appreciated as art," explains Shulamit. "It's not about fancy melodies or complicated compositions. It's about connecting with the immediate circumstances of the women who composed it, and it has the power to move people profoundly."
'The Song of Auschwitz,' Shulamit Ottolenghi, from the album For You The Sun Will Shine: Songs of Women In the Shoa
Shulamit lived and performed with these songs for ten years before she felt ready to record them. Her introduction came via Maestro Lo Toro, whose painstaking research into the music and songs written during the Holocaust helped bring many obscure works to light. Yet Shulamit was not content to render these pieces in the usual classical voice; it simply didn't feel right. More here…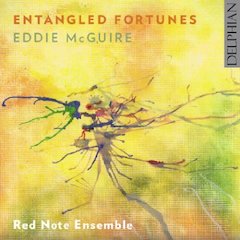 37. ENTANGLED FORTUNES, Edward McGuire, Red Note Ensemble (Delphian Records)– Edward McGuire is a Scottish composer whose music combines a ruggedly independent spirit, with seriousness of purpose and a lively infusion of Scottish traditional music. On this new disc Entangled Fortunes from Delphian Records we hear five of his major chamber pieces, played by members of the Scottish contemporary music ensemble Red Note. The works—Elegy, Euphoria, String Trio, Entangled Fortunes and Quintet 2—were created over a 30-year period and are testimony to a fertile imagination and an often creative engagement with Scottish music.
Edward McGuire (born 1948) studied composition at the Royal Academy of Music (with James Illife) and in Stockholm with Ingvar Lidholm. But these bald facts do not really help introduce his music. Perhaps of equal relevance is the fact that McGuire is a Marxist, writes music simply because he has to, and plays the flute with the Scottish traditional music group The Whistlebinkies. But whilst echoes of Scots music occur throughout this disc, the music is robustly independent and finely constructed. It eschews ingratiating obviousness; this isn't neo-folk music nor light music, and instead uses a strength of construction which requires a seriousness of purpose from the listener but pays rewards. The five works on the disc are all substantial single movement pieces, each lasting between 10 and 16 minutes. Follow this link to Robert Hugill's complete review…
AUDIO CLIP: Elegy, from Entangled Fortunes
Written in memory of the composer Eddie McGuire's father, it contains 'songs my father's male voice choir used to rehearse in our home in my pre-teenage years.' It is sparse work, thoughtful and serious in which fragments of lyric melodies, snatches of the dimly remembered songs, weave their way through the complex texture.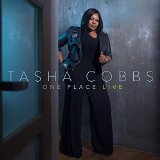 38. ONE PLACE LIVE, Tasha Cobbs (Motown Gospel)– Recorded before nearly 3,000 worshippers at Redemption Church in Greenville, South Carolina, singer-songwriter Tasha Cobbs' One Place Live is a solid follow-up to her number one CD, Grace. It actually surpasses the multi-award-winning debut album, as the worship songstress sounds more vocally confident than ever before.
On One Place Live, produced by label-mate VaShawn Mitchell, Cobbs doesn't as much lead as direct or orchestrate the flow of praise and worship. Song transitions are effortless and create a worship experience nigh perfect in its ebbs and flows.
On "One Place," Cobbs declares: "I'm here because I want to be/I'm here because I choose to be/I'm here because I love to be." With One Place Live, Tasha Cobbs is here because she deserves to be. The melodic songs, the expert pacing, and the strong singing make this one of the best gospel albums of the year. Follow this link to Bob Marovich's full review…
From One Place Live, 'Fill Me Up,' Tasha Cabbs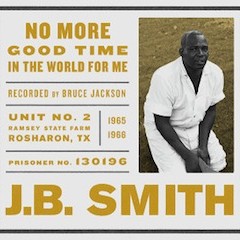 39. NO MORE GOOD TIME IN THE WORLD FOR ME, J. B. Smith (Dust to Digital)– There is something bone chilling about hearing lonesome blue notes echoing off prison walls.
That's what folklorist and historian Bruce Jackson captured when he recorded the unaccompanied singing of Mr. J. B. Smith, Prisoner No. 130196, at Ramsey State Farm in Rosharon, Texas, in 1965 and 1966.
Only three of the many field recordings Jackson made of Smith were released at the time. Thanks to No More Good Time in the World For Me, from Lance Ledbetter's Grammy Award-winning Dust to Digital imprint, we now have Smith's three previously released field recordings plus an additional fifteen, which include three songs with religious overtones. Together, they provide what Nathan Salsburg calls in his superb album notes "an epic of the Southern prison-farm experience." Follow this link to Bob Marovich's full review…
The title track from J.B. Smith's album, No More Good Time for Me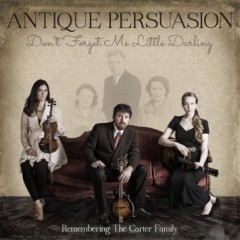 40. DON'T FORGET ME LITTLE DARLING: REMEMBERING THE CARTER FAMILY, Antique Persuasion (Voxhall Records)– Not an all-star tribute to the Carter Family but rather a modest, respectful approach to the traditional country pioneers' art steered by producer Jimmy Metts, Don't Forget Me Little Darling is one of this year's unassuming, unheralded gems, a record with an abundance of staying power on the strength of the players' passion for and understanding of the deeper (and often darker) forces rooting around in the text and subtext of Carter Family songs. The eternal ache of yore is in full, glorious flower here.
The Metts-assembled trio (actually a quartet, considering the presence of upright bassist Mark Fain on almost every track) whose name honors A.P. Carter is not well known outside of roots circles but do not mistake a lack of marquee names for a surfeit of superior musicianship. The Carter-styled trio of male-female-female voices and instruments is comprised of bluegrasser Brandon Rickman (guitar, mandolin, vocals); Jenee Fleenor (fiddle, guitars, vocals); and Brennan Leigh (lead and rhythm guitars, vocals). Bluegrass fans know Rickman from his stellar work with the Lonesome River Band and, one hopes, from a couple of outstanding solo projects that cry out for more of the same; Fleenor has had a solo career as well but is best known these days for her multi-instrumental contributions to Blake Shelton's band; Leigh is a gifted Austin-based singer-songwriter destined for greater acclaim (see the Deep Roots review of her 2013 duo album with Noel McKay, Before the World Was Made). The principals remain true in spirit to the original Carter arrangements, for the most part, and are even pictured on the album in appropriately severe Carter poses. Beyond this, though, they infuse the material with bring their own sensibilities, so they're not precisely following in the Carters' footsteps but rather suggesting a slightly different path alongside the original one cut in the 1920s and '30s. More here…
AUDIO CLIP: The Carter Family rendered with a Western Swing flair on 'Lonesome For You,' Antique Persuasion from Don't Forget Me Little Darling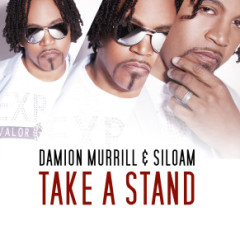 41. TAKE A STAND, Damion Murrill & Siloam (Divinity Music Group)– On his debut solo CD, Take a Stand, Damion Murrill demonstrates effective tutelage as a protégé of Donald Lawrence as he leads his own gospel group, Siloam (pron. Sill-OAM) on a baker's dozen of thoughtful and rousing selections.
Damion Murrill & Siloam possess that room-filling extroverted vocal sound representative of today's contemporary gospel ensembles. The musicians' complex chords and learned changes are also emblematic of this popular style. What is distinctive about Take a Stand, however, is its lyrical emphasis on changing the world. Rather than loft vertical praise upon vertical praise, the group laments the sorry state of society. The singers then encourage listeners to change the world by following God and giving the world, as they express on the theatrical "Show Them," ample helpings of "agape love."
Damion hails from the Murrill Family, whose album garnered GRAMMY and Dove nominations. As a member of Donald Lawrence and the Tri-City Singers, Damion was steeped in the neo-classical gospel tradition that has Richard Smallwood, Andrae' Crouch and the Roberta Martin Singers as its direct lineage. One can hear Donald Lawrence music DNA explicitly in the album's "Tell the World." Follow this link to Bob Marovich's full review…
From Take a Stand, Damion Murrill & Siloam's 'Don't Cry'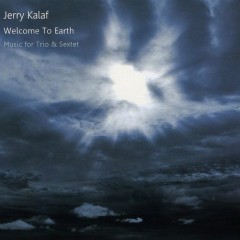 42. WELCOME TO EARTH, Jerry Kalaf (Palm Mountain Records)– By his own admission, jazz drummer/composer Jerry Kalaf was not thinking specifically about Spring when he wrote the eight peaceful, pastoral tunes he's put together as his new album, Welcome to Earth, but has sure done a fine job of capturing the essence (metaphorically and musically) of the season of renewal and rebirth. In a press release accompanying the album Kalaf describes his approach to composing as being "absolute rather than programmatic," and adds: "In other words, I usually don't draw from sources outside the music. I don't have a specific subject matter or imagery in mind; rather, I'm concerned with melody, harmony and rhythm. I often think of the names only after the piece is written."
Okay, we'll accept that, but down deep something about the demise of the long, hard winter of 2014-2015 must have been guiding his hand as he consciously assembled the elements of melody, harmony and rhythm into the evocative numbers here. Even the instrumental groupings—a sextet and two trios—sound perfect for the season on Earth he conjures over the course of 41 minutes and 14 seconds.
Appropriately, the album begins with one of three sextet pieces here, "Ambiguity," a mellow but edgy number that takes its name from the three major 7th intervals Kalaf intersperses throughout the song. Guitarist Barry Coates and alto saxophonist Doug Walter provide affecting but contrasting solos: the latter glides plaintively over a bustling backdrop fashioned by Kalaf's restless cymbal and snare work and Gabe Davis's emphatic bass punctuations, whereas Coates eases in with rich, robust noting over Scott Breadman's pulsing percussion ahead of Kalaf and Davis returning to the fold. The pattern repeats itself at midpoint until, by the close of the 7:10 excursion, it feels as if we've seen the promise of sunrise and sunset alike. More here…
SELECTED TRACK: 'Welcome to Earth,' featuring Leonard Thompson (piano), Ryan McGillicuddy (bass), Jerry Kalaf (drums)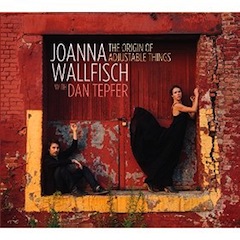 43. THE ORIGIN OF ADJUSTABLE THINGS, Joanna Wallfisch with Dan Tepfer (Sunnyside)– I suppose that, if you want to pigeonhole things, Joanna Wallfisch is a jazz singer and composer but her style bring all sorts of other influences to bear on this album. The Origin of Adjustable Things has much to attract and intrigue anyone interested in fine performance. Wallfisch is joined by keyboard player Dan Tepfer and most of the tracks feature Wallfisch's vocals and Tepfer's accompaniments on piano, mellotron, wurlitzer and pump organ. The majority of songs are by Wallfisch herself, both music and lyrics, but there are some covers of songs by the likes of Radiohead ("Creep"), Dimitri Tiomkin ("Wild Is the Wind," co-write with Ned Washington), Jay Livingston and Ray Evans ("Never Let Me Go").
Joanna Wallfisch comes from a musical family (she is the only daughter of cellist Raphael and violinist Elizabeth "Libby" Wallfisch, and her cellist grandmother, Anita Lasker-Wallfisch, now 88, avoided the Auschwitz gas chamber only because she was a member of the Nazi concentration camp's Women's Orchestra) and studied Jazz Performance at the Guildhall School of Music and Drama and is now based in New York. She is joined here by jazz pianist Dan Tepfer, whose heritage involves being born in Paris to American parents.
Joanna Wallfisch and Dan Tepfer, 'Never Let Me Go' (by Jay Livingston and Ray Evans). The studio version concludes the album The Origin of Adjustable Thngs.
The main focus of the album is the voice/piano duo of Wallfisch and Tepfer, though Tepfer veers into other keyboards to provide a variety of timbres and there are some electronic effects too, which, though discreet, rather startle at first. Wallfisch layers backing vocals on songs like "Satellite," and on "Brighton Beach" Wallfisch herself plays piano whilst Tepfer plays pump organ. But the combination of just voice and piano gives the album a stripped down quality; it concentrates on the basics and, in terms of the songwriting, means that there is nowhere else to go. We cannot be distracted by glorious instrumental riffs; we are concentrating on the songs themselves. Follow this link to the full review by Robert Hugill…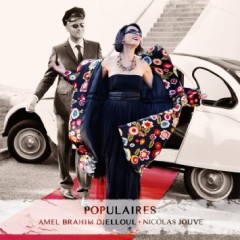 44. POPULAIRES, Amel Brahim-Djelloul & Nicolas Jouve (Eloquentia)– With its stylish, almost tongue-in-cheek glamour style photographs and a title like Populaires, an English speaker might expect the new disc from Algerian French soprano Amel Brahim-Djelloul and pianist Nicolas Jouve on Eloquentia to be an exploration of the popular edge of classical music, perhaps even crossover. Not a bit; instead the title refers to the folk origins of much of the music on the disc. Nicolas Jouve and Amel Brahim-Djelloul have put a together a fascinating exploration of art songs based on folk texts (and sometimes folk melodies) with an intriguing mix of well- and lesser-known songs, including Reynaldo Hahn's Venezia, Ottorino Respighi's Quattro arie scozzesi, Spanish songs by Henri Collet, Johannes Brahms' Volkslieder, Joseph Canteloube's Chants d'Auvergne, Maurice Ravel's Melodies populaires grecques and Jesus Guridi's Canciones castellanas.
Amel Brahim-Djelloul has a vibrantly attractive lyric soprano voice comparable to that of Victoria de los Angeles. Her vivid timbre is enlivened by a lovely (and well controlled) vibrato plus an unwavering sense of color and involvement. Clearly in command of languages, on this disc she sings in Venetian dialect, Lowland Scots, Spanish, German, Auvergnois and French.
A preview of Populaires featuring soprano Amel Brahim-Djelloul and pianist Nicolas Jouve
Reynaldo Hahn's Venezia, with its lovely vocalise passages, are full of character and charm and were reputedly premiered by Hahn himself (a habitue of the city) in a gondola! Here we get three songs, from the set L'avvertimento, La barcheta and Che peca in performances of such vivid delight that you wish we could have heard all of them. Follow this link to the full review by Robert Hugill…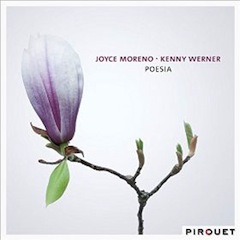 45. POESIA, Joyce Moreno and Kenny Werner (Pirouet)– Poesia is simply one of this year's finest vocal-piano albums (not that the field is overly crowded, mind you, but still…). This is hardly surprising, given Joyce Moreno's standing as one of Brazil's finest pop-jazz vocalists and the high regard in which pianist Kenny Werner is held in contemporary jazz circles on these shores. As Dan Bilawsky notes in his review of Poesia at All About Jazz.com, Werner writes a "Zen and the Art of Jazz" column for DownBeat; is the Artistic Director of the Berklee school's Performance Wellness Institute; appears as pianist/arranger on Randy Brecker's RandyPOP! album; and materializes in New York clubs with his quintet or trio in tow. In short, he's a busy man, but he surely thrives on work, and in Ms. Moreno he seems to have met a musical soulmate who brings equal intensity and focus to her performances. They're quite a team.
Produced by Jason Seizer, Poesia finds both Moreno and Werner having plenty of room to make their statements—one of the album's most striking and surprising moments is a florid, intense Werner solo that articulates a deeper undercurrent of inner conflict that Ms. Moreno is keeping in check in "É O Amor Outra Vez" ("Is It Love Again") (written by Dori Caymmi and Paulo Cesar Pinheiro) as she contemplates the somewhat unsettling wonder of being loved anew—and in doing so effects a wonderful expressive balance in its intimate soundscape. That it feels like the singer and the pianist are in the room with you, singing solely for and to you, was surely the intent. On "Vehlo Piano" ("Old Piano"), another Caymmi-Pinheiro reflection on love's shifting nature, Moreno seems to be whispering in your ear as if to keep her thoughts confidential, as Werner complements her sotto voce confession with a splotch of subdued notes here, an impressionistic, meditative run there. English language songs make up almost half the album's repertoire, and here too Morena and Werner favor the quiet and contemplative. Charlie Chaplin's "Smile" is an ideal choice for this project, and in this soft reading the principals understand and don't underplay the melancholy at the heart of the lyrics' appeal to soldier on through heartbreak by putting on a happy face. More here…
AUDIO CLIP: 'Vehlo Piano,' written by Dori Caymmi and Paulo Cesar Pinheiro. Joyce Moreno and Kenny Werner, from Poesia.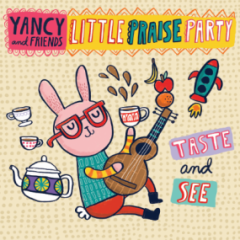 46. LITTLE PRAISE PARTY: TASTE AND SEE, Yancy and Friends (Elevate Entertainment)– Yancy's Taste and See is the fourth in the Christian singer-songwriter's series of Little Praise Party CDs, a series that offers children fun and educational religious music that does not sound childish. The songs work well with Yancy's key demographic because they employ sugary melodies and infectious rhythms. They contain messages that are both easy to follow and to sing. Eschewing the Barney-esque electronic rhythms that assume children have undeveloped musical taste, Yancy and her friends get their points across by brandishing buzzing guitars and thumping drums. There's even a brief hip-hop moment when "Gonna Serve" interpolates "This Little Light of Mine." Yancy's musky but inviting voice evokes Pat Benatar with a bit of a country twang that speaks to her Oklahoma roots.
While many of the songs are understandably uptempo and antiphonal—Yancy leading a cheerful children's choir in sing-along choruses—the finest moment on the album is a tender and introspective solo ballad. "I Love You Lord" is Yancy simply and earnestly expressing her love for God without any apparent studio audience whatsoever. The title track is about finding God in beautiful things all around us, but with the first verse focusing on the deliciousness of fruit, perhaps the song may also encourage children to eat healthier.
Clips from the sing-along music video from the DVD accompanying Yancy and Friends Little Praise Party's new Taste and See album. Fifteen new songs for young children address issues relating to faith and spirituality.
Several songs toward the end of the CD are holiday related: "The Bunny Song" and "It's a Happy Day" are about the true meaning of Easter, while "Best Present Ever" reminds young listeners that Christmas is not all about candy and toys but the birth of Jesus Christ. Follow this link to Bob Marovich's review…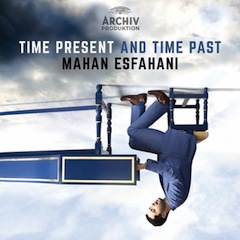 47. TIME PRESENT AND TIME PAST, Mahan Esfahani (ARCHIV Produktion [DG])– This new Mahan Esfahani disc on DG's Archiv label re-invigorates the concept of a harpsichord recital by combining baroque music with contemporary. Three works based on La Follia, Alessandro Scarlatti's Variations on La Folia, CPE Bach's 12 Variations on Les Folies d'Espagne in D minor and Geminiani's Concerto Grosso in D minor are threaded round Henryck Goreck's Concerto for Harpsichord and String Orchestra fro 1980 and Steve Reich's 1967 classic, Piano Phase for Two Pianos in Mahan Esfahani's version for two harpsichords. The final item is Bach's Harpsichord Concerto in D minor, BWV 1052. For the Bach, Geminiani and Gorecki, Mahan Esfahani is joined by the period instrument ensemble Concerto Koln.
The disc opens with something of a coup. Alessandro Scarlatti's dazzling keyboard pyrotechnics in the Variations on La Follia are followed by the full-on high-energy of Gorecki's concerto. The Scarlatti is highly inventive and Esfahani's performance is brilliantly vivid, combining stupendous technique with a strong sense of character.
Mahan Esfahani discusses the concept and music of Time Present and Time Past (album trailer)
Gorecki's concerto is in two fast movements, both almost pitting the instrument against the orchestra. With a solo part taken at a rather mad speed, the opening Allegro Molto is full on but rather austere in its limited sound world. The harpsichord's incessant toccata-like repetitions seem designed to try to push the slow moving, sustained orchestral part out of its harmonic rut. The final Vivace (no relaxing middle movement) is high energy, with the violence sometimes recalling Stravinsky's Le Sacre du Printemps on speed. The performance from Esfahani and the orchestra is stupendous. Follow this link to the full review by Robert Hugill…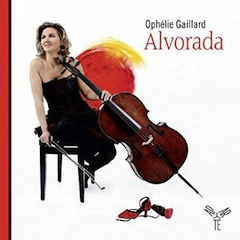 48. ALVORADA, Ophélie Gaillard (Aparte)– This new disc from cellist Ophélie Gaillard is something of a departure from a cellist who is well known for her performances in the baroque and classical repertoire. On the Aparte label (distributed by Harmonia Mundi) she joins with a variety of musicians to perform a wide variety of Spanish and Latin American music under the title Alvorada. With music by de Falla, Granados, Piazzolla, Villa Lobos, and Cassado, the music explores the more popular, dance elements in music. In an interview Gaillard made it clear that she was not interested in doing a crossover disc; used to doing her own research, here she works with some major figures in Latin American music.
The opening item brings a strong sense of the bright color and rhythms of the performances. Two items from Manuel de Falla's Siete canciones populares espanolas combine Gaillard's lovely lyrical cello with guitar and a highly prominent castanet part. And this is true of Granados' Intermezzo from Goyescas.
Having introduced us to Spanish music, from then on the program migrates to Latin America with an extended exploration of the varieties of music on offer. In Cobian and Cadimaco's "Nieblas del riachuelo" we have a rather smoky jazz-ish sound with the bandoneon rather taking us to Paris. The title track, "Alvorada," introduces us to the singer Toquinho, whose smoky vocals combine well with Gaillard's cello in a samba. In items like Simons' "El Manisero" it is clear that everyone is having fun as well as making good music. There is an extended sequence of music by Astor Piazzolla, which brings out the variety of his style from lyrical yearning to up-tempo, hard-edged tango nuevo. The first disc finishes with another song, "Nostalgias," especially memorable for Sandra Rumolino's sexy, smoky vocals. Follow this link to Robert Hugill's complete review in Deep Roots.
'Jota,' written by Manuel de Falla, from Alvorada, This live performances features Ophélie Gaillard on cello; Emmanuel Rossfelder on guitar and David Chupete on percussion.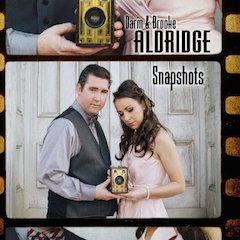 49. SNAPSHOTS, Darin & Brooke Aldridge (Mountain Home)– One of the hottest new bluegrass releases of this young year, Darin & Brooke Aldridge's assured, emotion-packed Snapshots made its debut at #8 on the Billboard Bluegrass Albums Chart this past week even as the Aldridges were snowed- and iced-in down south as they went on the road to support the new album with live shows. If they weren't going anywhere soon, their music clearly had legs and brooked no meteorological interference in reaching the spouses' burgeoning audience. Small wonder: Snapshot's 11 songs comprise a mix of relatively new and vintage country and bluegrass tunes "that captures bits and pieces of our past," as the Aldridges write in a one-sheet accompanying the album, explaining the tunestack as being "…songs we've either written or just always loved, songs we grew up hearing on the radio and songs folks have passed along to us that have helped them through difficult times in their lives."
A pronounced element of faith infuses many of the numbers here, again in keeping with the Darin & Brooke aesthetic. It kicks off with the strutting gospel of "Get Up John," the Bill Monroe instrumental to which Marty Stuart and Jerry Sullivan added potent lyrics for the Stuart-produced Jerry & Tammy Sullivan album from 1994, Joyful Noise. Supported by spirited solos from Sam Bush (mandolin), Tyler Collins (banjo), Becky Buller Haley (fiddle) and Darin (on guitar), Brooke turns that mountain cry of a voice of hers onto the lyrics with special urgency, adding celebratory urgency to the appeal to John the Baptist to prepare for Jesus's baptism in the River Jordan and his impending martyrdom, a prophecy Brooke delivers with an ominous, lower register a cappella "This is the day" at the end of each chorus—the ferocity of the instrumental work coupled to the conviction in Brooke's voice turn a 3:41 song into an atmospheric mini-drama. From Emmylou Harris's 1987 gospel album Angel Band, "When He Calls" (penned by Harris's then-husband and one of country's top modern-era songwriters, Paul Kennerley) receives a reverent treatment led by Brooke's assertive vocal with Ricky Skaggs joining her and Darin on the soaring, triumphant choruses in an arrangement spotlighting a delicate, emotional mandolin solo from Darin; understated, affecting fiddle ballast from Becky Buller Haley; and sturdy acoustic guitar from Tyler Collins. Co-writing with Dr. Bobby Jones, Darin adds the driving "Will You Be Ready" to the gospel messages here, its message of judgment day preparedness emphasized in the force of Darin's vocal. The careful listener will note how the Aldridges advance songs of faith not with dire warnings or laments for the end days but rather with a certainty of the rewards and glory awaiting true believers when Judgment Day arrives. Their positive stance here is mirrored in the album's choice of secular songs (with the notable exception of the tragic view of life described in the typical doom-and-gloom of a Gillian Welch song, "Annabelle"). More here…
SELECTED TRACK: 'Will You Be Ready,' an original bluegrass gospel tune co-written by Darin Aldridge and Dr. Bobby Jones, as featured on Snapshots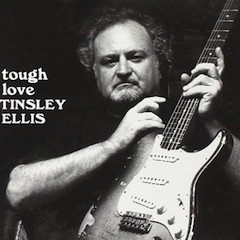 50. TOUGH LOVE, Tinsley Ellis (Heartfixer Music)– When it comes to soulful blues guitar—only flowery when it needs to be but otherwise sharp, succinct, to the point, with masterful deployment of textures and tone—Georgia-born and –bred Tinsley Ellis ranks in the upper tier of modern-day practitioners. Should anyone doubts the veracity of the previous statement, even the briefest immersion in Ellis's aptly titled new long player, Tough Love, should make converts of the flintiest of skeptics.
Released on his own Heartfixer label, Tough Love finds Ellis with top-drawer support courtesy some fellows best known for glide in Delbert McClinton's stride for a few years: keyboardist Kevin McKendree is on a hot roll throughout (on organ, piano and Mellotron—even tympani on one cut), but the fireworks he generates in his sizzling dialogue with Ellis's screaming guitar on "Seven Days" are truly wondrous to behold; the solid, right-there rhythm section keeping everything bolstered is comprised of bassist Steve Mackey and drummer Lynn Williams. Fleshing out the lineup on one of the album's most effective songs, a slow boiling treatise on the dangerous extremes in which folks will engage "All In the Name of Love," are the dynamic duo of Jim Hoke and Steve Herrman on sax and trumpet, respectively, adding a lush backdrop to a moody number reminiscent of classic Stax/Volt formulations.
Ellis's legion of fans will get what they came for when the music starts. The hard stomping "Seven Years" kicks things off with a deep, relentless groove; bruising guitar solos ranging from thick-toned runs to high, piercing, upper-neck wails; and a solid vocal from Ellis confessing to his jealousy contributing to a long relationship's decline and fall; he gives you some vintage southern rock flavor in the slide flourishes of "Hard Work" but damn if I don't hear some "Jeepster"-era Marc Bolan in the combustible, sputtering guitar soloing and even in the cool, seductive vocal—and then, like that, he segues seamlessly into the slinky maneuverings of "All In the Name of Love." On to Chicago he goes for the lowdown blues ballad, "Should I Have Lied," a wounded but frank lament for the end of an affair that never had much traction to begin with— "time to stop the lyin'/time to be movin' on/our love was never that strong…"—keyed by McKendree's evocative atmospherics on the 88s and Ellis's stinging retorts to same in buttressing his unambiguous lyrical assertions. More here…
From Tough Love, 'All In the Name of Love,' Tinsley Ellis (Kevin McKendree, organ; Lynn Williams, drums; Steve Mackey, bass; Jim Hoke, sax; Mark Herrman, trumpet)
Follow these links to