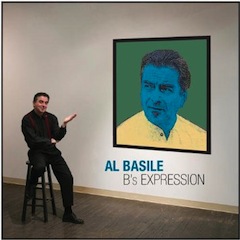 B'S EXPRESSION
Al Basile
Sweetspot Records
One of contemporary music's most literate men, Al Basile—published poet and fiction writer; holder of the first Master's Degree awarded by Brown U.'s Creative Writing program; philosopher, playwright and songwriter; and ace cornet player—has delivered another solid, thoughtful, thought provoking and funky solo album in B's Expression. A Roomful of Blues alum and frequent musical running partner to Roomful founder Duke Robillard, who produced this long player, making it an even dozen Robillard productions for Basile.
The groove is out of Memphis, and the players concocting it comprise a Duke all-star lineup of Bruce Bears on piano, Mark Texeira on drums and tambourine, and a horn section comprised of (in addition to Al) Doug James (tenor sax) and Carl Querfurth (trombone). No one will ever confuse Basile with Caruso as a singer, but his gritty, personable voice lacks nothing in feeling and commitment—you believe him when he sings; moreover, the joy he takes in telling his tales is quite infectious. Go with it, and you will not be disappointed.
'It Wasn't That Good,' Al Basile, from B's Expression, produced by Duke Robillard. Bruce Bears on B3, Duke Robillard on guitar, with Doug James (tenor sax) and Carl Querfurth (trombone) comprising the horn section along with Basile's cornet.
'Never Good Enough,' Al Basile, from B's Expression.
Al always has a point in writing a song, and many times it concerns the way people come apart, come together and all in all try to keep their own body and soul together when the sea of love gets choppy. In the CD booklet he provides concise summations of each song's theme—brief philosophical niblets of wisdom about a life lesson informing the narrative—but the execution is hardly academic. It's not every day you'll find an artist, especially a nominal blues artist, referencing Gertrude Stein but the strutting "It Wasn't That Good," with its bursts of horns and Bears's steady organ work underpinning the vocal, laments its narrator's misjudgment when it came to a certain female flame, a lesson learned too late and long after she revealed herself to be more style than substance. Or as Al writes in his note: "But sometimes someone you've chased for a long time turns out to be what Gertrude Stein said about Cleveland. Romantically speaking, of course." Duke takes a splendid spitfire guitar solo here right after a final verse innumerable men and women will relate to, viz. "Things didn't turn out anything like/the way that I thought they would/I can't believe it's not better—it wasn't that good."
'I'm Runnin' Late,' Al Basile, from B's Expression
The deep, horn-fueled groove of "Not Like I Do" supports observations on the hard lessons learned by a gal who valued youth over experience and wound up spending "a year or two in hell/so maybe you know lonesome well"; needless to say, as the title indicates, the singer points out, with muted delight, how she threw away what he had to offer as an older man. Inspired by Louis Jordan's groove and sense of humor, "Don't You Ever Get Tired of Being Right"? is a rollicking upbeat blues about another type of hard lesson learned—this time it's the man ruefully admitting to every misstep his missus accused him of, from thoughtless romantic dalliances in his youth ("Now kids in Caddys keep calling me daddy/and they all kinda look like me") to overindulging at an all-you-can-eat buffet (which may be a metaphor for the aforementioned romantic dalliances, come to think of it), with Al complementing his aggrieved delivery with a pinched, protesting cornet solo. Not that these aren't serious themes, mind you—the percolating groove of "I'm Running Late" fuels a narrative about having the strength to move on from a tantalizing former significant other ("If I don't start my distractable heart might forget what little it knows/'Cause I made me a promise, one I'm not gonna break/I ain't got time to wait, I'm running late"); prickly and simmering, with Duke supplying extra tension with stinging guitar interjections, "Never Good Enough" (kind of a companion piece to "It Wasn't That Good") laments a relationship's collapse over one partner's selfishness and the bitter epitaph Al envisions on his headstone: "You booted me out of my own home/now you're gonna let me die alone/chiseled on my stone—Never good enough." Any of this sound familiar, dear readers?
'Have I Given My Best,' Al Basile, from B's Expression
Al being Al, there are moments of more existential gravitas amidst the songs for the lovelorn. The gospel-tinged "Have I Done My Best," its melody echoing ever so slightly "Will the Circle Be Unbroken," inspired by the parable of the workers in the vineyard in Matthew 20: 1-16, finds the singer, observing Jesus accepting sinners into His fold, wondering, as Al explains in his note, "how much you gave and how much you held back." Gospel-soul is the backdrop for the powerful "Even Jesus Fell," a heartfelt meditation likening Jesus's stumbling journey to Golgatha to his own stumbles through life and the strength he takes in knowing the struggle for redemption must go on—or as Al says in his note, "In Faust, Goethe said 'we can redeem anyone who strives ceaselessly.'"
There you go, friends and neighbors—Gertrude Stein and Goethe as animating impulses. Take some time to sit a spell with Al Basile and B's Expression. You'll find that whomever dubbed Al "The Bard of the Blues" wasn't just bumping his gums. This one will really grow on you.