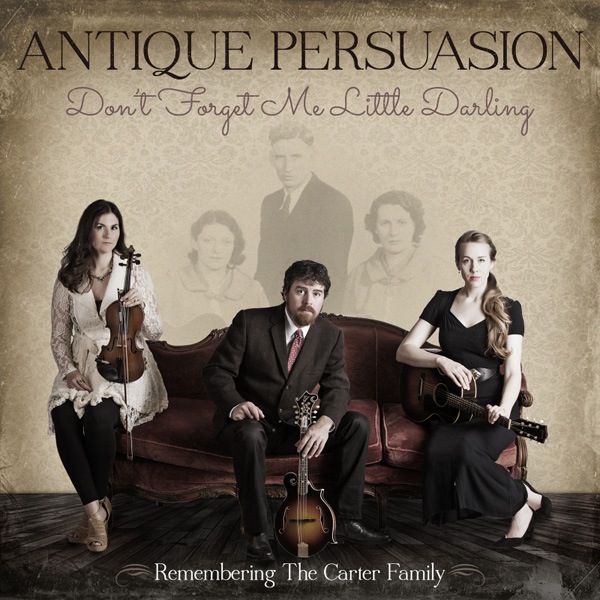 DON'T FORGET ME LITTLE DARLING: REMEMBERING THE CARTER FAMILY
Antique Persuasion
Voxhall Records
Not an all-star tribute to the Carter Family but rather a modest, respectful approach to the traditional country pioneers' art steered by producer Jimmy Metts, Don't Forget Me Little Darling is one of this year's unassuming, unheralded gems, a record with an abundance of staying power on the strength of the players' passion for and understanding of the deeper (and often darker) forces rooting around in the text and subtext of Carter Family songs. The eternal ache emanating from the Maces Springs trio is in full, glorious flower here.
AUDIO CLIP: The Carter Family with a Western Swing flair on 'Lonesome For You,' Antique Persuasion from Don't Forget Me Little Darling
The Metts-assembled trio (actually a quartet, considering the presence of upright bassist Mark Fain on almost every track) whose name honors A.P. Carter is not well known outside of roots circles but do not mistake a lack of marquee names for a lack of superior musicianship. The Carter-styled trio of male-female-female voices and instruments is comprised of bluegrasser Brandon Rickman (guitar, mandolin, vocals); Jenee Fleenor (fiddle, guitars, vocals); and Brennan Leigh (lead and rhythm guitars, vocals). Bluegrass fans know Rickman from his stellar work with the Lonesome River Band and, one hopes, from a couple of outstanding solo projects that cry out for more of the same; Fleenor has had a solo career as well but is best known these days for her multi-instrumental contributions to Blake Shelton's band; Leigh is a gifted Austin-based singer-songwriter destined for greater acclaim (see the Deep Roots review of her 2013 duo album with Noel McKay, Before the World Was Made). The principals remain true in spirit to the original Carter arrangements, for the most part, and are even pictured on the album in appropriately severe Carter poses. Beyond this, though, they do bring their own sensibilities to bear on the songs, so they're not exactly following in the Carters' footsteps but rather suggesting a slightly different path alongside the original one cut in the 1920s and '30s.
Antique Persuasion, 'Don't Forget Me Little Darling,' from Don't Forget Me Little Darling: Remembering the Carter Family
So "Lonesome For You," with Fleenor and Rickman taking the lead vocals (and Fleenor and Leigh getting together for silky harmony parts), has a sprightly Western Swing flavor about it, with a frisky Rickman guitar solo spicing up the proceedings before Fleener glides                     aloft on the fiddle in a thoroughly engaging interpretive moment. Fleenor delivers a heartbreaking lead vocal on a stripped-down version of "I'm Thinking Tonight of My Blue Eyes," one of the Carters' Homerically abject ruminations. Her voice breaks and bends at precisely the right moments to lay the hurt on a listener, an effect augmented by the austere background defined only by her minimalist fiddle, guitar and mandolin and Fain's low, thumping bass, all so still and somber as to make the vocal seem a cappella a times. The trio announces itself with flare in the opening track, "Bury Me Under the Weeping Willow" (one of the few better known Carter numbers—another of the album's virtues is its avoidance of the obvious Family standards), when Rickman's warm, sturdy lead vocal sets up the close, aching harmony parts to come, with Fleenor's tear-stained fiddle solo in perfect color with the song's emotional palette. To Rickman's credit throughout, he doesn't abandon his plaintive mountain voice in favor of emulating, or trying to emulate, A.P.'s deceptively simple low rumbling parts—had he done so, he might have joined many a male vocalist waylaid by the stamina and precision of A.P.'s attack.
Antique Persuasion, 'On The Sea of Galilee,' from Don't Forget Me Little Darling: Remembering the Carter Family
Although dark narratives abound in the Carters' catalogue, Antique Persuasion steps it up now and again to great effect. Fleenor and Leigh turn the prison scenario of "Hello Stranger" into a lively dialogue, no matter where their narrator is going to wind up; "Sea of Galilee," with Leigh's assertive lead vocal setting the pace, is a triumphant gospel moment anticipating a day of salvation, set as it is in a bluegrass gospel framework defined by Fleenor's smooth, flowing fiddle lines and Rickman's bright mandolin chops; and "Lover's Lane" breaks out of the gate with a flurry of exuberant fiddle and mandolin before Rickman enters enthusiastically extolling "the girl of my dreams" and the happy days he anticipates ahead, even as he admits "it seems my dreams never come true"—well, this is the Carter Family, after all.
AUDIO CLIP: Antique Persuasion, 'Lover's Lane,' from Don't Forget Me Little Darling: Remembering the Carter Family
Yes, but it is also Antique Persuasion, demonstrating anew the relevance, the timelessness, for better or for worse, of the travails of the heart and of the spirit so thoroughly catalogued in the Carter Family songbook. Who knows if AP will ever convene again, but they have made quite something of their time together on Don't Forget Me Little Darling. Calling it one of 2015's finest albums is scant praise for the depth these performances achieve.