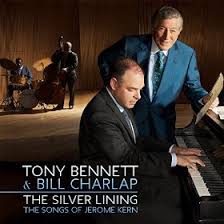 1. THE SILVER LINING: THE SONGS OF JEROME KERN, Tony Bennett & Bill Charlap (RPM/Columbia Records)– In the "it's about time" category, Tony Bennett and pianist Bill Charlap, who have worked together on occasion over the years, have convened for a full album. And, also in the "it's about time" category, the album celebrates the art of a songwriter Bennett credits with creating "the Great American Songbook," a Bennett-coined term for the jazz-influenced American popular music emerging in the early 20th Century and thriving through most of the 1950s.
Working with accompanists as sensitive as Bill Charlap, solo and with his trio (bassist Peter Washington and drummer Kenny Washington, unrelated, who have been playing with Charlap for almost two decades), and, on three ballads, with a twin-piano setup featuring Charlap with his wife, Renee Rosnes, Bennett assays 14 Kern tunes in a manner as casual as it is deeply felt. And at 89 going on 90, save for some wavering on long, ascending lines, his voice remains an affecting instrument, his phrasing impeccably nuanced, his involvement in the lyrics so complete as to add gravitas to his savvy deployment of silences and pauses. The singing is technically accomplished, rising to a majestic level, but also overflowing with understanding of the humanity informing the Kern canon.
'The Last Time I Saw Paris,' Tony Bennett and Bill Charlap, from The Silver Lining: The Songs of Jerome Kern
I'm not sure there are any other recordings on which an 89-year-old singer has stopped time. Bennett's voice is in great shape, as the man himself appears to be. Throughout his now-64-year-career he's "longed for adventure." Of late he's had some quite successful ones with a surprisingly adept stylist in Lady Gaga; but however fetching those recordings be, his adventures on The Silver Lining find him flexing his muscles on familiar turf, in command, engaging with great songs in intimate artistic fashion with spare, empathetic backing, fully immersed in the moment, right where he belongs. I wasn't even born when Jerome Kern died, but I've lived with and loved his songs long enough to believe he would approve wholeheartedly of the unpretentious grandeur Tony Bennett brings to these works of art. If nothing else, as fortunate as we are to have had a Jerome Kern pave the way for a new era in American song, we are equally fortunate to have a Tony Bennett to show us how these texts should be interpreted, and thereby explain what truths lie hidden in the human heart. More here…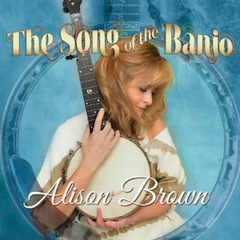 2. THE SONG OF THE BANJO, Alison Brown (Compass Records)– Those encountering banjo virtuoso Alison Brown's first long player since 2009 enter expecting the unexpected, but maybe not as unexpected as the surprises she springs here. The album's engaging character is established with the first track, Ms. Brown's summery self-composed title song—its bright, easygoing gait is as lilting and lyrical as the season it evokes, keyed by Brown and ace fiddler Stuart Duncan engaging in a joyously nuanced instrumental pas de deux, weaving artfully around each other in tender discourse. And if her gently rolling notes and Duncan's affecting textures don't take you back to another time and place, the familiar, tuneful opening refrain Ms. Brown crafts on the second tune as dobro master Rob Ickes eases in behind her will (at least to those of a certain generation) evoke a nostalgic memory of one of the '70s' better pop moments, that being Orleans' "Dance With Me," written by John and Johanna Hall. No vocals here, though—the tight, soaring harmonizing of the original is supplanted by a gentle, pastoral ambience that grows more evocative, when John Jarvis steps forward with a mellow B3 solo complemented by Joe Davidian's piano, which in turn sets up Brown and Ickes for their own dialogue replete with atmospheric, rippling notes and elegant smooth lines as bassist Garry West (Ms. Brown's husband and co-producer) and drummer Steve Gadd secure the bottom with an understated shuffle thrust. It's a beautiful moment, and it happens to emphasize to careful listeners that The Song of the Banjo also will be a song of the heart in which the natural world plays a co-starring role.
From The Song of the Banjo, 'Airish,' written by Alison Brown and John Doyle, featuring Ms. Brown on banjo, Will Barrow on piano, John Doyle on guitar, Garry West on bass, Bryon Larrance on drums and percussion
In considering the whole of The Song of the Banjo comparisons to Mark O'Connor immediately spring to mind, specifically his ongoing mission to create a new American Classical music based on our indigenous folk songs. With her compositions revealing influences of Irish, Scottish and English folk tunes while also incorporating quotes from jazz and funk, Ms. Brown continues to evolve as a writer while remaining formidable on her instrument of choice. She may well be approaching some kind of personal musical breakthrough of her own if she keeps this up. Would that she would come around more often. More here…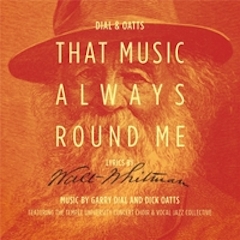 3. THAT MUSIC ALWAYS ROUND ME, Lyrics by Walt Whitman, Music by Gabby Dial and Dick Oatts (BCM&D Records)– A project some three years in the making, That Music Always Round Me sets to music 15 poems from Walt Whitman's once-controversial, now-classic collection, Leaves of Grass. That the resulting double-CD album should take so long to come to fruition seems entirely appropriate, given how many times Whitman himself revised Leaves of Grass in his lifetime. Pianist Garry Dial and saxophonist/flautist Dick Oatts might well make a case for the tracks to be in a continual state of refinement as well, but at last they got closure, if you will, on their sprawling subject matter and equally sprawling vision of it.
Not for Dial and Oatts a chamber music approach to Uncle Walt's prickly, contentious, challenging, sometimes unabashedly sensual verse. The duo set out to produce what Oatts refers to in his liner notes as "a large work." This would not be terra incognita for them: they have previously recorded one project with a 30-piece orchestra, another with a brass choir. It was Dial's idea to set Whitman's poems to music; it was Temple University professor Oatts's idea to enlist the Temple University Concert Choir (under the direction of Paul Rardin) and the Temple University Vocal Jazz Collective (conducted by Mitos Andaya) and then to supplement the choir with a bevy of seasoned New York studio vocalists (including one Terre Roche, whom he praises in the liner notes "not only for her beautiful singing and production help, but for her expertise in the written word. … Terre taught me the importance of the lyric and how to bring Whitman's subtlety and depth into our musical focus.") as well as vocalists and instrumentalists from the Boyer College of Music and Dance faculty. To arrange and conduct the choral parts for the New York studio vocalists, a trusted D&O associate was enlisted anew, Richard DeRosa, who, according to Dial, "flew to New York for eight separate weeks, working 18 hours a day in the studio just to make our music come to life." Not counting the conductors and arranger, 64 people are on the roster here.
AUDIO CLIP: 'To a Stranger,' from That Music Always Round Me
Ultimately, in the final song, "O You Whom I Often and Silently Comes," the verses a female vocalist sings with a bluesy, swaggering swing as Oatts and trumpeter Terrell Stafford (with tasty blues punctuations provided by guitarist Paul Meyers) rock away, comprise the ideal coda for this project and its effect on listeners coming to it with open hearts and open minds. To wit: "O you whom I often and silently come where you are that I may be with you/as I walk by your side or sit near, or remain in the same room with you/little you know the subtle electric fire that for your sake is playing within me."
Actually, Walt, Dick Oatts and Gary Dial, and the impressive multitude they gathered for That Music Always Round Me, has made sure anyone engaging with this project understands that "subtle electric fire" and recognizes that it's playing within them. More here…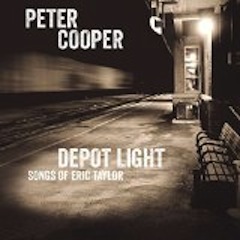 4. DEPOT LIGHT: SONGS OF ERIC TAYLOR, Peter Cooper (Red Beet Records)– Hard-core Americana fans well know Eric Taylor's songs and some may even know the Texas poet-songwriter himself. His first album was released to great acclaim in 1981 (four years after he won the Kerrville Folk Festival's "New Folk" competition), but then he wasn't heard from for another 14 years. His self-titled 1995 album caught Kerrville's attention again, to the tune of being named Folk Festival Album of the Year. Once back in the game, Taylor stayed in the game, releasing new studio albums and a couple of live recordings steadily up to and through 2011.
From the time of his late '70s emergence at Kerrville, however, Eric Taylor has left another trail to explore—the one that leads directly to Texas contemporaries such as Steve Earle, Lyle Lovett, Townes Van Zandt, Nanci Griffith and others, all of whom have been affected and influenced by his literate, often mesmerizing songs probing the strata of relationships between desperate lovers, estranged fathers and sons, damaged outcasts in conflict with the natural world around them and such. The psychological depth of his writing has been compared by Ms. Griffith—who was once married to Taylor—to that of William Faulkner; others will hear echoes of Cormac McCarthey's voice in his tunes' expansive, austere, very southwestern settings and in his lyrics' unembroidered voices hinting at a heightened awareness of how seemingly mundane encounters can loose sinister, uncontrollable forces capable of altering lives for good. There's a reason Joan Baez speaks of Eric Taylor in hushed tones, and why a bedazzled Lyle Lovett was moved to produce some recordings for him.
'Depot Light,' the title track from Peter Cooper's collection of Eric Taylor songs
'Carnival Jim & Jean,' written by Eric Taylor, performed by Peter Cooper on Depot Light: The Songs of Eric Taylor
Finally Peter Cooper, himself a gifted singer-songwriter becoming more impressive with each new recording (this is his fourth solo outing—"the Brett Favre of solo albums," as he puts it in his liner notes), has given Eric Taylor the respect (and possibly higher profile) he deserves in an album's worth of stunning tunes, insightfully rendered with complete understanding of the lyrics' time, place and deepest emotions—especially those below the surface—while fashioning (as co-producer with Thomm Jutz) sonics designed to provide the narratives with distinctive aural backdrops suitable to the plotlines and locales. More here…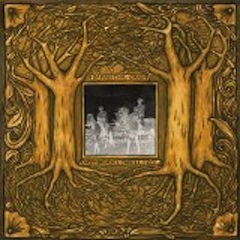 5. UNDER BRANCH & THORN & TREE, Samantha Crain (Ramseur Records)— A native Oklahoman of Choctaw descent, Samantha Crain is steadily evolving into an uncategorizable artist. She has attracted attention with her penetrating, highly personal, if not autobiographical, songs, centered on her or her characters' inner lives. This template is in an evolutionary stage on Under Branch & Thorn & Tree. A folk base remains prominent in her plaintive melodies and assured, fingerpicked acoustic guitar but the arrangements are augmented with dark, mid-period Beatles atmospherics courtesy the Magic*Magic Orchestra (violin, viola, cello). Crain has called this her "protest album," and so it is. "Killer," all swirling strings, dirge-like rhythm, humming synths and assorted sound effects, is an angry howl at environmental upheaval; "Elk City," gently fingerpicked with plaintive support from Liana Berube's violin, concerns the upshot of dashed hopes in a town gone bust. Elk City is a real Oklahoma town, and you feel in Crain's throaty vocal (she sounds uncannily like HoneyHoney's Suzanne Santo) how lost opportunities in her own back yard have pierced her. The artist who still waits tables to support herself decries her downward mobility with a surprising lighthearted touch in the driving "Big Rock." The sonics never overwhelm, and Crain rises, demanding to be heard.
'Elk City,' Samantha Crain, from Under Branch & Thorn & Tree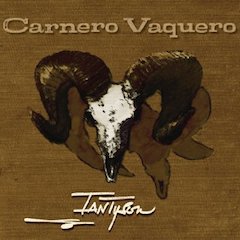 6. CARNERO VAQUERO, Ian Tyson (Stony Plain)– From the first dramatic notes he sings on the traditional "Doney Gal," the opening track of Carnero Vaquero, it's clear Canadian legend Ian Tyson has much to say. Over an organ's low, funereal hum, Tyson (who cut the song years ago with his former wife and musical partner, Sylvia Tyson) pulls you into a chronicle of loneliness and the rigors of trail drives, and from there into a heartfelt treatise on lives, and the very earth we live on, in the balance.
This is familiar territory for the legendary singer-songwriter. He's walked it like he talks (or sings, to be precise) it by running his own cattle ranch, south of Calgary, for decades now. In fact, if you like the sparkling, expansive clarity of Carnero Vaquero, give some credit to the century-old stone building on the Tyson Cattle Ranch, where the entire album was recorded. ("No one knows how the damn thing stands up," Tyson told Cashbox Canada of the structure built by Welsh/Scots stonecutters. "It just sits on the prairie."
Ian Tyson, 'Wolves No Longer Sing,' co-written with Tom Russell, from Carnero Vaquero: 'Love no longer matters/and the wolves no longer sing…'
But it's not only physical geography Tyson explores in creating one of his finest albums, and further compelling evidence of him having fully healed from the 2007 accident that ravaged his voice. He sounds mighty fine and fully engaged, thank you. More here…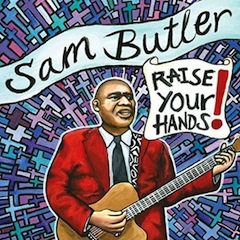 7. RAISE YOUR HANDS!, Sam Butler (Severn Records)– Sam Butler has been in the business of moving souls and bringing the gospel in song to audiences all over the world for a long time, mostly as the lead guitarist for the Blind Boys of Alabama and, going back to the age of four, with his father Samuel Butler Sr. when dad occupied the Blind Boys' lead guitar chair. Even now he's continuing in the Blind Boys tradition as a cast member of the Pulitzer Prize- and Tony-nominated play The Gospel at Colonus, which had a brief Broadway run in 1988 with the Blind Boys starring collectively in the role of Oedipus.
Now he's teamed with producer Brian Brinkerhoff (whose credits include Trombone Shorty) on a most unusual solo debut, Raise Your Hands! A spiritual album, its songs are not from the likes of, say, Thomas Dorsey or even Andrae Crouch; rather, the concept here is to have Mr. Butler assay songs of redemption and salvation as penned by secular artists, a dozen of them in all. With his own howling, piercing guitar, Mr. Butler's attack is given added heft by a tight, tough trio comprised of sacred steel master Roosevelt Collier and the first-call, road-tested Nashville rhythm section of drummer Marco Giovino and double bassist Viktor Krauss. They get to work on Springsteen's "Raise Your Hand," a rousing call into the fold from the Boss's High Hopes album (2014), featuring a percussive blitzkrieg by the rhythm section pummeling and Butler delivering the message with a heavyweight punch enhanced by his ferocious, wailing guitar solo later in the track. A maelstrom ensues, verily it does, only to arrive at the end at the serenity of Eliza Gilkyson's "Sanctuary," a deliberate, reverential confession of how, despite "a doubter's gloom and the cynic's sneer," the singer knows God's love is non-judgmental and pervasive—"though my trust is gone and my faith not near/in love's sanctuary thou art with me." If you've come this far with Sam Butler, you know there was no other way to end the album but to acknowledge a Divine presence guiding him along the way. More here…
'Wherever You Leadeth Me,' written by Curtis Mayfield, from Sam Butler's Raise Your Hands!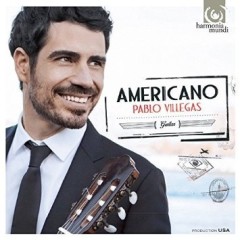 8. AMERICANO, Pablo Villegas (Harmonia Mundi)—More than being the finest classical guitar album of 2015, Pablo Villegas's Americano ranks with the finest classical guitar albums of the early 21st century. Now based in New York City, the La Rioja, Spain, native reminds us that the title is Americano, not Americana—apropos of an artist who is a founding leader of Music Without Borders Legacy, a non-profit dedicated to bringing classical music and at-risk youths together in the U.S., Spain and Mexico (the program now reaches 15,000 children), Villegas's concept is to address music from all the Americas, not merely the North end. He's only being true to a fundamental truth about the tool of his trade: "The guitar is the instrument of the Americas," he has said. "It has been the instrument of the different musical expressions of each region and of each country. It's the instrument of the people."
To excerpts from Americano, Pablo Villegas explains the concept and purpose of his latest album
To that end Villegas demonstrates his impeccable technique and deeply emotional interpretive touch on works ranging from Venezuela to Mexico, from Paraguay to the Bayou, from Broadway to the rural South from respected composers such as Venezuela's Pedro Elías Gutiérrez (the lively Joropo "Alma Llanera" that opens the album on a dramatic note with its simultaneously played alternating tempos and dramatic glissandos heightening the exuberance quotient); Heítor Villa-Lobos (two Preludes, #1 and #3, the first offering challenging, colorful dynamics and tonal shifts, the second a soothing, romantic ambiance shaped by impressionistic harmonies and thoughtful passages enhanced by a quote from J.S. Bach's e minor Fugue BWV 855 to add an intriguing touch of the Baroque to the proceedings); Luiz Bonfá's "Passeio No Rio" ("Walking in Rio"), a bright, evocative, dynamically rich musical emulation of strolling the city's streets from one of the founding fathers of Samba-Canção and Bossa Nova; and Leonard Bernstein, represented by Villegas's utterly charming interpretation of a West Side Story triptych comprised of joyous "I Feel Pretty," a haunting "Marie" and an electrifying "America"—an amalgam of Latin American rhythms, brassy jazz and Italian contabile, masterfully executed and brimming with joie de vivre.
From Americano, Pablo Villegas performs 'I Feel Pretty' from West Side Story
Teaming with guitarist James Chirillo, Villegas closes with a riotous nod to bluegrass via three Earl Scruggs tunes–a driving "Dear Old Dixie"; sunny, easygoing uptempo blues via "Kansas City Kitty"; and the ragtime inflections fueling a breathless 1:01 romp through "Big Eared Mule." With the new Star Wars episode now burning up the box office, Villegas is right on time with John Williams's "Rounds," a moody piece—Williams's first guitar composition—with a burst of energy at the midway point in six minutes-plus of stimulating exploration of texture and tone in striking chordal passages and sensitive single-string yearnings. A triumph in every respect, Americano is guitar and conceptual artistry of the first order—in short, a classic destined to grow ever richer over time. –-David McGee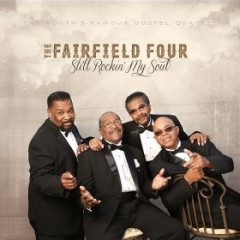 9. STILL ROCKIN' MY SOUL, Fairfield Four (Fairfield Four Records)– In 1925, when the Fairfield Four organized in Nashville, Tennessee, quartet singing was done a cappella. No instruments, just the human voice. And God saw that it was good. No–-great. Over the years, quartets added to the mix an ever-expanding combo of guitar, piano, organ, drums, electric bass, and synthesizer until the music threatened to overpower the vocal harmonies. Whether you are a fan of quartet singing with music, we can agree that there's something seriously magical about hearing a cappella vocal singing. The Fairfield Four has satiated this appetite in the twenty-first century with their new album, Still Rockin' My Soul. Follow this link to Bob Marovich's full review…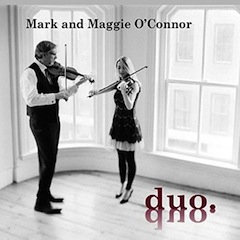 10. DUO, Mark and Maggie O'Connor (MOC Records)– With so much good about this new album from the newly married Mark and Maggie O'Connor, where does one start in appraising and praising it? … Standing toe-to-toe with Mark O'Connor at the altar is one thing; doing it when he has a fiddle in his hands quite another. Maggie has been impressing critics and fans alike for some time now but working with her new husband, and appearing with him on this album, is going to vault her into the front ranks of American violinists. … For Mark, Duo continues his remarkable mid-career reinvention as a classical artist and composer and furthers his case and cause for a new American Classical string music repertoire. … What happens here is best summarized in liner notes by the Bartók-Pásztory award winning violinist from Hungary, Péter Kováts, who observes: "Mark O'Connor's Duos also send the important message that there is a rich and exciting world that is worth being known widely, and this is the American fiddling, the American folk music with its different styles and moods, and what violinists should learn through playing them together, exactly as playing the Bartók Duos." More here…
Mark and Maggie O'Connor, 'Appalachia Waltz,' from Duo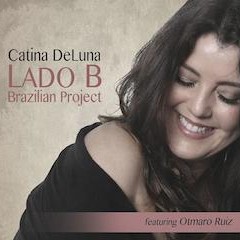 11. BRAZILIAN PROJECT, Catina DeLuna & Lado B (Catina DeLuna)– An outstanding practitioner of the Great Brazilian Songbook, Catina DeLuna and her gifted pianist husband Otmaro Ruiz, along with the superb musicians assembled as Lado B (or "Side B," its meaning explained in insightful liner notes by Tierney Sutton—an outstanding practitioner of the Great American Songbook—as "the flip side of the LP where some unnoticed gems may be found"), have created an invigorating and often beautiful journey replete with unexpected textures and rhythmic and harmonic shifts that perfectly complement Ms. DeLuna's seductive singing much as her vocal attack meshes impeccably with the musicians' adventurous spirits. Or as Ms. Sutton accurately observes: "…the featured artist here is the ensemble: a living, breathing unit, caressing these arrangements with musicality and gorgeous playing by all involved."
'Fotografia,' written by Antonio Carlos Jobim, as performed by Catina DeLuna & Lado B on Brazilian Project
When the album closes with Jobim's wistful lover's end-of-day lament "Fotografia," It seems the most ideal, contemplative farewell, with tender solos from piano and guitar and the romantic, humming strains of an accordion accentuating the memory the singer recalls of "that kiss…that kiss." Brazilian Project (a debut album funded through Pledge Music, and only Ms. DeLuna's second as a band leader) engages the senses on multiple levels but also honors the human equation informing its songs' narratives. At every step the musicians make the right choices. More here…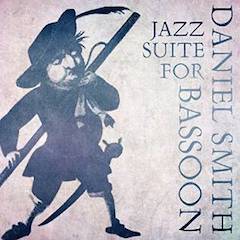 12. JAZZ SUITE FOR BASSOON, Daniel Smith (Summit Records)– It is now 2015, and if any bassoon albums of note have come down the pike, they have escaped the attention of your faithful friend and narrator—save for one, Jazz Suite for Bassoon, an exhilarating foray into jazz, classical and ragtime compositions by Daniel Smith, one of the foremost bassoonists extant who has busied himself with exploring the instrument's versatility and tonal potential while expanding its appeal to contemporary audiences.
AUDIO CLIP: Scott Joplin's 'The Easy Winners,' performed by Daniel Smith (bassoon), with Jonathan Still (piano) and the Caravaggio Ensemble. From Jazz Suite for Bassoon
His latest endeavor in this regard is a big winner. In addition to being a captivating musical experience, Jazz Suite for Bassoon is something of an overview of the bassoon in history, as Smith explores Baroque compositions by Vivaldi, JS Bach, Henry Purcell and William Byrd; rags by the master of the form, Scott Joplin (with the Caravaggio Ensemble); and the title composition, a new work by pianist Steve Gray, that showcases the bassoon's warmth, wit and humanity in stimulating dialogues with a jazz ensemble. More here…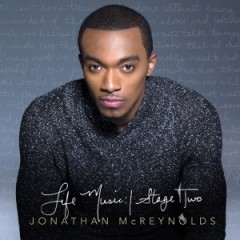 13. LIFE MUSIC: STAGE TWO, Jonathan McReynolds (eOne/Tehillah Music Group)– Life Music: Stage Two couldn't be a better showcase for Jonathan McReynolds.
The follow-up album to the 26-year-old singer-songwriter-musician's 2012 debut, Life Music, Stage Two is the musical manifestation of his honest and spiritually grounded approach to dealing with the vicissitudes of daily life.
The Chicago-born McReynolds is one of the few gospel solo artists who plays acoustic guitar. His mellow blend of acoustic neo-soul with churchy conviction may be somewhat novel today, but it mirrors the intimacy of his lyrics, which feel like informal conversations with God.
Jonathan McReynolds, 'Whole,' featuring India Arie (aka India.Arie), from Life Music: Stage Two
McReynolds surrounds himself with like-minded musicians, none more so than India.Arie. His musical sister from another mother joins him on the album's current single, "Whole." Their expressions of gratitude to God for keeping them on solid moral ground are raised aloft on the soft marching rhythm of Charles Lamont Garner's drum. New generation gospel innovators PJ Morton and Warryn Campbell co-authored "Gotta Have You" with McReynolds, and Dominique Jones of foreverJONES co-wrote "Oh!" The latter is a sure-fire singalong with pop sensibility and an old soul. Israel Houghton, a natural partner for McReynolds, duets on the very New Breed-ish P&W "All Things Well," and Corey Barksdale appears on "Jesus." Follow this link to Bob Marovich's complete review…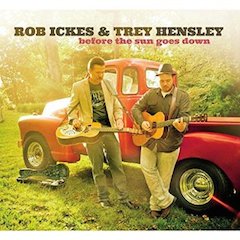 14. BEFORE THE SUN GOES DOWN, Rob Ickes & Trey Hensley (Rounder)– Rob Ickes, the 15-time IBMA Dobro Player of the Year, was part of the triumvirate that delivered one of last year's finest tradition-oriented roots recordings, Three Bells, with Jerry Douglas and the late Mike Auldridge. He's kicking off the new year in the same vein with a duo project that also serves as a powerful introduction to the artistry of young Trey Hensley, Before the Sun Goes Down. To clarify, Hensley, although only in his early 20s, has been around the country scene since Marty Stuart invited the then-11-year-old to join him on the Grand Ole Opry; he's since gone on to play with a host of marquee names (including Johnny and June Carter Cash, Ricky Skaggs, Steve Wariner, Sara Evans, et al.; he's even performed at the George W. Bush White House). This outing with Ickes is, however, his first headline appearance on an album. He makes the most of it, paying authoritative acoustic and electric guitars, and most of all singing in a warm tenor that's going to ripen into a forceful baritone in years ahead; moreover, he demonstrates in his phrasing a nuanced understanding of his texts, Ickes, to his credit, doesn't try to steal the show but rather supports his youthful partner in the same tasty, empathetic manner he's done for his mates in Blue Highway and everywhere else over the years. For a band, the two have assembled a blue-chip lineup featuring Andy Leftwich, Ron Block, Pete Wasner, Aubrey Haynie, Mike Bub, the under-recognized drummer John Gardner (impressive throughout) along with a stellar group of harmony singers, including Dan Tyminski. More here…
From Before the Sun Goes Down, Rob Ickes and Trey Hensley take on Stevie Ray Vaughan's 'Pride and Joy'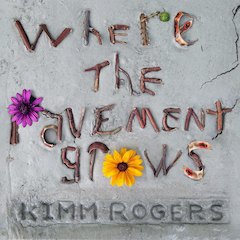 15. WHERE THE PAVEMENT GROWS, Kimm Rogers (http://www.kimmrogers.com/album/215122)– As to what kind of artist Kimm Rogers really is, well, it's possible even she doesn't really know. A singer-songwriter, to be sure, she is, but her wild reddish mane covers a poet's brain and sensitivity, whereas farther south beats the heart of a rock 'n' roller. One prominent critic has compared her, not always favorably, to Maria McKee; yours truly hears more of Natalie Merchant in her reedy timbre and the way she has of often standing outside her stories watching herself react, now with wry detachment, now with an abiding ache for something lost that may never have been gained in the first place, now with joy for anticipated pleasures (which implies a willingness to take the pain of disappointment as well). Another critic hears her on a country-rock path; conversely, the magazine Stereo Embers named her #11 on its list of "Fifteen Coolest Women In Rock and Roll". While you, dear reader, contemplate matters of artist identity in light of the above observations, there's plenty to enjoy in the music you will find in Ms. Rogers' neighborhood on this, her third album, but first long player since her 1992 release on Island/Polygram, Two Sides (which was preceded in 1990 by her harder edged debut Island release, Soundtrack of My Life). More here….
Kimm Rogers, 'Rain,' from Where the Pavement Grows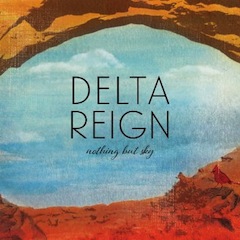 16. NOTHING BUT SKY, Delta Reign (Travianna Records)– Following its superb Calm Before the Storm long player, Mobile, Alabama's Delta Reign returns with a more straight-ahead bluegrass effort in Nothing But Sky, and proceeds to hit the same highs that made its predecessor so compelling. Although there are no band originals on this effort (guitarist-lead vocalist Benita Murphy contributed two of Calm's strongest numbers but apparently was seized with a bout of writer's block, leading the band to reach out to a bevy of Nashville writers for material, with the only mandate being, according to an interview with Benita at AL.com, "no bluegrass songs"), what appears here is personalized to the point where it feels sui generis. A big reason for that just happens to be the aforementioned Benita, whose strong, nuanced vocals indicate the degree to which she understands the songs' overt and implied meanings, as if she had indeed written them herself. She's aided of course by her fellow band mates, who comprise one of the tightest little combos extant in roots music. If "no bluegrass songs" was the word sent out, what Delta Reign sends back to its listeners is sure enough bluegrass, but with a bit of country and folk spice for an extra-savory blend.
Delta Reign, 'Nothing But Sky,' the title track from the band's new album
No mere collection of songs this; rather, Nothing But Sky is a series of thoughtful, largely optimistic reflections on meaningful matters. Exhibit A in defense of this assertion: Ed Williams's "Nothing But Sky," a driving banjo- (by Benita's husband Pat Murphy) and fiddle-fired (the exceptional George Mason) treatise on the deeper meaning inherent in a redbird taking flight, to wit: "We've got a lot to learn from that ol' red bird who appreciates everything/'cause out front is the wide horizon/what's behind us is all gone by/there's a whole new day a-risin'/up ahead we've got nothin' but sky." It's not a bad way to live, embracing such optimism and hope, as Aaron Ramsey underscores with a ferocious mandolin solo about midway through this uplifting ensemble piece. On a more contemplative note, the midtempo trucking song "The Long Haul" (written in part by a Delta Reign favorite, David Grey) unfolds to be not a trucking song per se but a touching love song, about an empty nest couple now big-rigging it together and finding their love deepening as the miles go by—the mileage inherent in the title sentiment is not literal but rather a comment on their commitment (or re-commitment) to each other as this new passage in their lives unfolds. More here…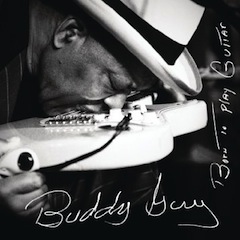 17. BORN TO PLAY GUITAR, Buddy Guy (Silvertone)– Maybe the title, and the cover photo showing Buddy Guy playing his guitar with his teeth, is meant to be ironic. Don't misunderstand—Buddy plays plenty of hot guitar on his latest long player, in case we need to be reminded that he was born to play guitar, but he has seldom made so strong a vocal album from start to finish as he does here. His singing is really the big story on Born to Play Guitar.
Buddy makes this clear from the first gutbucket notes of the album opening title track, a Delta style electric blues with a ferocious opening guitar-and-vocal-only salvo in which our man declares with unwavering intensity, "I was born to play guitar," and adds a sly nod to Muddy Waters in an interpolation from "Mannish Boy," to wit: "I got a reputation/everybody knows my name…." Eventually the band kicks in and takes the song into grinding, South Side Chicago territory behind Buddy's moody, serpentine attack on a '57 Strat buttressed by Kevin McKendree's lowdown, fluttering piano runs. "Crazy World," a Buddy co-write with his producer/drummer Tom Hambridge and the estimable Gary Nicholson, is sonically enhanced with some eerie sci-fi weirdness and a taste of '70s wah-wah guitar but when it settles into a dark, foreboding groove (with Reese Wynans contributing mightily to the sinister ambiance with his high-pitched organ howls), Guy's emotional vocal is delivering a heated topical message bemoaning the working man's plight and the folly of believing in change when "politicians spend millions trying to get your vote/and everybody knows they're already bought and sold…it's a crazy world, hey! It's a crazy world." Blues on top of blues, as Buddy makes clear in his unforgiving vocal. "Crying Out of One Eye," another Guy-Hambridge-Nicholson collaboration, has to recommend it Guy's crying guitar, Wynans' mournful Wurlitzer and heated punctuations from the Muscle Shoals Horns, but the piercing moment is provided by Guy's wounded vocal delivering a deep blues lament to an unfaithful woman who couldn't even muster phony sincerity when she said goodbye ("I caught a little smile/and you made it so clear/when you said goodbye/you was only crying out of one eye…"). …
'Flesh & Bone,' a tribute to B.B. King from Buddy Guy's Born to Play Guitar. Van Morrison, guest vocal; Buddy Guy, '57 Strat; Rob McNelley, electric guitar; Kevin McKendree, B3, piano; Michael Rhodes, electric bass; McCrary Sisters, background vocals.
Buddy Guy is right on it, and he's right on it and right in it all the way through Born to Play Guitar—a master in his element, telling the truth. Always telling the truth. More here…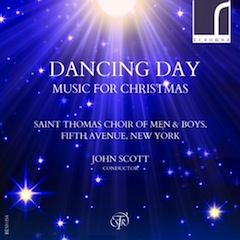 18. DANCING DAY: MUSIC FOR CHRISTMAS, Saint Thomas Choir of Men & Boys, John Scott, Conductor (Resonus)– This CD has a touching poignancy in that it was the last recording made by the distinguished conductor and organist John Scott, who died at a tragically young age in August 2015. It was recorded in April and went to press a few days before John's death, so there is no reference to his death in the notes. An enormously influential musician and man, John Scott was organist and director of music at London's St Paul's Cathedral for 14 years before moving to New York to direct the choir and music of Saint Thomas, Fifth Avenue, one of the finest Anglican men and boys choirs outside of the UK.
It is perhaps appropriate that this recording is of Christmas music from John's home country, centered on Benjamin Britten's Ceremony of Carols, a work that Britten started composing in 1942 on his journey back to England after three years in the United States. It is followed by his New Year Carol from the collection Friday Afternoons, written for the boys of his brother's preparatory school. Both pieces demonstrate Britten's extraordinary ability to write for boys' voices without the slightest hint of condescending or patronizing, treating them as consummate musicians in their own right–something that John Scott very clearly believed in.
ALBUM SELECTION: 'On Christmas Night (The Sussex Carol),' Saint Thomas Choir of Men & Boys, with conductor John Scott and organist Benjamin Sheen, from Dancing Day: Music for Christmas. This is the popular arrangement by Philip Ledger (1937-2012) based on a transcription by Vaughan Williams included in his Fantasia on Christmas Carols, introduced in 1912. The carol's original words were first published in Ghent, Belgium in A Small Garden of Pious and Godly Songs collected by Bishop Luke Waddinge for his parishes in Wexford, Ireland.
The 24 boys and 14 men of the Saint Thomas choir produce a magnificent sound, with that exquisite combination of musical precision, strength and insight that so typifies John Scott's approach to music, and to fellow musicians. Nine of the boys have solo spots, all sung to perfection in that almost unexplainably pure, innocent and harmonically complex sound of a boy's voice. The perfect intonation, enunciation and control of consonants are all examples of John Scott's meticulous approach to music. Follow this link to Andrew Benson-Wilson's complete review…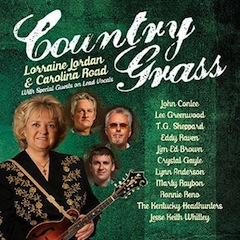 19. COUNTRY GRASS, Lorraine Jordan & Carolina Road (Pinecastle Records)– From the fierce, rolling banjo licks created by Ben Greene, followed by equally furious fiddling from Josh Goforth that kicks off "Runnin' Water," the first rack on Country Grass, you know Lorraine Jordan & Carolina Road are onto and into something special. Lorraine herself (or Goforth; it's not indicated which one's cutting loose) picks a sizzling mandolin solo amidst all the hubbub and then the robust but plaintive lead vocal brings home a poignant if rambunctious bluegrass tale. But check the lead vocal and look who else is on the track: it's by Doug Phelps, and his Kentucky Headhunters brethren are in close harmony with him.
John Conlee joins Lorraine Jordan & Carolina Road to revisit his 1983 monument, 'Common Man,' with Brad Hudson stepping up to take a verse. A highlight from Country Grass.
There's the rub: Country Grass advances—wildly successfully—the concept of reframing mainstream country hits from the past (mostly from the '70s and '80s, with two '90s hits and two '60s hits in the 13-song mix) as bluegrass songs. They then take the concept a step further by enlisting the songs' original lead singers (most of them anyway) to come back for another go 'round. Wonders abound. More here…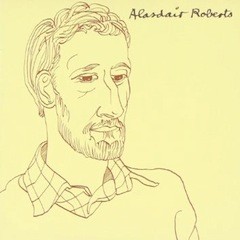 20. Alasdair Roberts, Alasdair Roberts (Drag City)– On his eighth album, Glasgow's Alasdair Roberts sheds the progressive affectations of his early band Appendix Out along with his recent solo work's expansive soundscapes. Here the sturdy-voiced balladeer favors a warm, intimate atmosphere to frame the austere, organic beauty of and arcane cultural and Gnostic references dotting original songs based largely on traditional pastoral melodies of yore, meaning from centuries ago. Accompanying himself on multiple instruments—stringed and otherwise, but mostly acoustic—with support from guests on tin whistle, clarinets and backing vocals, Roberts offers captivating ruminations on aspects of peace, love and spirituality. The deepest reflections celebrate the fruits of human labor, whether those be the bounty farmers produce to feed "the belly and the soul" (as documented in the soothing, hymn-like "In Dispraise of Hunger") or the imperative handed down through the ages to others in humanity's powerful parade, as articulated so poetically in the metaphorical verses arising amidst a lonely tin whistle's moan and softly picked acoustic guitar in "Roomful of Relics." Echoes of Steeleye Span, Fairport Convention and, notably, Robin Williamson are evident; but ultimately this inspired, literate Scot has forged his own path on a personal journey to a state of grace.
'In Dispraise of Hunger,' Alasdair Roberts, from his self-titled album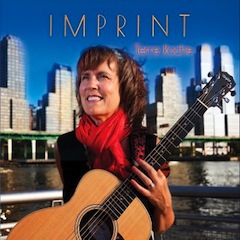 21. Imprint, Terre Roche (Earth Rock Wreckerds)– The second-born of three talented Roche sisters that have been with us in various combinations ever since siblings Maggie and Terre made their debut in 1975 on the Paul Simon-produced LP Seductive Reasoning, Terre is emerging solo, and quite seductively, for the first time since her 1998 album The Sound of a Tree Falling. Herein she applies her warm soprano to a collection of often quirky original tunes ranging from the manic humor of a gently rocking ode to a fast-paced world ("The Dang Beehive") to a wry, old-timey banjo-and-guitar-driven treatise on treacherous societal forces unseen but deeply felt ("Stick Up Hair") to a lovely but supremely heart tugging ballad to a departed lover whose presence persists in memory ("Imprint"). In true Roches fashion, the songs' topics are never as clear cut as they seem on the surface, as larger truths are revealed between the lines and in odd phrasings. Only Jay Anderson's bass and percussion provide periodic support for Ms. Roche's voice and guitar in a crystal-clear soundscape that captures the essence of a unique artist with what former Roches producer Robert Fripp pinpointed as "a small and appropriate level of technology." Imprint will leave its mark on you.
'Imprint,' the title track from Terre Roche's new album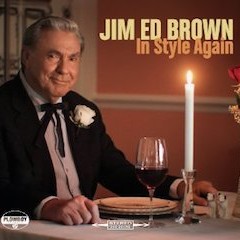 22. IN STYLE AGAIN, Jim Ed Brown (Plowboy Records)– The year of our Lord 2015 is off to quite a good start for Jim Ed: diagnosed with lung cancer this past fall, he's now been told the disease is in remission. Coincident with that news, Plowboy Records released his first new album in 35 years, the Don Cusic-produced In Style Again. A fine comeback, it might well have been titled In My Style Again in the way its old school production evokes the pop-influenced country sound ("countrypolitan") Chet Atkins fashioned for The Browns in the late '50s. What's been going on in his soul and with his spirit all these years when he's been silent on record seems to be revealed in several of new album's songs.
What's been going on in his soul and with his spirit all these years when he's been silent on record seems to be revealed in several of new album's songs. Consider the title track (produced by Bobby Bare), a reflective, string-enhanced ballad, in which he begins by comparing himself to "an old sharecropper's shack in need of paint," and later muses, yes, nothing lasts forever but it hurts to be replaced by a younger, fresher, pretty face/so if only for a while I'd like to be in style again, some day." Later he confesses, "There's nothing quite as hard as the fall/and the changes are so cruel, once you've had it all."
Jim Ed Brown with sister Bonnie in a Browns reunion on 'When the Sun Says Hello To the Mountain,' the opening cut on In Style Again
Off the top I can't think if any other country veteran from any era being so bold and so frank in admitting what really happens to artists of a certain age. Almost half of these songs are written by producer Don Cusic, who has a wealth of credits as a music historian, author, magazine editor, record company exec, artist manager and songwriter, and is a co-founder of Plowboy Records as well. Of the many points to be made about Cusic's stewardship of Jim Ed Brown's revived recording career, foremost is that he doesn't even attempt to disguise Jim  Ed as something he's not; the album's laid-back mood, with its strings, pop-ish background singers and reflective, introspective atmosphere might well have met Chet Atkins's approval; it certainly suits the songs' content and beautifully supports Brown's apparently ageless 80-year-old voice. He must have lived a clean life, because he sounds considerably younger than he really is, a seasoned crooner still in full command of his interpretive gifts. More here…
23. THE NEXT LEVEL OF THE LEGACY, The Supreme Angels
(Raymarkable Music)– The Supreme Angels are among the quartets that have managed to remain active on the gospel highway, albeit with personnel changes, for more than a half century. The Next Level of the Legacy is their newest, and appropriately titled, album. Appropriately titled because it signals the group's commitment to keep singing in a post-Howard "Slim" Hunt milieu. The passing of Hunt as well as that of Robert "Sugar" Hightower and Al Dent over the course of five years could have signaled the end of the Milwaukee-born quartet. But Gregory Kelly and Michael Kimpson were determined to keep the group in play and this album is proof positive that their decision was a sound one.
SELECTED TRACK: 'Get Right With God,' The Supreme Angels, from The Next Level of the Legacy
The ten radio-size selections represent a fine mix of traditional and neo-traditional material. The songs are buoyed along by loping tempos that support a smooth veneer of harmony and prominent electric piano. While the "Supreme Angels Medley" is a reminder of the group's estimable back catalog, songs such as the energetic "In the Room," the cautionary tale of "Get Right With God," and a stripped-down version of Kenneth Morris's "My God Is Real" bring into the 21st century the churchy sound that has brought the group this far. Follow this link to Bob Marovich's full review…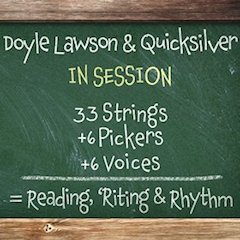 24. IN SESSION, Doyle Lawson & Quicksilver (Mountain Home Music Company)– In press materials accompanying In Session, the music is described as "bluegrass cum laude from the master, Doyle Lawson, and his band." What may sound like hyperbole is in fact the God's honest truth. Bluegrass Hall of Famer and master mandolinist Lawson has perfected a singular bluegrass style rooted firmly in tradition but edging ever so subtly into the progressive realm. Unsurprisingly, the current Quicksilver lineup (Josh Swift, reso guitar, percussion, vocals; Dustin Pyrtle, guitar, vocals; Joe Dean, banjo and guitar; Eli Johnston, bass, guitar and vocals; Jason Barie, fiddles; Stephen Burwell, fiddle on "Wilma Worker") cedes nothing to previous Quicksilver incarnations in the way of instrumental mastery and impassioned playing, and with Lawson's leadership they sound as if they have been together for decades, so perfectly attuned are they to each other's moves.
SELECTED TRACK: Doyle Lawson & Quicksilver turn the Ames Brothers' 1953 pop hit 'You You You' into a bluegrass love song on In Session.
The traditional-progressive axis is rousingly evoked in the hard charging opener co-written by Johnson and Pyrtle, "Roll Big River," featuring furious but precise soloing by fiddle, banjo and mandolin (Lawson in a red-hot turn) behind a keening vocal and soaring harmonies in a story celebrating a weary traveler's anticipated family reunion at journey's end. The values Lawson has always celebrated in his music only begin there. From the redoubtable husband-wife songwriting team of Rick Stanley and Donna Ulisse comes "Wilma Walker," a midtempo courting song centered on the rocks of hard work and the family circle as a source of strength and harmony through the years, virtues personified in the easygoing sincerity of the ensemble's tight harmony vocals. In keeping with the album's larger theme, "Calling All Her Children Home," all plaintive harmonizing and atmospheric reso fills from Swift, is a heart tugging ballad from Carl Jackson and Aaron Wilburn explaining how the singer, like many before him, is always in touch with and pulled back to his southern roots, no matter how far above and beyond the Mason-Dixon Line he may wander. More here…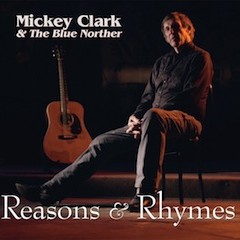 25. REASONS & RHYMES, Mickey Clark & The Blue Norther (SonaBLAST Records)– If you didn't know that Mickey Clark's eloquent, soulful album Reasons & Rhymes was released several months prior to Tom Paxton's latest you might have thought the former was conspiring with the latter to explain themselves fully in song. Clark doesn't waste any time in this pursuit, opening with the title track, on which we hear his warm, sturdy voice announce at the outset, "I'm a victim of the pickin'/gotta keep my ticker tickin'/'cause there's always one more song I wanna write/got a woman who's been with me/since way back in the Sixties/and she seems to understand the picker's plight…" Well, Mickey has his woman from the '60s (they are now in their 46th year as husband and wife) and Paxton was married to his beloved Midge in 1963 and stayed that way until he lost her to a long illness last year. Both men got their first instruments when they were in the teens and soon enough both realized what Clark sings of here: "I knew I had to play my music and follow my heart on down the line/and I'm still ridin' midnight fences and those neon circumstances/reining in new reasons and rhymes." Mickey Clark has written some wonderful songs in his time, but this one is especially beautiful owing to it sounding like the God's honest truth from first note to last and for striking a neat balance between the uplifting and the poignant in his reflections (with a nice atmospheric boost from Chip Bush's delicate mandolin support).
SELECTED CLIP: 'I Remember Loving You,' Mickey Clarke and the Blue Norther, from Reasons & Rhymes
Stay tuned for two transcendent moments. One comes by way of the album's lone cover song, Kristofferson's "Sunday Mornin' Comin' Down." You would think this had been done definitively by its composer and by Johnny Cash, but Clark's weary reading, in which he sounds like he has lived the lyrics to the bone and still hasn't recovered, captures the magnitude of the singer's abject spiritual despair, powerfully so as Bob Ramsey's B3 wells up hymn-like under the vocal. The other, "I Remember Loving You," is an instant classic country love song, all soft fiddle (courtesy Jeff Guernsey) and understated pedal steel (Eli Hall) enhancing a tender, heart tugging melody and memorable chorus in service to lyrics centered on the persistence of love's first glow that Clark delivers with a perfectly modulated, folkish vocal, conversational but deeply felt. The topper on the whole enterprise is the closing dedication-in-song to Rudell Stitch, a professional boxer Clark worked out with in his youth (and who was Louisville's first great pugilist, predating his friend Muhammad Ali) who rose to #2 in the Ring Magazine rankings in 1960, the same year he died trying to save a friend from drowning in the Ohio River. In the sturdy country thrust of "Song for Rudell (Stitch), Clark sings of Rudell's greatness not only in the ring but especially out of it; this is followed by an unforgettable coda featuring Stitch's youngest son Darrell—who wasn't even a year old when his daddy died—speaking frankly about the father he's come to know as he's grown up. In a voice cracking with emotion he describes his dad as "a man of God, a man of family, and he was a sportsman as well as an athlete." It's quite a moment, and hearing it can only make you appreciate what a rare man Stitch was, and appreciate in full the rare, wondrous incandescence of Reasons & Rhymes. More here…
Follow these links to