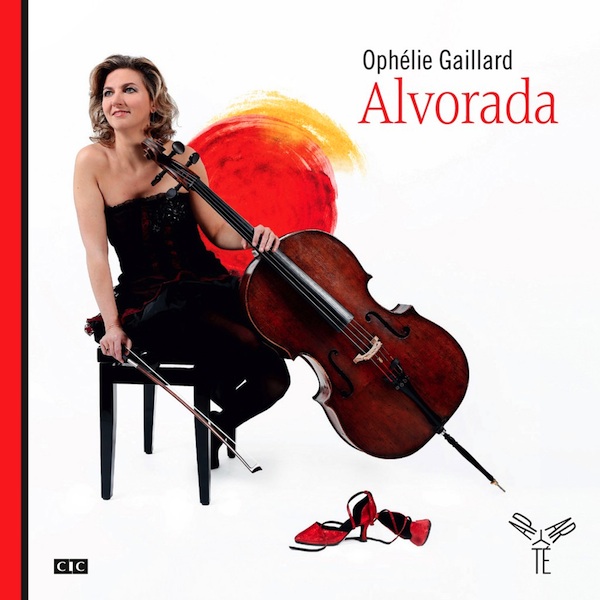 ALVORADA
Ophélie Gaillard;
Aparte
This new disc from Ophélie Gaillard is something of a departure from a cellist who is well known for her performances in the baroque and classical repertoire. On the Aparte label (distributed by Harmonia Mundi) she joins with a variety of musicians to perform a wide variety of Spanish and Latin American music under the title Alvorada. With songsby de Falla, Granados, Piazzolla, Villa Lobos, and Cassado, the music explores the genre's more popular, dance elements, played with sensitivity and passion by Ms. Gaillard and some major figures in Latin American music.
The opening item brings a strong sense of the bright color and rhythms of the performances. Two items from Manuel de Falla's Siete canciones populares espanolas combine Gaillard's lovely lyrical cello with guitar and a highly prominent castanet part. And this is true of Granados' Intermezzo from Goyescas.
Ophélie Gaillard, Alvorada EPK
Having introduced us to Spanish music, from then on the program migrates to Latin America with an extended exploration of the varieties of music on offer. In Cobian and Cadimaco's "Nieblas del riachuelo" we have a rather smoky jazz-ish sound with the bandoneon rather taking us to Paris. The title track, "Alvorada," introduces us to the singer Toquinho, whose smoky vocals combine well with Gaillard's cello in a samba. In items like Simons' "El Manisero" it is clear that everyone is having fun as well as making good music. There is an extended sequence of music by Astor Piazzolla, which brings out the variety of his style from lyrical yearning to up-tempo, hard-edged tango nuevo. The first disc finishes with another song, "Nostalgias," especially memorable for Sandra Rumolino's sexy, smoky vocals.
'Jota,' written by Manuel de Falla, from Alvorada, This live performances features Ophélie Gaillard on cello; Emmanuel Rossfelder on guitar and David Chupete on percussion.
On the second disc we move through Lipesker's colorful waltz, "Romantica," the rhythmic tango of Gobbi's "A Orlando Goni" and we get Toquinho singing in his own catchy song "Tarde em Itapua," and the lively popular sounding "Wave" by Jobim. A sequence of music by Villa Lobos includes the beautifully lyrical O canto do ciscne negro and El cant dels ocells. Of course there is the Cantilena from Bachiana Brasileira No. 5, recorded with a group of Gaillard's pupils, but it seems a shame that we did not get the whole work. The disc ends with a suite for solo cello by Gaspar Cassado, a pupil of Casals, which combines a sense of rhapsody with robust dance.
I was surprised how much I enjoyed this disc. It really does feel like an exploration and is entirely lacking in that embarrassing sense you can often get when classical musicians perform popular music. It helps that Ophélie Gaillard has surrounded herself with some very fine musicians indeed.
Reprinted by permission of Robert Hugill, a contemporary classical composer based in London. Recent performances of his works have included sacred motets, orchestral music and a one-act opera. Click here for his full biography. For more of Mr. Hugill's classical reviews and interviews, visit Planet Hugill—A World of Classical Music.