One woman's songs lay buried under the dirt of Theresienstadt, until the war's end. One woman carried her songs with her, out of the camp where she was a political prisoner. One woman remains a phantom, undocumented and unknown beyond her name and her chilling description of life in Auschwitz. They were arrested, worked to the bone, cut off from their children and loved ones, killed. Yet they never fell silent.
Their words, their haunting worlds find new life in striking interpretations by Italian-born, Jerusalem-based singer Shulamit Ottolenghi. Together with musical kindred spirits Frank London (trumpet), Shai Bachar (piano), and Yuval Lion (percussion), Shulamit sets aside the more conventional classical treatment of this repertoire for songs from the Shoa (Holocaust). These pieces sway, ache, and bite, evoking rage, heartbreak, and unending yearning on For You the Sun Will Shine: Songs of Women In the Shoa.
"My greatest aspiration is for this music to live on as beautiful music, to be appreciated as art," explains Shulamit. "It's not about fancy melodies or complicated compositions. It's about connecting with the immediate circumstances of the women who composed it, and it has the power to move people profoundly."
'The Song of Auschwitz,' Shulamit Ottolenghi, from the album For You The Sun Will Shine: Songs of Women In the Shoa
Shulamit lived and performed with these songs for ten years before she felt ready to record them. Her introduction came via Maestro Lo Toro, whose painstaking research into the music and songs written during the Holocaust helped bring many obscure works to light. Yet Shulamit was not content to render these pieces in the usual classical voice; it simply didn't feel right.
Yet she knew she had to record these songs. She knew she could find expression, not only for the bitter tenderness of the lullabies women wrote, for distilled longing, but also for the rage, the fearful madness, for the songs that chronicled their wretched workdays, the horror of prison, the disease and despair. She heard songs as broken waltzes, as tunes that broke ranks and ran amok, and needed to find musicians who heard it, too.
London and Bachar did. They clicked. "I didn't even have to tell them what I felt. It just happened. They helped me find my own voice and I liberated myself," recalls Shulamit. "That's the greatness of the thing. There was something very immediate between all of us."
'Osseh Shalom (Prayer for Peace),' Shulamit Ottolenghi, from the album For You The Sun Will Shine: Songs of Women In the Shoa. Accompaniment by Frank London (trumpet) and Shai Bachar (piano).
London and Bachar provide elegant accompaniment at times, gently underlining Shulamit's voice, and at times, veer into stirring experimentation. London's signature adventuresome playing reels and tumbles ("Auschwitz Lied" and "Ade, Kamarad"), while Bachar's eerie prepared piano ("Moravo, Moravo") adds both rhythmic and timbral drama. Sometimes Shulamit coaxes a fragile melody forth, while other times, she roars, bursting with barely contained fury.
Shulamit had no qualms about pursuing a non-canonical approach to this material; she had followed her own musical path for years. A clinical psychologist by training who grew up adoring the melodies her religious community in Milan used to sing prayers, she made her first professional appearance as a singer at age 40. Her previous projects focused on her Jewish-Italian musical roots, and her bel canto training served her well to sing them. For this repertoire, however, that vocal placement felt too far removed from the heart of the material, from the words.
"I sing the words," she noted. "In this rep, I felt it was impossible for the lyrics to receive less emphasis than the melody. To convey what these women wrote about, and not to take it at face value."
'A Jewish Child,' Shulamit Ottolenghi, from the album For You The Sun Will Shine: Songs of Women In the Shoa. Accompaniment by Shai Bachar (piano), Frank London (trumpet) and Yuval Lion (percussion).
The words reflect the inner worlds of remarkable women: the amateur musician and nurse who resolved to go with her son and her other young charges to the gas chamber, whose songs were buried by her husband only to be retrieved post-war. The wife of a Czech political activist, who was arrested for acknowledging her husband's death. The Polish woman who went to her death with her family and composer husband.
"These songs contain so many substrates of meaning, when you know it's set in Theresienstadt, you can't just sing it in some lyrical way," reflects Shulamit. "Every time I performed them, I deepened my feelings about the words more and more. I actually came to love the German language, though I never was a fan before. I learned to sing in Czech. But I felt it from the beginning: These songs went to a very personal place."
It was a place that was trying, but also inspiring for the singer. When Shulamit performed this program for the very first time back in 2005,at an organization in Jerusalem that offers psychological support to Holocaust survivors, an audience member asked her to sing some consolation as the concert drew to a close. The request stuck with her, and she decided to end her concerts and the album with a Hebrew prayer for peace ("Ose Shalom") whose melody originates in the Jewish community in Rome. After a dark and emotional journey, it reminds the listener of life, of the light that shines even in these testaments to suffering and fear.
'A Little Christmas Lullaby in Ravensbruck,' Shulamit Ottolenghi, from the album For You The Sun Will Shine: Songs of Women In the Shoa. Accompaniment by Shai Bachar (piano).
The personal experience of this repertoire is connected to Jewish identity and history, and yet has universal meaning and artistic power for all of us, regardless of background or creed. "Art means you can have different interpretations. True respect to these women artists is to treat them as artists," insists Shulamit. "These songs are beautiful art. I put them profoundly in the Shoa, but I don't want them only sung on Holocaust Day." The value of these songs goes beyond memorials and history, to the heart of human experience.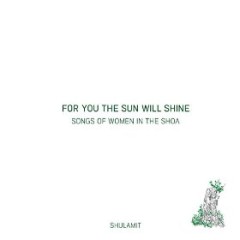 For You The Sun Will Shine: Songs of Women In the Shoa was supported by the Hadassah-Brandeis Institute, and by the spiritual support of its Director,Prof.Shula Reinharz, Jacob S. Potofsky Professor of Sociology at Brandeis University.