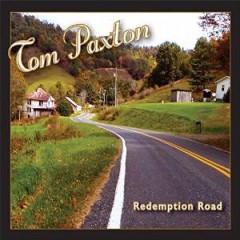 REDEMPTION ROAD
Tom Paxton
Pax Records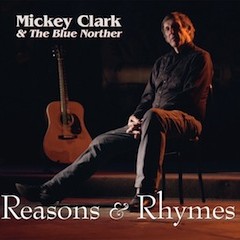 REASONS & RHYMES
Mickey Clark & The Blue Norther
SonaBLAST Records
Two veteran folk artists, both with roots in the fertile Greenwich Village folk scene of the '60s, are back on disc with fine albums that have in common Grammy winning producer Jim Rooney, as well as exemplary songwriting; easygoing vocals that draw you into their tales and then touch your heart where it counts; and an understated, gentle vibe that sounds like nothing so much as home.
Bristow, Oklahoma's Tom Paxton (who on March 14 was inducted into the Oklahoma Music Hall of Fame. Here! Here!) is inextricably linked to those halcyon early '60s days in Greenwich Village when an astonishing array of formidable musicians with something to say were making their bones. Though it was Dylan who vaulted from that scene to cultural icon status, Paxton was—by the admission of none other than Dave Van Ronk, the late, great "Mayor of MacDougal Street" who was right in the middle of everything and saw it all unfold—"the person who started the whole thing…he tested his songs in the crucible of live performance, he found that his own stuff was getting more attention than when he was singing traditional songs or stuff by other people…he set himself a training regimen of deliberately writing one song every day. Dylan had not yet showed up when this was happening, and by the time Bobby came on the set, who at most two or three songs he had written, Tom was already singing at least 50 percent his own material." Before moving to New York City, Paxton had attended the University of Oklahoma, where his immersion in folk music commenced upon his discovery of fellow Okie Woody Guthrie and Woody's compadre Pete Seeger. Their activism ignited in Paxton a keen sense of social justice that found expression in his own songs, even as he penned aching heartbreakers such as "The Last Thing on My Mind" and raucous odes on the order of the Fireballs' freewheeling "Bottle of Wine."
Tom Paxton at City Winery, New York City, November 3, 2013, with 'Redemption Road,' the title track of his new album
The template Paxton constructed for himself in his early days has remained valid for him ever since. But be the topic civil rights, human rights, labor rights, environmentalism, political duplicity, racism, the 9/11 tragedy, various current events; the ways of the heart; or a fanciful tune for children (in the '90s he released nine children's albums that are too often overlooked in his body of work), Paxton has never forgotten to be tuneful and melodic or how to press his points with a gentle hand that makes his messages ever more resonant.
Redemption Road's touchstones are the same as they ever were with Paxton but with a bit of a wistful quality, as the now-77-year-old artist transitions into taking stock mode. The largely serene soundscape features, in support of Paxton's warm vocals, the likes of Tim Crouch on fiddle; Pete Wasner on piano and Wurlitzer; Al Perkins on dobro; Kirk "Jellyroll" Johnson on harmonica; Kathy Fink on banjo; John Mock on whistle, among others. Harmony vocalists comprise an all-star lineup of Janis Ian, John Wesley Ryles, Suzi Ragsdale and Marcy Marxer. Paxton's old buddy John Prine makes a brief but memorable appearance singing a verse of the playful "Skeeters'll Gitcha" (sort of a sideways love song evolving out of pragmatic advice for avoiding a common summer pitfall).
Tom Paxton, 'Come On, Holy,' from Redemption Road 
Tom Paxton, 'Susie Most of All,' from Redemption Road
Among the stirring reflections here: an evocative ode to his Oklahoma home in "Buffalo Dreams," with poignant observations a la "whistling prairie winds look through my soul/her endless skies amaze me still/and I expect they always will/it summons visions out past my control" and tasty, low-key accompaniment by Crouch's fiddle and Fink's banjo; "Virginia Morning," kicking off the album on a sprightly note with a vivid evocation of his current home state's natural beauty and its energizing influence, with a decided mountain flavor added courtesy Perkins's dobro and Crouch's fiddle; a bouncy, ragtime-tinged homage to a friend and/or lover, "Susie Most of All," featuring the impeccable Paxton logic in lyrics such as "English muffin, Texas toast, what I like about Susie most of all/when I'm down she give me a telephone call…" (In a press release accompanying the album, Paxton says he will stand by this verse "till the day I die. That's why I love that song. It is deeply carefree."); the elegiac title track, although it's not the final cut, is, or feels like, a summing up of lessons learned on a long road traveled with the end now in sight, a feeling enhanced by Perkins's and Crouch's melancholy cries on dobro and fiddle, respectively, and not least of all by Ms. Ian's haunting harmony on the powerful coda: "Only time and time alone treats each weary soul the same/when my sum of days has flown/time alone will know my name." As for topicality, try the scabrous, grinding "If the Poor Don't Matter," arguably the most pointed song yet to surface regarding income inequality and the corrosive acquisitiveness of the one percent: "Push them back, sweep them out, anything to keep them out,/Keep them real branded out, standing with their hands out./Knocking at the back gate, radio talking hate,/Wrong here, strong here, know they don't belong here./My house, my car, living like a rock star,/Caviar, wet bar, bought another Jaguar./Get it all payday, now its time to play-day,/Trouble not to think about, not to make a stink about…" One of the real delights is a spirited tribute to the aforementioned Mr. Van Ronk in "The Mayor of MacDougal Street," with "Jellyroll" wailing on harmonica as Paxton, in one magical verse, explains the roots of an entire era: "When Dave Van Ronk sat down the room got quiet/he strummed a lazy chord on his Guild guitar/sound so sweet it made you want to try it/it made you dream of swinging on a star…"
Paxton has announced that 2015 will be his last year of touring but apparently he'll keep the songs coming on the "Short Shelf-Life Songs" project he inaugurated post-9/11 after penning "The Bravest," a song honoring the firefighters who died trying to save others in the burning towers that was the highlight of his superb 2002 album, Looking For the Moon. (He posts these songs for free download on his website.) One thing we know from Redemption Road: however weary he is of touring, he's a long way from having nothing else to say. Bring 'em on, Tom.
If you didn't know that Mickey Clark's eloquent, soulful album Reasons & Rhymes was released several months prior to Tom Paxton's latest you might have thought the former was conspiring with the latter to explain themselves fully in song. Clark doesn't waste any time in this pursuit, opening with the title track, on which we hear his warm, sturdy voice announce at the outset, "I'm a victim of the pickin'/gotta keep my ticker tickin'/'cause there's always one more song I wanna write/got a woman who's been with me/since way back in the Sixties/and she seems to understand the picker's plight…" Well, Mickey has his woman from the '60s (they are now in their 46th year as husband and wife) and Paxton was married to his beloved Midge in 1963 and stayed that way until he lost her to a long illness last year. Both men got their first instruments when they were in the teens and soon enough both realized what Clark sings of here: "I knew I had to play my music and follow my heart on down the line/and I'm still ridin' midnight fences and those neon circumstances/reining in new reasons and rhymes." Mickey Clark has written some wonderful songs in his time, but this one is especially beautiful owing to it sounding like the God's honest truth from first note to last and for striking a neat balance between the uplifting and the poignant in his reflections (with a nice atmospheric boost from Chip Bush's delicate mandolin support).
Mickey Clark and The Blue Norther, 'Bakersfield Wine," a live clip of one of the song highlights from Reasons & Rhymes
It was 2009 when last we heard from Mr. Clark, via his superb Winding Highways long player, itself the subject of a justifiably adoring review in TheBluegrassSpecial.com of April 2009. On that one he was resurfacing as a musician after a lengthy stay on the inactive list (his gainful employment at one point was in telecommunications, with WorldComm, if anyone remembers that scam) and assisting him in his effort was producer Jim Rooney, who is again on board here and showing the same sensitive touch to Clark's words and music as he did on Winding Highways, as he's done on Paxton's new long player and on all those other memorable records bearing his credit. The Blue Norther band backing Clark is top notch, comprised of the aforementioned Chip Bush (who also doubles on acoustic guitar); fiddler Jory Hutchins; electric guitarist Dale Perry; and bassist Marty Miller. A number of special guests sit in on this and that number, all making solid contributions, especially the awesome Michael Cleveland, who adds his soulful fiddle to four numbers. Neither Rooney nor the musicians make a false move here—everyone is perfectly in sync with Mickey Clark and his mission.
SELECTED CLIP: 'Bluegrass Saturday Nights,' Mickey Clark and The Blue Norther, from Reasons & Rhymes
Mission, you ask? Yes indeed. Whereas Winding Highways was true to its title in having wanderlust as its principle theme, Reasons & Rhymes, though not without its travelogue moments, is more concerned with nostalgic longing for what's been left behind (and, certainly, ex post facto regret for leaving in the first place). "Bakersfield Wine," with its lilting country rhythms, Michael Cleveland's pining fiddle solo and Eli Hall's chiming pedal steel, offers the singer's story of chasing his dream, and his girl, west, only to lose her to Hollywood while he toils a bit farther east, mulling his footloose fate and freefalling blues as time marches on; "Sweet Evangeline," a jaunty Waylon Jennings-style thumper, describes a bayou queen who puts a spell on anyone in her orbit; amidst the warm, ingratiating shuffle rhythm of "Bluegrass Saturday Nights," an emotional Clark recalls his impoverished Kentucky childhood that was abundant in the enduring essentials of familial love and uplifting music ("we were poor but we had music/and love to make it right/hard times, they were easy/on those bluegrass Saturday nights"); and "Take Me Back to Kentucky," a frisky romp, keyed by Cleveland's rousing fiddle, in which our man fondly recalls the joys of his home state and longs to return to it post-haste. In a real sense, Reasons & Rhymes is a prequel to Winding Highways.
SELECTED CLIP: 'I Remember Loving You,' Mickey Clark and The Blue Norther, from Reasons & Rhymes
Stay tuned for two transcendent moments. One comes by way of the album's lone cover song, Kristofferson's "Sunday Mornin' Comin' Down." You would think this had been done definitively by its composer and by Johnny Cash, but Clark's weary reading, in which he sounds like he has lived the lyrics to the bone and still hasn't recovered, captures the magnitude of the singer's abject spiritual despair, powerfully so as Bob Ramsey's B3 wells up hymn-like under the vocal. The other, "I Remember Loving You," is an instant classic country love song, all soft fiddle (courtesy Jeff Guernsey) and understated pedal steel (Eli Hall) enhancing a tender, heart tugging melody and memorable chorus in service to lyrics centered on the persistence of love's first glow that Clark delivers with a perfectly modulated, folkish vocal, conversational but deeply felt. The topper on the whole enterprise is the closing dedication-in-song to Rudell Stitch, a professional boxer Clark worked out with in his youth (and who was Louisville's first great pugilist, predating his friend Muhammad Ali) who rose to #2 in the Ring Magazine rankings in 1960, the same year he died trying to save a friend from drowning in the Ohio River. In the sturdy country thrust of "Song for Rudell (Stitch), Clark sings of Rudell's greatness, not only in the ring but especially out of it, followed by an unforgettable coda featuring Stitch's youngest son Darrell—who wasn't even a year old when his daddy died—speaking frankly about the father he's come to know as he's grown up. In a voice cracking with emotion he describes his dad as "a man of God, a man of family, and he was a sportsman as well as an athlete." It's quite a moment, and hearing it can only make you appreciate what a rare man Stitch was, and appreciate in full the rare, wondrous incandescence of Reasons & Rhymes.