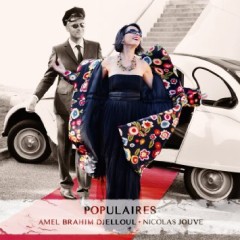 POPULAIRES
Amel Brahim-Djelloul & Nicolas Jouve
Eloquentia
With its stylish, almost tongue-in-cheek glamour style photographs and a title like Populaires, an English speaker might expect the new disc from Algerian French soprano Amel Brahim-Djelloul and pianist Nicolas Jouve on Eloquentia to be an exploration of the popular edge of classical music, perhaps even crossover. Not a bit; instead the title refers to the folk origins of much of the music on the disc. Nicolas Jouve and Amel Brahim-Djelloul have put a together a fascinating exploration of art songs based on folk texts (and sometimes folk melodies) with an intriguing mix of well- and lesser-known songs, including Reynaldo Hahn's Venezia, Ottorino Respighi's Quattro arie scozzesi, Spanish songs by Henri Collet, Johannes Brahms' Volkslieder, Joseph Canteloube's Chants d'Auvergne, Maurice Ravel's Melodies populaires grecques and Jesus Guridi's Canciones castellanas.
Amel Brahim-Djelloul has a vibrantly attractive lyric soprano voice comparable to that of Victoria de los Angeles. Her vivid timbre is enlivened by a lovely (and well controlled) vibrato plus an unwavering sense of color and involvement. Clearly in command of languages, on this disc she sings in Venetian dialect, Lowland Scots, Spanish, German, Auvergnois and French.
A preview of Populaires featuring soprano Amel Brahim-Djelloul and pianist Nicolas Jouve
Reynaldo Hahn's Venezia, with its lovely vocalise passages, are full of character and charm and were reputedly premiered by Hahn himself (a habitue of the city) in a gondola! Here we get three songs, from the set L'avvertimento, La barcheta and Che peca in performances of such vivid delight that you wish we could have heard all of them.
The next group is something of a surprise. Settings of Scottish songs by Ottorini Respighi in the original Lowland Scots (Respighi seems to have been interested in folk matters–the Scots settings from 1925 were preceded by groups of songs from Tuscany and from Armenia). Respighi keeps the original tunes and simply surrounds them with some imaginative piano accompaniment. Ms. Brahim-Djelloul and Nicholas Jouve manage that awkward junction between naive charm and art song, and Ms. Brahim-Djelloul sings in highly creditable English (she wisely does not attempt a Scots accent).
A name new to me, Henri Collet is best known today for the article that coined the term Group des Six for the grouping that included Poulenc and Milhaud. His songs here are settings of Spanish songs from Siete canciones populares d Burgos y Cinco canciones populares castellanas Op.80. He was highly enthusiastic about Spain and settled there. Here we get six short songs, in Spanish, Serenata, Cancion para Ninos, Bolero, Cancion de novia, Epitalamio and Cancion de Baile, which combine Spanish melodies with French 20th century impressionist piano accompaniment in a rather attractive mix. Ms. Brahim-Djelloul is by turns beautifully lyrical and characterful, creating a vivid pen-portrait in each little song.
From Populaires, Amel Brahim-Djelloul and Nicolas Jouve perform Der Gang zum Liebchen, Op. 48/1 by Johannes Brahms
If Johannes Brahms is familiar, his folk-song settings are less so. He set around 50 volkslieder from published collections (which means not all his sources are actually genuine folk songs), the first major composer to devote himself to folk music. Here we have four songs–Da unten im Tale, Die Trauernde, Dem gang zum Liebchen and Im stiller Nacht–in which Brahms lavishes his familiar care on the folk-melodies creating gems which sometimes resemble his piano intermezzos.
With Joseph Canteloube's Chants d'Auvergne we are on familiar territory, though Amel Brahim-Djelloul wisely avoids the best known number and here gives lovely performances of La pastoura als camps, Potouro se tu m'aymo, Pastourelle and Lou Bossu combining musical line with a strong sense of the words. With Nicolas Jouve at the piano, you certainly do not miss the greater amplitude of the orchestral accompaniments. These make a satisfying grouping indeed.
AUDIO CLIP: 'Within a Mile of Edinburgh,' from Otterino Respighi's rich but little know Quattro arie scozzesi, settings of four Scottish songs as presented by Amel Brahim-Djelloul and Nicolas Jouve on Populaires
Maurice Ravel's Melodies populaire grecques all set Greek folk-songs from the island of Chios. They were in fact premiered in Greek, but published in French translation in 1906. Here Amel Brahim-Djelloul sings them in French and brings vivid personality and vibrant tone to the songs' various characters. Nicolas Jouve partners beautifully with Ravel's imaginative piano accompaniments.
For the final group of songs we return to Spain, this time with songs by Jesus Guridi, the Spanish Basque composer. Though much involved in Basque music, these selections are four Castillian songs in attractive lyric romantic arrangements, but still with that very distinct character that Spanish folk songs have. They make a lovely conclusion to a fine disc.
Reprinted by permission of Robert Hugill, a contemporary classical composer based in London. Recent performances of his works have included sacred motets, orchestral music and a one-act opera. Click here for his full biography. For more of Mr. Hugill's classical reviews and interviews, visit Planet Hugill—A World of Classical Music.