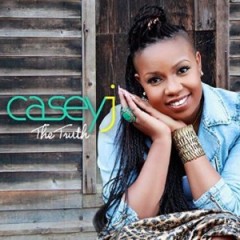 '…the newest rising star in gospel music'
THE TRUTH
Casey J
Marquis Boone Enterprises/Tyscot Records
The next best thing to a live gospel music program is listening to a live gospel music program on a recording.
That's why it was smart for Casey J to release her debut album, The Truth, as a live worship experience. And on home turf: the recording took place on January 30, 2015, at Fresh Start Church in Duluth, Georgia, where Casey is morning worship leader.
Casey J. Hobbs, known as Casey J, is the newest rising star in gospel music. Her debut single, "Fill Me Up," garnered critical success similar to that earned by Tasha Cobbs for her 2013 hit, "Break Every Chain." More comparisons to Cobbs will no doubt be forthcoming and for good reason: both women can write praise songs and both exude confidence leading the masses in modern communal worship. Several selections on The Truth, in fact, including a live version of "Fill Me Up," are basically extended praise moments.
'Have Your Way' (featuring Jason Nelson), Casey J, from The Truth
'Never Run Dry,' Casey J, from The Truth
But what really sells The Truth is the ebullience of Casey's vocal delivery, which oozes with optimism and kinetic energy, even on slower songs, such as the prayerful "I'm Yours" and the new age-y "Your Heart." Casey's energy and optimism shine most brightly on the brisk and breezy "Better" and the flowing "Have Your Way," the latter a duet with Jason Nelson. Nelson's voice matches Casey's in compressed strength. They could easily do more together in the future.
On "No Not One," the album's sole traditional selection, Casey reminds me of a young Yolanda Adams leading the Southeast Inspirational Choir, though it's her grandmother, Dorothy Mae Choates, who steals the show by setting the churchy tone.
Although I prefer traditional and contemporary gospel styles over P&W, I give P&W its propers when it is done well. In Casey J's case, it is done exceedingly well. And that's the truth.
Picks: "Have Your Way," "No Not One."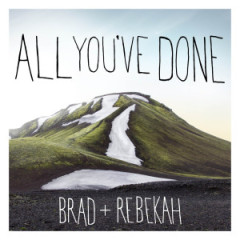 'lofting their admiration and gratitude melodically, and vertically, to the Most High'
ALL YOU'VE DONE
Brad + Rebekah
Discovery House
http://bradandrebekahmusic.com
On their national debut album, All You've Done, Brad + Rebekah, a husband-and-wife praise team, loft their admiration and gratitude melodically, and vertically, to the Most High.
The album opens, appropriately, with "Wake Up." It is a Brad-led clarion call about resurrection day that uses power pop as a brisk slap, reminding listeners to be spiritually ready for the end of times at all times.
The duo's tuneful "When We Gather," "Be Here Now" and "Body of Christ" set the table for worship, while CCM-style praisers, such as "Children of the Living God," "Lift Your Hands," and Rebekah's lovingly Sung "Oh Such Love," deliver the spirit food.
Brad's vocals sound as if they come from the pop rock world, while Rebekah has a country pop sensibility to her singing. Although there are times on the album when one or the other leads a song, they duet on the title track. This song is a praise party that celebrates God's provision in their lives and, by extension, the listener's.
Brad & Rebekah discuss 'Heart of the Father' and their discovery of the Wotota Children's Choir of Uganda
Brad + Rebekah, 'Heart of the Father,' with the Wotota Children's Choir of Uganda
The album's final track is arguably its finest. Accompanied by the Watoto Children's Choir of Uganda, the couple's favorite ministry, "The Heart of the Father" blends a very simple message with a simple melody and insistent percussion that together create a congregational singalong opportunity. The song lingers long after the CD stops spinning.
Brad + Rebekah, 'All You've Done'
Meeting originally at North Central University in Minneapolis, Minnesota, and working as a praise duo since 2003, the couple now lives in Phoenix, Arizona, where they assist with the music ministry at Christ's Church of the Valley.
Sparkling melodies and rolling, if sometimes similar, arrangements as well as crisp production by Josh Silverburg make All You've Done a compelling listen.
Pick: "Wake Up," "The Heart of the Father."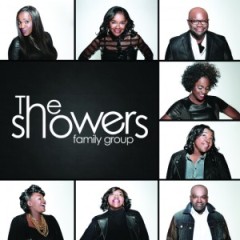 '…fresh and bright, eternally optimistic…'
THE SHOWERS
The Showers
A&P Records/Habakkuk Music/INgrooves
The Showers is the national debut album for the Showers Family of Hammond, Louisiana, siblings who have been singing together since knee pants and recording since 2009.
The octet pulled out all the stops, too, inking a distribution deal with Habakkuk Records and signing an all-star lineup of producers, notably Bruce Robinson, Deon Kipping, Myron Butler, and Dave Geeter. Robinson and Kipping also contributed many of the album's songs, as did gospel singer Regina Skeeters. Butler assists with vocal production on the punchy "Praise Your Way Through," the song that landed the Showers on Bobby Jones Gospel and paved the way for the group's national exposure.
What you hear starting with the opening track, appropriately titled "Immediately," are close, creamy harmonies that only a family group with years of experience singing together can create. The harmonies are complemented by demonstrative lead vocals from several family members who sometimes trade lead duties within a song.
The Showers Family Group, 'Better,' from their debut album
The best, most buoyant selections come during the first half of the CD. This includes the aforementioned "Immediately" and the group's hit single, "Better," a song of optimism and change cloaked inside a prayer. A version of "Better," featuring Canton Jones, is available digitally. "Fighter" has a thick, insistent beat that is appropriate to its tale of a prayer warrior fighting for victory over sin.
The album's arrangements have a pop sensibility reminiscent of BeBe and CeCe Winans and fellow Louisianans foreverJONES—-fresh and bright, eternally optimistic, and holding a persistent belief that change will come, things will get better, as long as you call upon God..
Picks: "Better," "Immediately."
'…serving up heaping helpings of church wisdom with a savory traditional gospel quartet flavor'
TURN IT AROUND
The Gospel Angels
The Gospel Angels of Washington, DC, have traveled the country and the world for more than three decades, serving up heaping helpings of church wisdom with a savory traditional gospel quartet flavor.
Some of the songs on the group's current album, Turn It Around, are newly composed, but all have an old school vibe. The whole CD rolls along like a live performance without an audience. Opening with the hip-slapping "Let Me Lean on You," the quartet blends bright tempo numbers with songs that stretch out for several minutes—-just as the group does at gospel programs where they are the headliners.
The Gospel Angels, the title track from Turn It Around
On some of the more elastic songs, such as "If I Die" and "Good Time," co-founder Preston Wiggins adds to the trad sound by preaching and shouting in his rough-hewn voice. The quartet imbues "He Gave His Life" with soft soul harmony but more often than not emulates the Violinaires' trendsetting high harmony.
Other album highlights include the up-tempo congregational song "What Do You Think About Jesus" and the contemplative concluding track, "God Is Good." "He Saw My Need" is not the Dottie Rambo chestnut "He Looked Beyond My Faults" but a newly composed song by Preston Wiggins based on the theme expressed on "Faults."
Turn It Around is a well-produced album that exudes traditionalism while adding enough contemporary style to remain relevant for modern audiences.
In addition to Wiggins, the Gospel Angels are Rev. Isaac Boykins, Michael Ball, Charles Smith, Phillip Lynch and Marshall "Tony" Brown.
Picks: "Let Me Lean On You," "What Do You Think About Jesus."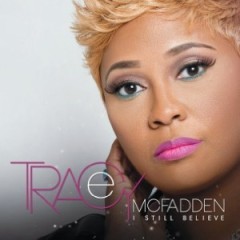 'a debut recorded live in her home church'
I STILL BELIEVE
Tracey McFadden
Chicagoan Tracey McFadden's debut album, I Still Believe, was recorded live at her home church, Bread of Life Missionary Baptist Church. An intimate gathering of friends and congregants support their home girl as she moves through eight selections.
The best thing McFadden did for the album was assemble a solid choir of background vocalists who support her thoroughly throughout. The musicians also offer powerful assistance without overpowering the vocals.
While the album contains a mix of uptempo praisers and balladic works, the latter seem to be McFadden's sweet spot. "There's No Other Name" enables her to stretch out without the confines of a speedy tempo. The same holds true on "I'm Thirsty," a call for the water of life.
Tracy McFadden, 'Celebrate Our God and King' from I Still Believe
"You Are," written by the album's producer, Daniel Hardy, holds the most radio potential because everything—lyrics, tempo, mood—comes together on this selection.
The title track is the other top moment on the CD because McFadden sings it like a church solo, complete with chortling, chirping organ as the sole accompaniment. Like the ballads, "I Still Believe" gives McFadden space to improvise and build the musical tension to a shout.
I Still Believe is a decent debut, though it could have benefited from one or two better-known songs. I suspect Tracey McFadden's best work is yet to come.
Pick: "You Are."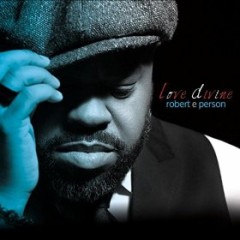 '…a veritable consommé of jazz, pop, gospel, and classical influences'
LOVE DIVINE
Robert E. Person
REP Music
The first thing you notice when listening to Robert E. Person's new album, Love Divine, is the bigness of the singer's voice.
It's Broadway musical big, regardless of whether Person is summoning deep bass notes or launching into falsetto. His repertory reflects his vocal blend, a veritable consommé of jazz, pop, gospel, and classical influences.
On Love Divine, his fourth album, Person celebrates the sacredness of love, mankind's most essential but most misunderstood emotion. The album's dozen selections come from the pens of talented songwriters—from Allyn Johnson's ethereal wordless title track (Johnson also contributes handsome piano accompaniment) to a cover of Ellington's "Come Sunday," and Mike McCoy's delicate praise ballad "Healed," a song particularly suited to Person's croon.
On one of the album's rare uptempo selections, Person delivers Dr. Norman Hutchins' "I Really Love You." Person's sweet spot, though, is the ballad, and he demonstrates that especially well on the album's highlight, "Just Because," written by Glyne Griffith and Melvin "Maestro" Lightford.
Speaking of Broadway, Person gives the listener more than a glimpse of his theatrical side when he duets with Dottie Jones on "Somewhere" from the legendary Stephen Sondheim-Leonard Bernstein musical West Side Story. Indeed, Person was a vocal performance student at Morehouse College and the University of the District of Columbia, and has done extensive work in musical theater.
As on his Soul Sanctuary album, Person adds a Donny Hathaway cut. Then it was "Someday We'll All Be Free." Here it is "Take a Love Song." Hathaway's artistry remains relevant more than 35 years after his untimely death in 1979.
The bevy of background singers, which include Ronnette Harrison, do a more than respectable job supporting Person throughout the album. Love Divine is a gentle giant of an album.
Picks: "Healed," "Just Because."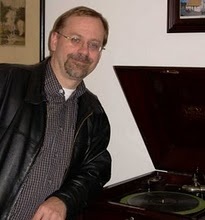 Bob Marovich is a gospel music historian, radio announcer and author. His "Gospel Memories" radio program of vintage black gospel music and artist interviews airs live first Sundays from 3 a.m. to 7:30 a.m. on Chicago's WLUW 88.7 FM, and streams live at the station's website. Snippets of recent broadcasts can be heard online at the Gospel Memories Radio Show. Bob is also the founder and editor of The Black Gospel Blog, now the Journal of Gospel Music, the source for the reviews published here. Bob launched JGM on the tenth anniversary of The Black Gospel Blog, which he founded July 28, 2004, as the first blog to cover African American gospel music. His first book, Shout Troubles Over: The Birth of Gospel Music in Chicago, is scheduled for publication in March 2015 by the University of Illinois Press as part of its Music in American Life Series. Bob lives in Chicago with his wife, author Laurel Delaney, and their two cats.