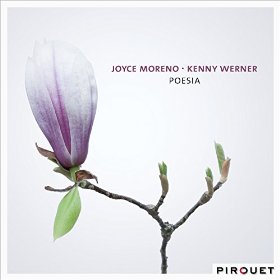 POESIA
Joyce Moreno and Kenny Werner
Pirouet
MÉLANGE
Karin & Mike Kelleher
Kelleher Music
Herewith a pair of spare, thoughtful, lovingly rendered albums ideal for quiet nights of quiet stars. Both make use of songs by some of the 20th Century's most notable songwriters—American and Brazilian alike—and in each case the artists in question demonstrate the power of a less-is-more approach to enhance the soulful, often introspective quality of this material, making it ever more personal, for them and for the listener alike.
By far the stronger of the two albums, Poesia is simply one of this year's finest vocal-piano albums (not that the field is overly crowded, mind you, but still…). This is hardly surprising, given Joyce Moreno's standing as one of Brazil's finest pop-jazz vocalists and the high regard in which pianist Kenny Werner is held in contemporary jazz circles on these shores. As Dan Bilawsky notes in his review of Poesia at All About Jazz.com, Werner writes a "Zen and the Art of Jazz" column for DownBeat; is the Artistic Director of the Berklee school's Performance Wellness Institute; appears as pianist/arranger on Randy Brecker's RandyPOP! album; and materializes in New York clubs with his quintet or trio in tow. In short, he's a busy man, but he surely thrives on work, and in Ms. Moreno he seems to have met a musical soulmate who brings equal intensity and focus to her performances. They're quite a team.
AUDIO CLIP: 'Mad About the Boy,' written by Noel Coward. Joyce Moreno and Kenny Werner, from Poesia.
AUDIO CLIP: 'Vehlo Piano,' written by Dori Caymmi and Paulo Cesar Pinheiro. Joyce Moreno and Kenny Werner, from Poesia.
Produced by Jason Seizer, Poesia finds both Moreno and Werner having plenty of room to make their statements—one of the album's most striking and surprising moments is a florid, intense Werner solo that articulates a deeper undercurrent of inner conflict that Ms. Moreno is keeping in check in "É O Amor Outra Vez" ("Is It Love Again") (written by Dori Caymmi and Paulo Cesar Pinheiro) as she contemplates the somewhat unsettling wonder of being loved anew—and in doing so effects a wonderful expressive balance in its intimate soundscape. That it feels like the singer and the pianist are in the room with you, singing solely for and to you, was surely the intent. On "Vehlo Piano" ("Old Piano"), another Caymmi-Pinheiro reflection on love's shifting nature, Moreno seems to be whispering in your ear as if to keep her thoughts confidential, as Werner complements her sotto voce confession with a splotch of subdued notes here, an impressionistic, meditative run there. English language songs make up almost half the album's repertoire, and here too Morena and Werner favor the quiet and contemplative. Charlie Chaplin's "Smile" is an ideal choice for this project, and in this soft reading the principals understand and don't underplay the melancholy at the heart of the lyrics' appeal to soldier on through heartbreak by putting on a happy face. The deliberate approach to the aching "Some Other Time," written by Leonard Bernstein, Adolph Green and Betty Comden for On The Town, evinces a similar duality, with Moreno's bemused but bittersweet account of a parting too soon in coming floating lightly over Werner's economical responses. The most surprising treat here is the duo's take on Noel Coward's oft-covered "Mad About the Boy." To be accurate, though, this is not the oft-covered version but rather Coward's later revision of a song originally written for a female singer (for the 1932 musical revue Words and Music) to pine about her unrequited love for a film star; he later retooled it with a more explicitly homosexual cast to its theme, but that version was never performed. Here, of course, we have a female singer retooling it again, now from a hetero angle, with a decidedly winsome reading given added context by Werner's gloomy commentary. The bifurcated Poesia melds the sensibilities of two continents into an invigorating whole. On its surface it's quiet, even serene, but the depth of Joyce Moreno's interpretive singing and Kenny Werner's sense of both the texts and the shading of his partner's readings gives the enterprise emotional heft to match the beauty and meaning of its deceptively simple cover drawing depicting budding and blooming flowers in repose.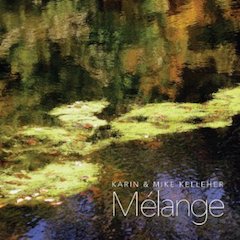 On their debut album, Karin and Mike Kelleher aren't nearly so Spartan as Moreno and Werner, with string quartet, guitar, oboe, double bass and drums to support Karin's violin and viola and Mike's lead and backup vocals; but even with this lineup Mike's arrangements bespeak a commitment to restraint. Their music does cross eras but its blend is that of jazz and classical forms, and as such it's rarely less than intriguing and evocative. In addition to three Mike originals (and additional lyrics he penned for the traditional "Black Is the Color"), the couple's admirable song choices are by the likes of Herbie Hancock ("Dolphin Dance"), George Harrison ("Something"), W.C. Handy ("Chantez Les Brahms," adapted from Brahms Violin Concerto in D minor Op. 77), Chummy McGregor and Johnny Mercer ("Moonlight [aka 'Moon Dreams']"), one J.S. Bach ("One Perfect Day," adapted from Bach's Cello Suite No. 4 in E Major and "Kyrieousity," a blending of the Mass in B minor and two songs by Dave Holland) and Debussy ("Clair de Lune").
'One Perfect Day,' adapted from Bach's Cello Suite No. 4 in E Major, from Karin and Mike Kelleher's Mélange
There is much beauty to behold here: the hushed, string-enhanced arrangement of "Moonlight" with its swirl of brush drums that fall away at the end as the track seamlessly segues into a lovely string intro to "Clair de Lune"; the bluesy, fiddle-led swing realized in Handy's "Chantez Les Brahms"; the mid-period cello solo introducing "Something" in a way that takes the song back to mid-period Beatles turf before it opens up into a freewheeling, jazzy groove with a rush of anxious percussion and frantic swoops of violins; the dark, droning violins establishing a foreboding ambiance to open "Kyrieousity." Unfortunately, Mike, whose day job is at director of the White House Office of Correspondence (yes, he decides which letters reach President Obama's desk), lacks much color in his voice. Its very plainness makes him little more than a functional singer, rather than an expressive interpreter. To be fair, many critics have found much to admire in his vocals but that is truly a puzzlement given the lack of variation in his emotional engagement from one song to another, even his own. The one time he does reach for a little more, in "Chantez Les Brahms," he does so by adopting a New Orleans drawl that is at least borderline offensive. His arrangements, however, are deft and engaging, even surprising at times, so much so as to recommend Mélange for the audacity of its concept alone.