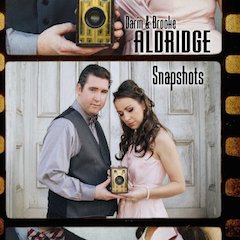 SNAPSHOTS
Darin & Brooke Aldridge
Mountain Home
One of the hottest new bluegrass releases of this young year, Darin & Brooke Aldridge's assured, emotion-packed Snapshots made its debut at #8 on the Billboard Bluegrass Albums Chart this past week even as the Aldridges were snowed- and iced-in down south as they went on the road to support the new album with live shows. If they weren't going anywhere soon, their music clearly had legs and brooked no meteorological interference in reaching the spouses' burgeoning audience. Small wonder: Snapshot's 11 songs comprise a mix of relatively new and vintage country and bluegrass tunes "that captures bits and pieces of our past," as the Aldridges write in a one-sheet accompanying the album, explaining the tunestack as being "…songs we've either written or just always loved, songs we grew up hearing on the radio and songs folks have passed along to us that have helped them through difficult times in their lives."
A promotional trailer for Darin & Brooke Aldridge's Snapshots set to the album's opening cut, Bill Monroe's 'Get Up John,' with lyrics by Marty Stuart and Jerry Sullivan.
A pronounced element of faith infuses many of the numbers here, again in keeping with the Darin & Brooke aesthetic. It kicks off with the strutting gospel of "Get Up John," the Bill Monroe instrumental to which Marty Stuart and Jerry Sullivan added potent lyrics for the Stuart-produced Jerry & Tammy Sullivan album from 1994, Joyful Noise. Supported by spirited solos from Sam Bush (mandolin), Tyler Collins (banjo), Becky Buller Haley (fiddle) and Darin (on guitar), Brooke turns that mountain cry of a voice of hers onto the lyrics with special urgency, adding celebratory urgency to the appeal to John the Baptist to prepare for Jesus's baptism in the River Jordan and his impending martyrdom, a prophecy Brooke delivers with an ominous, lower register a cappella "This is the day" at the end of each chorus—the ferocity of the instrumental work coupled to the conviction in Brooke's voice turn a 3:41 song into an atmospheric mini-drama. From Emmylou Harris's 1987 gospel album Angel Band, "When He Calls" (penned by Harris's then-husband and one of country's top modern-era songwriters, Paul Kennerley) receives a reverent treatment led by Brooke's assertive vocal with Ricky Skaggs joining her and Darin on the soaring, triumphant choruses in an arrangement spotlighting a delicate, emotional mandolin solo from Darin; understated, affecting fiddle ballast from Becky Buller Haley; and sturdy acoustic guitar from Tyler Collins. Co-writing with Dr. Bobby Jones, Darin adds the driving "Will You Be Ready" to the gospel messages here, its message of judgment day preparedness emphasized in the force of Darin's vocal. The careful listener will note how the Aldridges advance songs of faith not with dire warnings or laments for the end days but rather with a certainty of the rewards and glory awaiting true believers when Judgment Day arrives. Their positive stance here is mirrored in the album's choice of secular songs (with the notable exception of the tragic view of life described in the typical doom-and-gloom of a Gillian Welch song, "Annabelle").
Darin & Brooke Aldridge with a live version of 'Let It Be Me,' the Everly Brothers classic, as filmed at a Snapshots release show at Isis Music Hall in Asheville, NC, February 13, 2015.
A sweeter, tender side of Big Mon is on display immediately thereafter, via his touching bluegrass song of undying love from 1947, "Rose of Old Kentucky," with guest Bobby Hicks leading the charge with a soaring fiddle intro that honors the Chubby Wise original, ahead of a scintillating vocal arrangement featuring Darin and Brooke trading earnest verses and blending their warm (Darin) and earthy (Brooke) readings with affecting precision on the choruses. The Monroe influence is also directly felt in the album's most breathtaking moment, a furiously charging rendition of the great Eddie Adcock's (a Blue Grass Boy before he joined the newly formed Country Gentlemen) sweet natured "Let's," a heartfelt love song centered on vows of lifelong commitment, its rapid tempo underscoring the intensity of the lyrical sentiments, which are further buttressed by electrifying banjo solos courtesy Tyler Collins. And what to say about the double-barreled volley of oldies in the middle of the album? Brooke hits a home run with her lively take on Johnny Cash's "Tennessee Flat Top Box," in a performance of such assurance and warmth as to rival Rosanne Cash's #1 cover of her dad's 1961 country hit on her 1987 long player, King's Record Shop, with Darin's evocative lead guitar rivaling Randy Scruggs's contribution to Rose's hit; Even more exquisite, and deeply heartfelt to the point of inducing swoons, if not causing listeners reaching for each other's hands, is the simple (only the Aldridge's vocals backed by Darin's guitar and mandolin), beautiful realization of the Everly Brothers' timeless 1960 hit, "Let It Be Me," with the solo vocals and harmonies so breathtaking in precision and pure feeling absent any subtext.
SELECTED TRACK: 'Will You Be Ready,' an original bluegrass gospel tune co-written by Darin Aldridge and Dr. Bobby Jones, as featured on Snapshots
"With Snapshots we hope to take you back to your own special place and time…back when," Darren writes in his notes. So they do, and then some, in what is the Aldridges' finest moment on record in a career now on a rapid upward trajectory.