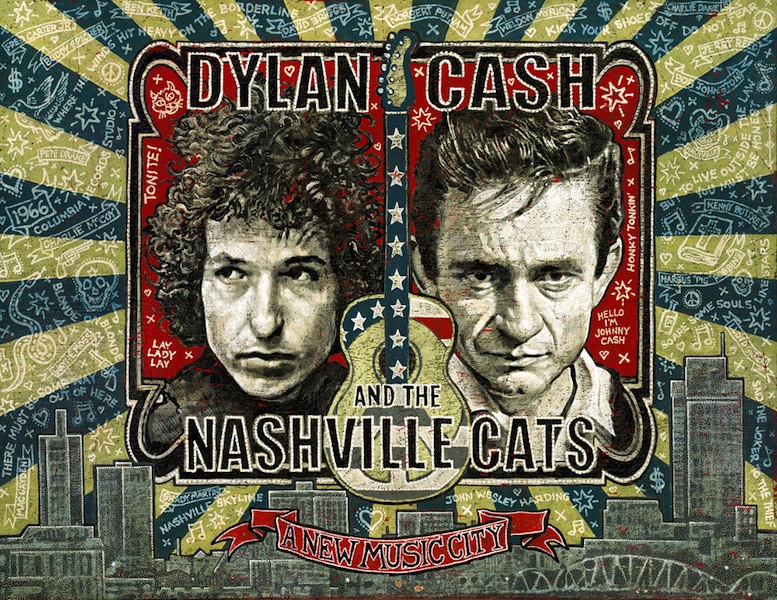 DYLAN, CASH & THE NASHVILLE CATS: A NEW MUSIC CITY
Various Artists
Legacy Recordings
In 1966 Bob Dylan came to Nashville to record his double-LP masterpiece Blonde on Blonde. With that Dylan changed the thinking of a younger generation raised on rock 'n' roll, too many of whom mistakenly thought of Music City as a place where hayseeds produced music for hayseeds. Three years after Blonde on Blonde appeared Johnny Cash's weekly ABC-TV was doing nothing less than defining a whole new aesthetic for network music shows in the dazzling breadth and depth of musical artists he featured as special guests. Nashville, of course, was always more catholic in its musical tastes than many outsiders cared to admit but in the mid- to late '60s Dylan and Cash became the twin poles drawing to town a raft of great artists of various stripes to record with some of the finest studio musicians in the world. This heady time is the focus of an amazing double-CD collection that will have your head spinning from all the great music it contains.
Ringo Starr, 'Beaucoups of Blues,' recorded n Nashville in 1970, produced by Pete Drake, engineered by Scotty Moore, featuring D.J. Fontana on drums and the Jordanaires on backing vocals.
Simon & Garfunkel, 'The Boxer' (recorded in Nashville), featuring Fred Carter on acoustic guitar.
Cash makes only the briefest of appearances here. He's represented with his 1964 recording of Dylan's "It Ain't Me, Babe" (he was country's earliest and most vocal Dylan advocate, literally and figuratively); his duet with Dylan on "Girl From the North Country"; and with Carl Perkins and Derek & the Dominoes in a transcendent live moment from his TV show, working out on Perkins's Sun classic, "Matchbox." But his spirit infuses the entire collection, which mirrors the scope of music and stature of artists he presented on his TV show and championed in his interviews. Dylan, on the other hand, is the most prominent artist here, with four solo recordings (ranging from Blonde on Blonde's "Absolutely Sweet Marie" to representative cuts from his "country" trilogy of Nashville Skyline, John Wesley Harding and New Morning) but his influence is everywhere, whether it's in the Byrds' "You Ain't Goin' Nowhere" or Ian & Sylvia's version of "Wheel's On Fire" or Neil Young's "Heart of Gold" or Gordon Lightfoot's "The Way I Feel," or Leonard Cohen's "Bird On a Wire" or…have I made my point?
John Hartford, 'Gentle On My Mind' (recorded in Nashville), from the 1967 album Earthwords & Music.
The time frame is largely mid-'60s to early '70s, with a handful of outliers such as Paul McCartney & Wings' steel-drenched, midtempo ballad "Sally G," with its Nashville-centric narrative, released in 1974 as the B side to the hit single "Junior's Farm." In fact, three of four Beatles are present and accounted for, the others being Ringo Starr (with his affectingly restrained reading of "Beaucoups of Blues" from the like-titled 1970 album produced by Pete Drake, engineered by Scotty Moore and featuring D.J. Fontana on drums, The Jordanaires on backing vocals and a host of the usual A-list players, including Jerry Reed, Jerry Kennedy, Charlie Daniels, Roy Husky Jr., Buddy Harman, Charlie McCoy, et al.) and, immediately preceding Ringo on Disc 2, George Harrison with his country-gospel flavored "Behind That Closed Door," co-produced with Phil Spector for All Things Must Pass.
The Monkees, 'Some of Shelly's Blues' (recorded in Nashville, 1968). Written by Michael Nesmith, with Nesmith on lead vocal.
You can't hear Simon & Garfunkel's "The Boxer," a heart tugging tale of a down-and-out lost soul, too much; even all these years later Fred Carter's evocative, haunting fingerpicked guitar work hits you where you live, much as John Hartford's original version of "Gentle On My Mind:" seems so perfectly expressive of a different kind of lost soul's deepest yearnings for companionship he can't negotiate owing to his wanderlust. In fact, Disc 1, on which these songs are found, has in its song selections an overriding theme of disconnects, mostly of the romantic kind, sometimes owing to idealistic pursuits of a personal and/or spiritual nature (a la "Gentle On My Mind," as well as the Beau Brummels' roiling "Turn Around" and most certainly Gram Parsons' desolate cry of alienation on The Byrds' monumental "Hickory Wind"), sometimes to pure, bitter disillusion with the whole dance (The Monkees' unforgiving rendering of Michael Nesmith's "Some of Shelly's Blues," keyed by Nesmith's own scalding vocal).
The Byrds, 'Hickory Wind' (recorded in Nashville, released in 1968), written by Gram Parsons, lead vocal by Gram Parsons. From the album Sweetheart of the Rodeo.
Steve Goodman, 'City of New Orleans' (recorded in Nashville), released on his self-titled 1971 debut album on the Buddah label
Disc 2 is less thematically coherent and on balance less emotionally gripping than its companion disc. Which is not to suggest the recordings lack substance or soul. It does contain, after all, the aforementioned "Behind That Locked Door" (George Harrison), Neil's "Heart of Gold," Steve Young's classic "Seven Bridges Road," Paulie's "Sally G," the Nitty Gritty Dirt Band's "Will the Circle Be Unbroken," Dylan's "If Not for You," Ringo's "Beaucoups of Blues," J.J. Cale's delightfully greasy "Crazy Mama," among others. On the unfortunate side, it features Joan Baez's indefensible mangling of "The Night They Drove Old Dixie Down," a low point to be sure, but a low point more than mitigated by the inclusion of a song so perfect in every respect, and so deeply embedded in the very bloodstream of American myth and memory as to make it seem as if it were always here, from time immemorial, namely Steve Goodman's "City of New Orleans."
Compare these examples from the New Music City of then to the New Music City of today's dismal outpourings. Yea, verily, we are devolving as a species.