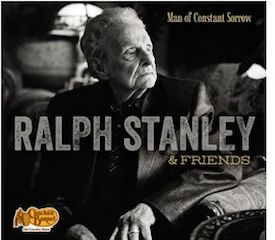 MAN OF CONSTANT SORROW
Ralph Stanley & Friends
Cracker Barrel Music
The rubber meets the road immediately on this alternately rousing and stirring collection of duets pairing 87-year-old bluegrass giant Ralph Stanley with various roots-centric partners. A Resurrection celebration, "We Shall Rise," jets into Gloryland fueled by Josh Turner's jubilant vocal and a rustic Wall of Sound comprised of furiously charging banjo, fiddle and mandolin. Sometimes records get off to a fast start such as this only to get bogged down along the way, for any number of reasons, and may or may not regain that initial electrifying jolt that tells a listener serious business is underway. Not so with Man of Constant Sorrow. Under the savvy, empathetic guidance of co-producers Buddy Miller and Jim Lauderdale (the latter having a storied history with Dr. Ralph, starting with one of modern bluegrass's greatest albums, the 1999 duet classic, I Feel Like Singing Today), the octogenarian legend steps up to the mic with a bevy of mostly compatible duet partners (the lone clunker in the bunch being Elvis Costello, whose status as a roots artist remains most mystifying and who further does nothing with John Preston's "Red Wicked Wine" beyond inducing sleep in a listener) on some classic numbers and periodically cedes the lead to others on songs Dr. Stanley might well have trademarked had he wanted to. Among this latter group it's a close call indeed as to who stands out from the gathering, but a case can certainly be made for the star of the show to be none other than Dr. Ralph's grandson, Nathan Stanley, whose warm, earthy voice is a striking, powerful instrument, so full of deeply felt emotion and wisdom it sounds like it should belong to someone much older—what he does to the towering "Rank Stranger" (with harmony help from granddad) is beautiful and genuinely soul stirring. Nathan could hardly have fashioned a better calling card for his artistry than he does with his soulful reading here, which also appears on the new reissue of his terrific 2013 album, The Legacy Continues (originally released with limited distribution, the new iteration has been expanded with the addition of two new tracks with granddad Ralph Stanley and also features a duet with Brad Paisley).
The Stanley Brothers, 'Rank Stranger'
 Rank Stranger (Featuring Nathan Stanley)
SELECTED TRACK: Nathan Stanley, 'Rank Stranger,' from Man of Constant Sorrow featuring Ralph Stanley & Friends
It should be noted that these are not a cappella performances. In addition to the Old Crow Medicine Show (which joins Dr. Ralph for a shambling, mountain treatment of "Short Life of Trouble," with fiddler Ketch Secor especially standing out for the atmospherics he provides with his tasty soloing, the current lineup of the Clinch Mountain Boys is on hand (Nathan Stanley on guitar), along with the great Ronnie McCoury on mandolin, T Bone Burnett on guitar, Punch Brother Paul Kowert on bass and Ralph Stanley II on guitar. There's nary a false note to be found from this assemblage, and more often than not the music approaches the transcendent.
Dierks Bentley and Dr. Ralph blend beautifully on the driving bluegrass heartbreaker, "I Only Exist," spiced further by nice fiddle and guitar breaks, as Bentley continues to impress as a bluegrass artist. On the heartbreak side, Lee Ann Womack's mountain ache of a voice digs deep into Carter Stanley's "White Dove," a wrenching reflection on darkness descending as death visits the family circle; above eerily droning violins, Robert Plant and Dr. Ralph, somber and straightforward, metaphorically plumb the travails of sin and the triumph of salvation in Stanley's unsettling "Two Coats." Gillian Welch & David Rawlings join in with the master on a sprightly rendering of the cheery "Pig In a Pen" (one does wish Ms. Welch could actually sound happy when she's supposed to) and Ricky Skaggs and Dr. Ralph, in a jaunty fiddle-fired arrangement, extol the virtues of eternal life and love (despite some doubts about the earthly version of the latter) in Carter Stanley's "Sweethearts In Heaven." Not content merely to produce, Miller and Lauderdale join their boss for an intense banjo- and fiddle-driven workout (with Ronnie McCoury stepping in for a sizzling mandolin solo) on the fiery bluegrass gospel of "I Am the Man, Thomas," it being an imagined, frank monologue delivered by the risen Jesus to the doubting Thomas.
 I Only Exist (Featuring Dierks Bentley)
SELECTED TRACK: 'I Only Exist,' Dierks Bentley and Dr. Ralph Stanley, from Man of Constant Sorrow featuring Ralph Stanley & Friends
SELECTED TRACK: 'Hills of Home,' Ralph Stanley, from Man of Constant Sorrow featuring Ralph Stanley & Friends
In a truly heart tugging finish, Del McCoury takes the lead on a beautifully understated rendition of Jesse Winchester's "Brand New Tennessee Waltz," which sounds like it's here as much to honor the late, great southern songwriter as much as it is to honor the bluegrass legend singing harmony with Del. The spirit of Carter Stanley hovers over the closing tracks, the last being Dr. Ralph's gritty interpretation of the title track buttressed by Dewey Brown's keening fiddle solo. But nothing tops the penultimate track, Dr. Ralph's solo turn on "Hills of Home," a heartfelt recitation for brother Carter replete with a promise to join him again in the sweet by and by. This Larry Sparks-Ralph Stanley co-write was the title track of the Dr.'s 1969 tribute album to Carter, issued on Gusto, and it's been a concert staple of his ever since. Still, this is arguably the most affecting treatment of it yet. As potent a voice as Stanley displays when he sings—"There's something very primordial in the sound of his voice," Lauderdale says in press notes accompanying the album, "that I believe transports listeners to somewhere else"—the gravity of his spoken words here–words directed at his beloved brother, who died at age 42 in 1966, leaving Ralph to soldier on alone—hits with unusual force, no doubt owing to its composer's own advanced years. After Carter's passing Ralph did indeed soldier on, with dignity and dedication to what he and his brother had created in those years when they were, as Ketch Secor notes, "touring all around the country in an automobile, in a Cruise bus, making those 12-hour rides and shaving in a creek before a gig. The sound that he and Carter had together in those handful of years they made those seminal recordings, you know that's the shot heard 'round the world in bluegrass." That's what you hear in Dr. Ralph's heartfelt words to his departed brother. And if, in the end, there's a dry eye left in the house when he's finished, wake up that person so that he or she doesn't miss one of the special moments on record in recent memory on one of the special records in recent memory.