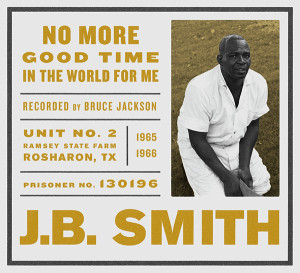 'mesmerizing…'
NO MORE GOOD TIME IN THE WORLD FOR ME
J. B. Smith
Dust to Digital
There is something bone chilling about hearing lonesome blue notes echoing off prison walls.
That's what folklorist and historian Bruce Jackson captured when he recorded the unaccompanied singing of Mr. J. B. Smith, Prisoner No. 130196, at Ramsey State Farm in Rosharon, Texas, in 1965 and 1966.
Only three of the many field recordings Jackson made of Smith were released at the time. Thanks to No More Good Time in the World For Me, from Lance Ledbetter's Grammy Award-winning Dust to Digital imprint, we now have Smith's three previously released field recordings plus an additional fifteen, which include three songs with religious overtones. Together, they provide what Nathan Salsburg calls in his superbly-written album notes "an epic of the Southern prison-farm experience."
The title track from J.B. Smith's album, No More Good Time for Me
No More Good Time is a fascinating glimpse into an age when inmates, mostly older African American men, sang unaccompanied songs to set a safe and reasonable work pace and keep their minds occupied during the long, arduous work day "from can't to can't—can't see in the morning until can't see at night."
Sentenced to forty-five years in prison for the murder of his wife because of "insane jealousy," Smith developed a wide repertory of work songs, some of which he wrote himself. Although the melody remains consistent from song to song, the lyrics, theme, and tempo change. "His songs were confessions of regret, contrition, impotence, despair," writes Salsburg. Lyrics include ruminations such as "If I had the good luck, buddy, hey, oh like I had the bad/I'd win a barrel of dollars and a keg of halves" and "they accuse me of forgery [but] I can't write my name."
From No More Good Time In the World For Me, J.B. Smith's 'I Heard Reports of a Pistol'
While most selections cover secular topics, three are sacred. Smith ties his familiar melody to a version of the gospel hymn, "At the Cross," and evokes a lining out deacon on "Go Ahead." Contrary to its title, "Drinking that Wine" is not about a night at the tavern but a sacred blues about making it to glory, drinking that heavenly wine, all to a rhythm suited to tree cutting.
Of the eighteen selections, only one, "Sure Make a Man Feel Bad," includes three other inmates who make up a quartet, alternating between monophonic singing and rudimentary harmony.
Perhaps the most plaintive line in the collection is from the twenty-three minute "Ever Since I Been a Man Full Grown: "I want some missionary woman, oh woman, please pray for me/Don't pray that I go to heaven, just pray that I go free." No other line expresses more concretely and poetically how badly Smith wanted out of the state farm.
From No More Good Time In the World for Me, J.B. Smith's 'Ever Since I Been a Man Fll Grown' (23 minutes)
Indeed, Salsburg details how Jackson intervened successfully on Smith's behalf, persuading the State of Texas to parole the prisoner. Upon his release, Smith earned a spot at the Newport Folk Festival and continued to enjoy his freedom until a parole violation landed him back behind bars.
Stretching out some songs for thirteen, fourteen, and even twenty-three minutes, J. B. Smith sings like a man who has nothing but time. No More Good Time in the World for Me is a mesmerizing aural experience that, if you are paying any attention at all, will leave you emotionally depleted.
Pick: "Go Ahead."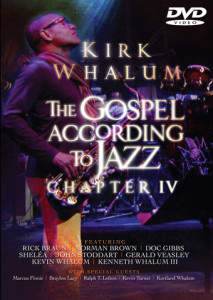 'captivating listening and viewing…'
THE GOSPEL ACCORDING TO JAZZ, CHAPTER IV
Kirk Whalum
Director: Matthew O. Henderson
DVD Running time: 148 minutes
Rendezvous Music
Regardless of whether you purchased the CD version of Kirk Whalum's The Gospel According to Jazz, Chapter IV when it was released this past March, you will enjoy the DVD version of the concert.
The DVD captures the Chapter IV concert at the Christian Cultural Center in Brooklyn, New York. Live performance segments are interspersed with conversations with Whalum on a variety of subjects, from being a musician to the spirit of improvisation.
While gospel and jazz are often cited as first cousins, especially when it comes to jazz's 1930s incarnation as swing, the subgenre called gospel jazz has been, for me at least, something of an enigma. But I understand what Kirk Whalum is doing. It's not gospel jazz per se. Like the work of John Coltrane, which one can hear in Whalum's moodiest playing, the spirituality is implicit in the music. Not at all the processed smooth jazz of commercial radio, Whalum's improvisational work and his remarkable band are the real deal.
The finest instrumental moments, such as the opening "God's Radical Welcome" and "Just As I Am," capture this spiritual conversation in music. So does "Triage," arguably the DVD's finest and most complex combo work.
From the DVD The Gospel According to Jazz, Part IV, Kirk Whalum and band perform Curtis Mayfield's 'Keep On Pushing'
Loss looms large throughout the program. The accomplishments of the late Wayman Tisdale, George Duke and Nelson Mandela are celebrated in music and reminiscences. Whalum wrote and performs "There" as a tribute to Duke, who was present on the other three Gospel According to Jazz chapters.
Outside of Whalum's magic on tenor and soprano sax (he even plays flute on the delicately fragrant "This is the Day") and the fabulous piano work of John Stoddart is singer Shelea's gorgeous and amazing interpretation of "Sometimes I Feel Like a Motherless Child." It is the D  VD's best moment.
The smoky cinematography is brilliant and will look great on the big screen. The interstitials are ideal viewing for high school and college jazz students. With the exception of running a tad long for society's short attention spans, The Gospel According to Jazz, Chapter IV is captivating listening and viewing.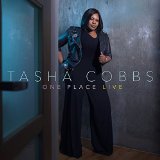 'a worship experience nigh perfect in its ebbs and flows…'
ONE PLACE LIVE
Tasha Cobbs
One Place Live
Motown Gospel
Recorded before nearly 3,000 worshippers at Redemption Church in Greenville, South Carolina, singer-songwriter Tasha Cobbs' One Place Live is a solid follow-up to her number one CD, Grace. It actually surpasses the multi-award-winning debut album, as the worship songstress sounds more vocally confident than ever before.
On One Place Live, produced by label-mate VaShawn Mitchell, Cobbs doesn't as much lead as direct or orchestrate the flow of praise and worship. Song transitions are effortless and create a worship experience nigh perfect in its ebbs and flows.
Cobbs opens the album with "Immediately" and "Jesus Did It," where she sings, praises, exhorts, and speaks in tongues about God's goodness in her life and, by extension, those witnessing the live recording. The melodic "Fill Me Up," arguably the album's finest selection, cools the temperature. When Cobbs' vessel of blessings fills to the brim, the song transitions seamlessly to "Overflow." These two tracks are reminiscent in melody and flow of Cobbs' smash hit "Break Every Chain."
From One Place Live, 'Fill Me Up,' Tasha Cabbs
'Jesus Saves,' the first single from Tasha Cobbs's One Place Live
On One Place Live's first single, "Jesus Saves," Cobbs sings that Jesus is worthy of praise not only because he saves his people from sin, but also because he delivers them from personal problems.
Cobbs moves on to highlight the importance of the place of worship. "One Place" and "I Love This Place" posit that worshipers shouldn't leave the gathering the same way they arrived. She illustrates on "Sense It" how an atmosphere of praise changed her own life. By the time Kierra Sheard joins Cobbs on "Put a Praise on It," the congregants are eager for a praise break, which inevitably occurs, but with a nostalgic and entertaining twist that Cobbs sets up.
[/embed]
On WLIB, Tasha Cobbs speaks with Niecey T about the impact her father's death had on her new album, One Place Live
New singing star Jamie Grace joins Cobbs on the CCM-flavored "Solid Rock." The album closes with "You Still Love Me," its lilt evocative of William McDowell's 2009 "I Give Myself Away" and deserving of a radio edit.
On "One Place," Cobbs declares: "I'm here because I want to be/I'm here because I choose to be/I'm here because I love to be." With One Place Live, Tasha Cobbs is here because she deserves to be. The melodic songs, the expert pacing, and the strong singing make this one of the best gospel albums of the year.
Picks: "Fill Me Up," "You Still Love Me."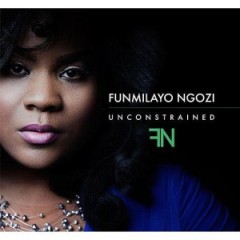 'solid production, interesting arrangements, plenty of spiritual entertainment'
UNCONSTRAINED
Funmilayo Ngozi
Unconstrained Music
A cursory look at Nigerian singer Funmilayo Ngozi's name might suggest that her music is steeped in the African gospel tradition.
In actuality, Ngozi lives in Augusta, Georgia, and studied and is a music educator in the U.S. She served as a background vocalist on Trey McLaughlin & Sounds of Zamar's Limitless album and the Beulah Grove Baptist Church's Live at the Grove CD.
Ngozi's debut solo album, Unconstrained, is true to its title in more ways than one. Although the title refers to unfettered worship and praise, the songs are not constrained by any single music style. Her worship songs have the very American flavors of CCM, urban AC and occasional flights of techno. Ngozi shifts from the melodic ballad "Lord You Reign" to Judah club-ready "Shine," and gospel-centric selections such as the gutsy "Wait on Jesus," where she declares, "I've been dealing with this issue for a long time," and evokes Jesus as the remedy for all trials. "One Word," with its warbling B3, cuts a tough quartet groove.
Ngozi does her own background vocals, which explains the crystalline harmonies that dot the project.
Funmilayo Ngozi, 'Celebrate,' from Unconstrained
The album's highlight is a big production version of Kenneth Morris's "My God is Real." The performance packs plenty of wallop as Ngozi shouts, squalls, and improvises over this classic.
Ngozi has a flexible voice—breathy and gentle on the ballads and roaring on the gospels—though with the exception of "My God is Real" and "Wait On Jesus," the songs are conventional and do not capture the full range of her abilities, though she ekes as much utility out of them as possible.
Nevertheless, Unconstrained benefits from solid production, courtesy of Ngozi and Chris Thompkins; interesting arrangements; and plenty of spiritual entertainment.
Picks: "My God is Real," "Wait On Jesus."
'bright tempos and straight-to-the-point lyrics…'
RESTORE ME
Laura Kaczor
LifeThirst Music
Restore Me is Laura Kaczor's (pronounced kuh-ZORE)'s fourth album and first in five years. It extends her work as a Christian songstress who knows just how to craft Billboard-charting gospels.
Kaczor's voice is lovely to listen to, passionate and pretty, a mashup of Katy Perry sass and Sheryl Crow clarity. She is backed by a thoroughly produced pop rock sound, courtesy of Dove Award-winning producer Ian Eskelin, and the melodies are likeable if somewhat similar, not wavering much from today's familiar CCM vibe. The ten selections are deliberately radio-sized and radio-friendly, with bright tempos and straight-to-the-point lyrics that are personal and conversational, discussions with Jesus we are privy to overhearing.
"We Don't Always Understand," written by Amy Lewis Strother and Laura Kaczor, is the most lyrically interesting song on the album. Kaczor opens with a subtle reference to the death of a child as an example of staying encouraged and finding God's purpose in life's epic tragedies: "We know you have a plan/We don't always understand."
Laura Kaczor, 'We Don't Always Understand,' from Restore Me
The song resonated with Kaczor and her husband, Kelly, because their own child, Samuel, underwent surgery to repair a hole in his heart. It reminded me of the gospel artist who was laid off from his job at Cantor Fitzgerald in New York's World Trade Center. He wondered why such a thing could happen to him and how he was going to pay his bills. Then, four days later, on 9/11/01, the Towers came down. He would have been at work that tragic day.
Another interesting lyrical twist occurs on "Once and For All." Kaczor reinterprets this stock phrase as an acknowledgment of the enormity of Jesus's sacrifice, in that he died "once" and died "for all."
Restore Me delivers praise, prayer, and gentle reassurance in bite-size chunks of ear candy. Laura Kaczor's lyric lessons are not hard medicine, surely, but the sweetness with which they are delivered helps listeners more easily digest their life-enriching contents.
Pick: "We Don't Always Understand."
'chock-a-block with airs of encouragement and reassurance…'
DESTINED TO WIN
Karen Clark Sheard
Karew Records
"Can I take some time to talk to you?/To share a message to encourage you?" Karen Clark Sheard asks in "The Who Doesn't Matter," the opening of her new CD, Destined to Win, and a selection featuring fellow songstress Faith Evans.
Sheard's simple request sets the thematic tone for a live album that is chock-a-block with airs of encouragement and reassurance that no matter what happens in life, God will be there to make things right. Just believe and don't give up.
Bolstered by the deft direction of co-producer Donald Lawrence, whose group harmonizes with the studied precision of a well-trained collegiate ensemble; and talented keyboardist and co-producer Daniel Weatherspoon, Sheard croons, declares, screams, shouts, and colors her lines with characteristic melisma, the flowers and trills that come straight outta Detroit, even launching coloratura notes that almost enter the air space of dog whistle frequency.
"The Resurrection," Richard Smallwood's reflection on Jesus's Passion and rising on Easter Sunday, is haunting and appropriately grave, proving that Lawrence's ensemble is the best interpreter of Smallwood material outside of Vision itself. On the other side of the groove spectrum is the current single, "My Words Have Power." The ensemble goes full throttle to a rollicking praise break beat, Sheard waxing like an evangelist, speaking blessings on the live audience's family and finances, and even on her company, Karew Records, which released the new project.
"Sunday AM," the Grammy-nominated single, speaks to the restorative power of a Sunday morning church service. The African American church's ability to be a salve for troubled souls, recharging and reminding members of their humanity in an inhuman world, has been its bedrock since its beginnings in the New World.
Karen Clark Sheard, the title track from her new album, Destined to Win
The album's sleeper is "The Worst is Over." Oscar Williams's composition is an inspirational gospel set to a lovely melody and rendered with such prayerful finality by Sheard that it could easily have served as Doxology and the album's final answer. It well might have, too, since the actual concluding track, "We Acknowledge You," which welcomes the Holy Spirit into the room, might have been better placed near the beginning of the release (the Walmart exclusive version of Destined to Win concludes with the "Where Jesus Is" medley, featuring cameos by Sheard's daughter Kierra, Kim McFarland, and a Clark Sisters reunion.
Like "Sunday AM," Destined to Win reminds listeners of the church's—and gospel music's—mandate to encourage the discouraged and give heart to the disheartened. Or as the company sings on "The Who Doesn't Matter:" "Let the weak say 'I am strong.'"
Picks: "Sunday AM," "My Words Have Power."
'thoughtful, rousing selections…'
TAKE A STAND
Damion Murrill & Siloam
Divinity Music Group
https://www.facebook.com/damionmurrill2
On his debut solo CD, Take a Stand, Damion Murrill demonstrates effective tutelage as a protégé of Donald Lawrence as he leads his own gospel group, Siloam (pron. Sill-OAM) on a baker's dozen of thoughtful and rousing selections.
Damion Murrill & Siloam possess that room-filling extroverted vocal sound representative of today's contemporary gospel ensembles. The musicians' complex chords and learned changes are also emblematic of this popular style. What is distinctive about Take a Stand, however, is its lyrical emphasis on changing the world. Rather than loft vertical praise upon vertical praise, the group laments the sorry state of society. The singers then encourage listeners to change the world by following God and giving the world, as they express on the theatrical "Show Them," ample helpings of "agape love."
Damion hails from the Murrill Family, whose album garnered GRAMMY and Dove nominations. As a member of Donald Lawrence and the Tri-City Singers, Damion was steeped in the neo-classical gospel tradition that has Richard Smallwood, Andrae' Crouch and the Roberta Martin Singers as its direct lineage. One can hear Donald Lawrence music DNA explicitly in the album's "Tell the World."
From Take a Stand, Damion Murrill & Siloam's 'Don't Cry'
From Take a Stand, Damion Murrill & Siloam's 'I Believe'
The bluesy "Don't Cry" is another of the group's laments on the last days. The singers offer a litany of societal problems, from rudeness and war to "snow in the summertime," and worry that Jesus will cry when He returns. On the other hand, "Kingdom Come" recommends that nobody live by the concerns of the world but only by God's command because His kingdom is already here on earth. The new single, "Don't Let Me Fall," puts a quartet groove behind a message that we, too, mess up, but are humble enough to ask forgiveness and support. This song, incidentally, was playing over the operating room speakers as Murrill underwent a successful heart surgery.
The title track is an anthem to change the nation by following God's plan, and when we do, "He will heal the land." The song's lovely chorus would be even more effective sung with minimal musicianship so the message comes through clearly.
Take a Stand is a fine debut for a group with plenty of promise.
Picks: "Take a Stand," "Don't Cry."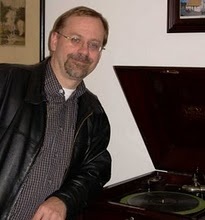 Bob Marovich is a gospel music historian, radio announcer and author. His "Gospel Memories" radio program of vintage black gospel music and artist interviews airs live first Sundays from 3 a.m. to 7:30 a.m. on Chicago's WLUW 88.7 FM, and streams live at the station's website. Snippets of recent broadcasts can be heard online at the Gospel Memories Radio Show. Bob is also the founder and editor of The Black Gospel Blog, now the Journal of Gospel Music, the source for the reviews published here. Bob launched JGM on the tenth anniversary of The Black Gospel Blog, which he founded July 28, 2004, as the first blog to cover African American gospel music. His first book, Shout Troubles Over: The Birth of Gospel Music in Chicago, is scheduled for publication in March 2015 by the University of Illinois Press as part of its Music in American Life Series. Bob lives in Chicago with his wife, author Laurel Delaney, and their two cats.