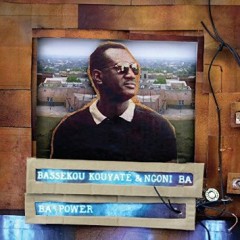 Blues legend Taj Mahal doesn't use the word "genius" lightly. But that's the title he gave Bassekou Kouyaté, the Malian virtuoso of the ngoni lute. And he earns it every time he takes the stage, and with each release by his band, Bassekou Kouyaté & Ngoni Ba. His vision and prowess keeps growing, and it reaches fresh electrifying heights with the group's new release, Ba Power, now being promoted via a North American tour.
"In Bambara, 'ba' means strong or great, but it also means 'group,'" Kouyaté explains. "This album is called Ba Power because the messages on it are important and strong. My ancestors played ngoni, I play ngoni, my son plays ngoni. That's my family's mission."
Made from a calabash, Kouyaté's has ngoni in his blood. But no one has revolutionized the instrument like him. Plugging in to distortion and wah-wah pedals with the instrument, he's brought the ngoni squarely into the 21st century. It's West African rock, steeped in history and stepping out into the future. It's a direction the band has been moving toward since its debut eight years ago, and with Ba Power, recorded in the studio owned by his son Mamadou, the musicians have captured the sparking electricity they achieve in concert.
"He said he was interested in adding more edge and electricity to his sound and embracing elements of rock music, on his own terms," explains producer Chris Eckman (Tamikrest, Aziza Brahim). "Basically I helped guard that vision, and when I did the mix I kept his original idea very much in mind. He really leaned on the distortion and wah-wah pedals."
Promotional video for Bassekou Kouyaté & Ngoni Ba's Ba Power
Made up of four ngonis, including a bass instrument, two percussionists, and vocals from Kouyaté's wife, Amy Sacko, the root of Ngoni Ba is ineffably Malian. But this is the new Mali, a country of today as well as the legacy of the past, and the band's music binds the two together. Ba Power brings in a drum kit on four tracks, played by Dave Smith from Robert Plant's Sensation Space Shifters, and also features American trumpeter and composer Jon Hassell, who has worked, as a guest, with artists as diverse as Brian Eno, Baaba Mall and Björk.
From the very first notes, Ba Power is a statement of intent. Recorded live, the instruments on "Siran Fen" ("Beware") crash out of the speakers, the lyrics comparing personal relations with the social strife that engulfed Mali, with Sacko's voice an impassioned, glorious wail. The disc was recorded in Bamako, Mali's capital last November, as the troubles that had torn the country apart seemed to be dying down.
"Conflicts are constant themes in ancient Malian songs from the Bambara and Manden areas, and not just now with the problems in the north," Kouyaté says. "Repeating them now makes people see how this is the area where the griots have long experience. This is a moment when it's good to remind Malians they have social guides to achieve a peaceful way of living in what looks like a divided society at the moment. Ngoni Ba is one of the Malian groups that are encouraging people to make still greater efforts to return to a better way of life and I feel this is carrying on the role my ancestors have been playing throughout Malian history."
Bassekou Kouyaté & Ngoni Ba, 'Siran Fen,' from Ba Power
That voice is there on Ba Power. Joy and hope suffuse the disc, a release that was evident from the moment recording began.
"I remember hearing them play the first song in the tiny Bamako studio where we made the album," Eckman says. "It was just so visceral and enveloping. I knew then and there we couldn't really go wrong with such a band. I felt very lucky to be there."
The lyrics remind us that even powerful men are mortal, and gives thanks for the peace that's returned to Mali. They're an effusive celebration, a perfect fit on Ba Power. Over razor-sharp riffs, Kouyaté's solos explode with confidence, confirming his status as axe hero–just listen to "Borongoli Ma Kununban" ("Borongoli Sleeps")–and even the graceful reimagining of the traditional praise song "Ayé Sira Bla" brings a sparkling fountain of notes, with Hassell's quiet brass a glowing underpinning to the melody. Along with the fire there's plenty of beauty, as on "Mousow Fanga."
"I recently lost my mother," Kouyaté notes. "I was very close to her and she has been a major figure in my life, so I wrote this for her. It is because of her that I have been especially sensitive recently to the power of women in all our lives. Men find it so easy to forget all that they do for us."
A 2013 interview with and performance by Bassekou Kouyaté & Ngoni Ba on Music Time in Africa with host Heather Maxwell
But at the heart of it all is the band, playing with supreme power and confidence. Ngoni Ba is a family affair, comprised of relatives. That natural communication and intimacy have been intensified by having spent most of the last two years touring internationally. This summer finds them back in North America, playing 16 dates across the U.S. and Canada.
"I've been exploring rock in depth with this album," says Kouyaté. "Touring and meeting with so many influential musicians, as at last year's African Express tour, I have been aware of the importance of rock and roll as an influence on modern popular music all over the world. I have the courage to pull out the stops. This album has the toughest sound I've ever made. I want these songs to grab as many people as possible."