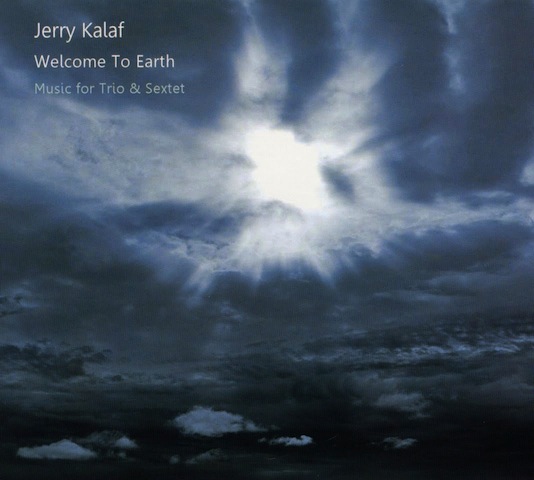 WELCOME TO EARTH
Jerry Kalaf
Palm Mountain Records
By his own admission, jazz drummer/composer Jerry Kalaf was not thinking specifically about Spring when he wrote the eight peaceful, pastoral tunes he's put together as his new album, Welcome to Earth, but has sure done a fine job of capturing the essence (metaphorically and musically) of the season of renewal and rebirth. In a press release accompanying the album Kalaf describes his approach to composing as being "absolute rather than programmatic," and adds: "In other words, I usually don't draw from sources outside the music. I don't have a specific subject matter or imagery in mind; rather, I'm concerned with melody, harmony and rhythm. I often think of the names only after the piece is written."
Okay, we'll accept that, but down deep something about the demise of the long, hard winter of 2014-2015 must have been guiding his hand as he consciously assembled the elements of melody, harmony and rhythm into the evocative numbers here. Even the instrumental groupings—a sextet and two trios—sound perfect for the season on Earth he conjures over the course of 41 minutes and 14 seconds.
Appropriately, the album begins with one of three sextet pieces here, "Ambiguity," a mellow but edgy number that takes its name from the three major 7th intervals Kalaf intersperses throughout the song. Guitarist Barry Coates and alto saxophonist Doug Walter provide affecting but contrasting solos: the latter glides plaintively over a bustling backdrop fashioned by Kalaf's restless cymbal and snare work and Gabe Davis's emphatic bass punctuations, whereas Coates eases in with rich, robust noting over Scott Breadman's pulsing percussion ahead of Kalaf and Davis returning to the fold. The pattern repeats itself at midpoint until, by the close of the 7:10 excursion, it feels as if we've seen the promise of sunrise and sunset alike.
SELECTED TRACK: 'Welcome to Earth,' featuring Leonard Thompson (piano), Ryan McGillicuddy (bass), Jerry Kalaf (drums)
Having never made a secret of his admiration of Bill Evans's writing and playing, Kalaf honors the great pianist/composer's influence on his style in a trio piece, "See You Next Year," featuring his stalwart musical compadre, pianist Rich Ruttenberg, with Dominick Genova on bass. Indeed, "See You Next Year" is a showcase for Ruttenberg's Evans-like introspection; but in keeping with the title (or one interpretation of the title), its end-of-season melancholy is tempered with bursts of cheery, right-hand excursions into melody that evoke an optimistic expectation for the next time around. This same trio configuration reassembles to bring Welcome to Earth to a most satisfying conclusion on "Moving On," a beautiful, low-key rumination—a musical exhale, if you will—that can't help but be a little sad over what's coming to an end even as it offers a warm, bracing sendoff in Ruttenberg's spare, thoughtful reflections on the 88s over Kalaf's atmospheric cymbal flourishes and Genova's moody bass.
SELECTED TRACK: 'Siyaya Samba,' featuring Doug Walter (alto & soprano saxophone); Barry Coates (guitar); Jeff Colella (piano); Gabe Davis (bass); Scott Breadman (percussion); Jerry Kalaf (drums)
The sprightly side of the Evans influence fuels Kalaf's "The Jazz Answer," featuring a different trio comprised of Kalaf, bassist Ryan McGillicuddy and pianist Leonard Thompson, the latter fashioning fascinating flurries of bright, fleet-fingered runs over Kalaf's brisk brush drums and McGillicuddy's energetic but beautifully understated bass retorts in a tune marked by a number of quick, clever key changes that shift the mood almost measure to measure. This trio also performs the title track, so named for Kalaf's newborn grandson. This energetic outing conjures the height of the season with its driving tempo and sunny disposition—a mood enhanced as the song unfolds in inventive six-bar phrases allowing for high-spirited dialogue between Thompson's laid-back harmonic formulations and Kalaf's brisk exhortations.
SELECTED TRACK: 'Moving On,' featuring Rich Ruttenberg (piano); Dominic Genova (bass); Jerry Kalaf (drums)
What constitutes the sextet's finest moment is open for debate. Doug Walter's languorous soprano sax and Jerry Colella's romantic piano stylings are the chief drawing cards for an immersion into the lovely "Siyaya Samba" (the title honors Zimbabwean musical-dance-theatrical group Siyaya), with both underpinned by sensuous percussion courtesy Scott Breadman. Colella, guitarist Coates and Breadman share the spotlight on a thoughtful but swinging tribute to the late, great Jim Hall, "This One's for Jim (For Jim Hall)," a tasty, multi-rhythmic workout also featuring a terrific, soaringly melodic tandem solo part featuring Coates's guitar and Walter's alto sax.
The package is completed by an arresting cover shot of the sun emerging from a forbidding, cloudy sky. The music herein tells us Old Sol is mightier than the cloud cover and triumphs in saturating the earth with his blessed, life giving beams. Given the sensitivity to the season these gifted West Coast musicians evince throughout this treatise, what to say but that it might as well be Spring? Welcome to Earth. You got here just in time.