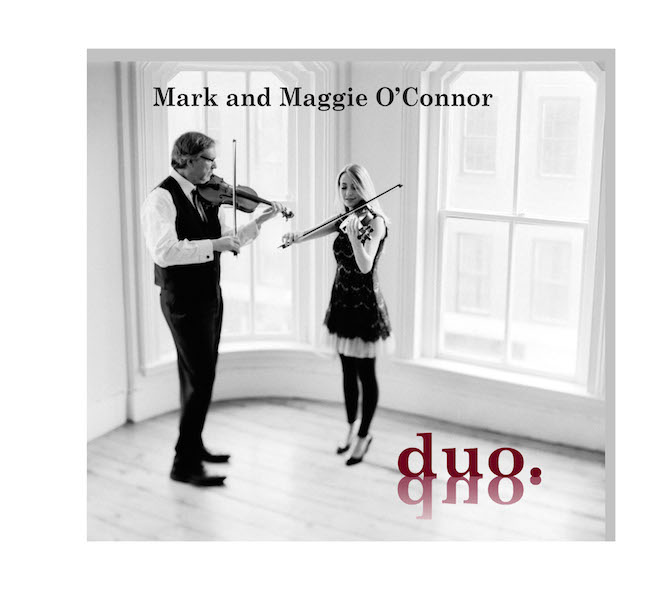 DUO
Mark and Maggie O'Connor
OMAC Records
With so much good about this new album from the newly married Mark and Maggie O'Connor, where does one start in appraising and praising it? With, perhaps, an introduction to the least known of the dramatis personae responsible for its exalted music making, namely one Maggie O'Connor?
Raised in the Atlanta suburbs, the former Maggie Dixon's apprenticeship on violin began when she was seven, in a family band with her guitarist father and mandolinist brother while taking classical violin lessons from Odessa Conservatory-trained Larisa Morgulis. She became a member of and soloist with Atlanta's top three youth orchestras in addition to playing with local bluegrass and rock bands and thus honing her arranging and improvisational skills. Then it was on to the Peabody Institute of the Johns Hopkins University to study with violinist Herbert Greenberg and become a finalist in the Marbury Prize Competition for Undergraduate Violinists; after earning her Bachelor's Degree she was accepted into the Five Year Advanced Degree Program and awarded the Career Development Grant. Full tuition scholarships sent her to the Aspen Music Festival and School for three years. Last year, on May 15, she met Mark O'Connor and joined him on one of his duos at the Turtle Bay Music School Gala. On November 8, they were married. They played Mark's classic "Appalachia Waltz" as a violin duet at their wedding. Their reprise of the piece on Duo is an unforgettable recorded moment, both uplifting and heart tugging, truly, as Mark writes in his liner notes, "a modern-day spiritual."
Mark and Maggie O'Connor, 'Jerusalem's Ridge,' from Duo
Standing toe-to-toe with Mark O'Connor at the altar is one thing; doing it when he has a fiddle in his hands quite another. Maggie has been impressing critics and fans alike for some time now but working with her new husband, and appearing with him on this album, is going to vault her into the front ranks of American violinists. As a technician and as an expressive player, she is formidable, has it all. What I find so special about her, apart from the sheer soulfulness abundant in the music she makes, is her uncanny sense of playing off of and with Mark, knowing when to assert herself and when to be empathetic and supportive. Needless to say, these instincts are doubtless honed in hours upon hours of rehearsal with Mark—it's kind of easy for them to get together, y'know—but if you've heard enough fiddling you know when someone's trying to be part of something rather than calling attention to themselves. You hear it in her faultless but plaintive second voice to Mark's on the lovely "Jole Blon" duet, being right in step with him and enhancing the engaging flow he's creating. You hear it in the joy she and Mark share in the challenging, swinging double-stops on "Fiddlin' Around," a tune in the classic western swing style done to a T by the late, great Texas fiddler Johnny Gimble and reprised by Mark and Gimble on his 1992 Heroes album (one of O'Connor's landmark recordings). Mark and Maggie even get into a bit of scat singing at one point, enhancing the track with an unexpected but pleasing texture. In addition, as Mark pointed out in an email message to your faithful friend and narrator, the improvisation here "is really the transcription of the original improvisation sections of the Heroes recording, so it is a replication of the improv that Johnny and I used in the original, and completely fused into this violin duo arrangement of the piece in a seamless sense." You most certainly hear it in the abovementioned "Appalachia Waltz," when the beauty of the two violins in their instrumental pas de deux sounds like the expression of two hearts in deep, unquenchable love—if this were ballet music the beauty of the dancers' intertwined movements and tender embraces as the languorous rhythm and keening melody unfold would be breathtaking. But in Mark's hands it's more—as he writes, again, in his notes: "It conveys optimism and longing, a belief in the future and a closeness for old homes, old friends, and past journeys." So rich is this piece that two different interpretations are valid.
For Mark, Duo continues his remarkable mid-career reinvention as a classical artist and composer and furthers his case and cause for a new American Classical string music repertoire. Even in a time standout violinists are in abundance, O'Connor cuts a singular figure with his mastery of so many roots music styles to complement his ongoing education in classical music. His long-time fans will recognize most of the songs on Duo; they've been part of his life and work for some time. A few of them appeared on the abovementioned Heroes long player; the spirited "Emily's Reel," a splendid showcase of Mark's fluid rhythmic sense and beautiful tone, was featured on the Grammy winning An Appalachian Journey album, featuring Mark, Yo-Yo Ma (Mark wrote the piece for Yo-Yo's then-10-year-old violin playing daughter) and Edgar Meyer; others come from favorite O'Connor sources, such as Johnny Gimble (see "Fiddlin' Around," above); Bob Wills, remembered in Mark and Maggie's heartfelt twin fiddling on "Faded Love," a song occupying a special place in Mark lore: in 1974, when as a lad he made his Grand Ole Opry debut, he encored with "Faded Love," including his own third verse variation on the original, which he includes here as well; and not least of all, the legendary Stephane Grappelli ("my last real violin teacher," as Mark writes) via a red-hot set-to with Maggie on "Tiger Rag," a rousing romp based on the version Mark originally arranged and recorded as a violin and trumpet duet with Wynton Marsalis.
Mark and Maggie O'Connor, 'Appalachia Waltz,' from Duo
Other treats abound, including a stirring "Swing Low, Sweet Chariot," evocative, swinging, celebratory and complete with a soft Mark-and-Maggie vocal duet on which the latter reveals a quite fetching voice, soft and warm; an exquisite interpretation of Jay Ungar's "Ashokan Farewell," ever haunting, ever tender and a beautiful moment for the twin fiddlers; and the album opening romp titled "F.C.'s Jig," an O'Connor extrapolation from the third movement of his first concerto, The Fiddle Concerto, originally recorded with Yo-Yo Ma—its dazzling fiddle interplay is not only a powerful calling card for Maggie's virtuosity but one of the more complex duos here (as Mark explains in his notes: "I retained the [1st] violin line from the score and adapted the entire symphonic orchestration into the second line. The result is an example of American Classical string music.").
These duos serve another purpose beyond introducing the Mark and Maggie collaboration. They are found in the advanced level of Book IV and V of Mark's O'Connor Method, a groundbreaking American Classical approach to modern violin playing that is fast supplanting the Suzuki method and introducing students to a technical foundation using all American music. What happens here is best summarized in liner notes by the Bartók-Pásztory award winning violinist from Hungary, Péter Kováts, who observes: "Mark O'Connor's Duos also send the important message that there is a rich and exciting world that is worth being known widely, and this is the American fiddling, the American folk music with its different styles and moods, and what violinists should learn through playing them together, exactly as playing the Bartók Duos."
So there is that. There is also an overriding truth relating to the O'Connors' Duo debut: It starts with the heart. This couple ain't just fiddlin' around.