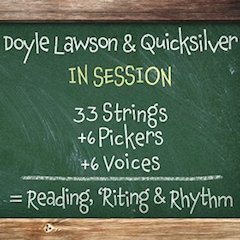 IN SESSION
Doyle Lawson & Quicksilver
Mountain Home Music Company
In press materials accompanying In Session, the music is described as "bluegrass cum laude from the master, Doyle Lawson, and his band." What may sound like hyperbole is in fact the God's honest truth. Bluegrass Hall of Famer and master mandolinist Lawson has perfected a singular bluegrass style rooted firmly in tradition but edging ever so subtly into the progressive realm. Unsurprisingly, the current Quicksilver lineup (Josh Swift, reso guitar, percussion, vocals; Dustin Pyrtle, guitar, vocals; Joe Dean, banjo and guitar; Eli Johnston, bass, guitar and vocals; Jason Barie, fiddles; Stephen Burwell, fiddle on "Wilma Worker") cedes nothing to previous Quicksilver incarnations in the way of instrumental mastery and impassioned playing, and with Lawson's leadership they sound as if they have been together for decades, so perfectly attuned are they to each other's moves.
The traditional-progressive axis is rousingly evoked in the hard charging opener co-written by Johnson and Pyrtle, "Roll Big River," featuring furious but precise soloing by fiddle, banjo and mandolin (Lawson in a red-hot turn) behind a keening vocal and soaring harmonies in a story celebrating a weary traveler's anticipated family reunion at journey's end. The values Lawson has always celebrated in his music only begin there. From the redoubtable husband-wife songwriting team of Rick Stanley and Donna Ulisse comes "Wilma Walker," a midtempo courting song centered on the rocks of hard work and the family circle as a source of strength and harmony through the years, virtues personified in the easygoing sincerity of the ensemble's tight harmony vocals. In keeping with the album's larger theme, "Calling All Her Children Home," all plaintive harmonizing and atmospheric reso fills from Swift, is a heart tugging ballad from Carl Jackson and Aaron Wilburn explaining how the singer, like many before him, is always in touch with and pulled back to his southern roots, no matter how far above and beyond the Mason-Dixon Line he may wander.
Doyle Lawson & Quicksilver at Bluegrass Underground, Cumberland Caverns, July 22, 2011, performing Bill Monroe's 'Evening Prayer Blues.' With Jason Barie (fiddle), Jesse Baker (banjo), Mike Rogers (guitar), Josh Swift (dobro), Corey Hensley (bass) and Carl White (drums). A new studio version is featured on In Session.
In the matter of romance Lawson and company offer observations on the highs and lows of that particular state of mind and heart. Charlie Monroe's "Weep and Cry" struts out of the gate with sturdy fiddle and banjo work driving it and supporting the assertive lead vocal in which the singer fairly celebrates the misery the woman who ditched him is experiencing in her new arrangement—its glee at her misfortune and the circumstances of it makes you wonder if the song wasn't the template for the Johnny Mercer-Sadie Vimmerstedt pop classic immortalized by Tony Bennett in 1963, "I Wanna Be Around." Similarly, a rousing version of Juanita Southern's "Reasons Why" finds the singer relaxing under a shade tree contemplating why his woman spurned him, although the song's brisk pace and his vocal equanimity are curiously at odds with broken-hearted lyrics, raising a question as to how broken up the man in question really is at finding himself alone. Collaborating with Cody Shuler, bassist Eli Johnston contributes the heart tugging "Captain," a wrenching, richly harmonized tale given a rustic feel by Joe Dean's mournful banjo underscoring the plight of a combat soldier grown weary of body and soul and welcoming the death blow after learning his love back home has betrayed him. On a far less gloomy note, Lawson shows his uncanny knack for retooling old, obscure pop gems in a bluegrass style. On this album he resurrects the Ames Brothers' sentimental pop hit from 1953, "You You You," and finds the Ames's tight sibling harmony evolving from the barbershop style lent itself well to retooling as a warm bluegrass love song sung quartet style with appropriate, and lovely, instrumental atmospherics by Swift's resophonic guitar and Jason Barrie's western swing-tinged fiddle soloing.
SELECTED TRACK: Doyle Lawson & Quicksilver turn the Ames Brothers' 1953 pop hit 'You You You' into a bluegrass love song on In Session.
The other Monroe brother, a fellow named Bill, is remembered as well with an edgy interpretation of the instrumental "Evening Prayer Blues" featuring Lawson's prickly mandolin solo in a spirited dialogue with the shifting textures Swift provides with his resophonic swoops. The album concludes with another tune Lawson pulls from the past, "Americana," a Top 10 country single for Moe Bandy in 1988 here framed as a heartfelt bluegrass tribute America's values and promise ("you're still what livin' means to me…"), especially those found "a short drive from the fast lane."
SELECTED TRACK: 'Reasons Why,' Doyle Lawson & Quicksilver, from In Session.
Consider all this, then, along with the crisp, clearly delineated sonics producer Lawson and engineer Swift have fashioned to give the music the added punch of a live performance, and you'll understand "bluegrass cum laude" in a more profound way. To it goes the highest honors, and then some.