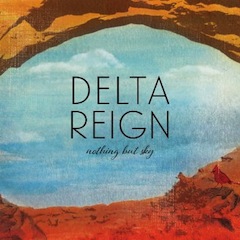 NOTHING BUT SKY
Delta Reign
Travianna Records
Following its superb Calm Before the Storm long player, Mobile, Alabama's Delta Reign returns with a more straight-ahead bluegrass effort in Nothing But Sky, and proceeds to hit the same highs that made its predecessor so compelling. Although there are no band originals on this effort (guitarist-lead vocalist Benita Murphy contributed two of Calm's strongest numbers but apparently was seized with a bout of writer's block, leading the band to reach out to a bevy of Nashville writers for material, with the only mandate being, according to an interview with Benita at AL.com, "no bluegrass songs"), what appears here is personalized to the point where it feels sui generis. A big reason for that just happens to be the aforementioned Benita, whose strong, nuanced vocals indicate the degree to which she understands the songs' overt and implied meanings, as if she had indeed written them herself. She's aided of course by her fellow band mates, who comprise one of the tightest little combos extant in roots music. If "no bluegrass songs" was the word sent out, what Delta Reign sends back to its listeners is sure enough bluegrass, but with a bit of country and folk spice for an extra-savory blend.
Delta Reign, 'Nothing But Sky,' the title track from the band's new album
No mere collection of songs this; rather, Nothing But Sky is a series of thoughtful, largely optimistic reflections on meaningful matters. Exhibit A in defense of this assertion: Ed Williams's "Nothing But Sky," a driving banjo- (by Benita's husband Pat Murphy) and fiddle-fired (the exceptional George Mason) treatise on the deeper meaning inherent in a redbird taking flight, to wit: "We've got a lot to learn from that ol' red bird who appreciates everything/'cause out front is the wide horizon/what's behind us is all gone by/there's a whole new day a-risin'/up ahead we've got nothin' but sky." It's not a bad way to live, embracing such optimism and hope, as Aaron Ramsey underscores with a ferocious mandolin solo about midway through this uplifting ensemble piece. On a more contemplative note, the midtempo trucking song "The Long Haul" (written in part by a Delta Reign favorite, David Grey) unfolds to be not a trucking song per se but a touching love song, about an empty nest couple now big-rigging it together and finding their love deepening as the miles go by—the mileage inherent in the title sentiment is not literal but rather a comment on their commitment (or re-commitment) to each other as this new passage in their lives unfolds. Benita treats the story gently, straightforwardly, as it builds to revelation, and Mason enhances the warm ambiance with a sweet, heartfelt fiddle solo. Even in the midst of despair over lost love in "Love Will Remain" (one of two songs here co-written by one of our finest contemporary songwriters, Alan Rhody, teaming on this outing with Kate Wallace), Benita saves her strongest, most affecting emoting for the lyrics expressing the narrator's abiding love for the one that got away, which comes packaged with a wish for that person's safe passage through life. Heart tugging it is, intensely so, never more so than when Mason (fiddle) and Ramsey (mandolin) add delicate solos to heighten the singer's barely disguised heartbreak in what is arguable Nothing But Sky's most touching moment. Collaborating with Canadian singer-songwriter legend Murray McLaughlan, Rhody penned "Runnin' on Faith," not a spiritual song but about the spirituality of the common bond between paramours or friends that sees them through tough times solely on the strength of their commitment to each other. Delta Reign gives it a spare arrangement, comparatively speaking, centered largely on Pat Murphy's rustic banjo, with Benita again hitting the lyrical mark by holding back on the verses, singing deliberately but assertively, then rising into an urgent cry in the choruses, with the other band members adding sweet harmony backup.
Delta Reign, 'Long Haul' (written by David Grey/Lance Miller/Gary Hanna), from Nothing But Sky
Delta Reign, 'Love Will Remain' (written by Alan Rhody and Kate Wallace), from Nothing But Sky
And then there are the more familiar covers, although nothing quite so unexpected as their bluegrass version of Blind Faith's "Can't Find My Way Home" on Calm Before the Storm. They do a fine job with Hank Williams again (his "There'll Be No Teardrops Tonight" was a standout moment on Calm) with an infectious shuffle treatment of "I Can't Get You Off of My Mind," giving it a taste of western swing (Mason shines on fiddle), with Benita strutting through it with a lighthearted flair in her keening, Rhonda Vincent-like vocal. Speaking of western swing, it rears its head delightfully on an understated, humorous treatment of the Tommy Collins chestnut, "If You Ain't Lovin' (You Ain't Livin')," first recorded by Faron Young in 1954 but most memorably by George Strait in 1988, to the tune of a #1 country single and album title song. On second thought, maybe the driving, rootsy take on "Heartbreak Hotel" ranks close to "Can't Find My Way Home" in the surprise factor, but its relatively cheery disposition seems designed primarily as a showcase for Mr. Mason's interesting fiddle variations on the melody—your faithful friend and narrator believes Delta Reign wisely concluded that competing with Elvis's transcendent howl of despair is simply a fool's errand, and wisely chose a safer but engaging middle ground instead.
Given Benita Murphy's "no bluegrass songs" directive to outside writers, Nothing But Sky emerges from the studio as one of 2015's stellar bluegrass albums, complete with a variety of refreshing twists on the genre's standard lexicon that are part and parcel of why Delta Reign must be considered one of contemporary bluegrass music's finest bands. Where they're going with this is where bluegrass fans, even purists, should want to be taken.