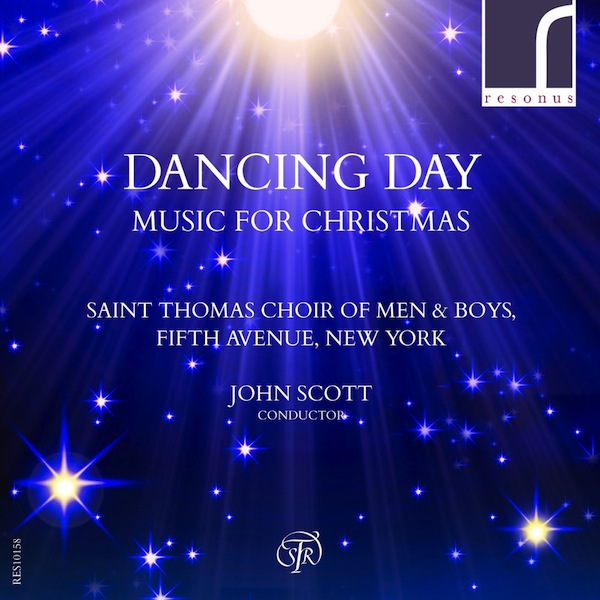 DANCING DAY: MUSIC FOR CHRISTMAS
Saint Thomas Choir of Men & Boys
John Scott, Conductor
Resonus RES10158. 63'58
This CD has a touching poignancy in that it was the last recording made by the distinguished conductor and organist John Scott, who died at a tragically young age in August 2015. It was recorded in April and went to press a few days before John's death, so there is no reference to his death in the notes. An enormously influential musician and man, John Scott was organist and director of music at London's St Paul's Cathedral for 14 years before moving to New York to direct the choir and music of Saint Thomas, Fifth Avenue, one of the finest Anglican men and boys choirs outside of the UK.
Preview of Dancing Day: Music for Christmas, Saint Thomas Choir of Men and Boys, John Scott (conductor)
It is perhaps appropriate that this recording is of Christmas music from John's home country, centered on Benjamin Britten's Ceremony of Carols, a work that Britten started composing in 1942 on his journey back to England after three years in the United States. It is followed by his New Year Carol from the collection Friday Afternoons, written for the boys of his brother's preparatory school. Both pieces demonstrate Britten's extraordinary ability to write for boys' voices without the slightest hint of condescending or patronizing, treating them as consummate musicians in their own right–something that John Scott very clearly believed in.
ALBUM SELECTION: 'On Christmas Night (The Sussex Carol),' Saint Thomas Choir of Men & Boys, with conductor John Scott and organist Benjamin Sheen, from Dancing Day: Music for Christmas. This is the popular arrangement by Philip Ledger (1937-2012) based on a transcription by Vaughan Williams included in his Fantasia on Christmas Carols, introduced in 1912. The carol's original words were first published in Ghent, Belgium in A Small Garden of Pious and Godly Songs collected by Bishop Luke Waddinge for his parishes in Wexford, Ireland.
The other major work is John Rutter's Dancing Day, composed in 1973 as a companion piece (or alternative) to Britten's popular Ceremony of Carols. Also written for harp and boys' voices, it starts, like the Britten, with a harp solo, played here by Sara Cutler. Unlike Britten's self-composed melodies, Rutter arranged traditional Christmas melodies, including the Coventry Carol, on account of the first performance being in Coventry Cathedral. The shorter pieces that make up the rest of the CD range from Patrick Hadley's 1936 I sing of a maiden to William Mathias's concluding 2010 Wassail Carol, a lively motet with a major contribution from the organ (the latter in particular demonstrating the high recording quality of the CD). There is also John Scott's own arrangement of the traditional carol King Jesus hath a garden, written while he was organ scholar at St John's College, Cambridge.
ALBUM SELECTION: Benjamin Britten's 'New Year Carol,' Saint Thomas Choir of Men & Boys, with John Scott (conductor) and Sara Cutler (harp). From Dancing Day: Music for Christmas. Britten's original version, for unison voices and piano, was published in 1936 in the collection Friday Afternoons. The anonymous medieval text was drawn from Walter de la Mare's 1931 anthology Tom Tiddler's Ground.
The 24 boys and 14 men of the Saint Thomas choir produce a magnificent sound, with that exquisite combination of musical precision, strength and insight that so typifies John Scott's approach to music, and to fellow musicians. Nine of the boys have solo spots, all sung to perfection in that almost unexplainably pure, innocent and harmonically complex sound of a boy's voice. The perfect intonation, enunciation and control of consonants are all examples of John Scott's meticulous approach to music.
ALBUM SELECTION: 'King Jesus Hath a Garden,' Saint Thomas Choir of Men & Boys, with John Scott (conductor) and Stephen Buzard (organ). Both the melody and the words come from the Netherlands. The text was published in 1577, the melody in 1609. This original version was discovered at the start of the 20th century by priest and carol collector George Ratcliffe Woodward, who asked his friend Charles Wood to harmonize the tune. This most popular iteration was introduced in 1919 in the Cowley Carol Book. John Scott wrote the arrangement featured here during his time as organ scholar (1974-78) at St. John's College, Cambridge.
This recording has already won many accolades. If you are reading this too late to make it a Christmas gift for somebody, buy it for yourself, not least as an abiding memory of a fine musician and man.
ABOUT THE AUTHOR: Andrew Benson-Wilson is an organ recitalist, specializing in the performance of early music. As well as playing, writing has always been part of his musical activities. Mr. Benson-Wilson has written many articles on organ topics and early music as well as a book, The Performance of Early Organ Music (recently re-printed). For 20 years, until its demise, he was the principal concert and organ CD reviewer for Early Music Review magazine, alongside some freelance reviewing. His website, www.andrewbensonwilson.org, was launched this past April Fool's Day and principally covers early music concerts and CDs, while allowing him the opportunity to venture into wider musical fields. This Dancing Day review was originally published at Mr. Benson-Wilson's website and is reprinted here with his permission. Click here to access his review of Dancing Day: Music for Christmas.
Follow this link to the Deep Roots tribute to John Scott, 'The Bells of Saint Thomas Wept,' published August 13, 2015.
John Scott's Five Greatest Carols Ever
In a poll conducted by Brian Wise of New York City's classical radio station WQXR (www.wqxr.org) in 2011, fifteen of the leading choirmasters and choral experts from the U.S. and the U.K. were asked to name their personal top five greatest Christmas carols. The final tally, published on the WQXR website on December 19, 2011, found the All-Time Top Five to be:
In the Bleak Midwinter
Ding Dong Merrily on High
In Dulci Jubilo
Silent Night
Tie: O Come, All Ye Faithful/Once in Royal David's City
John Scott's all-time top five included:
In Dulci Jubilo (arr. Persall)
'In Dulci Jubilo,' Persall translation, performed by the Madrigan Singers of Boston College
In the Bleak Midwinter (Harold Darke)
'In the Bleak Midwinter,' Harold Darke translation, King's College Choir