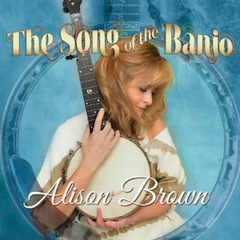 THE SONG OF THE BANJO
Alison Brown
Compass Records
Those encountering banjo virtuoso Alison Brown's first long player since 2009 enter expecting the unexpected, but maybe not as unexpected as the surprises she springs here. The album's engaging character is established with the first track, Ms. Brown's summery self-composed title song—its bright, easygoing gait is as lilting and lyrical as the season it evokes, keyed by Brown and ace fiddler Stuart Duncan engaging in a joyously nuanced instrumental pas de deux, weaving artfully around each other in tender discourse. And if her gently rolling notes and Duncan's affecting textures don't take you back to another time and place, the familiar, tuneful opening refrain Ms. Brown crafts on the second tune as dobro master Rob Ickes eases in behind her will (at least to those of a certain generation) evoke a nostalgic memory of one of the '70s' better pop moments, that being Orleans' "Dance With Me," written by John and Johanna Hall. No vocals here, though—the tight, soaring harmonizing of the original is supplanted by a gentle, pastoral ambience that grows more evocative, when John Jarvis steps forward with a mellow B3 solo complemented by Joe Davidian's piano, which in turn sets up Brown and Ickes for their own dialogue replete with atmospheric, rippling notes and elegant smooth lines as bassist Garry West (Ms. Brown's husband and co-producer) and drummer Steve Gadd secure the bottom with an understated shuffle thrust. It's a beautiful moment, and it happens to emphasize to careful listeners that The Song of the Banjo also will be a song of the heart in which the natural world plays a co-starring role.
The Song of the Banjo EPK
From The Song of the Banjo, the Indigo Girls on Michael Martin Murphey's 'Carolina In the Pines' with Stuart Duncan on fiddle, Will Barrow on piano, Mark T. Jordan on Hammond B3, Alison Brown on banjo
Indigo Girls Amy Ray and Emily Saliers make this point in dramatic fashion with their affecting vocals on a lovely rendition of Michael Martin Murphey's classic "Carolina In the Pines," a love song both to an elusive (or mystical, much like the ghost horse in his "Wildfire") paramour and to a beloved place in nature where "a full moon in the last week/brings a fullness to the earth." Alison's instrumental "Windansea" is an occasion for banjo, fiddle (by Christian Sedelmyer), B3 (Mark T. Jordan), piano (John Jarvis) to figuratively go sailing on peaceful waters with an occasional rapid to negotiate; get lost in the lilting rhythm, Duncan's sweet, yearning fiddle tone; and Ms. Brown's spare but vivid banjo, and a field of green practically opens up before your eyes. In fact, if The Song of the Banjo contained only the seven original instrumentals Ms. Brown contributes to its content, then its loving evocation of a big land humming with life would brook favorable comparison to the Vlatava section (or "The Moldau," as it is more popularly known) of the great Czech composer Bedřich Smetana's breathtaking nationalist symphonic poem Má vlast, which in its translation to "My homeland" from the Czech makes it well suited to describe the feel and grandeur the musicians achieve in these rich
arrangements. In Ms. Brown's case, her songs describe a journey through a landscape as varied as what Smetana evoked in the shifting melodic and rhythmic sections of Vletava. "The Song of the Banjo" sets the stage for the journey both thematically and emotionally, whereas "Windansea" and an item as swooning and calming as "Airish" (in which Will Barrow on piano, in his fleeting appearances, proves why less can be more when it comes to nuanced, telling support of the dominant banjo and fiddle conversation) are akin to Smetana's ethereal evocations of floating downstream in something like a dream state, past lush meadows and woods; where Smetana summons the joyous spirit emanating from a nearby wedding celebration, Ms. Brown offers a contemporary response in the form of "Stuff Happens," a funky ditty on which she gets rather baroque on the banjo while Jim Oblon steps into the fray on electric guitar with some spiky, MFSB-style guitar ahead of John Jarvis channeling Ramsey Lewis with a flurry of rolling and tumbling piano voicings. "A Long Way Gone," a title that speaks for itself, rolls gently along, sunny and spiritually resonant, like a prayer of thanks, with Steve Gadd on brush drums underpinning the reflective banjo, fiddle and piano (John Jarvis again) musings with a soft but firm shuffle, much as he does on "The Moon In Molly's Eyes," a nocturnal ramble that takes a lively turn when a tempo shift brings the banjo and Joe Davidian's piano into a jazzy dialogue comprised of variations on the melody line crafted over Andrea Zonn's droning strings. The instrumental portion of the album ends on a stirring, classy note with Ms. Brown's "Musette For the Last Fret," a composition for banjo and piano (Joe Davidian) that is not a true musette, lacking as it does a drone bass, but is a true moment of repose, reflection and deep feeling with a music box delicacy in Davidian's unobtrusive, thoughtful piano and Ms. Brown's joyous, precisely rendered Old World melody line. It's a beautiful moment.
From The Song of the Banjo, 'Airish,' written by Alison Brown and John Doyle, featuring Ms. Brown on banjo, Will Barrow on piano, John Doyle on guitar, Garry West on bass, Bryon Larrance on drums and percussion
From The Song of the Banjo, 'Windansea,' written by Alison Brown, with Ms. Brown on banjo, Christian Sedelmyer on fiddle, Mark T. Jordan on Hammond B3, John Jarvis on piano, et al.
(Ms. Brown's aren't the only instrumentals on The Song of the Banjo; it's just that hers have a compositional unity that cannot be overlooked, even out of sequence. Along the way, the brilliant ukulele master Jake Shimaburuko has a star turn on a low-key interpretation of Chuck Mangione's "Feels So Good" before ceding ground to John Doyle (guitar), Joe Davidian (piano) and Ms. Brown, who trade increasingly heated solos before returning the arrangement to its easygoing groove. Speaking of an easygoing groove, the Cindy Lauper-Robert Hyman '80s gem "Time After Time" sounds hymn-like in this reverent, moody approach—which holds true until near the end, when it breaks into a frisky, seemingly improvisational passage–thanks to John Jarvis's piano and especially to Mark T. Jordan's majestic Hammond B3 work.)
From The Song of the Banjo, 'A Long Way Gone,' written by Alison Brown, with Ms. Brown on banjo, John Jarvis on piano, Stuart Duncan on fiddle, John Doyle on guitar, Garry West on bass, Steve Gadd on drums
In addition to the Indigo Girls making hay with "Carolina In the Pines," and Colin Hay offering a serviceable rendering of a low-key take on Bacharach-David's "I'll Never Fall In Love Again," the most unexpected of all the unexpected moments on The Song of the Banjo is a bonus track on the Deluxe Edition. Keb' Mo comes on board to deliver a subdued, knowing reading of Marvin Gaye's socially conscious 1971 classic, "What's Going On." In an arrangement blending a sensual soul feel with a tinge of bluegrass, Keb' keeps the flame medium cool without sacrificing the urgency and earnestness Gaye brought to his message, perhaps the better to emphasize anew the continuing relevance of this song in our own time, when things are falling apart even faster than they were in '71—surely it's no accident that he brings added emphasis to the lyric "we've got to find a way/to bring some understanding here today…" In support, the musicians keep the soundscape percolating, as Davidian (piano), Duncan (fiddle), John Doyle (guitar), Brown (low banjo), with percussionist Bryon Larrance maintaining the tight grove, all are given room to make an impression. In keeping with the "Moldau" analogy, Smetana's closing triumphant chord, following the silence symbolizing the river flowing into the Elbe, is mirrored in the gravitas of "What's Going On."
From The Song of the Banjo, 'Musette for the Last Fret,' written by Alison Brown (banjo) with ,Joe Davidian on piano
AUDIO CLIP: From The Song of the Banjo, 'What's Going On,' with vocal by Keb' Mo. Alison Brown on banjo, Joe Davidian on piano, Stuart Duncan on fiddle, Garry West on bass, Bryon Larrance on drums and percussion
In considering the whole of The Song of the Banjo comparisons to Mark O'Connor immediately spring to mind, specifically his ongoing mission to create a new American Classical music based on our indigenous folk songs. With her compositions revealing influences of Irish, Scottish and English folk tunes while also incorporating quotes from jazz and funk, Ms. Brown continues to evolve as a writer while remaining formidable on her instrument of choice. She may well be approaching some kind of personal musical breakthrough of her own if she keeps this up. Would that she would come around more often.
Hear me talkin' to ya, Alison?