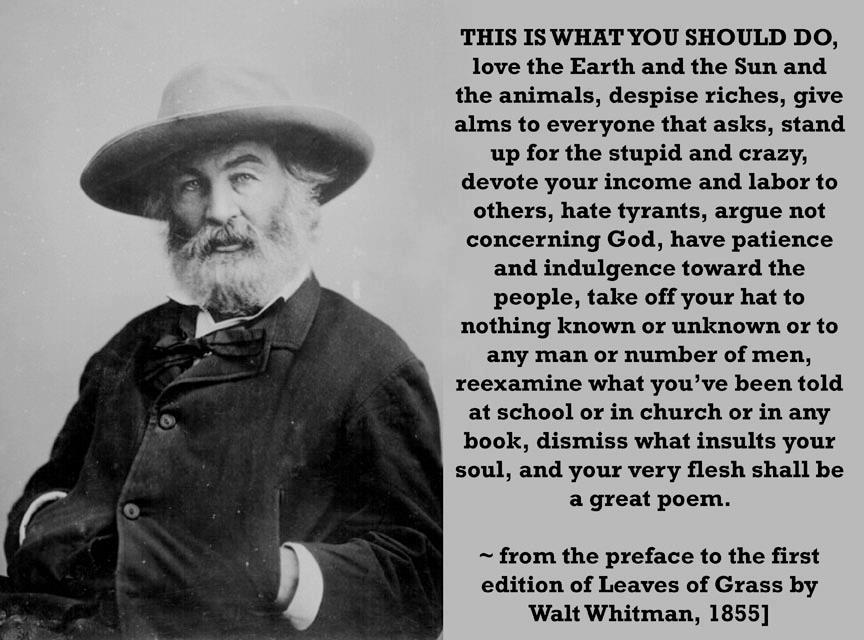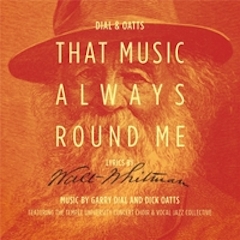 THAT MUSIC ALWAYS ROUND ME
Lyrics by Walt Whitman
Music by Garry Dial and Dick Oatts
BCM&D Records
A project some three years in the making, That Music Always Round Me sets to music 15 poems from Walt Whitman's once-controversial, now-classic collection, Leaves of Grass. That the resulting double-CD album should take so long to come to fruition seems entirely appropriate, given how many times Whitman himself revised Leaves of Grass in his lifetime. Pianist Garry Dial and saxophonist/flautist Dick Oatts might well make a case for the tracks to be in a continual state of refinement as well, but at last they got closure, if you will, on their sprawling subject matter and equally sprawling vision of it.
Not for Dial and Oatts a chamber music approach to Uncle Walt's prickly, contentious, challenging, sometimes unabashedly sensual verse. The duo set out to produce what Oatts refers to in his liner notes as "a large work." This would not be terra incognita for them: they have previously recorded one project with a 30-piece orchestra, another with a brass choir. It was Dial's idea to set Whitman's poems to music; it was Temple University professor Oatts's idea to enlist the Temple University Concert Choir (under the direction of Paul Rardin) and the Temple University Vocal Jazz Collective (conducted by Mitos Andaya) and then to supplement the choir with a bevy of seasoned New York studio vocalists (including one Terre Roche, whom he praises in the liner notes "not only for her beautiful singing and production help, but for her expertise in the written word. … Terre taught me the importance of the lyric and how to bring Whitman's subtlety and depth into our musical focus.") as well as vocalists and instrumentalists from the Boyer College of Music and Dance faculty. To arrange and conduct the choral parts for the New York studio vocalists, a trusted D&O associate was enlisted anew, Richard DeRosa, who, according to Dial, "flew to New York for eight separate weeks, working 18 hours a day in the studio just to make our music come to life." Not counting the conductors and arranger, 64 people are on the roster here.
AUDIO CLIP: 'To One Shortly to Die,' from That Music Always Round Me, Dial and Oatts
AUDIO CLIP: 'Sometimes With One I Love,' from That Music Always Round Me, Dial and Oatts
About the music: Whitman's verse hardly constitutes typical song lyric style or structure, and apparently here is where Terre Roche's sense of lyric and vocal shadings becomes most apparent. Asking any singer, much less a choir, to make some of these verses "scan" is a formidable task. Exactly how do you sing, "The corpse you will leave will be but excrementitious" (from "To One Shortly to Die [Whispers of Heavenly Death])? Or "I believe the main purport of these States is to found a superb friendship, exalté, previously unknown" (from "To the East and to the West")? Well, it's a rhythmic thing—kudos to Ms. Roche and/or whomever else found the key—and if you follow the poems/lyrics closely, you begin to fall into those rhythms, they seem natural, and even "excrementitious" (it means what it sounds like it means, in case anyone is wondering) flows smoothly on the rhythmic line. It might also help listeners to be conversant with the art of Stephen Sondheim, especially his later, more intensely personal tunes, a la those scathing and confused outpourings from Passion (1994). These too take a more high-minded but still conversational tone, albeit less florid than Whitman's constructions. But the link is there, and possibly Dial was aware of it when he began transforming Whitman's verse into song; this from a musician who admits he had never before written music with lyrics. "I had to find a new writing process," he says in his notes. "I lived with each poem until I could say the poem in rhythm. I wrote the lyrics in drum notation until it sat in the pocket. … Once it was finished I had the joy of putting melodies and harmony to the rhythms. To my surprise, the music wrote itself very quickly."
Listeners can follow along, as all the lyrics/poems are reprinted in the CD booklet. It doesn't sound to your faithful friend and narrator as if anyone was thinking "jazz" when it came to writing the music and arrangements, unless the definition was quite broad. Dial has a wonderful, driving piano solo in the first track, "Poets to Come" that gives way to Oatts's scintillating sax excursion around the melody, but the choir's thoughtful performance is more pop-jazz, save for the closing rock flourish (complete with a stinging electric guitar solo from Alex Goodman) buttressing the alternating, repeating female-male chants of "expecting the main things from you" at the end. It's an auspicious beginning, for as the album unfolds you understand how well everyone involved is attuned to Whitman's duality, the poet who at one turn seems almost bloodless, only to reveal himself a verse later as deeply empathetic and loving. In "To One Shortly To Die (Whispers of Heavenly Death)," he's startlingly blunt in addressing his subject in terms such as "You are to die—let others tell you what they please, I cannot prevaricate," only to underscore the depth of his compassion and friendship to the end: "I am with you, I exclude others from you, there is nothing to be commiserated…" In the beautiful brief verses of "Sometimes With One I Love," he worries over his ability to return another's love but sees clearly that "there is no unreturn'd love, the pay is certain one way or another"–meaning, in his case, "these songs." This is stretched to a 9:20 arrangement evolving from a soft, whispered vocal-guitar first act to a swirling, ethereal mix keyed by Oatts's flute fluttering through the melody line and a vocal arrangement reminiscent of Brasil '66's quieter moments (there were a few).
AUDIO CLIP: 'Old Ireland,' from That Music Always Round Me
AUDIO CLIP: 'The Voice of the Rain,' from That Music Always Round Me
Several of the arrangements do have a Sondheim quality, arguably the most perfect example of which supports the series of queries forming "Are You the New Person Drawn Toward Me?" Over an austere, piano-dominated backdrop a female vocalist tenderly, cautiously wonders, "Do you suppose you will find in me your ideal? Do you think it so easy to have me become your lover?" and similar interrogatories plumbing the prospective significant other's expectations—it wouldn't have been out of place in the first act of A Little Night Music. In keeping with the template here, the solemn beginning gives way to an instrumental interlude with a Latin feel that is goosed along by Dial's very Guaraldi-like skitterings across the 88s, setting up an upbeat coda with the lead vocalist and choir members taking a more spirited approach, the uncertainty inherent in the first round having evolved into a confident, now merely rhetorical litany from which the shadows have lifted.
AUDIO CLIP: 'To a Stranger,' from That Music Always Round Me
Clearly ahead of his time in voicing the opinion that a man is nothing without a woman in "Unfolded Out of the Folds" ("unfolded out of the folds of woman man comes/unfolded, and is always to come unfolded…A man is a great thing upon the earth and through eternity/but every jolt of the greatness of man is unfolded out of woman"), and here Dial and Oatts (and DeRosa) let the choir speak with minimal, unobtrusive backing, arranging the poem to feel like a hymn over the course of 5:23 of stirring choral work. "Old Ireland," Whitman's tribute and appeal to the Ould Sod to be proud of its heritage (it was originally published in his 1865 book of Civil War poems, Drum-Taps, and later incorporated into Leaves of Grass) honors its author's deep feeling for Ireland with a sturdy choral arrangement and a sprightly sax-led interlude midway heralding the triumph the choir trumpets in the final verses, "What you wept for was translated/pass'd from the grave/the winds favor'd and the sea sail'd it/and now with rosy and new blood/moves to-day in a new country." Opening with the sound of waves crashing on the shore and a rattle of percussion, "The Voice of the Rain," another hymn-like moment featuring a spare, evocative, Bill Evans-flavored solo from Dial, honors Whitman's respect for and awe of nature in words and music; in "To a Stranger" Whitman identifies the titular party as "he I was seeking, or she I was seeking," and proceeds to reflect on a passionate but passing encounter; accordingly, a male and a female exchange verses before Dial and Oatts mirror their vocal pas de deux with a frisky instrumental dialogue reflecting the heated text.
Ultimately, in the final song, "O You Whom I Often and Silently Come," an impressive female vocalist brings a bluesy, swaggering swing to her moment as Oatts and trumpeter Terrell Stafford (with tasty blues punctuations provided by guitarist Paul Meyers) rock away. Its energy and optimism serve as an ideal coda for this project There is a lesson here for listeners arriving at this juncture with open hearts and open minds. To wit: "O you whom I often and silently come where you are that I may be with you/as I walk by your side or sit near, or remain in the same room with you/little you know the subtle electric fire that for your sake is playing within me."
Actually, dear Walt, Dick Oatts and Gary Dial, and the impressive multitude holding forth on That Music Always Round Me, has made sure anyone engaging with this project understands your "subtle electric fire" and, further, recognizes that it's burning within them too.