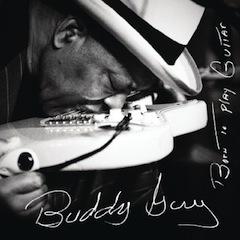 BORN TO PLAY GUITAR
Buddy Guy
Silvertone
Maybe the title, and the cover photo showing Buddy Guy playing his guitar with his teeth, is meant to be ironic. Don't misunderstand—Buddy plays plenty of hot guitar on his latest long player, in case we need to be reminded that he was born to play guitar, but he has seldom made so strong a vocal album from start to finish as he does here. His singing is really the big story on Born to Play Guitar.
Buddy makes this clear from the first gutbucket notes of the album opening title track, a Delta style electric blues with a ferocious opening guitar-and-vocal-only salvo in which our man declares with unwavering intensity, "I was born to play guitar," and adds a sly nod to Muddy Waters in an interpolation from "Mannish Boy," to wit: "I got a reputation/everybody knows my name…." Eventually the band kicks in and takes the song into grinding, South Side Chicago territory behind Buddy's moody, serpentine attack on a '57 Strat buttressed by Kevin McKendree's lowdown, fluttering piano runs. "Crazy World," a Buddy co-write with his producer/drummer Tom Hambridge and the estimable Gary Nicholson, is sonically enhanced with some eerie sci-fi weirdness and a taste of '70s wah-wah guitar but when it settles into a dark, foreboding groove (with Reese Wynans contributing mightily to the sinister ambiance with his high-pitched organ howls), Guy's emotional vocal is delivering a heated topical message bemoaning the working man's plight and the folly of believing in change when "politicians spend millions trying to get your vote/and everybody knows they're already bought and sold…it's a crazy world, hey! It's a crazy world." Blues on top of blues, as Buddy makes clear in his unforgiving vocal. "Crying Out of One Eye," another Guy-Hambridge-Nicholson collaboration, has to recommend it Guy's crying guitar, Wynans' mournful Wurlitzer and heated punctuations from the Muscle Shoals Horns, but the piercing moment is provided by Guy's wounded vocal delivering a deep blues lament to an unfaithful woman who couldn't even muster phony sincerity when she said goodbye ("I caught a little smile/and you made it so clear/when you said goodbye/you was only crying out of one eye…").
Buddy Guy, the title track from Born to Play Guitar. Buddy Guy on '57 Strat and Martin BG acoustic; Kevin McKendree on piano; Rob McNelley, resonator guitar; Glenn Worf, upright bass; Tom Hambridge, drums.
'Crazy World,' from Born to Play Guitar (Reese Wynans, B3)
Make no mistake: even when he gets some high-profile assistance, Buddy Guy remains the story. Billy Gibbons storms through "Wear You Out" with gruff authority and fiery six-string assaults, but Guy's swaggering vocal and searing Stratocaster sorties launch the workout into rarified air. Kim Wilson's raucous harp work on Charles Brown's strutting mean woman blues "Too Late" is but a memorable complement to Buddy's unbridled (and good humored) blues shouting. On the joyous, string-enhanced (closely following the chart Quincy Jones fashioned for the original recording) Brook Benton-Dinah Washington chestnut "You've Got What It Takes," Buddy steps up with a personable, swinging, borderline pop reading of the sort we have rarely heard from him (Brook Benton would be proud, because Buddy is practically channeling the great man here), carrying the day when Joss Stone's mannered distaff contribution can't cut the mustard, to put it mildly. Rumor has it that Brook and Dinah weren't exactly simpatico, but when the tape rolled they exuded the warmth and loving flirtatiousness of a couple born to be together—you believed they really cared about each other. Stone, despite Guy's supportive encouragement and humorous asides, sounds like she's reading from a lyric sheet instead of coming from the heart, to the point where it's difficult to believe she really wanted to do this; but Guy, with his engaging demeanor and soulful outpourings, at least makes his part memorable.
'Flesh & Bone,' a tribute to B.B. King from Buddy Guy's Born to Play Guitar. Van Morrison, guest vocal; Buddy Guy, '57 Strat; Rob McNelley, electric guitar; Kevin McKendree, B3, piano; Michael Rhodes, electric bass; McCrary Sisters, background vocals.
'Come Back Muddy,' from Born to Play Guitar. Buddy Guy on Martin BG acoustic; Reese Wynans, piano; Doyle Bramhall II on 12-string acoustic; Michael Rhodes, electric bass.
Apparently B.B. King's final words to Buddy were, "Keep the blues alive," so Buddy and Van Morrison (with the formidable McCrary Sisters emoting soulfully in support) honor the late giant's legacy with a stirring R&B-tinged ballad tribute, "Flesh and Bone (Dedicated to B.B. King)." Bringing it back full circle, Buddy, who evoked Muddy in the opening track, closes out with a moving slow blues reminiscence (co-written by Hambridge and Richard Fleming) of his friend, "Come Back Muddy." Playing a Martin BG acoustic, Buddy delivers the vocal with the same intensity he's drawn on throughout the album, here recounting memories humorous and poignant alike, born of friendship forged through shared experiences in tough times. Doyle Bramhall complements Guy's stinging acoustic monologue with 12-string responses, as Wynans bolsters the after-hours mood with rolling and tumbling right-hand figures while Michael Rhodes provides the ballast with his upright bass. All you need to hear is the slight quaver in Buddy's voice when he sings, "Come back, Muddy/man, I sure do want to hear your voice/come back, Muddy/let's make up some of that ol' nasty noise"—that's real feeling, emanating from a deep place in a man's soul and so profound in its truth that he could have been singing frightfully off key and it would still tug at your heart. But he's not off-key. Buddy Guy is right on it, and he's right on it and right in it all the way through Born to Play Guitar—a master in his element, telling the truth. Always telling the truth.