BEFORE THE SUN GOES DOWN
Rob Ickes & Trey Hensley
Rounder
IN STYLE AGAIN
Jim Ed Brown
Plowboy Records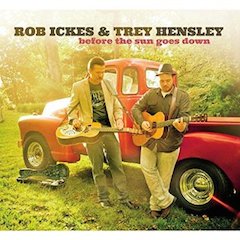 If you've had enough of the '80s arena rock that passes for contemporary country today, then rest assured help is on the way. Two new releases illustrate how the traditional sound speaks to the human condition more profoundly than the mainstream bombast of the moment ever could (and let's not even get started on the horror that is country rap).
Rob Ickes, the 15-time IBMA Dobro Player of the Year, was part of the triumvirate that delivered one of last year's finest tradition-oriented roots recordings, Three Bells, with Jerry Douglas and the late Mike Auldridge. He's kicking off the new year in the same vein with a duo project that also serves as a powerful introduction to the artistry of young Trey Hensley, Before the Sun Goes Down. To clarify, Hensley, although only in his early 20s, has been around the country scene since Marty Stuart invited the then-11-year-old to join him on the Grand Ole Opry; he's since gone on to play with a host of marquee names (including Johnny and June Carter Cash, Ricky Skaggs, Steve Wariner, Sara Evans, et al.; he's even performed at the George W. Bush White House). This outing with Ickes is, however, his first headline appearance on an album. He makes the most of it, paying authoritative acoustic and electric guitars, and most of all singing in a warm tenor that's going to ripen into a forceful baritone in years ahead; moreover, he demonstrates in his phrasing a nuanced understanding of his texts, Ickes, to his credit, doesn't try to steal the show but rather supports his youthful partner in the same tasty, empathetic manner he's done for his mates in Blue Highway and everywhere else over the years. For a band, the two have assembled a blue-chip lineup featuring Andy Leftwich, Ron Block, Pete Wasner, Aubrey Haynie, Mike Bub, the under-recognized drummer John Gardner (impressive throughout) along with a stellar group of harmony singers, including Dan Tyminski.
Rob Ickes and Trey Hensley cover Merle Haggard's 'I'd Rather Be Gone' on Before the Sun Goes Down
This cast combines to knock everything out of the park. If Bob Dylan had not been so busy walking back his silly comments about Merle Haggard, Hensley and Ickes would have set the record straight with three potent Hag covers: a back-to-back knockout punch from Merle's superb 1977 album, A Working Man Can't Get Nowhere Today, starting with a world weary reading of the title track that captures, as well here as it did in the dark days when it was first released, the daily slog of going nowhere fast in soul deadening job, a reality Hensley captures in his worn, Hag-like tone with the plaintive cries of the dobro and fiddle enhancing the dreary milieu; followed by a beautiful, lilting take on "When My Last Song Is Sung," a spiritually based song of gratitude from an artist thankful for the gift God has given him, with no regrets for the day the gift fades away. Ickes and Hensley dispense with the original arrangement's Bob Wills-inflections and transform the number into a most compelling bluegrass hymn. Three songs in Hensley assays the first of his three Hag covers, the stone country heartbreaker "I'd Rather Be Gone," in which the singer confesses to preferring to leave his unhappy woman than "be in your way," even to the point of admitting, gallantly, "I'd rather see someone else in my place." In this melancholy two-step from Hag's 1971 Someday We'll Look Back album, Hensley's measured vocal rises from wounded but thoughtful in the verses to a soaring ache in the choruses, as Ickes uncannily emulates the sound of a weeping pedal steel on his dobro. Given Hag's admitted deep indebtedness to Bob Wills, it's fitting a tune by the King of Western Swing joins these proceedings, and it's another winner for Hensley and Ickes: "Misery," co-written by Wills, Tommy Duncan and Tiny Moore, is a tear-stained communiqué with a note-perfect Hensley vocal, as despairing as it is resigned, enhanced by heart tugging fiddle work from Aubrey Haynie along with Ickes's pedal steel-like flourishes, all leading up to a startling finish, when Hensley drops his measured façade and howls the closing lyric, "Some of these days you'll be sorry/that you filled my soul with misery." Touché, indeed.
Rob Ickes and Trey Hensley discuss the genesis and making of Before the Sun Goes Down (album EPK)
Elsewhere the gang steps it up and goes on Lester Flatt/Bill Monroe's "Little Cabin Home on the Hill," a sad story couched in a sprightly arrangement; engages in a rollicking sprint through Billy Joe Shaver's "Georgia On a Fast Train," with Hensley singing free and easy, and with no small measure of satisfaction, of having "a good Christian raising and an eighth grade education" and therefore not cottoning to the way his woman's treating him, as his swift departure from the scene is perfectly embodied in the frisky instrumental punctuation supplied by Leftwich's fiddling and Ickes's spirited dobro; and, in arguably the album's most surprising moment, serving up a stomping country blues treatment of Stevie Ray Vaughan's "Pride and Joy" keyed by Hensley's hot acoustic guitar formulations and celebratory vocal but with room for Ickes to contribute pointed, bluesy dobro asides that spur Hensley to a final flurry of breathtaking runs before the two instruments join forces in a rambunctious finale. Not least of all, Hensley contributes one original tune: in the midtempo country ballad "My Way Is the Highway" he reflects on a misspent youth and a life's path that portends continuing wanderlust and rootlessness. Tough and unsparing as are the lyrics, the instrumental dialogue between mandolin and dobro is nothing less than foreboding in tone, as if to underscore the singer's aimless course. Before the Sun Goes Down is a terrific record, one of the finest of 2015 thus far. Now the challenge for Hensley is not only to preserve tradition but to deliver new songs that show the tradition to be alive and vital still, even if the mainstream wants to pretend otherwise. As for his partner…move over, Clapton: Rob Ickes is God.
From Before the Sun Goes Down, Rob Ickes and Trey Hensley take on Stevie Ray Vaughan's 'Pride and Joy'
As it happens, "The Three Bells" looms large in Rob Ickes's recent catalogue, and even larger in the legacy of one of country's top crooners of yore, Jim Ed Brown. Rising to prominence in the mid-'50s with his sisters Maxine and Bonnie as The Browns, Jim Ed found out what life was like at the top when he and his siblings cut an English language version of a French hit by Edith Piaf & Les Compagnons de la Chanson, "Les Trois Cloches," which in its less poetic but no less affecting new guise was "The Three Bells," a #1 single on the 1959 country chart from August to November and even ascended into the R&B chart's top 10. Post-The Browns, Jim Ed carved out a fruitful solo career (his 1967 hit "Pop a Top" is an immortal drinking song) and with Helen Cornelius became one-half of one of the legendary country duet teams. The duo ran its course as did his solo career, so Jim Ed moved on to TV and radio work, co-hosting popular shows on The Nashville Network along with two nationally syndicated radio shows and appearing regularly on the Grand Ole Opry.
The year of our Lord 2015 is off to quite a good start for Jim Ed: diagnosed with lung cancer this past fall, he's now been told the disease is in remission. Coincident with that news, Plowboy Records released his first new album in 35 years, the Don Cusic-produced In Style Again. A fine comeback, it might well have been titled In My Style Again in the way its old school production evokes the pop-influenced country sound ("countrypolitan") Chet Atkins fashioned for The Browns in the late '50s.
Jim Ed Brown, the title track from In Style Again, produced by Bobby Bare
Jim Ed Brown explains the story behind the song 'In Style Again': 'It says an awful lot about the way I feel.'
What's been going on in his soul and with his spirit all these years when he's been silent on record seems to be revealed in several of new album's songs. Consider the title track (produced by Bobby Bare), a reflective, string-enhanced ballad, in which he begins by comparing himself to "an old sharecropper's shack in need of paint," and later muses, yes, nothing lasts forever but it hurts to be replaced by a younger, fresher, pretty face/so if only for a while I'd like to be in style again, some day." Later he confesses, "There's nothing quite as hard as the fall/and the changes are so cruel, once you've had it all."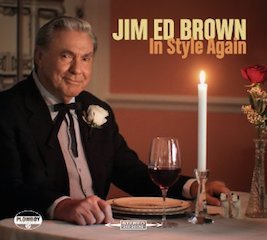 Off the top I can't think if any other country veteran from any era being so bold and so frank in admitting what really happens to artists of a certain age. Almost half of these songs are written by producer Don Cusic, who has a wealth of credits as a music historian, author, magazine editor, record company exec, artist manager and songwriter, and is a co-founder of Plowboy Records as well. Of the many points to be made about Cusic's stewardship of Jim Ed Brown's revived recording career, foremost is that he doesn't even attempt to disguise Jim
Ed as something he's not; the album's laid-back mood, with its strings, pop-ish background singers and reflective, introspective atmosphere might well have met Chet Atkins's approval; it certainly suits the songs' content and beautifully supports Brown's apparently ageless 80-year-old voice. He must have lived a clean life, because he sounds considerably younger than he really is, a seasoned crooner still in full command of his interpretive gifts.
Jim Ed Brown with sister Bonnie in a Browns reunion on 'When the Sun Says Hello To the Mountain,' the opening cut on In Style Again
Jim Ed Brown and Helen Cornelius reunited on 'Don't Let Me Cross Over' on In Style Again
But there's no getting around several songs' bittersweet penumbra. A heartfelt love tune, "You Again," sets up its title sentiment thusly: "looking at my life through the eyes of a young man growing older all the time/made me just a little wiser/I can clearly see all my mistakes keep coming back to me again/pointing out the roads I've taken/so much I'd like to change/one thing I'd do the same/I'd choose you again…" Similarly, in Cusic's thoughtful "It's a Good Life," the bitter mixes with the sweet as Brown takes the measure of it all: "I've cried tears of joy and tears of rage/I've had things turn right and things turn out wrong/but the best of life I've found in a song/life's been good to me, life's hurt me deep/I've laughed a thousand times, I've cried myself to sleep/I still have regrets, some debts to pay, but it's a good life in so many ways." In Cusic's wry two-step, "Am I Still Country," Brown has good sport with the changing landscape of the music he loves when he croons good naturedly and with unalloyed self awareness, "Meatloaf and corn bread are both mighty fine/but I like Chinese with a glass of French wine/I watch NASCAR and football but never shot a deer/sometimes I kick back and watch Masterpiece Theater/Love to hear Chet play jazz guitar/and I still country or have I gone too far…good ol' boys give me dirty looks when they find out I've read some books."
Jim Ed Brown, 'It's a Good Life,' from In Style Again
Jim Ed Brown, 'Am I Still Country,' from In Style Again
Make of this what you will. Other moments reveal unambiguous joy and gratitude, and/or an appreciation of treasured tender moments. As per the latter, consider the beauty of the album opening "When The Sun Says Hello to the Mountain," a remembrance of a departed lover couched in the sweet strains of pedal steel cries and a Hawaiian-tinged melody. If it sounds like something tailor-made for the Browns, well, yes—Bonnie Brown is the female voice harmonizing with Ed's, in a truly exquisite moment—they've still got it. Another momentous reunion occurs on Penny Jay's classic country heartbreaker, "Don't Let Me Cross Over." A honky tonk-tinged cheatin' song (or would-be cheatin' song, since the putative philanderers are begging not to be drawn across "love's cheating line"), Cornelius has lost none of the plaintive hurt in her voice—it's especially cutting when she rises into her keening upper register—and Brown eases in to his parts with the same sensitivity to Cornelius's phrasing and mood as he did in the duo's glory days; in fact, they sound as if they just picked up where they left off in the '70s. Nice work here in establishing and enhancing the ambiance by fiddler Glen Duncan and bluesy piano man John Hobbs. Cusic's sprightly "Tried and True," an uptempo western swing love song, inspires a warm, sincere Brown vocal with instrumental enhancement courtesy Duncan's lively fiddling and Chris Scruggs's sputtering pedal steel. The buoyant country strut of "Lucky Enough" frames a lyric centered on the good fortune attending those blessed with someone to love ("you're playing a game you've already won/so don't waste your time wishing on stars above/if you're lucky enough to be in love, you're lucky enough").
So good for Jim Ed, both on the medical and the music fronts. And good on him for sticking to his guns, for dancing with what brung him and proving it relevant still. As far as your faithful friend and narrator is concerned, he's right in style again. "Please sir," to quote Dickens's Oliver Twist, "I want some more."