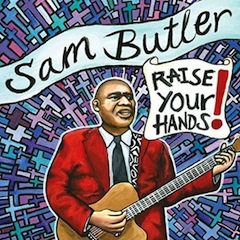 RAISE YOUR HANDS!
Sam Butler
Severn Records
Sam Butler has been in the business of moving souls and bringing the gospel in song to audiences all over the world for a long time, mostly as the lead guitarist for the Blind Boys of Alabama and, going back to the age of four, with his father Samuel Butler Sr. when dad occupied the Blind Boys' lead guitar chair. Even now he's continuing in the Blind Boys tradition as a cast member of the Pulitzer Prize- and Tony-nominated play The Gospel at Colonus, which had a brief Broadway run in 1988 with the Blind Boys starring collectively in the role of Oedipus.
Now he's teamed with producer Brian Brinkerhoff (whose credits include Trombone Shorty) on a most unusual solo debut, Raise Your Hands! A spiritual album, its songs are not from the likes of, say, Thomas Dorsey or even Andrae Crouch; rather, the concept here is to have Mr. Butler assay songs of redemption and salvation as penned by secular artists, a dozen of them in all. With his own howling, piercing guitar, Mr. Butler's attack is given added heft by a tight, tough trio comprised of sacred steel master Roosevelt Collier and the first-call, road-tested Nashville rhythm section of drummer Marco Giovino and double bassist Viktor Krauss. They get to work on Springsteen's "Raise Your Hand," a rousing call into the fold from the Boss's High Hopes album (2014), featuring a percussive blitzkrieg by the rhythm section pummeling and Butler delivering the message with a heavyweight punch enhanced by his ferocious, wailing guitar solo later in the track. A maelstrom ensues, verily it does, only to arrive at the end at the serenity of Eliza Gilkyson's "Sanctuary," a deliberate, reverential confession of how, despite "a doubter's gloom and the cynic's sneer," the singer knows God's love is non-judgmental and pervasive—"though my trust is gone and my faith not near/in love's sanctuary thou art with me." If you've come this far with Sam Butler, you know there was no other way to end the album but to acknowledge a Divine presence guiding him along the way.
>7
Johnny Cash's 'Lead Me Father,' from Sam Butler's Raise Your Hands!
Tom Waits's 'Gospel Train,' from Sam Butler's Raise Your Hands!
That this is so is due to the seeming battle he wages with God and with his own soul throughout the course of this album's journey. "The Lord," a 1969 singe B-side by Barry and Robin Gibb (it also appeared on the Bee Gees' 1970 album, Cucumber Castle), romps and stomps in Butler's hands, and though he's singing from the standpoint of a believer speaking to a skeptic, the crunch of his guitar and urgency of his vocal bespeak the mindset of someone a little too eager in his witnessing, as if he's trying to convince himself of the truth of his own declarations of fealty to the Lord—an impression he rather underscores in following this with a very Cream-like rumble through Johnny Cash's "Lead Me Father." In the original version, Cash sounds like the man singing the song, a spent but devoted follower asking God for strength to witness in song, "to help some poor troubled, weary worker along." In Butler's version, the sheer force of the attack and of the lead vocal introduce a strong element of, shall we say, performance anxiety as if the singer doubts not only himself but the grace of God as well. How appropriate, then, that Butler's version of Blind Faith's (written by Eric Clapton) "Presence of the Lord" hews close to the original arrangement's reflective verses and hallelujah chorus and its Sturm und Drang instrumental break, a passage given to dual interpretations of projecting exultation at having "finally found a way to live" or articulating inner spiritual turmoil. It is arguably the occasion for Butler's most beautiful vocal, a tender, sensitive, near-falsetto evoking the soulful spirit of Curtis Mayfield—who just happens to be represented towards the album's end with a love song, or devotional, the intent of which Mayfield may have purposely obscured, as Butler does as well. Released on the Impressions' 1969 semi-concept album The Young Mods' Forgotten Story, "Wherever You Leadeth Me," one of several songs sequenced between the socially conscious imperatives "Choice of Colors" and "Mighty Mighty (Spade & Whitey)," can easily be interpreted as love songs to a woman or to God (or to a God who is a woman, to be sure)—and in fact, Mayfield released the track as the B side of Curtom single CR 1948 bearing the title "Wherever She Leadeth Me." Butler doesn't have the benefit of the sweet, singsong horns arranged by Donny Hathaway on the Impressions' single but he does have Collier's rich sacred steel and his Pops Staple-style guitar punctuations fueling a rich, low-key, percolating arrangement that sounds like a nod to the early '70s Al Green and Willie Mitchell sound.
'Wherever You Leadeth Me,' written by Curtis Mayfield, from Sam Butler's Raise Your Hands!
At the same time, malevolent forces seem to be at work in items such as Tom Waits's "Gospel Train," a growling, stomping, raggedy track that invites listeners on board the gospel train while advising them, "don't listen to the devil/he got ways to move you," a bit of advice reiterated later as "Satan will fool you" in such a way as to make the news that "there's room for one more" as suspicious and unsettling as the invite from the morgue nurse in The Twilight Zone episode "Twenty Two," who keeps popping her head out the door to coo "Room for one more, honey" to a protagonist who can't figure out if she's dreaming or awake. And if you really want an A/B test of the afterlife, consider Nick Cave's "God's Hotel," wherein amidst a sludgy, swirling ambiance Butler revisits his Waitsian growl of a vocal in a song that devolves from assurances that "everyone's got a room/wings/harp" and "everybody holds a hand" in God's hotel to "everybody is blind/dumb/deaf," which renders the more reassuring "everybody plays piano" and "everybody got heaven" ever more suspicious, especially when Butler changes Cave's wry twist of an ending ("You'll never see a sign scribbled on that toilet wall/sayin' 'Rosy, you'll get your heaven, dial 686 444'") to a chilling query: "Will you meet me there? I'll be in the room waitin' on you…" In other words, "room for one more, honey."
Eliza Gilkyson's 'Sanctuary,' from Sam Butler's Raise Your Hands!
Get thee then to "Sanctuary," and to some semblance of revelation and safe haven all at once. Sam Butler certainly knows the Lord and man, and understands how we do continuous battle with our demons. Getting to "Sanctuary"–a journey unsuited to the faint of heart—seems a route designed to remind the doubters in their gloom and the cynics in their sneering mien of what the Book of Isaiah tells us in Chapter 48, verse 10: "Behold, I have refined you, but not as silver; I have tested you in the furnace of affliction." Selah. Which is another way of saying, "Raise your hands!"