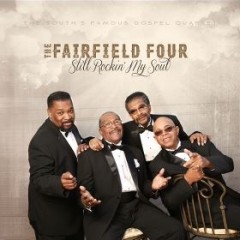 '…the transformative power of human voices blended in harmony'
STILL ROCKIN' MY SOUL
Fairfield Four
Fairfield Four Records
In 1925, when the Fairfield Four organized in Nashville, Tennessee, quartet singing was done a cappella. No instruments, just the human voice. And God saw that it was good. No–-great.
Over the years, quartets added to the mix an ever-expanding combo of guitar, piano, organ, drums, electric bass, and synthesizer until the music threatened to overpower the vocal harmonies. Whether you are a fan of quartet singing with music, we can agree that there's something seriously magical about hearing a cappella vocal singing. The Fairfield Four has satiated this appetite in the twenty-first century with their new album, Still Rockin' My Soul.
Comprised of Levert Allison, Larrice Byrd Sr., Bobbye Sherrell, and Joe Thompson, the Fairfield Four delivers a handful of gospels and spirituals, such as "Baptism of Jesus," "My Rock," "Jesus Gave Me Water," and "Highway to Heaven." Allison even incorporates Sam McCrary's audience-pleasing vocal glissando on "Don't Let Nobody Turn You Around."
A history of the Fairfield Four narrated by the group's bass singer, Joe Thompson—a fundraising video for the new album, Still Rockin' My Soul.
All but one track is done a cappella, with handclapping and Thompson's bass voice providing the rhythm. The sole instrument is an organ drone that supports the men who, like church deacons on Sunday morning, lift up the long meter standard, "I Love the Lord, He Heard My Cry." Another surprise is when country star Lee Ann Womack joins the quartet for a joyous rendition of the Christmas spiritual, "Children Go Where I Send Thee."
While the original members of the group are long deceased, the new members capture the vocal color that once made the Fairfield Four one of the nation's most popular gospel quartets. Thompson, in particular, shows effective tutelage from listening to the Fairfield Four's iconic bass, Isaac "Dickie" Freeman.
From Still Rockin' My Soul, the Fiarfield Four reprise one of their classic spirituals, 'Don't You Let Nobody Turn You Around'
From field recordings made by Alan Lomax, 1934-1950, the Fairfield Four with 'Don't Let Nobody Turn You Around'
The liner notes, penned by Jerry Zolten, not only provide a brief history of the Fairfield Four but also reveal the current members' interesting connections to the original members. Incidentally, if a biography is to be written about the group, Zolten is the guy to do it. He had a hand in introducing the Fairfield Four to a wider audience in the 1980s. Thereafter, the reconstituted quartet went on to garner Grammy awards and made an appearance in the Coen Brothers film, O Brother Where Art Thou.
From Still Rockin' My Soul, the Fairfield Four, 'Baptism of Jesus'
Still Rockin' My Soul was completed with financial help from a successful crowdfunding campaign. It's a sad commentary that a group with this much talent has to resort to crowdfunding, while pop artists who can only sing with the benefit of Autotune get major label attention. Nevertheless, I'm glad the campaign was successful because this album is a solid reminder of the transformative power of human voices blended in harmony.
Picks: "Baptism of Jesus," "Don't Let Nobody Turn You Around."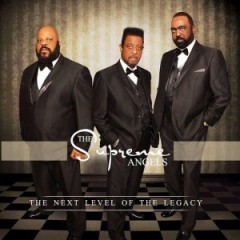 '…a fine mix of traditional and neo-traditional material'
THE NEXT LEVEL OF THE LEGACY
The Supreme Angels
Raymarkable Music
The Supreme Angels are among the quartets that have managed to remain active on the gospel highway, albeit with personnel changes, for more than a half century. The Next Level of the Legacy is their newest, and appropriately titled, album. Appropriately titled because it signals the group's commitment to keep singing in a post-Howard "Slim" Hunt milieu.
The passing of Hunt as well as that of Robert "Sugar" Hightower and Al Dent over the course of five years could have signaled the end of the Milwaukee-born quartet. But Gregory Kelly and Michael Kimpson were determined to keep the group in play and this album is proof positive that their decision was a sound one.
SELECTED TRACK: The Supreme Angels, 'The Supreme Angels Medley' from The Next Level of the Legacy
The ten radio-size selections represent a fine mix of traditional and neo-traditional material. The songs are buoyed along by loping tempos that support a smooth veneer of harmony and prominent electric piano. While the "Supreme Angels Medley" is a reminder of the group's estimable back catalog, songs such as the energetic "In the Room," the cautionary tale of "Get Right With God," and a stripped-down version of Kenneth Morris's "My God Is Real" bring into the 21st century the churchy sound that has brought the group this far.
SELECTED TRACK: 'Get Right With God,' The Supreme Angels, from The Next Level of the Legacy
Perhaps most interesting is the countrified flavor of two tracks, "Prodigal Son" and "Go Rest High on the Mountain." The former is a heartwarming, beautifully sung reflection on modern-day redemption. It is gratifying to see a gospel group cover country singer Vince Gill's extraordinary 1995 "Go Rest High on the Mountain." Like "Will the Circle Be Unbroken," "Go Rest High" ponders acute family loss and the ritual of letting go. The harmonies of "Go Rest High" are so rich I would have loved to hear the Supreme Angels do one chorus a cappella. Perhaps they can fulfill this in live performance.
Produced by Ray Braswell and released on his Raymarkable Music imprint, The Next Level of the Legacy is like listening to stories and lessons told by beloved friends.
Picks: "Get Right With God," "In the Room."
'…put your sanctified hands together'
'REMEMBER ME'–LIVE IN CONCERT'
The New Christianaires
Carter Classic Records (2014)
"Put your sanctified hands together," shouts the announcer who welcomes the New Christianaires to the stage for their live recording, "Remember Me"–Live in Concert. The audience complies. In fact, the audience claps for, and along with, the quartet for much of the album's 68-minute running time.
In 2010, Minister George N. Carter Sr., a member of the original Christianaires of Sontag, Mississippi, which featured Paul and Tyrone Porter, reorganized the group in Florida by adding Apostle Jarmain Hawthorne, Elvis Brumfield Jr., Anthony Seay, and Rev. Clint Walker. In 2014, the New Christianaires took home a Rhythm of Gospel Award for Quartet of the Year.
Where the Christianaires mixed traditional quartet with more modern arrangements popularized by groups such as Commissioned, the New Christianaires pretty much provides straightforward meaty, gritty, soulful performances of original songs with time-honored messages. Make no mistake: the New Christianaires puts a contemporary luster on traditional quartet, but the old-school style bursts forth on songs such as "One of these Mornings," sung to the melody of "Trouble In My Way;" and "Running to Heaven," which doesn't so much run but lope. Even a quasi-P&W number, "Praise Him," gets a soulful reading.
The New Christianaires, 'Remember Me'
The loping tempo is fairly consistent throughout the live album—the hard driving "Jesus" and "I Feel the Spirit" are notable exceptions. The vocal coloring of the lead singers is what make the songs distinctive. George Carter lends his falsetto to "Still Standing," while others, such as Brumfield and Hawthorne, are grittier singers.
The most interesting composition on the album is the finger-popping and prayerful "Trust Me." Hawthorne leads this ballad with passion as he stresses strong faith in God, even when, in our eyes, it seems contradictory to do so. In the southern tradition of simile and word play in song, "Fix It Up Man" likens Jesus to an all-around Mr. Fix It of life's problems.
Executive Producer Carter and co-producer Cecil Green ensure a fine balance between the singers and musicians, who ratchet up the bass and drums to give the songs extra depth.
NOTE: Darrell Jay Jones (936) 222-4006 is handling radio and booking for the New Christianaires.
Picks: "Trust Me."
'…a fascinating listen…'
THE CHURCH CALENDAR SERIES: GOOD FRIDAY TO EASTER
Page CXVI
I discovered the intriguing music of Page CXVI via an email from Noisetrade about Good Friday to Easter, the trio's latest and final release in their Church Calendar Series.
There they were—-husband-and-wife team Reid and Latifah Phillips and Dann Stockton—-rendering church hymns with humble melodies and a pop underlay of gently jangling guitars, emotional violin and contemplative keys. The group could just as easily direct a meditation service as make a college radio playlist.
It turns out that the Church Calendar Series was stimulated in part by the Phillips' experience as worship leaders. They resolved to update church hymns so they are "accessible and known again," and at the same time chronicle the holy calendar from Advent to Easter.
'O Sacred Heart,' Page CXVI, from Good Friday to Easter, the third album in the group's Church Calendar Series
The three-CD series is just that. It's an ambitious project, no doubt, but it feels quite natural, due largely to the weightlessness of the music. Page CXVI's distinctive, layered sound is a combination of Latifah's beguiling vocals, which are equal parts Feist and Sarah MacLachlan; the consistency of the musicianship (think a gentler Snow Patrol or Coldplay); and the poetic lyrics of old hymns and newly composed songs. Sometimes the sound evokes waves rushing ashore and other times it is as delicate as a tinkling music box.
In the hands of Page CXVI, no hymn, carol or anthem is exactly as you remember it, but it works. For example, "Silent Night," from the Advent to Christmas volume, has a distinctive arrangement but still evokes the melancholy of Franz Gruber and Joseph Mohr's nineteenth-century original.
'Roll Away the Stone,' Page XCVI, from Good Friday to Easter, the third album in the group's Church Calendar Series
The Lent to Maundy Thursday project features appropriately weighty, serious material, such as an astral "Were You There." It transitions to the group's latest release, the Good Friday and Easter volume, which hits a gothic peak on "Three." This track alludes to the three men hanging on the cross, the three hours on Good Friday that Jesus hung on the cross, and the 3:00 p.m. time given historically to Jesus's death. Coincidentally, it is the volume's third track. Its interpolation of "Swing Low, Sweet Chariot" only intensifies the somber mood. If the moments before death arrives had a soundtrack, "Three" is it.
From there the music gets brighter. "Roll Away the Stone" is hopeful and triumphant. Page CXVI's interpretation of the "Hallelujah Chorus" from Handel's Messiah is a joyful conclusion to the volume and series.
The Calendar Series is a fascinating listen, one that simultaneously lulls and stimulates the senses.
Picks: "Roll Away the Stone," "Three."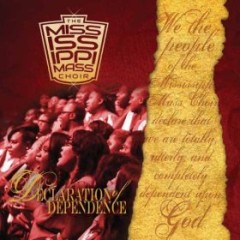 '…selections tailor-made for a church choir'
DECLARATION OF DEPENDENCE
Mississippi Mass Choir
Malaco RecordS
Halfway through Declaration of Dependence, the Mississippi Mass Choir's latest album, I realized that the choir has inherited the mantle once worn by the celebrated Thompson Community Singers.
Just as music ministers could not wait for the latest Tommies album to discover new songs and arrangements to teach their church choirs, Mississippi Mass Choir albums offer the same opportunity for today's directors. Miss Mass hits such as "He'll Carry You," "God Made Me," and "When I Rose This Morning" went from CD to choir lofts around the country.
Released last June, Declaration of Dependence offers several selections tailor made for a church choir. One is the up-tempo "I'll Stick With Jesus," led by traditional gospel maven Bishop Neal Roberson. Another is "I've Got Jesus," a new arrangement of "I've Got Jesus and That's Enough For Me," rendered with conviction by the choir's singer laureate, Mosie "Mama" Burks. "Waymaker" is another infectious roof raiser. Yet another, "God's On Your Side," is an antiphonal ballad of encouragement featuring lead vocals by Stan Jones and Le'Andria Johnson. Make sure you catch Johnson's humorous comment at the conclusion.
Mississippi Mass Choir, 'Draw Me Nearer,' featuring Lecresia Campbell in a tour de force interpretation. From the new album, Declaration of Dependence
Meanwhile, Lecresia Campbell provides a tour de force of church soloist athletic improvisation on the hymn, "Draw Me Nearer." She stretches vocal lines like salt water taffy and jumps scales with dexterity, while Marcus Singleton encourages her on organ.
Also striking about Declaration of Dependence is its fealty to the traditional choir sound. We have come to expect and respect musical consistency from Miss Mass. The traditional sound is embedded even when the ensemble pushes the contemporary envelope, such as on "Wait On the Lord" and "Speak It."
The big, bold, dense, voluminous harmonies that represent the Mississippi Mass Choir sound are front and center on Declaration of Dependence. Good thing. Many churches depend on the group's oeuvre for their own Sunday showcase.
Picks: "God's On Your Side," "I'll Stick With Jesus," "Waymaker."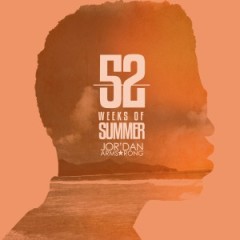 '…aimed at a young demographic wanting to pray and play'
52 WEEKS OF SUMMER
Jor'Dan Armstrong
Power Move Management
If you live in the Northern Hemisphere, summer is nigh upon you. Jor'Dan Armstrong's new CD, 52 Weeks of Summer, is an aural siren signaling the warmer, better days ahead, literally and figuratively.
Armstrong's songs are meant to be entertaining, breezy, and spirit-inspired, aimed at a young demographic wanting to pray and play. "With this project, I wanted people to know that you can have fun and still be a Christian," Armstrong says. "52 Weeks Of Summer is the soundtrack for that.
The album tracks are bound together by a running diary of spoken interstitials about a long rest in California that Armstrong and his team shared (the title is a reference to California's year-round warm weather). The cuts have the Deitrick Haddon-style electric sugar buzz and an EDM thumping beat, prominently displayed on the infectious "Let Him Do It" and "I'm Wit It."
Jor'Dan Armstrong, 'Let Him Do It (L.H.D.),' from 52 Weeks of Summer
Jor'Dan Armstrong, 'Come Up,' from 52 Weeks of Summer
But the longer you listen, the more you realize that the California trip is more than a vacation—it's a retreat of sorts from past pains, which include a legion of haters jealous of Armstrong's rising star, who accuse him of "making music for the sinners." Recharging his battery while enjoying some Christian fun in the Cali sun, Armstrong sings that his healing will come not just from a rest but from fidelity to God. More than once, Armstrong calls out to the Lord: "Whatever you say, I'll do it."
"Came Up" summarizes the potentially autobiographical back story, including a house foreclosure and the aforementioned personal jibes. "I started at the bottom, now I'm here," Armstrong sings, referencing Drake's popular lyric. He then acknowledges he couldn't do what he does without leaning and depending on the Lord. On "'Bout Dat," Adrion Butler, Iz, and another emerging star, Uncle Reece, join Armstrong in a litany of commitments one needs to make to stay faithful to the Creator.
If you haven't heard him already, Armstrong, who produced 52 Weeks of Summer with TedyP of the Good Guys, is a young urban inspirational artist worth keeping your eyes on.
Meanwhile, I, for one, am looking forward to summer, because Chicago has felt like 52 weeks of winter.
Picks: "Let Him Do It (L.H.D.I.)," "Came Up."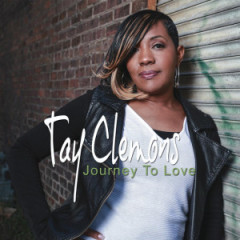 '…a stack of love songs to the Most High'
JOURNEY TO LOVE
Tay Clemons
Journey to Love
We Dream Entertainment Group
No love song written and performed by a woman is nearly as powerful and heartfelt as those she has written to express her affection for Jesus. Proof of this hypothesis can be found among the songs on Shantavia "Tay" Clemons's debut album Journey to Love.
Born in Fayetteville, North Carolina, Clemons wraps her clear, pop-inflected voice around a stack of love songs to the Most High. She receives ample support in the first few cuts by processed electronic urban AC and solid rap interludes from Jeruse, B-U and Siah. Thumping bass and throbbing beats underpin songs such as "My First Love," a testimony to how Jesus's love surpasses all. The second half of the two-part "He Knows" shifts into a quieter, melodic mood, and prepares the listener for the 1970s soulful strings of the current single, "Child of the King."
Tay Clemons, 'Child of the King,' from her debut album, Journey to Love
The top selection on the album is "Crazy." Clemens offers her strongest singing here, marveling with gratitude how Jesus can be so "crazy that you would give your life for me." She expresses a similar sentiment on "Why Do You Love Me" by acknowledging that God loves us despite our many faults. Given such perfectly unconditional love, it is no surprise that sacred love songs far surpass secular love songs in adoration and authenticity.
Toward the end of the album, the music shifts to a Christian rock sensibility. "Take Me Back," which Clemens wrote with her husband, Nate Clemons, is bathed in an acoustic alchemy. Darnell "Showcase" Taylor lets rip on the electric guitar for "And I Know," "Save Me," and "Life."
The production of Journey to Love is a family affair. Tay and Nate Clemons operate We Dream Entertainment Group, the album's label, and co-produced the record in Durham (Go Duke).
Picks: "Crazy," "Child of the King."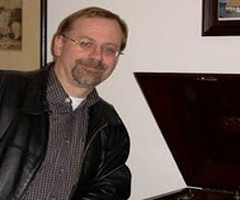 Bob Marovich is a gospel music historian, radio announcer and author. His "Gospel Memories" radio program of vintage black gospel music and artist interviews airs live first Sundays from 3 a.m. to 7:30 a.m. on Chicago's WLUW 88.7 FM, and streams live at the station's website. Snippets of recent broadcasts can be heard online at the Gospel Memories Radio Show. Bob is also the founder and editor of The Black Gospel Blog, now the Journal of Gospel Music, the source for the reviews published here. Bob launched JGM on the tenth anniversary of The Black Gospel Blog, which he founded July 28, 2004, as the first blog to cover African American gospel music. His first book, Shout Troubles Over: The Birth of Gospel Music in Chicago, is scheduled for publication in March 2015 by the University of Illinois Press as part of its Music in American Life Series. Bob lives in Chicago with his wife, author Laurel Delaney, and their two cats.