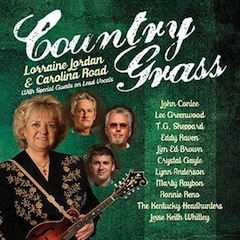 COUNTRY GRASS
Lorraine Jordan & Carolina Road
Pinecastle Records
From the fierce, rolling banjo licks created by Ben Greene, followed by equally furious fiddling from Josh Goforth that kicks off "Runnin' Water," the first rack on Country Grass, you know Lorraine Jordan & Carolina Road are onto and into something special. Lorraine herself (or Goforth; it's not indicated which one's cutting loose) picks a sizzling mandolin solo amidst all the hubbub and then the robust but plaintive lead vocal brings home a poignant if rambunctious bluegrass tale. But check the lead vocal and look who else is on the track: it's by Doug Phelps, and his Kentucky Headhunters brethren are in close harmony with him.
There's the rub: Country Grass advances—wildly successfully—the concept of reframing mainstream country hits from the past (mostly from the '70s and '80s, with two '90s hits and two '60s hits in the 13-song mix) as bluegrass songs. They then take the concept a step further by enlisting the songs' original lead singers (most of them anyway) to come back for another go 'round. Wonders abound. Ms. Jordan and Carolina Road are one of the finest traditional bluegrass bands extant, and surely their collective energy and virtuosity had an inspiring effect on the mostly veteran vocalists. A few guest musicians are on board as well, but the bulk of the impassioned soloing appears to be confined to Carolina Road.
Lorraine Jordan & Carolina Road back Eddy Raven on a bluegrass treatment of Raven's 1984 hit 'I Got Mexico,' as featured on Country Grass. Vocalist Tim Cifers also takes a verse.
In the midst of a high-energy affair, some poignant moments surface—not only in the songs but also in the fact of a couple of appearances here possibly being the last we hear of these artists as both have passed away in recent months. Jim Ed Brown, who crossed over on June 11, brings his trademark cool to a gently swinging, finger-poppin' treatment of the great Roy Hamilton R&B hit "You Can Have Her," which was also a 1967 hit for Jim Ed himself. He shares a verse with a bluesy Tommy Long, who may also be responsible for a tasty, trebly acoustic guitar solo that curls all around itself with precision impeccable enough to make Chet Atkins smile. After being off record for 35 years, Jim Ed came back this year with one of his best long players, for Plowby Records, with In Style Again (enthusiastically appraised in Deep Roots), and like the performances on that disc, his smooth tenor here betrays no hint of the lung cancer that took him. Lynn Anderson was only 67 when she was felled by a heart attack on July 30, less than two months after she released her first country-gospel album, Bridges, a well-received effort that featured a splendid take on Dobie Gray's "Drift Away" as its lead single. Here she's in fine fettle in revisiting her signature hit, Joe South's "Rose Garden," as her mature voice has enough added gravitas to give South's lyrics a bit more bite than she could muster in her younger years. Plaintive, anxious fiddle atmospherics from Goforth and Greene's steady, driving banjo enhance the subtextual anxiety in Ms. Anderson's reading (and Lorraine Jordan steps in herself for a ragged-but-right verse of her own).
From Country Grass, Lorraine Jordan & Carolina Road accompany John Conlee on a new treatment of his 1983 hit 'Common Man,' as heard on the album Country Grass. Additional vocal by Brad Hudson.
Fans of the earlier recordings are unlikely to be disappointed by what goes down when the likes of Eddie Raven explains wanderlust and heartbreak as well as anyone has in the soaring choruses and self-lacerating verses of his 1984 classic "I Got Mexico," with its added south of the border ambiance courtesy banjo, dobro and fiddle constructs. John Conlee, one of late 20th century mainstream country's most affecting singers, is as potent as ever in saluting the populist virtues of the simple life in his 1983 monument, "Common Man," with Brad Hudson's dobro swooping through the arrangement as he also pitches in vocally on a verse and beautifully blending with Conlee on harmonies. Crystal Gayle brings dark drama to the proceedings with her 1978 chestnut "Ready For the Times to Get Better," truly a song for the New Depression that seems to speak as much to today's national mood as it does to the narrator's despairing plight, with rustic fiddle and banjo providing a Dust Bowl backdrop. Keith Whitley, who might have become the greatest country singer of his generation, arises in the shadows of his 1988 heartbreaker, "Don't Close Your Eyes," when his son Jesse Keith Whitley makes an effective case to his paramour on how to "let yesterday go" and learn to love the man who's trying to help her "find more love than you've ever known." With his rich, expressive tenor Jesse is really a chip off the old block; when Ms. Jordan, Josh Goforth and Jeanette Williams lean in on close harmony as Goforth's fiddle sings a plaintive tune behind them, it's a moment to cherish.
Lorraine Jordan & Carolina Road with T.G. Sheppard, reprising the latter's 1980 smash 'Do You Want To Go To Heaven,' with Tommy Long pitching in on vocals. From Country Grass.
There isn't a weak track here: Shenandoah, with Marty Raybon back in his lead vocalist post, hard charges delightfully through the witty love dilemma, "Darned If I Don't, Danged If I Do"; in the sprightly bluegrass gospel treatment of "Do You Want to Go to Heaven," T.G. Sheppard is blissfully enjoying his exploration of various earthly temptations that promise a heavenly reward, no matter that these are of a different magnitude than what his preacher is offering (you might say, heaven's just a sin away). For whatever reason Randy Travis is not doing his early signature hit "Diggin' Up Bones," but Tommy Long is a pretty fair baritone man himself, and with some strutting banjo and fiddle support plus silky harmony vocals by Jordan and Goforth, he effectively masters Travis's deceptively matter-of-fact reading while adding a bluesy tinge of his own. Conway Twitty's name checking ode to country and bluegrass titans, "Boogie Grass Band"; Lee Greenwood's gritty evocation of southern rural customs and yearning for home in "Dixie Road"; and, to close things out, Ben Greene's backwoods arrangement of Floyd Cramer's eternal "Last Date," an instrumental with Greene's banjo carrying the melody and Goforth's weeping violin adding heart tugging tear stains to the arrangement—it all works. In these bluegrass arrangements you might even hear some emotions surfacing that had slipped your attention when the originals were on the charts, if you go back that far with the songs. Regardless, Country Grass is a keeper, another unqualified triumph for Lorraine Jordan & Carolina Road, who are starting to make a habit of this.