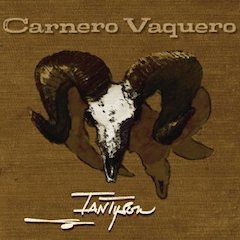 CARNERO VAQUERO
Ian Tyson
Stony Plain
From the first dramatic notes he sings on the traditional "Doney Gal," the opening track of Carnero Vaquero, it's clear Canadian legend Ian Tyson has much to say. Over an organ's low, funereal hum, Tyson (who cut the song years ago with his former wife and musical partner, Sylvia Tyson) pulls you into a chronicle of loneliness and the rigors of trail drives, and from there into a heartfelt treatise on lives, and the very earth we live on, in the balance.
This is familiar territory for the legendary singer-songwriter. He's walked it like he talks (or sings, to be precise) it by running his own cattle ranch, south of Calgary, for decades now. In fact, if you like the sparkling, expansive clarity of Carnero Vaquero, give some credit to the century-old stone building on the Tyson Cattle Ranch, where the entire album was recorded. ("No one knows how the damn thing stands up," Tyson told Cashbox Canada of the structure built by Welsh/Scots stonecutters. "It just sits on the prairie.")
But it's not only physical geography Tyson explores in creating one of his finest albums, and further compelling evidence of him having fully healed from the 2007 accident that ravaged his voice. He sounds mighty fine and fully engaged, thank you.
Ian Tyson, 'Wolves No Longer Sing,' co-written with Tom Russell, from Carnero Vaquero: 'Love no longer matters/and the wolves no longer sing…'
No, it's personal geography that forms the connecting tissue here. The aforementioned "Doney Gal" (a traditional song dating back at least to 1850 in some form, and in other forms referenced in early 20th century southern folk and blues—Robert Johnson's "I Believe I'll Dust My Broom" makes reference to a "no-good donay" woman) and the tragic folk ballad "Darcey Farrow" (by Steve Gillette and Tom Campbell) are reprised from Ian & Sylvia's early '60s days. These are the earthy touchstones of an album deeply embedded in the natural world and, sometimes at once, matters of the heart. Its theme is summarized in the opening lyrics of the heart tugging "Chantell," one of Tyson's finest love ballads, when he sings: "The road is long/life is hard/no one said it would be easy…" Case in point: Chantell, an escapee from "a residential prison" that the singer, with whom a hunter is hopelessly in love and determined to make it work.
Ian Tyson, 'Chantell,' from Carnero Vaquero: 'The road is long/life is hard/no one said it would be easy…'
With his solid touring band supplemented by in-demand pianist Catherine Marx, Carnero Vaquero teems with feeling, commitment and life lived full measure. Among five new stellar originals is a lovingly rendered "Will James," a loping, piano-and-guitar-centered homage to the iconic Canadian-born artist, cattle rustler and Old West author. Co-writing with buddy and fellow western connoisseur Tom Russell, Tyson offers "Wolves No Longer Sing" (from Russell's Rose of Roscrae album), a seemingly bitter, country-flavored portrait of the vanishing prairie and the lives it's taking with it in. This despairing assessment is emphasized in a new, presumably Tyson-penned verse, in which he laments the demise of troubadours—"they were masters of the broken heart/wise men writing all they know/but the minstrel boy rode away in the night…and love no longer matters/wolves no longer sing"—but then he returns to the Russell original in closing on a hopeful note for goodness to prevail, thus assuring "love will always matter/and the wolves will always sing"). There's even an undercurrent of hope in the elegiac "Cottonwood Canyon" despite its chronicling of the rape of the land both in words and in Marx's teary-eyed piano support. When it's all over, you will be moved, possibly even changed, by what you hear.