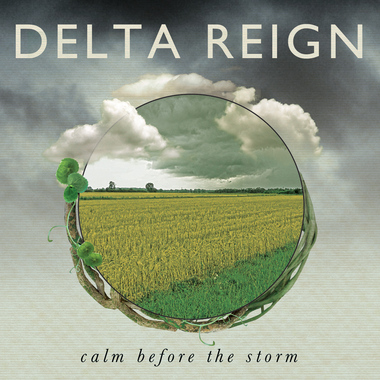 CALM BEFORE THE STORM
Delta Reign
Mountain Fever Records
What bluegrass and roots music fans around the Mobile, AL, and the Gulf Coast region in general know is what the roots music world at large is about to learn, namely that Mobile's Delta Reign is one fine, adventurous band and its third album, Calm Before the Storm, ought to impress traditionalists and progressives alike. As it has since introducing itself as a trio on 2006's Down On the Delta debut before stabilizing its lineup as a quartet with the current configuration on 2011's evocatively titled Home, Delta Reign brings folk, blues and especially western swing styles to bear on its music, both original and covers, with the result being a band that doesn't really sound much like any other nominally bluegrass outfit around. The assurance, cohesiveness and soul of Calm Before the Storm marks the quartet as being ready to make its move into the thick of things in the roots music world, a potential major player the Gulf Coast can no longer contain.
Delta Reign covers Hank Williams's 'There'll Be No Teardrops Tonight.' Benita Murphy (rhythm guitar, lead vocal); Pat Murphy (banjo, harmony vocal); George Mason (fiddle); Joshua Faul.  The studio version is the first cut on the band's new album, Calm Before the Storm.
Husband and wife Pat (banjo, harmony vocals) and Benita Murphy (lead vocals, rhythm guitar) founded Delta Reign as a trio with guitarist Norman Jeter, an iteration that in and of itself was a bluegrass rarity; before the second album commenced, Jeter was replaced with not one but two exceptional musicians: Gulfport, MS-based fiddler-vocalist George Mason (whose impressive resume includes six years as bandleader, arranger and musical director for the Osmond Family; touring with the likes of Patti Page, the Gatlin Brothers, Bobby Vinton, and others; and a continuing gig as staff guitarist for the Lawrence Welk Orchestra), and Mason's Gulfport friend, Joshua Faul, a multi-instrumentalist who had worked in everything from jazz to Afro-Cuban to R&B and gospel groups, until the Murphys introduced him to bluegrass and he joined up with Delta Reign as its indefatigable bass man. The quartet's opening salvo here, a lively cover of Hank Williams's "There'll Be No Teardrops Tonight," an oft-recorded missive centered on a spurned lover's lingering heartache over being deserted and betrayed, contains all the elements that make the rest of the album so rewarding: Faul supplying the steady, solid bottom; Mason's keening, lyrical fiddling redolent of the rich, flowing lines associated with Bob Wills and Benny Thomasson; Pat Murphy's atmospheric but spare banjo support; and Benita Murphy's engaging vocal, which on this tune has a Rhonda Vincent-like mountain edge in her gently swinging delivery.
Benita is the source of the album's two original numbers. Her hard charging "Last Southbound Train," a train song, yes, but one about the singer fleeing not from but back to her flood-imperiled Gulf coast home (the spirit of Katrina hovers over this one), her determination to do articulated authoritatively in a determined vocal and mirrored by Pat Murphy's driving banjo and Mason's frantic fiddling. "Red Dirt Dreams," her other original, is a piercing, midtempo reminiscence, heavily atmospheric, of hallowed memories of a carefree childhood free of the bondage of time and lovingly recalled, but with a slight bittersweet afterglow left by something that can never be recaptured. Again Murphy's banjo and Mason's fiddle capture the heart tugging mood Benita sings of as "fading colors in my mind," in a measured but aching delivery that brings to mind Sonya Isaacs-like soulfulness.
Delta Reign, 'Wayfarin',' from the band's new album, Calm Before the Storm.
Elsewhere the band offers a strutting, richly harmonized treatment of the Flatt and Scruggs kissoff, "A Hundred Years from Now," an occasion for Mason to cut loose on a rousing fiddle sortie about halfway through; an urgent folk-bluegrass treatment of the traditional spiritual "Wayfarin'" (aka "The Wayfaring Stranger"); a dark-hued version of the old traditional gospel tune "Don't You Hear Jerusalem Moan" that falls somewhere between the New Grass Revival's sprightly bluegrass gospel version and the Judds' bluesier treatment, with Benita's earthy vocal expressing the insistency of the message as Mason fashions jittery, anxious fiddle runs that a cat such as Stephane Grappelli, or, say, the alchemist Mark O'Connor would recognize as having a flavor of le jazz hot. Far and away the most surprising choice here is a captivating version of Steve Windwood's "Can't Find My Way Home," one of the stellar cuts recorded by the ill-fated supergroup Blind Faith (comprised of Winwood, Eric Clapton and Ginger Baker, post-Cream; and Rick Gretch) that collapsed in 1969 shortly after releasing its only album. Blind Faith also included then-heroin-addicted Clapton's overtly spiritual "Presence of the Lord," but "Can't Find My Way Home" was the product of a soul adrift, disconnected from God, incapable of even sailing by faith to the shores of redemption. Winwood's ethereal falsetto was the perfect instrument for articulating the singer's mixed-up confusion (some may hear him speaking to a lover, others may hear him addressing Jesus Christ); Benita Murphy attacks the verses with more conviction and more fortitude than did Winwood, sounding altogether more grounded and thus changing the song's whole complexion, making it more of a sermon than a prodigal's cry. The stunning arrangement finds the banjo, fiddle and guitar concocting a stew of folk, jazz and bluegrass—for all practical purposes completely reinventing one of the great moments of '60s music. Interesting. Blind Faith couldn't make it past its debut, but more than 40 years later one of its most memorable songs might well become a stepping stone to greater fortunes for a band of a completely different stripe. Who knew Calm Before the Storm was a prophetic title?