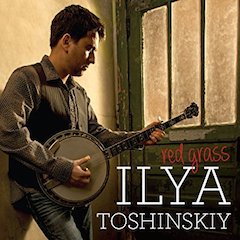 26. RED GRASS, Ilya Toshinsky (Hadley Music Group)–Remember Bering Strait, that fine all-Russian, bluegrass-based quintet that made its debut with a Grammy-nominated splash in 2003 but split up three years later, after releasing its sophomore album? Founding member Ilya Toshinsky, who played electric and acoustic guitars and banjo, left prior to the band's dissolution and proceeded to carve out an honored career as a session guitarist. Now comes his solo debut, Red Grass, on which he focuses his attention on the banjo in offering 10 pleasing original songs of varying moods and textures and as producer shows a sure hand for clean, intimate sonics. Sterling support comes from indisputable A-listers including Bryan Sutton, Andy Leftwich, Jerry Douglas, Bryan House, Luke Bulla, Aubrey Haynie, Sam Bush and Jake Stargel. Their conversations range from the title track's full-on bluegrass barnburner fueled by multiple, heated solos from an assembled sextet (Bulla's fiddling is a wonder) to a haunting theme-and-variation composition for duo ("Birch Leaf," with House's droning bass under Toshinsky's rolling banjo figures) to "At the End of the Day," an appropriately languid reflection evoking a sundown sigh as dusk eases in, with Toshinsky up front with a lean, spare, relaxed lead line as Haynie adds a lovely touch with a soft, keening fiddle solo. All roads lead to a concluding solo chamber work, "Swang Song," on which Toshinksy's trills, rolls and jazzy swing licks seem to summarize what came before and suggest a way forward. Come back soon, y'hear? —David McGee
'At the End of the Day,' Ilya Toshinsky (banjo) with Joe Stargel (guitar), Jerry Douglas (dobro), Byron House (upright bass) and Aubrey Haynie (fiddle).From Red Grass.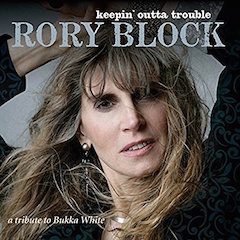 27. KEEPIN' OUTTA TROUBLE: A TRIBUTE TO BUKKA WHITE, Rory Block (Stony Plain)– For reasons lost to me at this moment, I proclaimed Rory Block's 2015 album, Hard Luck Child: A Tribute to Skip James, as being the fifth and final volume of the artist's acclaimed Mentor Series, a project she began in order to honor what she described as "the rediscovered blues masters that I met in person as a teenager." I didn't make that up out of whole cloth; I must have seen it in a press release or interview with Ms. Block. Well, that was then, this is now. She's back with a sixth volume, a tribute to Bukka White, who's always struck me as undervalued and underrated, so I say right on, Rory. …
Bukka's was a hard life but one lived full measure. Its dramatic twists and turns seem to have inspired Ms. Block to greater heights of ambition. She's always lent an original song or two to each of her Mentor Series albums, paying tribute to he spotlighted artists in her own words, but for this installment she intersperses no less than five original tunes amidst five Bukka originals. It may seem like she's giving her subject short shrift, but consider this: At 43 minutes' duration, Keepin' Outta Trouble unfolds as a piercing one-act play distilling the bluesman's oft-harrowing biography into a series of indelible, penetrating scenes. Full review here.
SELECTED TRACK: Bukka's classic 'Parchman Farm Blues' as recorded by Rory Block for from Keepin' Outta Trouble: A Tribute to Bukka White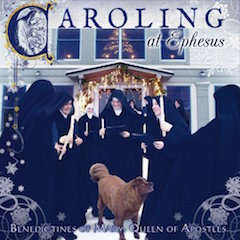 28. CAROLING AT EPHESUS, Benedictines of Mary, Queen of Apostles (www.benedictinesofmary.org)–On this, their ninth album in toto and third devoted to Christmas music, the Benedictines of Mary, Queen of Apostles, offer a more than worthy followup to the Order's Deep Roots 2015 Album of the Year, Easter at Ephesus. Produced by the sisters themselves in-house at the abbey they call home in Missouri, Caroling at Ephesus follows the template of their 2008 Yule classic, Christmas at Ephesus. That is to say the repertoire ranges from the Renaissance to the 19th Century, comes from all over the globe and includes well-known sacred seasonal fare and lesser known but equally compelling selections (such as the 16th Century Spanish folk carol "Verbum Caro Factum Est," a riveting 1:23 of joyous polyphony rendered in Spanish [the liner booklet includes translations])—inclusiveness is no stranger to the good Sisters. The 24 selections clock in at slightly more than 57 minutes.
The Sisters report this album as being done "just for fun," and you can hear the joy in their pure, beautiful voices, whether in unison or individually, in the bright reading of "Good King Wenceslaus" (including a surprise in the youthful voice singing the part of the page, which turns out to belong to the order's smallest novice); in the ebullient presentation, complete with an undercurrent vocal drone, of "I Saw Three Ships"; in the nuance and subtle drama of the modern sounding "Past Three O'Clock," a song traced back to 17th Century London, where it was "an ornamented Christmas call…by the 'waifs' of that city."
SELECTED TRACK: 'Coventry Carol,' Benedictines of Mary, Queen of Apostles, from Caroling at Ephesus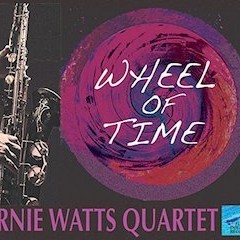 29. WHEEL OF TIME, Ernie Watts Quartet (Flying Dolphin Records)–On Wheel of Time the Ernie Watts Quartet is having quite a lively get-together on nine tunes, four of which are the 70-year-old Watts's originals, with three from each of the other band members plus two tasty covers including a muscular workout on Joe Henderson's "Inner Urge" led by Watts's sputtering, sprinting, shrieking tenor sax leading the way while pianist Christof Saenger does his own lively dance across the 88s (those cascading right-hand runs in his solo are electric) as bassist Rudi Engel and drummer Henrik Koebberling construct a solid bottom to the proceedings. Though less driving than "Inner Urge, " Engel's "Andi's Blues" sounds like an epilogue to the Henderson piece but one in which the sax, piano and bass suggest a true inner urge via softer, thoughtful solos. Those seeking less frenetic stylings have great bounty from which to choose, starting with Watts's album opening "Letter from Home," an atmospheric, midtempo exercise in the kind of sensitivity you would expect given the song's title. Watts's sax is a marvel of moderate discourse, if you will, evoking emotions ranging from exuberance to breathless urgency before Saenger enters on piano to add a more measured feel to the correspondence in question. Saenger the songwriter contributes the album's arguably most captivating interlude with his exotic ballad "L'Agua Azul," perhaps inspired by the Cascadas de Agua Azul in Mexico, where the water is truly blue (unlike, say, the Blue Danube, which is in fact green or grey—so disappointing). At any rate, this expressionist treatise ebbs and flows gracefully, even tenderly, over the course of seven minutes, with Saenger, Watts and Koebberling (on brush drums) constructing an ambience mellow and soothing in bright but easygoing solos over Koebberling's subdued pulsations. Watts is strong throughout the album, and the level of comfort he feels with his bandmates is evident in the freedom of his playing. He obviously knows his mates will follow wherever he goes, and together they make the journey that is Wheel of Time memorable, doubly so in fact.
'L'agua Azul,' Ernie Watts Quartet, from Wheel of Time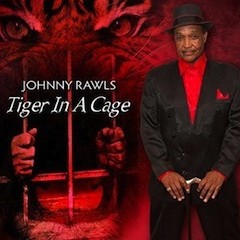 30. TIGER IN A CAGE, Johnny Rawls (Catfood Records)–Musicians of a certain age like to say they're never too old to rock. Veteran soul/blues/R&B vocalist-guitarist Johnny Rawls is back in the Jim Gaines-produced Tiger In a Cage making the point that you're never too old to care, either. In one case, this applies to the slow boiling title track, a noir-ish meditation on a 19-year-old black man—barely a man, even—taking a wrong turn after being unable to find legit work, getting busted for selling dope and wasting his youth in prison instead of being given a chance to right his ship. Mike Middleton's muted trumpet adds a poignant ambience as Rawls's measured, gritty vocal underscores the insanity informing this ill-considered punishment. "Young lives are lost/before they begin," Rawls howls at one point, lashing out with such force as to startle a listener out of the song's seductive groove and into some form of reality check. In the following song, "Born to the Blues" (written by Rawls, Bob Trenchard and the gifted southern roots singer Sandy Carroll), Rawls's deep, gospel-inflected lamentations about struggling with misfortune posit the tune as a sequel to the title cut, but one embracing the power of positive thinking, e.g. "When life gets me down/I never stay down for long/I was born to this life/I got to play and sing my song/I was born, I was born to the blues…for the blues…" The rising horns and spikey guitar interjections sound a triumphant note, enhancing the potency of a deeply committed, intensely personal Rawls vocal attack. In this context the cover of the Stones' "Beast of Burden," horn-driven and rousingly funky, completes the triptych with another self-affirming testimonial centered on ascending from the doldrums of the day into the simple comforts of another's loving arms, albeit one who's skeptical of his charms. It's a terrific cover, no matter whether the reader buys your faithful friend and narrator's conceptual conceit about it, and its Memphis Soul-centric arrangement (complemented by the silky background vocals provided by The Iveys) might well have the listener hearing this Stones warhorse with new ears. It's a pretty great song. Full review here.
'Born to the Blues,' Johnny Rawls, from Tiger In a Cage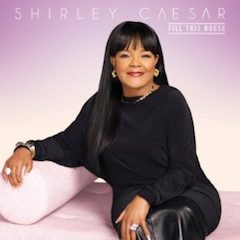 31. FILL THIS HOUSE, Shirley Caesar (Entertainment One Music)– From its days as a seedling in the American soil, black sacred music has been a balm to soothe the sin-sick soul as well as the soul beaten down by life's humiliations and insults. Even in a time when praise and worship reigns supreme in gospel music, there is still a need, especially given the condition of the black man and woman in modern America, for inspiring songs of hope and encouragement.
Pastor Shirley Caesar has been lifting such songs for more than sixty years. Fill This House is but the latest example of her modus operandi. The CD is rife with comforting messages of endurance, hope, and belief wrapped in rootsy music that seamlessly blends traditional church spirit with contemporary gospel sounds. Reviewed by Bob Marovich. Full review here.
'Prayer Changes Things,' Shirley Caesar, from Fill This House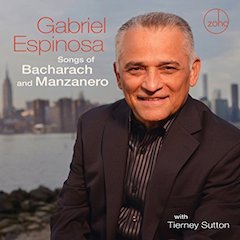 32. SONGS OF BACHARACH and MANZANARO, Gabriel Espinosa with Tierney Sutton (ZOHO) (September)– A pleasing, and most unexpected, concept album is a true border crossing event featuring the songs of two countries' most distinguished artists impeccably interpreted by some of the finest musicians representing those two countries (and others, for that matter). The man behind it all is Gabriel Espinosa on his fourth album for the ZOHO label. Born and raised in Mexico, educated in the United States (he has a Masters Degree in Jazz Studies from North Texas and has served as Director of Jazz Studies at his undergrad alma mater, Central College (in Pella, IA), Espinosa has fronted the respected Ashanti band in addition to carving out a fruitful solo career and teaming with harmonica virtuoso Hendrik Meurkens on celebrated projects such as the Celebrando CD (26 weeks on the JazzWeek charts in 2012 and hailed by JazzTimes and Downbeat, among others) and the acclaimed 2014 long player, Samba Little Samba. Meurkens is with him on this outing as well, adding his soulful chromatic harp embellishments to four tracks and for all the world summoning the spirit of the great Toots Thielemans in his tone, soothing texture and measured attack.
The album's other marquee name is seven-time Grammy nominated jazz vocalist Tierney Sutton, who looks and sounds way too young to have been on the scene for more than 20 years, during which time she's released nine CDs, including 2013's unforgettable After Blue, a personal homage to Joni Mitchell that takes Ms. Mitchell's songs into places the songwriter surely must have appreciated, and perhaps even been enlightened by. … These two interesting artists have convened to make an endlessly listenable tribute to the songs of Burt Bacharach, who needs no introduction to American music fans, and to Armando Manzanero, a giant of Latin music, comparable in some estimations to Jobim but not nearly as well known north of the border as Jobim. Perhaps this album is the first step in correcting that oversight. Full review here.
SELECTED TRACK: 'Alfie,' lead vocal by Tierney Sutton; harmonica by Hendrik Meurkens. Written by Hal David and Burt Bacharach. From Songs of Bacharach and Manzanero.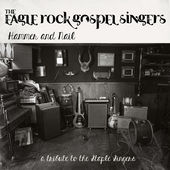 33. HAMMER AND NAIL: A TRIBUTE TO THE STAPLE SINGERS, The Eagle Rock Gospel Singers (www.ergospelsingers.com) (EP)–September, Marovich) Imagine female harmonies containing the thunderous power of the Mamas and the Papas' Cass Elliott and Michelle Phillips, and a rock band, all covering Staple Singers classics, and you have an idea of the Eagle Rock Gospel Singers' Hammer and Nail EP.
The ensemble, which loves and respects traditional African American gospel, makes three Staples "staples" its own. "From day one, the Staple Singers have been a primary influence," said Eagle Rock Gospel Singers co-founder Jeremy Horton. "From naming our band to the purchase of a Fender reverb amp to get closer to Pops Staples' vibrato sound, to covering several of their songs, we've looked to them for artistic and philosophical guidance. Recording an EP as a tribute was a logical step." Reviewed by Bob Marovich. Full review here.
'Don't Knock,' Eagle Rock Gospel Singers, from Hammer and Nail: A Tribute to the Staple Singers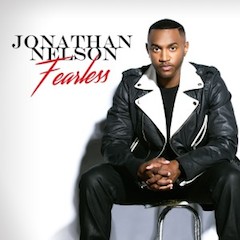 34. FEARLESS, Jonathan Nelson (Light Records/Entertainment One Music)–Who would have imagined, back in 2004 when he appeared on the national gospel music scene, that the irrepressible new-school gospel artist Tye Tribbett would someday lead an old school-style praise break? That's exactly what he does at the conclusion of Fearless, the live recording from Stellar Award-winner Jonathan Nelson. The eight-plus minute "I Give You Glory," with Tribbett as pastor/song leader, rides along on a praise break beat, tying Nelson's fifth album in the splendid ribbon and bow it deserves.
Recorded live at the Faith Center in Sunrise, Florida, Fearless features an extroverted, confident, always-in-control Nelson praising and demonstrating unwavering fealty to God in songs such as the title track, the call-and-response "Name of the Lord," and "I Believe (Island Medley)." Nelson is of the new generation of smooth tenors (Kevin LeVar, Micah Stampley, Keith Williams, Brian Courtney Wilson, Earnest Pugh, et al.) whose handsome voices grace gospel music with a richness evocative of the original gospel hymn singers who were more subtle than melismatic in their vocal delivery. Reviewed by Bob Marovich. Full review here.
'I Give You Glory,' Jonathan Nelson with Tye Tribbett, from Fearless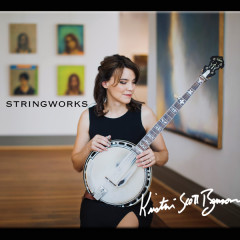 35. STRINGWORKS, Kristin Scott Benson (Mountain Home Music)
Four-time IBMA Banjo Player of the Year Kristin Scott Benson has established herself as a consummate ensemble musician in the context of her outstanding work with The Grascals. With Stringworks she finds a mature voice outside the band—her instrumental voice, that is. Four of the six instrumentals here are Benson co-writes, ranging from the fiery "Great Waterton" workout pitting her in a breakneck romp with ace bandmates Adam Haynes (fiddle), husband Wayne Benson (mandolin) and Cody Kilby (guitar)—strictly take-your-breath-away virtuosity—to the soothing "Travelers Rest," a pastoral, flowing banjo-and-guitar-driven meditation evoking the exhale at the end of a long day's journey. The bonus, if you will, is in the half dozen affecting vocals, led by the great Claire Lynch's touching rendition of Cheryl Wheeler's lovely, vividly detailed seasonal ode, "When Fall Comes to New England," all autumnal beauty enhanced by Benson's spare, atmospheric solo. One of the album's emotional high points is the gospel number "You Gotta Climb Over the Cross," an intense missive aimed at those "hellbent on being lost," keyed by Shawn Lane's urgent lead vocal. The crisp, sparkling sound (Benson produced, with Van Atkins engineering) adds both liveliness and intimacy to a memorable bluegrass outing.
'When Fall Comes to New England,' written by Cheryl Wheeler, vocal by Claire Lynch, from Kristin Scott Benson's Stringworks. Kristin Scott Benson, banjo.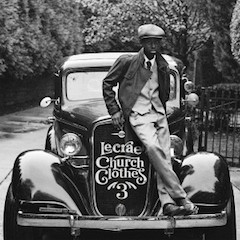 36. CHURCH CLOTHES 3, Lecrae (Reach Records)–Leave it to Lecrae to put out a mixtape as a place holder—or an appetite whetter—until his new album is released, and it soars to the top of the Billboard That demonstrates his crossover appeal in a hip hop market that knows no subgenre boundaries: if it's good, it's good. If it's relevant, even better.
Church Clothes 3 is good and relevant. Its first three selections, in fact, are engaging kaleidoscopes of incisive rails against inequality and injustice in all of its forms. Lecrae points the finger at everyone and every institution that has contributed to the bewildering state of affairs that marks today's Age of Anxiety. Reviewed by Bob Marovich. Full review here.
'I Wouldn't Know' (feat. Kb), Lecrae, from Church Clothes 3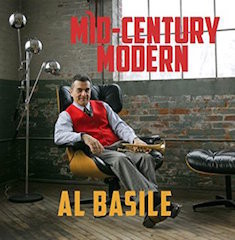 37. MID-CENTURY MODERN, Al Basile (Sweetspot Records) (September)–The style of Mid-Century Modern returns Al Basile to the small R&B combo style, redolent of his hero Louis Jordan in part. The sound is classic, framing original songs with much to say about the here and now. For one, Al seems more acutely aware than ever about time removing giants that have paved the way for what he does now: in the slow blues "Listen to The Elders," Al advises in his most earnest voice, amidst gently swaying horn lines, gleaning wisdom from experienced hands in life—"listen to the elders, because they survived/they got burned but they learned how to stay alive…well, the elders are just you plus time." The percolating "Big Trees Falling" is a song-length metaphorical treatise lamenting the deforestation, if you will, of the culture; as Al writes in his liner notes, "This song is about valuing the giants who came before us, and realizing that we're the next in line." Full review here.
'Listen to the Elders,' Al Basile, from Mid-Century Modern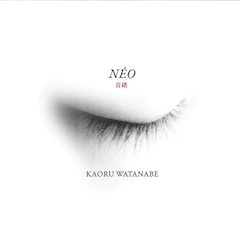 38. NÉO, Kaoru Watanbe (Kaoru Watanbe)–The ornate chord that binds strings to the shamisen, the beginning of sound. A concrete, tangible part of music making, and an abstract sense of its source. The Japanese term néo encompasses both (and hints, across languages, at the new).
That word ties the many worlds of Japanese-American multi-instrumentalist and percussionist Kaoru Watanabe, on his first album of original compositions, Néo. He revels in the abstraction and exploratory gusto of creative music and experimental jazz, while drawing on deep experience with Japanese traditional music, thanks to a ten-year stint with Kodo, one of Japan's best loved and best travelled taiko ensembles.
"I wanted to unfold the feelings of nostalgia and longing that drew me so powerfully to Japanese traditional forms," says Watanabe. "Yet I wanted to anchor them by using improvisation to create fully formed, emotionally resonant music, over complex rhythmic structures." Full review/interview here
'Shinobu,' Kaoru Watanabe, from Néo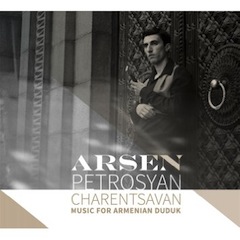 39. CHARENTSAVAN: MUSIC FOR ARMENIAN DUDUK, Arsen Petrosyan (Pomegranite Music) (January)– Arsen Petrosyan is a young duduk master living in Charentsavan, Armenia who is considered a musical prodigy. Within Armenia he is quietly talked about as one of the potential heirs to the duduk throne Gasparian now occupies, Petrosyan playing has been characterized as "sensitive, nimble, and noble" by his mentor Gevorg Dabaghyan (Yo-Yo Ma's Silk Road Ensemble/ Shoghaken Folk Ensemble). Indeed, on his debut album Charentsavan: Music for Armenian Duduk, released by the Oakland, CA-based record label Pomegranate Music, Petrosyan has crafted an ambitious program spanning over 1000 years. From the haunting piece "Havik" composed by Armenian monk, mystic and poet Grigor Narekatsi (951-1003) to the instant new ethno-folk classic "Lullaby for the Sun" written by oud legend and Night Ark/The Secret Trio founder Ara Dinkjian (1958- ), Petrosyan's roadmap through Armenian musical history takes the listener on a rewarding sonic journey.
Recording in just under three weeks in Yerevan, Armenia during the summer of 2015, Petrosyan worked with noted classical/world music producer Raffi Meneshian (SoloDuo, Hover Chamber Choir of Armenia, Gor Mkhitarian) to create a slightly refreshed folk sound that incorporates instruments such as the harp, udu drum, acoustic guitar, tar, kanon, and dhol within the texture of the recording. Additionally, "Charentsavan" features pieces sourced from Armenian villages and regions that now lie outside of the Armenian Republic such as Mush (Eastern Turkey), Kessab (Syria), Javakhk (Georgia), and Palu (Central Turkey). Many of these songs had been collecting dust in former Soviet archives on the verge of becoming lost and neglected until Petrosyan revived and recorded them for this album. Full review here.
'Hazar Ernket,' Arsen Petroysan (duduk) and Osherov Kirill (tombak). A studio version of the song is featured on Petroysan's debut album, Charentsavan: Music for Armenian Duduk.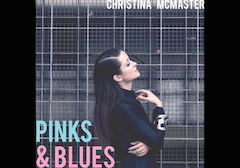 40. PINKS & BLUES, Christine McMaster (McMaster Records)–Pianist Christina McMaster's new disc on her own label is a striking mix of 20th century and contemporary works that move from the blues through more modern interpretations to occasional lighter moments, with music by Samuel Barber, György Ligeti, Bill Evans, Alasdair Nicholson, Richard Bullen, Frederic Rzewski, Oscar Peterson, Nina Simone, Freya Waley-Cohen, George Gershwin and Stephen Montague.
Pinks and Blues opens with the first movement of Samuel Barber's "Excursions," his first published solo piano piece, written in 1942. It combines a rather Mozartian right hand melody with a boogie-woogie stride bass in a dark and intriguing manner. György Ligeti's "Etude No.8, 'Fem,'" one of a cycle of Etudes he composed between 1985 and 2001, starts out bright and fast with a rather metallic feel ("Fem" means Metal in Hungarian) and develops into a complex, multi-textured work, though I did slightly worry that the acoustics in the recording changed between the first and second tracks. Reviewed by Robert Hugill. Full review here.
Alasdair Nicholson's '42nd Street Stomp' as performed by Christina McMaster on Pinks & Blues, based on Warren and Dubin's title song for the 1933 movie musical classic, 42nd Street.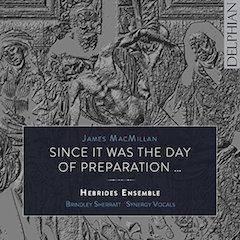 41. JAMES MACMILLAN: SINCE IT WAS THE DAY OF PREPARATION, Hebrides Ensemble (director: William Conway), Brindley Sherratt, Synergy Vocals (Delphian)–This new disc from Delphian is the first recording of James MacMillan's Since it was the Day of Preparation, a large-scale cantata that examines the events following Christ's crucifixion, with text taken mainly from St John's Gospel. The work is performed by the Hebrides Ensemble (director: William Conway, the work's dedicatee), comprising of William Conway (cello), Yann Ghiro (clarinet), Stephen Stirling (horn), Gabriella Dall'Olio (harp) and Elizabeth Kenny (theorbo), with Synergy Vocals (Micaela Haslam [soprano], Heather Cairncross [alto], Benedict Hymas [tenor] and Tom Bullard [baritone]) and Brindley Sherratt as Christ.
The work was premiered in 2012 at the Edinburgh Festival (see the review on BachTrack) by the same performers as on the disc. The work is essential a sequel to the traditional Passion narrations and MacMillan says of the work "On completing my St John Passion in 2007, I was immediately intrigued with the possibility of writing another work based on the text that comes immediately after the death of Christ in St John's Gospel." (You can hear the composer talking about the work on YouTube, below). Reviewed by Robert Hugill. Full review here.
James MacMillan on his new setting of the Resurrection story, Since it was the day of preparation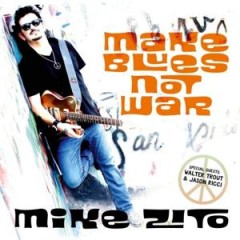 42. MAKE BLUES NOT WAR, Mike Zito (Ruf Records)–When last we hear from Mike Zito, it was 2013 and he delivered a Deep Roots Album of the Year in the form of Gone to Texas. Here's a snippet of our review of that long player:
Few artists have battled demons as savage as Mike Zito's once were and lived to tell the tale. He's never tried to hide what we went through–which was not so long ago, mind you–and how he crept to the edge of the abyss before the abyss looked back and jolted him into sobriety. On his intense new solo album, Gone to Texas, his first for Ruf Records (heretofore, for Ruf, he had produced the Girls with Guitars project (see the June 2011 issue of TheBluegrassSpecial.com) and Samantha Fish's impressive debut (see the September 2011 issue of TheBluegrassSpecial.com), and according to his own liner notes had long been itching to be on the label as an artist himself. It's hard to imagine him delivering anything stronger or more bluntly confessional than the galvanizing performances here. With this, Zito hits the trifecta:  in 2011 he emerged triumphant on his third solo album, Greyhound (see the October 2011 issue of TheBluegrassSpecial.com), and a year later he, Devon Allman, Cyril Neville, Yonrico Scott and Charlie Woote, banded together as the Royal Southern Brotherhood, introduced themselves with one of the best albums of 2012 (see Deep Roots, September 7, 2012). Good as those were, Gone to Texas's manifold strengths elevate it to a higher plane of spiritual quest. Its close-to-the-bone feel; his band The Wheel's empathetic support; Zito's effortless command of the blues and blues-rock idioms he employs; the conviction in his rough-hewn vocals; the frank, unvarnished portrait he paints of himself in his weakest hours–when paranoia creeps in, death wishes abound and a general feeling of inertia if not outright uselessness takes hold of him are the components of a masterwork.
A live version of 'Make Blues Not War,' the title track from Mike Zito's new album. Live at the Funky Biscuit in Boca Raton, September 3, 2016.
Having unburdened himself so bluntly, and doubtless not without some pain, Zito enlisted producer Tom Hambridge (whose credits include Buddy Guy and Zito's Royal Southern Brotherhood mate Devon Allman's Ragged and Dirty) and kicked out the jams on Make Blues Not War. Given its release in November, after one of the most bitter and rancorous political campaigns in recent memory, you might think Zito was using the album format to advance his thoughts on the issues of the day. Yet, his pronouncements in that realm are few and oblique—in the Muddy-style stomp of the title track, he alludes to the turmoil in the street but the message he delivers in his urgent growl is, "when times get tough and you've had enough/turn on some music, that's what your soul is cryin' for/turn it up loud and wake the neighbors/let's make blues, not war…"
Well, the neighbors may not be happy, but on his new album he's turned it up loud and let the shredding loose on the land. Hambridge is expert at making these powerhouse showcases with gifted musicians, and, according to Zito, this one was long in gestation. "Tom and I had spoken about making a kick-ass blues-rock album for years," Zito has said. "I like having fun and cutting loose—that's what this album is all about." One of the secrets to the sizzling sound and go-for-broke feel is the sessions being live in the studio—"the musicians set up and we just hit record and went for it," Zito says.
'Bad News is Coming,' Mike Zito, from Make Blues Not War
Go for it they did. And they found it. From the twin fury of opening track "Highway Mama," with guest guitarist Walter Trout sparring mercilessly with Zito while the rhythm section has its hands full withstanding the assault to red-hot rock 'n' roll of closing tune "Route 90," with its triumphant Zito vocal cataloguing the twists and turns of a southern road trip and a rollicking boogie-woogie piano backing that would make Jerry Lee proud, Zito sounds like a man both possessed and free.
There are a couple of songs that dip into personal history, though. "Wasted Time," though its grind and stomp frame mean woman blues lyrics, it's hard not to think Zito might well be singing to the demons that by his own confession found him wasting years of his early career. Maybe it is nothing more than a mean woman blues of the harshest sort but then maybe not. There's no doubting the subject of the roaring "Chip Off the Block"—it's about his son Zach Zito, who is both a soon-to-be University of Missouri graduate and a solid guitarist who's told he wants to go on the road with The Wheel. Zach is playing proud and loud on the track, and Zito is playing the supportive father: "He got blisters on his fingers from playing my guitar/grew up on Johnny Winter and Stevie Ray Vaughan/he's a chip off the block/buzz from the bee/the apple don't fall far from the tree" and "playing music for a livin' is all I ever did/he's been riding shotgun ever since he was a kid/he's a chip off the block…"
'Girl Back Home,' Mike Zito, Make Blues Not War
On the slower side, the slow, crunching blues of "Bad News is Coming" finds Zito howling plaintively about dealing with his lover's infidelity, when he knows he has to bail but can't fathom losing his gal either. The wounded sound of his deliberate guitar solo and the depth of ache in his vocal work together to magnify the sorrow he's revealing with every note. In an interesting change of pace, the slow grinding "Girl Back Home" takes Zito into country blues territory with a drawling vocal that's as much spoken as sung and is buttressed by a tasty, stinging slide solo, all in service to sweet nothings expressed to the girl who done him right. A real beauty, "Road Dog" is a slow jam augmented by organ and centered lyrically on the life of the wandering troubadour, something Zito knows well.
For those in search of the knockout groove, Zito cuts loose on items such as "Redbird," a seven-minute excursion into white-hot tone and texture, and the furious, driving "Crazy Legs," which owes something to Ten Years After's "I'm Going Home" with the addition of some saucy, suggestive lyrics about gorgeous gams.
In short, as a statement, Make Blues Not War is an album Zito needed to make in the wake of Greyhound and Gone to Texas. If ever any artist sounded like he's come all the way back from whatever he needed to come back from, it's Mike Zito right here, right now. The next chapter should be interesting indeed. –-David McGee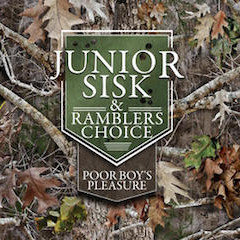 43. POOR BOY'S PLEASURE, Junior Sisk & Ramblers Choice (Mountain Fever Records)–Half a dozen albums into their recording career, Junior Sisk & Ramblers Choice are one of mainstream bluegrass music's sturdiest and most exciting keepers of the flame Bill Monroe lit in the 1930s. As Daniel Mullins's liner notes assert, Junior's is "industrial strength bluegrass," a truth born out in a dozen assured, deeply felt performances here. In fine voice throughout, Sisks's robust tenor is at its most expressive on Poor Boy's Pleasure, whether he's issuing an exuberant call to self-reliance on the barnburning "Land on Our Feet" (a tune further set ablaze by Johnathan Dillon's fleet-fingered mandolin solo and Jason Davis's non-stop flurry of banjo rolls); going into abject heartbreak mode on the wrenching mountain lament "Hang a Wreath on My Door," its funereal atmospherics enhanced by Jamie Harper's weeping fiddle; or delivering a plaintive, soulful plea for forgiveness and redemption in the bluegrass gospel gem "What About Me Lord." Bluegrass vocal legends Ronnie Bowman and Paul Williams both make memorable guest appearances, thus adding an extra dollop of authenticity to Junior and the fellows' virtuosic traditionalism, which emerges proud and true in a vivid, full-bodied soundscape that captures the band's energy at full throttle. –David McGee
'What About Me Lord,' Junior Sisk and Ramblers Choice, from Poor Boy's Pleasure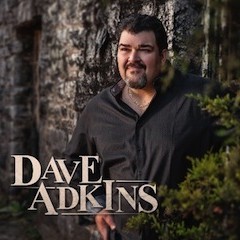 44. DAVE ADKINS, Dave Adkins (Mountain Heart Records)–Three years ago, fronting Republik Steel, Dave Adkins made one of the most impressive debuts in recent bluegrass history with That's Just the Way I Roll, a hard-edged collection of working man's (as in coal miners) bluegrass made doubly potent by the grit and resolve in Adkins's muscular tenor voice. Returning here as a solo artist backed by a quintet of bluegrass stalwarts (including fiddler Tim Crouch, whose long, mournful lines in "Russell Fork River" add chilling ambience to Adkins's harrowing tale of a young man wrongly convicted and executed), Adkins turns his attention largely to matters of the heart. These musings range from the strutting opener, "Change Her Mind," in which Adkins wistfully speculates on a slim hope of reconciliation as mandolinist Aaron Ramsey and banjo man Troy Way inject spiffy solos, to a tough, fiddle-fired toe-tapper, "You Don't Have to Go To Be Gone," frankly chronicling a relationship's gradual disintegration. Alleviating the darkness, he delivers an affecting, emotional tribute to a deceased paramour in the spare ballad "Angel Song" and soars ecstatically amidst the lively bluegrass gospel of "A Whole Lot More to Tell." The bright, uncluttered sonics further recommend an effort stellar in both conception and execution. –David McGee
'Angel Song,' Dave Adkins, from his self-titled solo album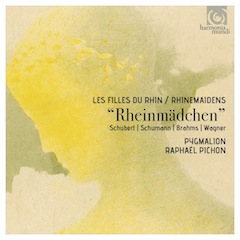 45. RHEINMÄDCHEN, Ensemble Pygmalion, Raphael Pichon (Conductor) (Harmonia Mundi)—Rheinmädchen contains what every good recording should: a diverse selection of pieces under one broad thematic umbrella, some bold transcriptions and rearrangements, the little known next to the better known, smart and imaginative conducting and performers, the sound capture that does justice to the material, and, well—the acknowledgment that women exist. (You'd be surprised—or maybe not–-by how many works and how much programming in any artistic discipline to this day, 2016, do the last task perfunctorily.)
Ensemble Pygmalion is one of a good number of France's period ensembles, which are now, counting from Les Arts Flo, three generations strong. Its founder and conductor Raphael Pichon (YOB: 1984) is one of those non-dogmatic HIP conductors interested in Bach as much as contemporary music, in Mozart as much as the Romantic chamber choir rep. And while a lot of us who respect the HIP school of thought and its instrumental colors place its outer limes somewhere in between the early Romantics and the ripe ol' Romantics (cause nobody wants Wagner and Mahler on period instruments), Pichon here productively blurred that distinction and very much got away with it. Schumann, Schubert, Brahms and Wagner here come together aesthetically unified as one Romantic brotherhood. Aside the all-female chamber choir, the instrumental forces begin and end with four natural horns, one harp and two double basses. Review by Lydia Perovic. Full review here.
SELECTED TRACK: Johannes Brahms, Four Songs, Op. 17: III, Der Gärtner, from Rheinmädchen, Pygmalian Ensemble (Raphael Pichon, conductor)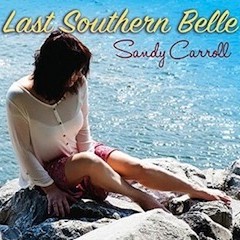 46. LAST SOUTHERN BELLE, Sandy Carroll (Catfish Records) (March)– A personal take on the Southern experience that produces universal truths, veteran singer-songwriter Sandy Carroll's new Last Southern Belle album is an invigorating journey through a vanishing (or, in some cases, vanished) world as recalled and rendered poetic by a woman who describes her younger self as "a 'Southern Belle' in training" who "never graduated to full Southern Belle-hood." Produced by her multi-Grammy winning husband Jim Gaines. Ms. Carroll's new long player kills you softly with its well-crafted songs.
Beginning with a brooding, simmering account of trying to emerge from heartbreak (the Dire Straits-like "Driving Toward the Sun"), Last Southern Belle then dives deeper into the pain of the botched affair on "Headin' Out on Empty." The narrator is again driving, but her pain and bitterness spill out all over the mordant track and out of the singer's dark, husky voice as she declares, "I'm damaged and drained/you took all I had in me/gotta make my getaway." Gaines provides his spouse with a thick, foreboding soundscape, out of which emerges an electric shock of a guitar solo (Will McFarlane and Trey Hardin are the credited guitarists on the track) that suggests the singer will emerge whole, as she vows in the bridge when she observes, "The gas hand's on red but I'm leavin' these blues 'cause I'm leavin' you." Full review here.
'Driving Toward the Sun,' Sandy Carroll, from Last Southern Belle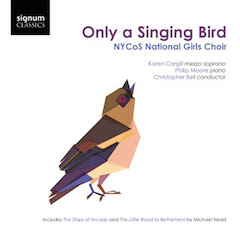 47. ONLY A SINGING BIRD, NYCoS National Girls Choir, Karen Cargill, Mezzo Soprano; Philip Moore, piano; Christopher Bell, conductor (Signum Classics (February)– Michael Head is best known, perhaps only known, for his songs "The Little Road to Bethlehem" and "The Ships of Arcady" (in fact he wrote over 120 songs). But this album on Signum Classics, Only a Singing Bird, showcases another side to Head, his music for female choir. The National Youth Choirs of Scotland's National Girls Choir, conducted by Christopher Bell with pianist Philip Moore, sing a selection of Head's music for female choir and piano, including arrangements of his best known songs, and the ensemble is joined by mezzo-soprano Karen Cargill for the first recording of Head's cantata Snowbirds setting poetry by Sri Ananda Acharya. The disc is rounded off with pieces by Gary Carpenter, Ken Johnston and Stephen Deazley.
Sri Ananda Acharya's poetry (published in 1919) shares with that of Rabindranath Tagore an interesting combination of religious intent with an imagery and specificity that provides an interesting otherness to Western ears. Snowbirds started with Michael Head's setting of two poems for SSA choir and piano in 1953, and he later added further movements to create this choral cantata. …
Ken Johnston is a Scottish composer who has worked regularly wit the choir. His "Bonnie Wee Thing" and "The Wind that Shakes the Barley" are from songbooks produced by the choir for which composers wrote a trio of songs, one pentatonic, one diatonic with accidentals and the other diatonic with no accidental. These two are Johnston's pentatonic ones and both exhibit great charm and imagination in their treatment of the pentatonic scale. Finally "The Circus" by Stephen Deazley, one of the diatonic (without accidentals) songs from the songbook project. It is a lively and fun piece, sung with great enthusiasm and patent enjoyment by the choir. Reviewed by Robert Hugill. Full review here.
Ken Johnston's 'The Wind That Shakes Barley,' as performed by NYCoS National Girls Choir on Only a Singing Bird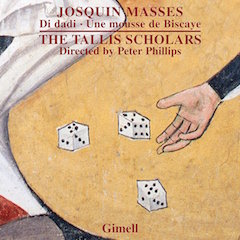 48. JOSQUIN MISSA DI DADI, MISSA UNE MOUSSE DE BISCAYE, The Tallis Scholars, directed by Peter Phillips (Gimell)–Peter Phillips and The Tallis Scholars have reached their eleventh disc of Josquin masses on the Gimell label. This latest disc contains two quirky early masses attributed to Josquin making a rare and welcome appearance on disc, Missa Di Dadi and Missa Une mousse de Biscaye. Missa Di Dadi is intriguing because its name, "The Dice Mass," refers not to the tune which forms the cantus firmus, but to the dice references in the score.
Missa Di Dadi uses as its cantus firmus the tenor part of Robert Morton's chanson Naray je jamais mieulx. And each movement of the mass is preceded by a pair of dice, whose numbers seem to indicate the factoring of the note lengths in the cantus firmus. So for the "Kyrie" a 2 and a 1 indicate note lengths are doubled. Except that this breaks down later in the mass, where Josquin uses the whole tenor cantus firmus rather than part of it. In his CD booklet article Peter Phillips links the dice to the popularity of gambling in Milan under the Sforzas in the 1480s, when Josquin spent time there. But we don't really know. Reviewed by Robert Hugill. Full review here.
The Kyrie and opening section of the Gloria from the Missa Di dadi by Josquin (c1440-1521) as performed by The Tallis Scholars directed by Peter Phillips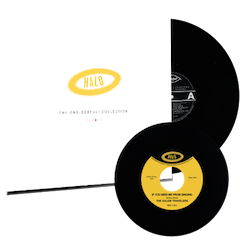 49. HALO: THE ONE-DERFUL! COLLECTION, Various Artists (Secret Stash Records)–During the 1950s and 1960s, Chicago record men and brothers George and Ernie Leaner helped transform South Michigan Avenue's famed "Motor Row" (of auto dealerships) into Record Row. In addition to helping Ernie with their record distribution company on Boul Mich, George Leaner organized One-Derful! Records and several subsidiaries, including one exclusively designated for a gospel music series: Halo.
With meticulous detail and in concert with the Leaner Family, Minnesota's Secret Stash Records has been releasing samples of the prodigious One-Derful! catalog in installments. The most recent, which focuses on Halo, is the first commercially available offering of this short-lived but significant subsidiary. The collection illustrates how One-Derful's studio musicians, artists steeped in R&B and led by influential producer Monk Higgins, made the hard, soulful sound of gospel quartet and group singing even harder and more soulful. Reviewed by Bob Marovich. Full review here.
'Wade In the Water,' The Salem Travelers, from Halo: The One-Derful! Collection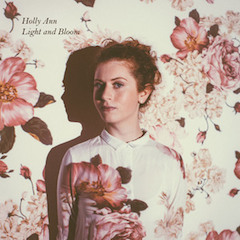 50. LIGHT AND BLOOM, Holly Ann (Deeper Well Records)–Last year, Liz Vice demonstrated that some of the best spiritual music doesn't have to come from established channels of gospel and CCM talent.
Portland, Oregon's Christian alternative singer-songwriter Holly Ann Winchell (aka Holly Ann) is another pleasant discovery in this same vein. Five years have passed since the release of her Aaron Marsh-produced debut, Ravens, when she was a tender 20-year-old. That album battled with questions arising from matters of the heart, which evolved into reflections on the nature of faith and God's mercies. Those concerns have deepened, become more complex and even more personal now, on Light and Bloom–a great big introspective thank you letter to God.
The album's praise songs are atmospheric and minimal, Holly Ann's voice beguiling and poignant. Although her publicity cites Mazzy Star as an inspiration—-and I certainly hear that in the lonely, empty spaces framing the songs—-Holly Ann is likely to inspire comparisons to Tori Amos and Kate Bush, especially when she blue yodels into her high register. At other times she bears an uncanny resemblance to one of her most promising contemporaries, singer-songwriter Nikki Kummerow. Reviewed by Bob Marovich. Full review here.
'Carry You,' Holly Ann, from Light and Bloom
***
Follow this link to the Elite Half Hundred of 2016, Part 1
Follow this link to the Albums of the Year 2016
Follow this link to the Retrospectives of the Year 2016