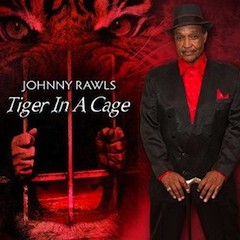 TIGER IN A CAGE
Johnny Rawls
Catfood Records
Musicians of a certain age like to say they're never too old to rock. Veteran soul/blues/R&B vocalist-guitarist Johnny Rawls is back in the Jim Gaines-produced Tiger In a Cage making the point that you're never too old to care, either. In one case, this applies to the slow boiling title track, a noir-ish meditation on a 19-year-old black man—barely a man, even—taking a wrong turn after being unable to find legit work, getting busted for selling dope and wasting his youth in prison instead of being given a chance to right his ship. Mike Middleton's muted trumpet adds a poignant ambience as Rawls's measured, gritty vocal underscores the insanity informing this ill-considered punishment. "Young lives are lost/before they begin," Rawls howls at one point, lashing out with such force as to startle a listener out of the song's seductive groove and into some form of reality check. In the following song, "Born to the Blues" (written by Rawls, Bob Trenchard and the gifted southern roots singer Sandy Carroll), Rawls's deep, gospel-inflected lamentations about struggling with misfortune posit the tune as a sequel to the title cut, but one embracing the power of positive thinking, e.g. "When life gets me down/I never stay down for long/I was born to this life/I got to play and sing my song/I was born, I was born to the blues…for the blues…" The rising horns and spikey guitar interjections sound a triumphant note, enhancing the potency of a deeply committed, intensely personal Rawls vocal attack. In this context the cover of the Stones' "Beast of Burden," horn-driven and rousingly funky, completes the triptych with another self-affirming testimonial centered on ascending from the doldrums of the day into the simple comforts of another's loving arms, albeit one who's skeptical of his charms. It's a terrific cover, no matter whether the reader buys your faithful friend and narrator's conceptual conceit about it, and its Memphis Soul-centric arrangement (complemented by the silky background vocals provided by The Iveys) might well have the listener hearing this Stones warhorse with new ears. It's a pretty great song.
'Tiger in a Cage,' Johnny Rawls
'Born to the Blues,' Johnny Rawls, from Tiger In a Cage
But for those less interested in messages, Rawls has something to cure what ails you in the form of love songs ecstatic and thoughtful alike. Rawls, his band The Rays and the Iveys get into a driving, joyous groove in covering Jackie Wilson's "Your Love Is Lifting Me (Higher and Higher)" (which, it must be pointed out, celebrates the healing power of love). Certain factions will have a field day with Rawls' own celebratory soul workout "Every Woman Needs a Working Man," in which our man philosophizes about the distaff side requiring a male who won't "lay around achin'" but will "bring home that bacon." Mr. Rawls's authoritative, preacherly delivery further posits himself as one of those men but at what expense? "I'm workin' overtime/I'm about to lose my mind/I'm a workin' day and night/baby, please, let's don't fight!" There are two sides to every story, clearly.
'Reckless Heart,' Johnny Rawls, from Tiger In a Cage
On the reflective side, Rawls-Trenchard combined to pen a gem of empathetic counseling in the soul ballad "Reckless Heart," in which Rawls's tenderly ministers to a heartbroken lass struggling to overcome her romantic misfortunes, querying, "When you gonna learn/not to fall so hard/you can't be so reckless with your heart/you just want love, that's all you need/your reckless heart wants to believe…oh, you want to believe.' The Iveys again stand out for the nuanced shadowing they provide Rawls's emotional reading, and further tips of the hat go to guitarist Johnny McGhee (who co-wrote the title track with Trenchard and Rawls) and drummer Richy Puga for tasty, sturdy support work. Closing out the album, Rawls contributes a beautifully crafted swooner, "I Would Be Nothing," that brings out the best in his balladeer side, when he summons Otis Redding-like sensitivity and Wilson Pickett-like gospel grit to drive home his message of love and happiness arising solely from a special woman's affections, on which he has hung his whole world.
'Southern Honey," Johnny Rawls (with Eden Brent), from Tiger In a Cage
Throw in a surprising touch of Cajun-inflected soul in "Southern Honey" (wherein Rawls engages in a sultry vocal pas de deux with Eden Brent); a buoyant, Memphis-centric strut through one of his live standards, "Red Cadillac"; and a delightful romp through Sam Cooke's "Having a Party" in the go-for-broke style trademarked by Southside Johnny & the Asbury Jukes. Forget the cage—this tiger's loose and running wild. But he cares. And Soul lives.