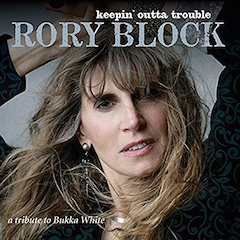 KEEPIN' OUTTA TROUBLE: A TRIBUTE TO BUKKA WHITE
Rory Block
Stony Plain
For reasons lost to me at this moment, I proclaimed Rory Block's 2015 album, Hard Luck Child: A Tribute to Skip James, as being the fifth and final volume of the artist's acclaimed Mentor Series, a project she began in order to honor what she described as "the rediscovered blues masters that I met in person as a teenager." I didn't make that up out of whole cloth; I must have seen it in a press release or interview with Ms. Block. Well, that was then, this is now. She's back with a sixth volume, a tribute to Bukka White, who's always struck me as undervalued and underrated, so I say right on, Rory.
Born on a farm in Houston, Mississippi, in 1909, B.B. King's second cousin Booker T. White, better known by his nickname Bukka, received a guitar as a ninth birthday present and with it solid moral instruction from his religious grandmother who objected to and warned him against playing "that Devil music." A few years later he got serious about playing the blues after being introduced to and inspired by Charley Patton (although Bukka authorities acknowledge his debt to Patton, some find his claim of actually meeting Patton rather dubious). Came the Depression and White hit the road, his wanderings taking him all over the South and as far north as Buffalo, New York. In 1930 he befriended a Victor Records talent scout, Ralph Limbo, who had White record 14 sides in Memphis, although only four of those were ever released, under the name Washington White. Big and strong, Bukka was a skilled enough athlete to make a living pitching two seasons for the Birmingham Black Cats, before moving on to Chicago in the late '30s and using his sledgehammer fists to support himself as a boxer. In the Windy City he established himself with the local blues crowd, befriending such as Big Bill Broonzy, and in 1937 was offered a chance to record by Lester Melrose of the Melrose Brothers publishing company, a concern that had been responsible for arranging recording sessions for locally-based blues and jazz artists for nearly two decades. He was scheduled to go in for the date immediately upon his return from paying a social call on relatives in Mississippi.
SELECTED TRACK: 'Keepin' Outta Trouble,' one of five Rory Block originals on Keepin' Outta Trouble: A Tribute to Bukka White
SELECTED TRACK: Bukka White's 'Aberdeen Misssissippi Blues,' Rory Block, from Keepin' Outta Trouble: A Tribute to Bukka White
Back in the Delta, he and a friend were ambushed one night by a fellow looking to settle an old score; White, who had come prepared for such an attack, promptly dispatched his would-be assailant with a gunshot to the leg. Arrested and sentenced to two years in the Parchman Prison Farm, he managed to get back to Chicago (either by jumping bail or through the auspices of Lester Melrose) to cut two original songs ahead of his imprisonment in Mississippi. Issued on the Vocalion label, White's first single, "Pinebluff, Arkansas" b/w "Shake 'Em On Down," sold more than 16,000 copies–making it a bonafide hit among "race" records–with the shuffling, slightly bawdy "Shake 'Em On Down'' becoming the favored side of the two; a year later Big Bill Broonzy offered an updated version of the song in his own "New Shake 'Em On Down," and several other blues artists covered the original version.
Upon his 1940 release from Parchman, White returned to Chicago to cut some new sides for Vocalion. Writing solidly for two days in early March, he came up with a dozen songs torn from the dark heart of his life experiences–songs about death, imprisonment, duplicitous women, the privations of poverty, and the shiftless, aimless existence of the hobo he had once been. Singing in a deep, quavering, gravelly voice and pounding hard chords on his guitar or fashioning searing, razor-sharp slide lines (with Washboard Sam slapping out percussive support that Bukka would eventually execute himself by slapping his National steel up and down the body and neck), White crafted some of the most vivid imagery and soulful poetry the blues has ever known, true monuments of the Delta style in its deepest form. Few Delta accounts of death's long reach are as harrowing as "Strange Place Blues," White's reflections on his mother's passing. In a voice haunted and disbelieving, he laments, "I thought after my mother was put away/I thought my wife would take her place/But my wife done throwed me away,'' his tragedy now doubled as he realizes he is completely, utterly alone in the world. In "When Can I Change My Clothes?" he protests the degradations of a prison regimen designed to destroy every shred of inmates' dignity in the name of rehabilitation, a theme he plumbed to equally moving effect in "Parchman Farm Blues,'' wherein he beseeches an unresponsive God to help him overcome the tribulations of his confinement. "District Attorney Blues'' finds him inveighing against a legal system that was especially unforgiving of black men's trespasses, a bold statement in 1940 and unfortunately timely even today. "Fixing to Die Blues" is an interior monologue about the death experience imagined from the deceased's viewpoint, with White's propulsive riffing and stinging slide lines heightening the eerie narrative line. The Vocalion sides were issued on CD as The Complete Bukka White.
Bukka White, 'Panama Limited' (1930). Rory Block's version is included on from Keepin' Outta Trouble: A Tribute to Bukka White
Although he continued playing live, 23 years would pass before White recorded again. By that time he was living in obscurity in Aberdeen, Mississippi, the Vocalion sessions a memory so distant they seemed almost like a dream. Guitar virtuoso John Fahey and his partner Ed Benson, blues enthusiasts both, tracked him down and ushered him into a studio for sessions released on GNP/Crescendo's Legacy of the Blues Vol. 1 and a live recording, 1963 Isn't 1962, recorded at The Cabale in Berkeley, CA. On the former album's collection of 11 songs, as blues scholar Samuel Charters observes in his liner notes, White sounds exactly as you would expect of a man who had been bottling up nearly two-and-a-half decades of pain and abuse. Legacy finds White reprising a number of songs from his Vocalion catalogue, but the textures in his singing and the ornamentation he has added to his slide style bespeak a richer, if sadder, personal history. To hear his lamentations in "Baby Please Don't Go," "Parchman Farm Blues" and "Poor Boy a Long Ways from Home" is to hear a man with hellhounds on his trail. This is a stirring, important document. Although he continues to explore familiar themes on 1963 Isn't 1962, White sounds like a man who has had a great burden lifted–as if, somewhere along the way, he had attained a survivor's spiritual state of grace. Echoes of Blind Lemon Jefferson and Lightnin' Hopkins abound in some of the story songs here, and the personable manner of their telling recalls Lead Belly's genial style. Nevetheless, there are some harrowing moments, most notably on "Fixin' To Die." Similar in melody and structure to "Strange Place Blues," "Fixin' To Die" recounts the death experience from the deceased's point of view, his message being that in crossing over we forever mourn and feel pain for what we've lost. He also makes compelling personal statement out of another artist's song in adapting Charles Brown's "Driftin' Blues" to his own life experiences and recasting it as a disturbing Delta blues titled "Driftin' and Driftin'," its narrative pulled from White's own hard days riding the rails. Following these recordings, White returned to work steadily as a musician, playing before appreciative audiences during the blues revival of the '60s, and reclaiming his rightful place of honor in the Delta blues pantheon. Steered to the Arhoolie label, White cut seven lengthy and mostly dark story-songs issued as Sky Songs (so named owing to White's assertion that he didn't write songs so much as pull them out of the sky), with washboard support by Big Willie Wayne. It was during this time that he met and befriended a teenage Rory Block besotted with the blues. Bukka died of cancer in 1977. Since his passing a number of live recordings have surfaced and repackagings of his studio recordings have multiplied.
SELECTED TRACK: Bukka's classic 'Parchman Farm Blues' as recorded by Rory Block for from Keepin' Outta Trouble: A Tribute to Bukka White
Bukka's was a hard life but one lived full measure. Its dramatic twists and turns seem to have inspired Ms. Block to greater heights of ambition. She's always lent an original song or two to each of her Mentor Series albums, paying tribute to he spotlighted artists in her own words, but for this installment she intersperses no less than five original tunes amidst five Bukka originals. It may seem like she's giving her subject short shrift, but consider this: At 43 minutes' duration, Keepin' Outta Trouble unfolds as a piercing one-act play distilling the bluesman's oft-harrowing biography into a series of indelible, penetrating scenes. Deploying her slide and Martin Signature Model guitar as deftly and evocatively as ever, while adding Bukka-like percussive elements via guitar bongos, plastic storage tubs and boxes of Quaker Oats, Block opens with her account of Bukka's pardon from Parchman Prison Farm (the swaggering, ironic "Keepin' Outta Trouble"), follows it with another original, "Bukka's Day," an appropriately gospel tinged, largely fictional chronicle of young Bukka's raising in the church, introduction to the guitar and hard times (including a lyric about him murdering a man and consequently receiving a 99-year prison sentence), a two-pronged prelude to a wailing version of a Bukka classic, "Aberdeen Mississippi Blues," followed by a driving take on the abovementioned monument, "Fixin' to Die Blues." To the accompaniment of her brisk fingerpicking and moaning slide lines, Block offers an inspired reading—and that's what it is—of one of White's finest story-songs, "Panama Limited," which sets up a powerful take on "Parchman Farm Blues," arguably her finest, most emotional vocal on the disc.
SELECTED TRACK: 'Back to Memphis,' a Rory Block original from Keepin' Outta Trouble: A Tribute to Bukka White
These precede a double-barreled denouement and climax of Bukka-inspired, Block-penned vignettes in the form of a foot-stomping ode to lost opportunities, "Gonna Be Some Walkin' Done," and a shuffling celebration of simpler pleasures, "Back to Memphis." The unembellished sonics enhance the intensity of Block's performances while underscoring the raw power of White's lyrics. In conception and execution, Keepin' Outta Trouble: A Tribute to Bukka White succeeds as a heartfelt remembrance on Rory Block's part, whose guitar playing is as assured as ever but whose vocals are coming from an even deeper place than those we've heard on her other albums and as a daring conceptual approach rarely heard in the blues world. No one, least of all Ms. Block, would suggest she's endured anywhere near the trials Bukka White faced in his day but her empathy for his courage and respect for his art infuse these, her finest performances, all entirely credible.