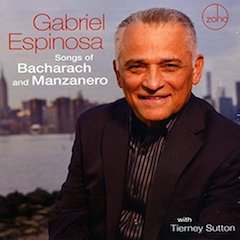 SONGS OF BACHARACH and MANZANARO
Gabriel Espinosa with Tierney Sutton
ZOHO
A pleasing, and most unexpected, concept album is a true border crossing event featuring the songs of two countries' most distinguished artists impeccably interpreted by some of the finest musicians representing those two countries (and others, for that matter). The man behind it all is Gabriel Espinosa on his fourth album for the ZOHO label. Born and raised in Mexico, educated in the United States (he has a Masters Degree in Jazz Studies from North Texas and has served as Director of Jazz Studies at his undergrad alma mater, Central College (in Pella, IA), Espinosa has fronted the respected Ashanti band in addition to carving out a fruitful solo career and teaming with harmonica virtuoso Hendrik Meurkens on celebrated projects such as the Celebrando CD (26 weeks on the JazzWeek charts in 2012 and hailed by JazzTimes and Downbeat, among others) and the acclaimed 2014 long player, Samba Little Samba. Meurkens is with him on this outing as well, adding his soulful chromatic harp embellishments to four tracks and for all the world summoning the spirit of the great Toots Thielemans in his tone, soothing texture and measured attack.
The album's other marquee name is seven-time Grammy nominated jazz vocalist Tierney Sutton, who looks and sounds way too young to have been on the scene for more than 20 years, during which time she's released nine CDs, including 2013's unforgettable After Blue, a personal homage to Joni Mitchell that takes Ms. Mitchell's songs into places the songwriter surely must have appreciated, and perhaps even been enlightened by. Like Gabriel Espinosa, Ms. Sutton has a background in academia, having taught for a decade-plus at USC's Thornton School of Music and served five years as Vocal Department Head at the Los Angeles College of Music, where she also created an entirely new curriculum for vocalists. And also like Mr. Espinosa, she has led an impressive band, the Tierney Sutton Band, in her case for the better part of her entire career. In 1981 she embraced the Baha'I Faith and runs the band on Baha'I principles in which each member has a say in critical decisions, explaining to one interviewer that "There is a very much a sense that what we do is essentially a spiritual thing and everyone's voice needs to be heard."
SELECTED TRACK: 'Adoro,' lead vocal by Gabriel Espinosa; piano, Misha Tsiganov. Written by Armando Manzanero. From Songs of Bacharach and Manzanero.
SELECTED TRACK: 'The Look of Love,' lead vocal by Tierney Sutton. Written by Burt Bacharach and Hal David. From Songs of Bacharach and Manzanero.
These two interesting artists have convened to make an endlessly listenable tribute to the songs of Burt Bacharach, who needs no introduction to American music fans, and to Armando Manzanero, a giant of Latin music, comparable in some estimations to Jobim but not nearly as well known north of the border as Jobim. Perhaps this album is the first step in correcting that oversight.
The selections alternate between Bacharach and Manzanero tunes but the execution of those is consistently measured and medium-cool, with a gentle, intoxicating swing—that so many exude the slower, reflective pace of Autumn makes it a perfect respite from a Summer season that seemed bent on blazing on into Thanksgiving. I'll admit to being unfamiliar with many of the Manzanero songs here, but the Bacharach tunes are classics all. Assuming Espinosa puts a bit of his own spin on his countryman's tunes, it is also true that Ms. Sutton stamps her cool, collected trademark on Bacharach's. In some instances she gets remarkable results: the searching, slow, bluesy quality she brings to "Raindrops Keep Falling On My Head," aided atmospherically by Meurkens's sensitive harp support, will have you thinking about the song in a completely different way, even after all these years of it being defined by B.J. Thomas's spot-on take. The way she adds an air of anticipation to "The Look of Love" by breaking up the melody line and practically speaking some phrases, achieves a sultriness on its own terms, something akin to what Sergio Mendes might have done with the song back in the day. The gently swinging arrangement gets a sizable boost in energy from tasty trumpet solos (courtesy Jim Seeley), a muted but effective wash of Rhodes piano by Misha Tsiganov (who has more than a few standout moments on the disc—his is a revelation of economical, evocative stylings and when he joins the proceedings he always seems perfectly in tune with the singers) and the solid drum and cymbal work of Mauricio Zottarelli. Arguably the closest Ms. Sutton comes to emulating a classic take on Bacharach is in the album closing reading of "Alfie," one of the most-covered Bacharach-Hal David songs ever but definitely realized by the premier Bacharach-David interpreter, Dionne Warwick, in 1967. Ms. Sutton is resolutely herself here but some of the long melody lines she crafts and wistful emotions she reveals hint at the Warwick influence. Regardless, it's a tender, heart tugging performance in all its soft, introspective splendor, with an added emotional pull provided by Meurkens's harmonica solo in which he breaks out of the melody line for a scintillating improvisational flight (and also reminds some of us of the song's most memorable instrumental version, a minor pop hit in 1968 for one Stevie Wonder).
SELECTED TRACK: 'Cuando Estoy Contigo,' lead vocal by Gabriel Espinosa with Misha Tsiganov on piano and Ruben de La Torrie on guitar. Written by Armando Manzanero. From Songs of Bacharach and Manzanero.
SELECTED TRACK: 'Alfie,' lead vocal by Tierney Sutton. Harmonica, Hendrik Meurkens. Written by Burt Bacharach and Hal David. From Songs of Bacharach and Manzanero.
It falls to Mr. Espinosa to bring a bit of heat to the endeavor. Which is not to suggest his readings lack sensitivity, but rather to point out the intensity of his vocal approach, entirely appropriate when he opens with a heated Manzanero bolero, the sizzling "Adoro," an occasion for Tsiganov to take off on delightful, soaring piano solo in the middle section that zigs and zags like a man drunk on love. Meurkens's plaintive harp sets the stage for Espinosa's aching take on one of Manzanero's most popular, and most heartbreaking, numbers, "Esta Tarde Vi Llover," which recounts the emotions of a man adrift in an unrequited love affair. The spirit of Jobim is most dramatically summoned in the penultimate number, "Cuando Estoy Contigo," a highly romantic ballad clearly expressing heightened feelings and, in Espinosa's open-hearted reading, palpable yearning. Another empathetic piano solo from Tsiganov and the subdued comping of Brazilian guitarist Ruben de La Torre add a sexy sheen to the arrangement even as they evoke the Jobim aesthetic.
This is not the first time Ms. Sutton and Mr. Espinosa have worked together, and based on the simpatico blend of influences defining this outing it seems they should have another go at it. Until that time arrives, The Songs of Bacharach and Manzanero will do just fine. It won't get old any time soon.