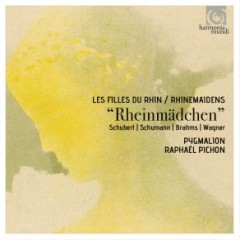 RHEINMÄDCHEN
Ensemble Pygmalion
Raphael Pichon (Conductor)
Harmonia Mundi
Rheinmädchen contains what every good recording should: a diverse selection of pieces under one broad thematic umbrella, some bold transcriptions and rearrangements, the little known next to the better known, smart and imaginative conducting and performers, the sound capture that does justice to the material, and, well—the acknowledgment that women exist. (You'd be surprised—or maybe not–-by how many works and how much programming in any artistic discipline to this day, 2016, do the last task perfunctorily.)
Ensemble Pygmalion is one of a good number of France's period ensembles, which are now, counting from Les Arts Flo, three generations strong. Its founder and conductor Raphael Pichon (YOB: 1984) is one of those non-dogmatic HIP conductors interested in Bach as much as contemporary music, in Mozart as much as the Romantic chamber choir rep. And while a lot of us who respect the HIP school of thought and its instrumental colors place its outer limes somewhere in between the early Romantics and the ripe ol' Romantics (cause nobody wants Wagner and Mahler on period instruments), Pichon here productively blurred that distinction and very much got away with it. Schumann, Schubert, Brahms and Wagner here come together aesthetically unified as one Romantic brotherhood. Aside the all-female chamber choir, the instrumental forces begin and end with four natural horns, one harp and two double basses.
Johannes Brahms, Four Songs, Op. 17: III, Der Gärtner, from Rheinmädchen, Pygmalian Ensemble (Raphael Pichon, conductor)
It's easy to find in Brahms' toolbox the gossamer and the chamber-music intimate—he wrote a lot for the chamber choir—but toning Wagner down to the chamber-music level must have been a more challenging task. There's the horn solo from Siegfried in the first half of the program, and the funeral march for Siegfried from Götterdämmerung rearranged for four horns (arr. James Wilcox) in the second. The CD opens with "Auf dem Grunde des Rheines" from Das Rheingold, where 24 spatialized female voices stand in for the Wagnerian orchestra, together with seven aforementioned actual instruments (transcriber not credited). The Rhinemaidens return near the end, but it'll be the Rhinemaidens of Götterdämmerung, in the transcription by Vincent Manac'h for the female choir, two horns and a harp.
Das Rheingold, WWV 86A , Act I, Scene 1: Vorspiel "Auf dem Grunde des Rheines"
Richard Wagner, Das Rheingold, WWV 86A, Act 1, Scene 1, Vorspeil Auf dem Grunde des Rheines: '24 spatialized female voices stand in for the Wagnerian orchestra…' from Rheinmädchen, Pygmalian Ensemble (Raphael Pichon, conductor)
In between this Wagner, light, pulverized, almost abstract as the a capella Strauss, a whole lot of exciting Schumann and Schubert choral rep is to be found. Much of the poetry (Rückert, Grillparzer, Uhland) is very dark—much of Romantic music is not really romantic at all, more of a tireless reminder that death and dying are always close, even when the text seems to be embarking on the topics of love and nature. Words are dark while music goes bright, intricate, enthralling. The other umbrella topic of the disc—first being the Female Figures of the Romantic Imagination—is canon as a musical form and compositional technique. Just about every included piece uses canon in some form. In Schumann's heartrending "Meerfey" (The Mermaid), voice parts weave around as the mermaid in the text combs her hair, but by the final verse it becomes clear that it was the now-lost ship that was bounced around in the winds and waves. Same composer with "In Meeres Mitten" (In the Midst of the Sea) elevates the odd, surreal text into a wrenching expression of helplessness before the march of history. His "Die Capelle," with its bright soaring soprano lines dancing around the less extravagant, stabilizing alto sisters, is a most cheerful reminder that thou too shalt die, careless youth.
6 Romanzen für Frauenstimmen Vol. I, Op. 69: No. 5, Meerfey
Robert Schumann, Romanzen fur Frauenstimmen Vol. 1, Op. 69—No. 5, Meerfey. from Rheinmädchen, Pygmalian Ensemble (Raphael Pichon, conductor)
Warning: Schubert's "Ständchen" (Serenade) is positively addictive. Bernarda Fink sings the solo part and her full-bodied, rich mezzo is an irresistible foil to the lighter and altogether more ghostly choir of voices that echo her entreaties. The text is a multi-layered delight: a collective of the unspecified voices led by the soloist mezzo-soprano come to interrupt a sleeping maiden because they love her too ardently. They consider the pros and cons of the action, then finally agree to "creep away" and let her sleep. I can't tell you how many times I've listened to this thing. Is it Fink's silky but unfragile, whole-lotta-woman yet forceful voice with just the right amount of vibrato that kills it every time? The super nimble choir that responds as one? Or the text, in which there are women on both sides, the beloved and the lover? Addiction, I tell you.
Psalm 23, D.706: Gott ist mein Hirt
Franz Schubert,m Psalm 23, Gott is mein Hirt D.706, from Rheinmädchen, Pygmalian Ensemble (Raphael Pichon, conductor)
There's quite a bit of Brahms too on the disc, but for me he's the least interesting composer of the lot. He represents with three Volkslieder in canon and concludes the disc with Vier Gesänge op.17 for female voices, 2 horns and a harp. I loved the most surprising item in there, the Volkslied for female voices op.113 No. 13, "Einförmig ist der Liebe Gram" which cheekily borrows—hey, maybe even parodies–-Schubert's Leiermann melody and turns it into a sophisticated canon while also managing to be funny. The poem by Rückert (after a Farsi text by Hafis) moans that "Love's grief is monotonous/A Song with only one note/And whenever I heard it/I had to hum it softly," while Brahms messes with the monotonous melody of the Leierman and un-plies its yarn into multiple constituent parts that tangle and untangle and proves that the Romantics weren't entirely devoid of humor.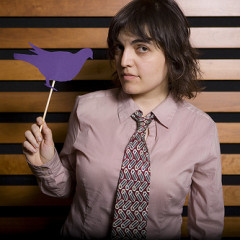 Lydia Perović has written long-form journalism, interviews and essays for Canadian, American and UK media since 2001, including The Believer, The Awl, n + 1, Listen, openDemocracy, Xtra!, Opera Canada, C Magazine and One Hour Empire. She grew up in Montenegro in the former Yugoslavia, moved to Belgrade to pursue a university degree in Politics, then to Nova Scotia in 1999 to complete her MA (Political Theory). She's been living in Toronto since 2005. Her first novel, Incidental Music, was published in 2012 (Inanna Publications). All That Sang, her latest novel, was published this year by Véhicle Press and has been praised for the "gripping intelligence of its desire and the ways in which it maps lust and existence, place and devotion." (Photo: Rannie Turingan)
She blogs about opera at Definitely The Opera. Find her on Twitter @DundasKeele. Email: lydia_perovic@rogers.com