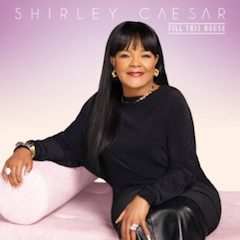 '…seamlessly blends traditional church spirit with contemporary gospel sounds'
FILL THIS HOUSE
Shirley Caesar
Entertainment One Music
From its days as a seedling in the American soil, black sacred music has been a balm to soothe the sin-sick soul as well as the soul beaten down by life's humiliations and insults.
Even in a time when praise and worship reigns supreme in gospel music, there is still a need, especially given the condition of the black man and woman in modern America, for inspiring songs of hope and encouragement.
Pastor Shirley Caesar has been lifting such songs for more than sixty years. Her latest album, Fill This House, is but the latest example. The CD is rife with comforting messages of endurance, hope, and belief wrapped in rootsy music that seamlessly blends traditional church spirit with contemporary gospel sounds.
'Survive This,' Shirley Caesar (with Bishop Hezekiah Walker), from Fill This House
'It's Alright, It's OK,' Shirley Caesar, with Anthony Hamilton, from Fill This House
The listener taps into the traditional-contemporary blend from the outset with "It's Alright, It's OK," featuring R&B sensation Anthony Hamilton on one of the verses. Another example is the hymn, "Sow Righteous Seeds," first sung flatfooted, then contemporized by producer Michael Mathis by infusing it with island beats.
Some songs on the album are just straight up traditional, no chaser. Caesar renders "He Won't Fail You" in her trademark fashion of tossing personal testimony into the mix. Here, she reminds the audience that God did not fail her mother or her, and won't fail you, either. Bishop Hezekiah Walker cameos on the uptempo and churchy "Survive This."
Without question, the album's masterpiece is "Mother Emanuel," Caesar's moving tribute to the victims of the 2015 mass shooting at Emanuel AME in Charleston, South Carolina. The song, written by Reba and Donnie McGuire and Chip Davis, and produced by Sanchez Harley, reminds us that a tragedy cannot trump humanity's power of resilience and forgiveness. It is easily one of the best songs of the year.
'Prayer Works,' Shirley Caesar, from Fill This House
Caesar concludes with "Prayer Works," on which she exclaims her belief that "Live or die, sink or swim, come hell or high water, for better or worse," prayer works, even in some of the toughest spots, as when facing hospice. To quote a gospel song by another artist, it isn't over until God says it's over.
Although already written in stone, or rather recently honored with a star on Hollywood's Walk of Fame, Pastor Shirley Caesar's uncontested position as the reigning Queen of Gospel is confirmed with Fill This House.
Picks: "It's Alright, It's OK," "Mother Emanuel," "Survive This"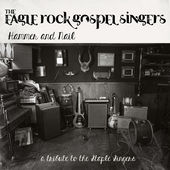 '…a logical step…'
HAMMER AND NAIL: A TRIBUTE TO THE STAPLE SINGERS
The Eagle Rock Gospel Singers
Imagine female harmonies containing the thunderous power of the Mamas and the Papas' Cass Elliott and Michelle Phillips, and a rock band, all covering Staple Singers classics, and you have an idea of the Eagle Rock Gospel Singers' Hammer and Nail EP.
The ensemble, which loves and respects traditional African American gospel, makes three Staples "staples" its own. "From day one, the Staple Singers have been a primary influence," said Eagle Rock Gospel Singers co-founder Jeremy Horton. "From naming our band to the purchase of a Fender reverb amp to get closer to Pops Staples' vibrato sound, to covering several of their songs, we've looked to them for artistic and philosophical guidance. Recording an EP as a tribute was a logical step."
The Eagle Rock Gospel Singers not only reprise the bluesy vibrato of Pops' guitar, they add church cred with a warbling organ and crashing tambourine. For the most part, the group's male voices cover for Mavis. That makes sense, as few females could dig far enough down to unearth Mavis's low notes.
'Don't Knock,' The Eagle Rock Gospel Singers, from Hammer and Nail: A Tribute to the Staple Singers
The title track is a cover of "More than a Hammer and Nail," one of the Staples' mid-1960s charting hits (first for Riverside and later for Epic). "No Room" comes from the Staples' Twenty-Fifth Day of December LP for Riverside, though the song is a church chestnut: it was recorded as "No Room at the Hotel" by Lou Rawls and the Chosen Gospel Singers in the early 1950s and under the same title by Chicago's Lucy Smith Jubilee Singers in the late 1920s.
The Eagle Rock Gospel Singers conclude the EP with a cover of the Vee Jay-era classic, "Don't Knock," endowing it with an infectious backbeat, plenty of guitar work, and a drum-led rockabilly flourish at the end.
Given this sneak peek, a full album of Staples covers by the Eagle Rock Gospel Singers would be well worth it, especially if they reprise Mavis's aisle-walker, "Help Me Jesus."
Pick: "Don't Knock"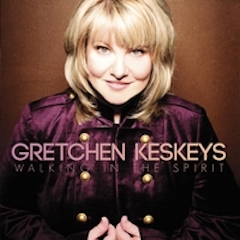 '…a vehicle for personal catharsis'
WALKING IN THE SPIRIT
Gretchen Keskeys
Creative Soul Records
For singer-songwriter Gretchen Keskeys, her debut album Walking in the Spirit is not only a vehicle for sharing her religious commitment, it is also a vehicle for personal catharsis.
As a teen, Keskeys, the daughter of a famous psychiatrist, was suffering from anxiety, fear and depression. A rededication to Christ was the way she relieved her insecurities. Seeking to share her good fortune with others, Keskeys began serving as a worship leader in Northern California churches. Her reputation for singing and songwriting spread outward from California and ultimately resulted in the production of this album.
Keskeys wrote all ten radio-sized songs on Walking in the Spirit. She sings them with an earnestness that can only come from having lived the lyrics. At times, it seems as if Keskeys is singing the songs alone on a darkened stage, stool and water glass the only props, with a small spotlight for illumination. At the same time, her voice doesn't contain the angst one would expect from such an outpouring of emotion; rather, she delivers the lyrics in a matter-of-fact, been-there-done-that-moving-on approach.
'God Loves You,' Gretchen Keskeys, from Walking in the Spirit
'The Battle,' Gretchen Keskeys, from Walking in the Spirit
Not surprisingly, the album's overarching motto is In God I Trust as the solution to overturning life's problems, large and small. Good examples of this expression can be found on "It's In Your Hands," "God's Love Will Never Change," and the title track.
The album's melodies are simple, the lyrics uncomplicated and the arrangements a combination of pop song construction with elements of modern country, though the melody of the chorus of "The Battle" sounds for all the world like the main motive from Coolio's "Gangsta's Paradise" (an interesting subconscious move that would take more space than this review to discuss in all of its nuances).
Everything comes together best on "God Loves You," which is as simple and straightforward as its title. God loves you even if you are not a Super Christian, Keskeys instructs, and what God really wants is for you to do is to listen more.
Pick: "God Loves You"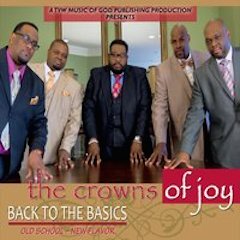 '…easy-does-it soulful quartet singing'
BACK TO THE BASICS: OLD SCHOOL, NEW FLAVOR
Crowns of Joy
(private press—2015)
www.cdbaby.com/cd/thecrownsofjoy
The Pheba, Mississippi-based Crowns of Joy's Back to the Basics album promises "old school—new flavor." It delivers on its promise, largely through its "Trumpology" medley of drive-tempo hits of the past.
The Rhythm of Gospel Award-nominated Crowns of Joy was organized in 1980 by the late Reverend Tom Bill Avant, a veteran quartetter who was organizing singers back in the late 1950s when he presented a neighborhood group called the Five Gospel Wonders.
Tommy and Victor Avant, Bud Townsend, and primary lead singer Wayne Wooten carry on the Crowns' torch. Not unlike the Jackson Southernaires, the Crowns take a suave and relaxed approach to quartet singing, with Wooten roughing up the ambience when the temperature needs turning up.
'Trumpology (Extended Version),' The Crowns of Joy, from Back to the Basics: Old School, New Flavor (it's not what you think)
'How I Got Over,' The Crowns of Joy, from Back to the Basics: Old School, New Flavor
The group also seems to favor narrative introductions and interludes. There are a few on the album, including the opener, "He Will," and the unhurried "How I Got Over," where Wooten conjures memories of his late grandmother, Mary Lena Wooten, who warned the young folk in her care that her time wasn't long. Wooten turns the mike over to fellow Mississippian and well-known soul singer Willie Clayton, who takes the song to the next level as the men revel in having made it through the storms of life. It's a fitting tribute to the sacrifices of the Mary Lena Wootens throughout history.
As for the "old school—new flavor," "Trumpology" best delivers the goods. The title doesn't mean what you might think: it is a description of the quartet's medley of "shouting-hip-slapping" fan favorites from their 35-year repertory. The CD contains a regular and extended (7+ minute) version.
The skyward-looking "Oh Peter," another of the group's early favorites, is also an example of traditional gospel marinated in the new flavor. "Right There for Me" is an old school driver and perhaps the album's finest newly-composed piece in the convention. Wooten and the quartet lean on the well-worn analogies of Jesus as doctor and lawyer as the beat encourages hand clapping and foot tapping in righteous assent.
'Oh Peter,' The Crowns of Joy, Back to the Basics: Old School, New Flavor
The Crowns of Joy display their funkier side on "Alright," a slow jam arrangement of the call-and-response favorite, "What Do You Know About Jesus." They up the ante on "Rock" with an intro borrowed from the main motive of Bobby Caldwell's 1978 "What You Won't Do for Love," and interpolations of Michael Jackson's "Man in the Mirror."
Back to the Basics is packed with more than 75 minutes of easy-does-it soulful quartet singing, and very good and genuine singing, by the way, just like you hear at gospel programs.
Pick: "Right There for Me"
'…crisp and clear rhymes and in-your-face delivery'
TOMORROW CAME
Viktory
Viktorious Music Group
The challenges of being different and the importance of overcoming the divisiveness of difference are at the heart of Tomorrow Came, a Christian hip hop project from the Chicago-born Viktory.
Three tracks in particular address this issue in living color. Based on a true story, "Lunch Tables" features piercingly cool singing support from Ashliann (herself a mixture of cultures) as it tells the story of a "yellow kid" trying to find a seat in the school cafeteria, but nobody wants him because he's neither black enough nor white enough. The point is that everyone is welcome at God's table, regardless of color, culture or socioeconomic status.
The even more prescient "1968" uses the year of Rev. Dr. Martin Luther King Jr.'s assassination to communicate 2016 fury over police shootings of black men, "media money minimizing the murderers," and the general state of racial division, which to Viktory can only be overcome by kindness, fealty to God and the brotherly love Dr. King embraced. On this track, Viktory all but reaches out from the speaker to grab the listener's collar to get his point across. It's reminiscent of the explosive rage of early Public Enemy.
'Lunch Tables,' Viktory (with Ashliann), from Tomorrow Came
'1968,' Victory, from Tomorrow Came
"Role Model," featuring Ashliann and Wesley Smith, uses the setting of a black man's confrontation with white police officers to make a point about how African Americans are treated by today's majority.
On a lighter note, Mary Mary's Erica Campbell joins Viktory on "So Good," a bouncy affirmation of the transformative power of God's love.
Tomorrow Came benefits from Viktory's crisp and clear rhymes and in-your-face delivery, as well as a variety of infectious beats and singable melodies. A couple of tracks, such as "Major" and "Spinnin'," are not nearly as compelling as the strongest selections, but overall, Tomorrow Came is "more than music," to borrow a line from one of the tracks.
Anyone who wants to understand the perspective of a young black man in twenty-first century America but doesn't want to wade through the misogyny and gratuitous violence of gangsta rap need look no further than Tomorrow Came.
Picks: "Lunch Tables," "1968"
'…unrelenting energy and optimism'
DEMONSTRATE
William Murphy
RCA Inspiration
Recorded live in May 2015, in Douglasville, Georgia, at the Church at Chapel Hill, Bishop William Murphy's Demonstrate is a worship service in a jewel case.
Murphy's husky vocals are commanding on this buoyant album, the singer's fifth long-playing release. Whether as singer, worship leader or preacher, Murphy keeps the spirit high and the program rolling, even during the more introspective moments. The melodies are memorable, the lyrics are intentionally simple, the harmonies are tight and spirited, and Murphy puts his stamp on all of it by weaving his vocal lines in and out of, and around, the arrangements.
There's a lot to listen to on this project—an hour and a half, if you include the three bonus selections on the digital deluxe version. Amidst vertical praise numbers are more laterally focused selections such as "Let Us See Jesus," where Murphy declares that lifting the name of Jesus is a means to receive physical and spiritual healing. He reinforces this theme on "Healer:" "You don't need a cure because we have the healer."
Freedom is another theme that runs through Demonstration. "Your Love," "Free In Deed," and "Lies" point to the power of truth to make one free—freedom from the temptations and challenges of the evil in life and freedom for a better existence. The dramatic ballad "When I'm Weak, I'm Strong" offers comforting inspiration to the downhearted and is one of Murphy's strongest vocal performances on the album.
'Everlasting God,' William Murphy, from Demonstrate
'I Have Found,' William Murphy (with Tasha Cobbs), from Demonstrate
'Let Us See Jesus,' William Murphy (with Nicole Binion), from Demonstrate
Bishop James Morton's cameo appearance on "Everlasting God" is the album's most poignant moment. Morton, whose brother Bishop Paul S. Morton helped introduce William, the third generation of William Murphys, to the gospel music world, closes out this nine-minute selection by contrasting its contemporary worship vibe with traditional gospel bluesiness. Tasha Cobbs ably assists on "I Have Found," as does CCM singer Nicole Binion on "Let Us See Jesus."
One of the singles, "Arise (You Are Good)" offers a bit of a gospel bump at the end, courtesy of the musicians. One can imagine the live audience on its feet and moving to the beat. Listeners have a chance to don their shouting shoes again toward the conclusion of "Get the Glory/Be Glorified," one of the three bonus tracks on the digital deluxe version.
Special mention needs to be given to the background vocalists, who carry just as much, if not more, of the singing load as Murphy. An unrelenting energy and optimism in the singing and musicianship propel this album from beginning to end.
Picks: "Arise (You Are Good)," "To God Be the Glory," "Everlasting God"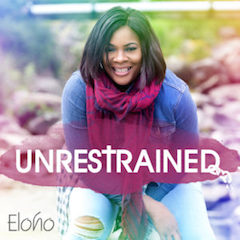 '…cheerful, ever optimistic, breezy and melodic praise music'
UNRESTRAINED
Eloho
(Self-released, 2016)
Americans might be surprised to learn that there is a vibrant gospel music community in the U.K.
Given the way in which the music was introduced there, and when, the U.K. style—indeed the mode of gospel music throughout Europe and Scandinavia—has more in common with CCM and Andrae Crouch-style jazz-pop gospel than the churchy clap-and-stomp sounds of traditionalism. At the same time, it stands in refreshing contemporary contrast to the staid hymns of the Anglican Church.
Case in point is Eloho Efemuai, better known simply as Eloho. The Nigerian-born worship leader living in Aberdeen, Scotland, has released her second full-length album, Unrestrained. Like her debut, Arise, Unrestrained showcases Eloho's cheerful, ever optimistic, breezy and melodic praise music, at turns gentle and muscular.
Eloho is backed throughout by a strong choir that does just as much of the song lifting as she. The choir sometimes delivers elements of that wonderful African close harmony tradition that wash over the listener like waves of sonic warmth. Nowhere is this more prominent than in the album's arrangement of the church chestnut, "Holy Holy Holy."
'He'll Do It Again,' Eloho (with Akinwunmi Oluniyi 'Florocka' Akiremi), from Unrestrained
'Holy Holy Holy,' Eloho (with Nathan Tolusacks), from Unrestrained
A number of artists cameo on Unrestrained. Teenaged winner of NEX Factor, Anna Barton, contributes her lovely tones on "Once Again." Fellow Nigerian and the album's producer, Akinwunmi Oluniyi "Florocka" Akiremi, assists handsomely on vocals for "He'll Do It Again," a song of hope and encouragement that has a pop-rock flavor. Pop-rock influences are also evident on "Fearless," Eloho's anthem to immovability in the face of evil, while "Jesus We Loves You" is pure CCM with a Scottish brogue.
The infectious closer, "Praise Jam," featuring Sunkey, blends the polyrhythms of Afro-pop with P&W lyrics. A full album of Nigerian-influenced Afro-pop gospel from Eloho would be very interesting.
Picks: "He'll Do It Again," "Jesus We Love You"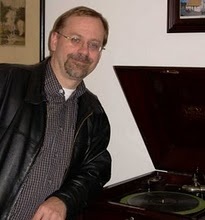 Bob Marovich is a gospel music historian, radio announcer and author. His "Gospel Memories" radio program of vintage black gospel music and artist interviews airs live first Sundays from 3 a.m. to 7:30 a.m. on Chicago's WLUW 88.7 FM, and streams live at the station's website. Snippets of recent broadcasts can be heard online at the Gospel Memories Radio Show. Bob is also the founder and editor of The Black Gospel Blog, now the Journal of Gospel Music, the source for the reviews published here. Bob launched JGM on the tenth anniversary of The Black Gospel Blog, which he founded July 28, 2004, as the first blog to cover African American gospel music. His first book, Shout Troubles Over: The Birth of Gospel Music in Chicago, is scheduled for publication in March 2015 by the University of Illinois Press as part of its Music in American Life Series. Bob lives in Chicago with his wife, author Laurel Delaney, and their two cats.