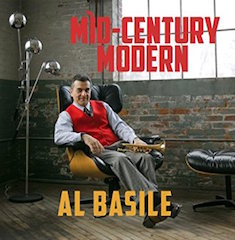 MID-CENTURY MODERN
Al Basile
Sweetspot Records
The old philosopher Al Basile is back and in splendid form again, as he was on last year's outstanding B's Expression, and in fact as he has been the past few years. His former Roomful of Blues partner Duke Robillard is producing to perfection (and pitching in two splendid guitar solos, one being a deliberate, stinging howl on "Like a Woman, Like a Man," the other a ruminative exercise complementing Basile's plaintive cornet solo in "Lie Under the House With Me," a reflection on the simpler, carefree time of Al's youth); Roomful alums Rich Lataille (alto, tenor sax) and Doug James (baritone, tenor sax and bass clarinet) are present and sturdily accounted for, with Jeff "Doc" Chanonhouse joining them on trumpet; Duke's veteran redoubtable rhythm section of Mark Teixeira (drums) and Brad Hallen (basses) keep the bottom solid and propulsive whereas Duke's keyboardist Bruce Bears distinguishes himself as usual by the elegance and intelligence he brings to the fray. On guitar, "Monster" Mike Welch offers ample evidence as to why he got that nickname in the first place with several outstanding solos, coming on sweet and swinging when he takes the spotlight on "Carry These Blues" and breathing fire on an extended, multi-textured solo propelling "Tickle My Mule" to a rambunctious close. Welch has done considerable fine work on record since emerging as a pre-teen phenom in the early '90s but his soloing on Mid-Century Modern is especially energized, a real treat in the guitarist's mastery of tone, texture and economy.
'Tickle My Mule,' Al Basile, from Mid-Century Modern. 'Monster' Mike Welch on guitar.
'Midnight Blue Persuasion,' Al Basile, from Mid-Century Modern
The style of Mid-Century Modern returns Al to the small R&B combo style, redolent of his hero Louis Jordan in part. The sound is classic, framing original songs with much to say about the here and now. For one, Al seems more acutely aware than ever about time removing giants that have paved the way for what he does now: in the slow blues "Listen to The Elders," Al advises in his most earnest voice, amidst gently swaying horn lines, gleaning wisdom from experienced hands in life—"listen to the elders, because they survived/they got burned but they learned how to stay alive…well, the elders are just you plus time." The percolating "Big Trees Falling" is a song-length metaphorical treatise lamenting the deforestation, if you will, of the culture; as Al writes in his liner notes, "This song is about valuing the giants who came before us, and realizing that we're the next in line." Even the grinding "Midnight Blue Persuasion," a narrative centered on an unexpected late-night seduction, references Little Willie John singing "Grits Ain't Groceries" rather than any contemporary artist, which begs the question as to which current practitioner one would reference anyway, so barren is the field.
'Listen to The Elders,' Al Basile, from Mid-Century Modern
'Big Trees Falling,' Al Basile, from Mid-Century Modern
Otherwise, Al is in a mood to examine the nature of relationships and the human dilemma. "Midnight Blue Persuasion" could fit into this category of song as well, but far less didactic are items such as "Keep Your Love, Where's My Money?," a horn-fueled diatribe aimed at an acquisitive lover whose affection for the greenbacks is being called out by a man no longer fooled by her feeble attempts at physical rewards: "Now you're huggin' and kissin' don't mean a thing/Keep your love, where's my money?" The lowdown blues "Like You or Despise You" advises listeners as to the wisdom of keeping their own counsel, not playing their hands too soon when making judgments about others, as a matter of self-protection if nothing else—sentiments underscored by the stabs of horn lines, a keening cornet solo from Al and Welch's stinging guitar flurries. The abovementioned "Tickle My Mule" is a delightful romp fueled by pumping horns, Bears's animated 88s and the powerhouse rhythm section explores, in Al's words, the "Mind/Body dialogue" in strongly suggesting the need for something more than physical attraction as the basis for a healthy relationship, a philosophy Welch's guitar solo underscores with no small amount of ferocity. "No Truth to The Rumor," moody and redolent with malevolence in its dark ambience, is most apropos in this election in declaiming against snap judgments based on sound bites, shall we say, instead of the informed perspective that comes with understanding the full scope of an issue, whether it be personal or political—Al not only delivers his lyrics with barely disguised acidity but enhances the urgency of his message with a chilling, noir-ish cornet solo. "I don't expect a song to change that," he writes in his liner note about the tune, "but it feels good to call them on it." Bravo to that, and to Philosopher Al for fighting the good fight but never letting the music go soft in pursuit of his extra-musical aims.