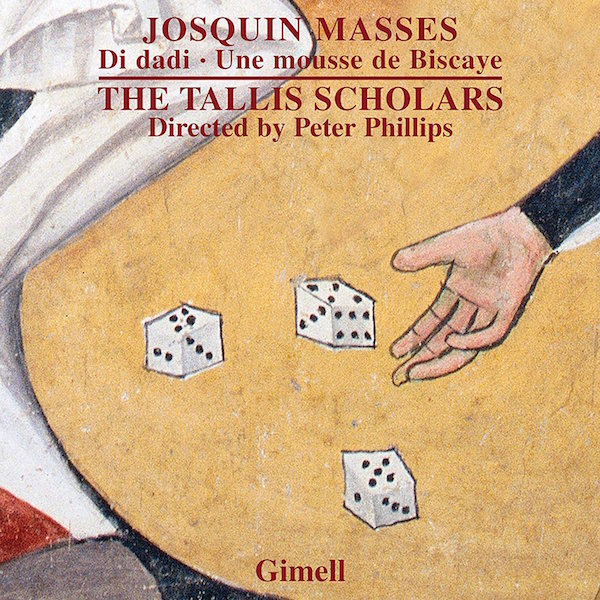 JOSQUIN: MISSA DI DADI, MISSA UNE MOUSSE DE BISCAYE
The Tallis Scholars, directed by Peter Phillips
Gimell
Peter Phillips and The Tallis Scholars have reached their eleventh disc of Josquin masses on the Gimell label. This latest disc contains two quirky early masses attributed to Josquin making a rare and welcome appearance on disc, Missa Di Dadi and Missa Une mousse de Biscaye. Missa Di Dadi is intriguing because its name, "The Dice Mass," refers not to the tune which forms the cantus firmus, but to the dice references in the score.
Missa Di Dadi uses as its cantus firmus the tenor part of Robert Morton's chanson Naray je jamais mieulx. And each movement of the mass is preceded by a pair of dice, whose numbers seem to indicate the factoring of the note lengths in the cantus firmus. So for the "Kyrie" a 2 and a 1 indicate note lengths are doubled. Except that this breaks down later in the mass, where Josquin uses the whole tenor cantus firmus rather than part of it. In his CD booklet article Peter Phillips links the dice to the popularity of gambling in Milan under the Sforzas in the 1480s, when Josquin spent time there. But we don't really know.
The Kyrie and opening section of the Gloria from the Missa Di dadi by Josquin (c1440-1521) as performed by The Tallis Scholars directed by Peter Phillips
Missa Une mousse de Biscaye is in some ways more straightforward, a mass based on a secular tune with a French and Basque text, yet it is clearly an early work with the composer exploring what was and wasn't possible. In fact this is true of both works, and part of their charm is the fact that for all their smoothly beautiful surfaces, there are a great many details to explore.
The group performs the works with eight singers, using a mixture of sopranos and female altos on the top line, and tenors on the middle two lines. They sing with a finely plangent, up-front style creating a sound perhaps more direct and possessing less surface beauty than they use in later composers. And for all the long lines of the music, the text is well to the fore.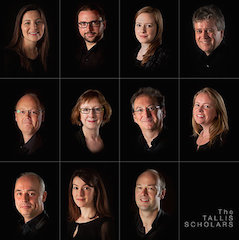 These are performances very much of our time. Phillips and his ensemble use the contemporary performance style they have developed and which enables them to give profoundly expressive and sympathetic accounts of this music, expressively bringing out its structure and quirkiness. There are none of the sonic experiments we might associate with ensembles inspired by Marcel Peres and Ensemble Organum. But the catalogue has space for all approaches and the superb musicianship shown in these performances makes them very desirable.
Missa Di Dadi has not been out on disc much, the main competition being a 1980s recording from the Medieval Ensemble of London and Missa Une mousse de Biscaye seems similarly rare. Further reasons for welcoming this fine disc.
Reviewed by Robert Hugill on 18 Oct 2016 at Planet Hugill—A World of Classical Music