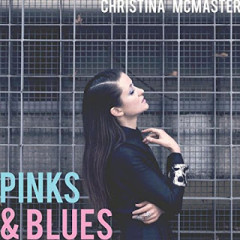 PINKS & BLUES
Christina McMaster
McMaster Records
Pianist Christina McMaster's new disc on her own label is a striking mix of 20th century and contemporary works that move from the blues through more modern interpretations to occasional lighter moments, with music by Samuel Barber, György Ligeti, Bill Evans, Alasdair Nicholson, Richard Bullen, Frederic Rzewski, Oscar Peterson, Nina Simone, Freya Waley-Cohen, George Gershwin and Stephen Montague.
Pinks and Blues opens with the first movement of Samuel Barber's "Excursions," his first published solo piano piece, written in 1942. It combines a rather Mozartian right hand melody with a boogie-woogie stride bass in a dark and intriguing manner. György Ligeti's "Etude No.8, 'Fem,'" one of a cycle of Etudes he composed between 1985 and 2001, starts out bright and fast with a rather metallic feel ("Fem" means Metal in Hungarian) and develops into a complex, multi-textured work, though I did slightly worry that the acoustics in the recording changed between the first and second tracks.
'Peace Piece' by Bill Evans as performed by Christina McMaster on Pinks & Blues
Alasdair Nicholson's '42nd Street Stomp' as performed by Christina McMaster on Pinks & Blues, based on Warren and Dubin's title song for the 1933 movie musical classic, 42nd Street.
Bill Evans's meditative "Peace Piece" is a transcription of one of his improvisations recorded in 1958 on his album Everybody Digs Bill Evans. It is beautifully relaxed piece with a lovely right hand, which gives the impression of a free improvisation over a regular bass. Fleeting atonal runs suggest a malevolent force intruding on what is an otherwise reflective moment. György Ligeti's "Etude No. 5, 'Arc-en-ciel (Rainbow),'" evokes just that with its delicate transparency of texture and clear harmonies, though it develops some drama by incorporating mechanistic clock-like hints.
The Scottish composer Alasdair Nicholson's "42nd Street Stomp" is his own fanciful fantasia on the great 1933 song written by Harry Warren (music) and Al Dubin (lyrics) for the granddaddy of backstage musicals, 42nd Street. Between its truly stomping passages interspersed with dreamy musings, Nicholson, via McMaster, does manage to evoke the energy of some of those wild Busby Berkeley dance numbers. British composer Richard Bullen also summons a wee small hours ambience in his evocative yet edgy "Scenes From a Deserted Jazz Club" featuring Jay Phelps's trumpet and McMaster's piano with Sammi Tammilehto (percussion) and Mark Lewandowski (double bass) fleshing out the arrangement.
Richard Bullen's 'Scenes from a Deserted Jazz Club,' with Christina McMaster on piano, Jay Phelps on trumpet, Sammi Tammiennto on percussion and Mark Lewandowski on double bass. From Pinks & Blues.
Frederick Rzewski's "Winsboro Cotton Mill Blues" dates from the late 1970s and was part of the American composer's North American Ballads. It has become something of a modern classic. Starting with a low rumbling, this large-scale high-energy piece conjures images of the mechanization of the cotton industry and the upheaval it caused on multiple levels. It's a challenging piece, but at more than 10 minutes' duration I found it overstayed its welcome.
The second movement of Samuel Barber's "Excursions" (Op. 20 No. 2 "In A Slow Blues Tempo") proves to be a lovely, relaxed blues, whereas Oscar Peterson's "Hallelujah Time" is a perky, quirky ragtime piece with washes of Peterson's lush chordal lyricism adding a modern texture to the Joplinesque right hand fritterings across the keys. Nina Simone's "Don't Smoke in Bed," another classic, is interpreted here in an arrangement for trumpet (Jay Phelps) and piano. I rather missed Simone's lyrics, but this deeply emotional instrumental has both power and passion, as Phelps and McMaster engage in a gripping musical dialogue alternating between heated outpourings of bruised feelings and tender, sensual exchanges–a pas de deux of the most intimate and fleshly kind.
Oscar Peterson's 'Hallelujah Time' as performed by Christina McMaster on Pinks & Blues
The young British composer Freya Waley-Cohen wrote "Southern Leaves" specifically for McMaster to play on this album. Based on civil rights songs by Nina Simone and Billy Holliday, it is dark and ominous, with the original material surrounded by threatening chords. George Gershwin's "It Ain't Necessarily So," a slow, slinky blues, finds McMaster exploring the seductive melody with sensitivity and nuance, especially in the slower, laid-back passages she probes so delicately.
The album closes with two pieces by the American composer Stephen Montague. His "Songs of Childhood," based on American hymns, gets a thrilling high-energy makeover, quite distinct from the elegance and lyricism of the approach to, say, "It Ain't Necessarily So." Here McMaster goes for broke, with pounding left-hand chords under frantic, driving right hand trills and glissandos. "Southern Lament/Nobody Knows the Trouble I've Seen" combines the spirituals "Nobody Knows the Trouble I've Seen" and "I'm Troubled" into a fiery extension of "Songs of Childhood" before coming to rest in a place of peace and repose—an evocative and soothing finale to a wondrous journey through time and the artist's own heart.
---
Reprinted by permission of Robert Hugill, a contemporary classical composer based in London. Recent performances of his works have included sacred motets, orchestral music and a one-act opera. Click here for his full biography. For more of Mr. Hugill's classical reviews and interviews, visit Planet Hugill—A World of Classical Music.