'transcending the sanctuary toward a more progressive worldview'
HALO: THE ONE-DERFUL! COLLECTION
Various Artists
Secret Stash Records
During the 1950s and 1960s, Chicago record men and brothers George and Ernie Leaner helped transform South Michigan Avenue's famed "Motor Row" (of auto dealerships) into Record Row. In addition to helping Ernie with their record distribution company on Boul Mich, George Leaner organized One-Derful! Records and several subsidiaries, including one exclusively designated for a gospel music series: Halo.
With meticulous detail and in concert with the Leaner Family, Minnesota's Secret Stash Records has been releasing samples of the prodigious One-Derful! catalog in installments. The most recent, which focuses on Halo, is the first commercially available offering of this short-lived but significant subsidiary. The collection illustrates how One-Derful's studio musicians, artists steeped in R&B and led by influential producer Monk Higgins, made the hard, soulful sound of gospel quartet and group singing even harder and more soulful.
'Wade In the Water,' The Salem Travelers, from Halo: The One-Derful! Collection
The Salem Travelers are well represented on the set because the label introduced the quartet to a national audience and the group became Halo's top seller. Selections include released tracks, such as "Wade in the Water," which is said to have inspired Ramsey Lewis Trio's hit instrumental version, and several unreleased issues. The first 500 who purchase the vinyl LP version of the Halo collection get two additional unreleased Salem Travelers sides pressed as a 45 rpm record.
Those familiar with live gospel performance know that songs take time to brew, and three-and-a-half-minutes sometimes just doesn't do. Another benefit of the collection is the chance to hear long form gospel selections without having to flip the disc over. The listener can enjoy "Man in the City," the Lucy Rodgers Singers' two-part cover of Dorothy Love Coates' "Stranger in the City," as it would have been heard in live performance: without a break. The same goes for the Gospel Souls' "The Fire Keeps On Burning in My Heart," featuring incendiary former Lux Singer Ida Mae Davis. On "I've Been Saved," the Gospel Souls sound like sanctified Supremes.
'Why Do Men Treat the Lord As They Do,' The Redemption Harmonizers, from Halo: The One-Derful! Collection
The unreleased tracks are just as good as the released ones. An example is the Redemption Harmonizers' "Modern Messiah," which laments the loss of Rev. Dr. Martin Luther King Jr. and President John F. Kennedy who, like Moses, worked to rescue a captive people.
Full disclosure: the extended essay that comprises the album notes was written by yours truly. The narrative places the Halo sessions in the context of changes taking place in gospel music, musically and lyrically, during the Civil Rights and Black Power eras. Songs such as the Salem Travelers' hit, "The Children Goin' Astray," and the Golden Tones' "Why Can't We Love our Fellowman" contain social messages not often articulated on record by gospel artists prior to the early 1960s.
Images of vintage gospel program posters, from the collection of Holy Travelers' member Leroy Witherspoon, are alone worth the price.
'He Died for Me,' The Gospel Ambassadors, from Halo: The One-Derful! Collection
Since the Halo sides were recorded from the original tapes, not only is the audio quality stellar—-the music jumps off the disc and out the speakers—-but the work of the musicians can be heard more clearly than on the mono singles.
Halo: the One-Derful! Collection offers a survey of group-based gospel music as it transcended the sanctuary toward a more progressive worldview.
Picks: "Modern Messiah," "Wade in the Water."
---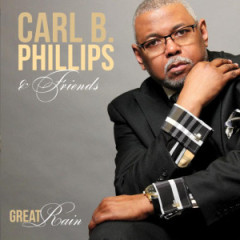 'waiting patiently for a bountiful shower of blessings'
GREAT RAIN
Carl B. Phillips & Friends
Prove Me Productions
https://www.reverbnation.com/carlbphillips
The photo on the back of the CD booklet for Carl B. Phillips & Friends' Great Rain shows an Ivy League-attired Phillips standing next to a clock, a briefcase and umbrella in his hands. If, as the saying goes, a picture is worth a thousand words, this photo is saying that Phillips is prepared, but waiting patiently, for his bountiful shower of blessings.
Waiting with expectation for a movement from God in one's life is a current that runs throughout this live project by Phillips, a Detroit-born singer, songwriter, producer, and radio announcer. For example, the title track encourages listeners to wait on God because He will ultimately bring succor (i.e., the great rain). On "Prove Me," Kimberly Whitsett sings that God will "open up the windows of heaven" and answer your problems, but "by and by." "Restore More" argues that God will not only restore what is lost but will provide "more than I ever had." In that case, Phillips might need a bigger umbrella.
'I Know What God Did Last Summer,' Carl B. Phillips & Friends (lead vocal: Chiffon McNeal), from Great Rain
Phillips spotlights several singers from his talented ensemble. They take turns soloing, and several extend codas to express passionate prayer or evangelistic testimony. Special props go to Chiffon McNeal on "I Know What God Did Last Summer," a song with a title that riffs on the name of the 1997 thriller film but is really about Ecclesiastes 3:1-8. In other words, if times are tough this season, another season is on its way, one better because of God's intervention. There's that waiting with expectation theme, once more.
What distinguishes the album musically from similar leader/small choir projects is its spectacular traditional conclusion. With a prominent electric guitar and harmonica, "Meeting in the Air" is an evocation of the hereafter, where there will be "no high blood pressure, no diabetes," among other benefits. On "Statistics," La'Jimmease Jones eschews the reports that say "I should have been dead" with stomping affirmations of life. The message and beat transition into a praise break, which brings the album to its denouement.
'Fresh Anointing,' Carl B. Phillis & Friends (lead vocal: Eric Bishop Taylor), from Great Rain
Great Rain is buttressed by hard-hitting musicians who deliver a full-bodied sound, and fine ensemble singing by the "Friends," never better than on their harmonic resolution at the end of "A Simple Praise."
Picks: "I Know What God Did Last Summer," "Statistics."
---
'New robes, old soul…'
THE GOSPEL OF TENNESSEE
Jeff Wilford Presents
The Volunteer State Mass Choir
Ten years after their establishment by gospel music industry and retail professional Jeff Wilford, the Volunteer State Mass Choir makes its debut on CD with The Gospel of Tennessee.
Waiting to gel in tone and texture before releasing a full-length recording has paid off for the Volunteer State Mass Choir. The Gospel of Tennessee showcases a group that has its swagger together, whether on P&W pieces such as "Fresh Oil" or on aisle stompers such as "I Forgot Just Who I Am," featuring feisty hard lead singing from Adriann Lewis Freeman. With only a piano for accompaniment, the choir demonstrates how "Do This In Remembrance of Me" is an ideal piece for a high school or college choir.
'Jesus Is Real,' Volunteer State Mass Choir, from The Gospel of Tennessee
'Do This In Remembrance of Me,' Volunteer State Mass Choir, from The Gospel of Tennessee
Most of the songs on the album are steeped in the traditional churchy sound. Propelled by blue notes and a warbling organ, "Oh To Be Kept" is a hymn in "gospel waltz," or 12/8, time. "Jesus Is Real" provides a similarly slow, bluesy feel to its message of devotion. "He's Working It Out," led by Frieda Boyle, also contains that wooden church feel. The choir members highlight their old school focus by keeping the beat with their feet on "Lord Watch Over Me." Patrick Sorrell introduces the song as taking him back to "Mount Sinai Baptist Church" and "Deacon Pettigrew" lifting the hymn.
"Jesus Is Real," a JGM Pick of the Week in February 2015, is also included on the new CD.
With new robes but an old soul, the Volunteer State Mass Choir, based in Nashville, will draw appropriate parallels to Mississippi Mass Choir and Chicago Mass Choir, and has the potential to become a peer of these established ensembles.
Picks: "I Forgot Just Who I Am," "Oh To Be Kept."
---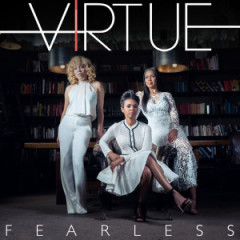 'bringing their sound into the new millennium'
FEARLESS
Virtue
Mixed Bag/eOne New York
Norma Desmond declared in Billy Wilder's Sunset Boulevard: "I hate that word [comeback]. It's a return."
With Trin-i-tee 5:7 in suspend mode and Mary Mary doing solo projects, it's a good time for the sister trio Virtue to return (thanks, Norma). After an extended hiatus, the Dove Award-winning and GRAMMY Award- and Stellar Award-nominated group has released their seventh studio album, Fearless.
Karima Kibble, Ebony Holland, and Heather Martin augment their characteristically sunny, breezy and optimistic outlook with assertive Urban Contemporary licks, electrified harmonies, and injections of electronica. From the funky guitar licks that open the album to the rap interlude from Dee-1 on the title track, it is clear that Virtue has brought their sound into the new millennium.
'More Than Words,' Virtue, from Fearless
'Miracle,' Virtue, from Fearless
At the same time, the album's finest moments are the slower, more deliberate ones, where the ladies harmonize and deliver lyrics that leap out of the speakers. Examples are the album's debut single, "You Are," but most especially their acoustic spiritualization of Extreme's 1998 "More than Words," the Lord-as-superhero "Saved the Day," "Worship You," and "Amazing."
Still, the "fearless" moniker fits well with the ladies' unapologetic, invulnerable delivery, signifying their individual and collective maturity in music and experience. The title track finds them donning their boots to kick down the doors that block personal and spiritual growth. "Walk it Out" is another declaration set on stun. Their cover of the Clark Sisters' "Miracle" is reminiscent of previous Virtue oeuvre but with more punch and grit.
Fearless is the Virtue you remember but with all the musical pizzazz of 2016.
Picks: "You Are," "More than Words."
---
'good and relevant…'
CHURCH CLOTHES 3
Lecrae
Reach Records
Leave it to Lecrae to put out a mixtape as a place holder—or an appetite whetter—until his new album is released, and it soars to the top of the Billboard chart. That demonstrates his crossover appeal in a hip hop market that knows no subgenre boundaries: if it's good, it's good. If it's relevant, even better.
Church Clothes 3 is good and relevant. Its first three selections, in fact, are engaging kaleidoscopes of incisive rails against inequality and injustice in all of its forms. Lecrae points the finger at everyone and every institution that has contributed to the bewildering state of affairs that marks today's Age of Anxiety.
'I Wouldn't Know' (feat. Kb), Lecrae, from Church Clothes 3
The album's opener, "Freedom," reminds us that freedom isn't free, so we must hang on to the promise that things will get better someday (the chief premise of gospel and spirituals). "Gangland" is a short history lesson about how gangs were formed initially to protect the African American community from outside violence, but lost unity when their leaders were assassinated. Without leaders, without job opportunities, the gangs turned in on the community. "Deja Vu" argues that if many things haven't changed over time, there is one constant to hang one's hat upon: "the Lord's still right there."
Not since Frontlynaz' 2008 Game Over have I heard a Christian hip hop artist give such an unapologetic "what for" to the music industry as Lecrae does on Church Clothes 3. On "It Is What It Is," he parodies the ambivalence of the industry to his style of music. "Misconceptions" also drops bombs on the short-term thinking of the biz.
Intertwined in the social messaging is Lecrae's pledge to not give up. He'll keep on working for change, he spits during "Sidelines," "until I'm deaf, dumb, and blind," because if there is one thing we can do, each of us, to make the world a better place, it's to change ourselves. He's working on himself and is prepared to face the music when the last trumpet sounds.
'Sidelines,' Lecrae, from Church Clothes 3
The beats are appropriately minimal, fractured, and effective in creating an aura of confusion and ambiguity, like being caught in a maze during total darkness.
Had the entire project continued in the fashion of the first three tracks, this could have easily been Lecrae's What's Going On or Fear of a Black Planet. The concluding tracks are okay, but the lyrics lack the candid edginess that gives the first half of the mixtape its profound authority. No matter: let's see what the new album holds in store.
Picks: "Freedom," "Gangland"
---
'extroverted, confident, always in control…'
FEARLESS
Jonathan Nelson
Light Records/Entertainment One Music
Who would have imagined, back in 2004 when he appeared on the national gospel music scene, that the irrepressible new-school gospel artist Tye Tribbett would someday lead an old school-style praise break?
That's exactly what he does at the conclusion of Fearless, the live recording from Stellar Award-winner Jonathan Nelson. The eight-plus minute "I Give You Glory," with Tribbett as pastor/song leader, rides along on a praise break beat, tying Nelson's fifth album in the splendid ribbon and bow it deserves.
Recorded live at the Faith Center in Sunrise, Florida, Fearless features an extroverted, confident, always-in-control Nelson praising and demonstrating unwavering fealty to God in songs such as the title track, the call-and-response "Name of the Lord," and "I Believe (Island Medley)." Nelson is of the new generation of smooth tenors (Kevin LeVar, Micah Stampley, Keith Williams, Brian Courtney Wilson, Earnest Pugh, et al.) whose handsome voices grace gospel music with a richness evocative of the original gospel hymn singers who were more subtle than melismatic in their vocal delivery.
'I Give You Glory,' Jonathan Nelson with Tye Tribbett, from Fearless
'Name of the Lord,' Jonathan Nelson, from Fearless
Nelson's creamy tenor is best exemplified on the single, "Anything Can Happen," while his niece, 15-year-old Jade Milan Nelson, offers an equally lovely vocal on the worship ballad, "Amazing Love." The latter transitions into a "Jesus Chant," featuring twin brother Jason, which itself rides on the back of a crystalline worship ballad, "Everything You Are."
Tribbett is among the album's all-star lineup of guest vocalists, including Dorinda Clark Cole, who gives "Forever Settled" a Sunday morning treatment. Kim Burrell scats and squalls through "Brand New," which riffs on the Revelation 21 verse, "He makes all things new"–-things, she sings, that include you and me. Da T.R.U.T.H. raps on the title track, while African artist Sonnie Badu lends passionate cries to "Baba Oh," which seems forever on the precipice of launching into that infectious African gospel beat, but sadly stops short.
The musicians and background vocalists follow Nelson's every vocal move as if they were his muscles and nerves. Fearless is well paced and demonstrates how a project can be musically versatile and passionate yet remain firmly rooted in the atmospheric and hypnotic P&W technique. A digital version on iTunes features three bonus tracks.
Picks: "Anything Can Happen," "I Give You Glory."