26. Life Finds a Way, The Grascals (Mountain Home Music Company)
The last time we heard from the Grascals, in the summer of 2011, they were doing God's work in crafting a tribute to the music of The Andy Griffith Show on an EP titled Dance Til Your Stockings Are Hot and Ravelin', when the good Sheriff of Mayberry was still with us to enjoy the music. Since that time the group has signed with the Mountain Home label, ending a career-long association with Rounder, enlisted a new booking agent, and returned to the studio to cut a batch of new original songs along with the usual surprising covers they put a new twist on. The result is Life Finds a Way, its philosophical title reflective of the upbeat attitude the band has advanced from the start, its energy and polish reflective perhaps of renewed purpose coincident with its new business arrangement.
Or maybe Tom T. and Dixie Hall summarized it best in their wise and witty liner notes: "Doesn't warrant dissecting. Songs are all great, nothing to criticize. Mere words can't do this first project for Mountain Home Records justice. You have to play it and FEEL!"
From Life Has a Way, The Grascals perform the album closing spiritual tune, 'Road To Surrender' at the Darin & Brooke Aldridge Music Festival in Cherryville, NC, on March 13, 2012.
Back in May, Terry Eldredge, speaking to Billboard's Chuck Dauphin about this album, said the Grascals were "getting back to us." Indeed, Life Has a Way is the most unadulterated Grascals on disc since 2010's classic The Famous Lefty Flynn's. Unadulterated Grascals, it should be noted, are hard to beat. Doubters need only play this music, and FEEL! (Life Has a Way was reviewed on October 12 in Deep Roots. Click here to go the compete review
28. The Gypsy Diaries, Imani Uzuri (Sept)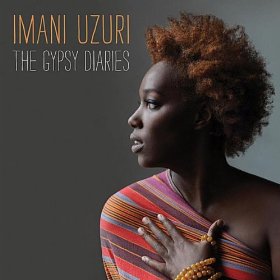 Born of worldly travels and spiritual travails, Ms. Uzuri's rich acoustic songs on The Gypsy Diaries (which was funded via a successful Kickstarter campaign) find fresh settings for unifying human experiences: the loss of loved ones, the joy of discovering, the alienation and shifts of moving, meeting, and departing.
The introspective, gentler companion to Ms. Uzuri's high-voltage 2008 debut, Her Holy Water (A Black Girl's Rock Opera), The Gypsy Diaries finds this bold, reflective artist painting images of travel–the chance meeting, the surprise connection-and reflects in global tones on the nature of distance, love, and our shared, transcendent moments. (An interview with Ms. Uzuri was featured in Deep Roots, September 7, 2012. Click here to go to the feature.)
Video from Imani Uzuri's June 1 CD release party for The Gypsy Diaries, at Joe's Pub, NYC
29. We're Usually a Lot Better Than This, Darrell Scott and Tim O'Brien (Full Light Records)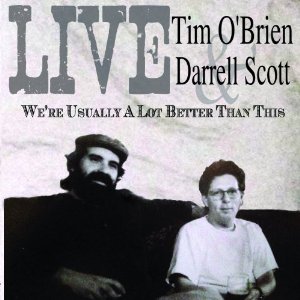 When an album by Tim O'Brien and Darrell Scott, comprised of performances recorded at benefit concerts in 2005 and 2006, you know the playing is going to be pretty awesome. So when one can honestly report that arguably the finest performance on the disc features no instruments at all, but only the two artist's voices shadowing each other with gripping urgency in an emphatic duet on Hank Williams's "House of Gold," an unvarnished advisory to sinners about the wisdom of repenting, you really get the joke of the title: We're Usually a Lot Better Than This. Better than this might be unbearable.
The benefits in question were for the Arthur Morgan School in Asheville, NC, a progressive boarding school where both artists had children in attendance at the time. Edited seamlessly, mixed and mastered by the estimable Ray Kennedy, of Steve Earle fame, the duo's second album (following 2000's Grammy nominated studio effort, Real Time, from which a few of these live tunes emanate) boasts the high level of picking and singing you would expect from these two as well as the eclectic choices in material they feature in their own concerts and recording projects. That means gospel, of course, and also country, bluegrass, blues and folk, original songs and covers alike. The blend of O'Brien's clear, plaintive tenor and Scott's gritty, bluesy voice creates a certain edgy tension when they're harmonizing or into a call-and-response mode; and when one is going solo, the other knows exactly how to make his instrumental voice heard in a way that enhances what the other is doing
30. Music to My Ears, Ricky Skaggs (Skaggs Family Records)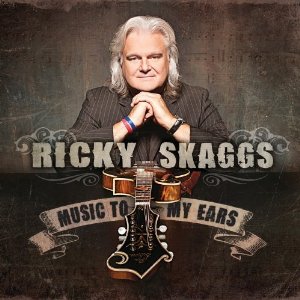 It's been only two years since an album of all-new Ricky Skaggs music, that being 2010's Mosaic, but even a cursory listen to the vibrant, heartfelt performances on Music To My Ears is going to have Ricky's fans thinking, It's good to have him back. Not that last year's Country Hits Bluegrass Style was anything to sneeze at, but its scintillating bluegrass versions of many of Ricky's #1 country singles had previously appeared on a Cracker Barrel album called High Notes, which prompted an Amazon reviewer to declare Skaggs either had writer's block or "is winding down his career."
Only one song on Music To My Ears bears Skaggs's writer credit (the instrumental "New Jerusalem"), which may not appease the aforementioned disgruntled Amazon reviewer, but with his band Country Thunder giving a peak performance and Ricky singing with conviction and soul—in addition to playing eight instruments—the idea that this bluegrass giant is winding down his career is laughably misguided. (Music to My Ears was reviewed on October 12 in Deep Roots. Click here to go the complete review.
http://www.youtube.com/watch?v=TuORtlYBTJY
Ricky Skaggs, 'Loving You Too Well,' from Music to My Ears
31. New Day Dawning, The Roys (Rural Rhythm)
The sibling bluegrass duo of Lee and Elaine Roy had a breakout year with their second album, New Day Dawning. Our review, in the September issue of Deep Roots observes:
As the concluding track on the Roys' slight seven-song third album (isn't it really an EP?), "Fast As We Roll" seems like a telling personal statement from a group that maybe thought it was going to enjoy a leisurely ride on a Ferris wheel and instead wound up on the Himalaya, racing at breakneck speed in multiple directions, barely able to catch its breath. Except that nothing else on New Day Dawning gives a hint of the Roys doing anything but doubling down on what makes them special: the songs sound as fresh as ever; the musicianship remains stellar, with able assists from Randy Kohrs on dobro (his dynamic solo on the aforementioned "Still Standing" launches the performance onto a whole other level of intensity), Cody Kilby on guitar, Justin Moses on banjo, and Andy Leftwich injecting his sound signatures on mandolin and fiddle in addition to producing; not least of all, as vocalists Lee Roy and Elaine are probing deeper into their songs than they did on Lonesome Whistle, and that's saying something.
The Roys, a live version of 'New Day Dawning' at the Rogersville Bluegrass Festival
32. Blossom & Bee, Sara Gazarek (Palmetto Records)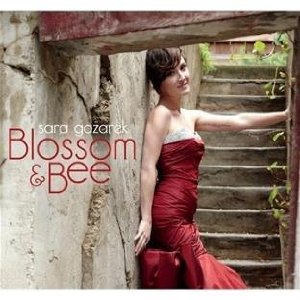 Blossom & Bee is Sara Gazarek's first new solo effort in five years, following 2007's impressive Return To Yours, which included both original songs and revitalized covers of Billy Joel's "And So It Goes" and Joni Mitchell's "Carey" (who also belongs on the list of influences Ms. Gazarek has absorbed); she even applied a fresh coat of paint on Leonard Cohen's oft-covered "Hallelujah," with a measured vocal over a minimal, chamber-like arrangement. No mean feat, that. On Blossom & Bee Ms. Gazarek leans more on the Great American Songbook than she did in 2007, but supplements songs by Mercer-Kern, Harburg-Arlen, Rodgers-Hart, Comden-Green-Bernstein, et al., with a smattering of more contemporary material, original and otherwise. No matter the songs' sources, the singer emerges triumphant–more mature in the thoughtfulness of her singing and bracingly confident in her sense of her voice as an instrument. Be it messy or enthralling, love remains her dominant theme, and this album is yet another of her attempts to get a handle on it. (Deep Roots Album of the Week, October 11. Read the complete review here
Sara Gazark, 'Everything I've Got,' from Blossom & Bee
33. American Dreamland, Loop 2.4.3 (Music Starts from Silence)
On their third album, Brooklyn-based percussion duo Lorne Watson and Thomas Kozumplik have created an aural portrait of the American experience. Or an American experience. Or maybe one American's experience. That it could be any of these is part of the album's allure; the bigger part is the artists' conceptual integrity, the way seemingly disparate elements mesh to create a soundscape so alive, so human, so affecting. Following the dyspeptic visions articulated in the 23-second opener, "Total Collapse," the eerie "Sakura (We Must Love)" rides in on a gentle wave of percussive thumps and the fuzzed-out guitar cry of Jon Catler, before Share Worden's soft, whispery vocal implores "we must love, we must love." The varying rhythmic pulse, Catler's wailing guitar, multiple, interlacing voices…the piece builds inexorably (at times the vocals have a cool, Sergio Mendes &  Brasil '66 feel) until it becomes more frantic and howling, at about the four-minute mark, and a male voice shouts anxiously, "This ain't love! This ain't love!" No sooner does that maelstrom subside than do we hear music box-like vibes, cheery tones skittering across the soundscape, as we are into "As a Child…," a gentle lullabye keyed by an aching, fragile soprano vocal, which is eventually overtaken by a dry, heavy male voice intoning "but when it's gone, but when it's gone…" Everything seems so fleeting in this American Dreamland–we are not allowed to enjoy childhood reveries for too long in "As a Child…," and maybe that's Loop 2.4.3's social commentary, as if to say, "Wouldn't it be a better world if it didn't all go so soon?" In its own way, American Dreamland is a wild ride through a life cycle, complete with road stories ("Road Trip"); an homage to the first of us in the Native American flourishes of "American Elder"; a beautiful, piano-based evocation of nature's beauty ("Tulips"). In the closest thing to a Loop 2.4.3 pop song, the album closes with a funky, intense workout on "So Strong," with the male vocal seemingly in the voice of a narrator who's barely hanging on to his sanity and railing against the inevitable ("my blood is getting thinner and I start to lose control/it just ain't right, it just ain't right…") Describing Watson and Kozumplik (the latter also works with the formidable new music band Clogs) as a "percussion duo" is a bit unfair, or rather limiting. Their compositions are melodic, dynamic and eclectically arranged. The principals themselves play multiple instruments (steel drum, vibes, waterphone, organ, piano, E-log, Native American flute, marimba, bata, drums and other percussion) and the expand their sonic palette with guests contributing striking vocals, electric guitar, violin, cello and various spoken word passages that have a "Radiolab" quality, albeit less disorienting. Put it all together, and American Dreamland really gets under your skin and burrows deep into your heart.
From Loop 2.4.3's American Dreamland, 'Sakura (We Must Love),' with Jon Catler on guitar, Shara Worden on vocals. Lorne Watson and Thomas Kozumplik are Loop 2.4.3's principals and composers.
34. Blues In Other Colors, David Maxwell (Shining Stone Records)
In a fruitful, celebrated and much-honored career (he counts a Grammy for 1996's James Cotton album Deep In the Blue among his multiple blues-related awards) that dates on record all the way back to 1970, blues pianist David Maxwell has arguably hit his high note with his inspired new release, the all-instrumental Blues In Other Colors. That's saying a lot because this is an artist whose recording resume includes work with Hubert Sumlin, Freddie King, Joe Louis Walker, Louisiana Red, Luther "Guitar Junior" Johnson, James Cotton, John Primer, Bob Margolin, Jimmy Rogers, Ronnie Earl, Eddie Kirkland, the Lone Pine Western Swing Band (yes!) and, and…whew! A long list of others whose music you would want to hear. This is not the place to argue that he is our greatest living blues piano player, but Maxwell is comfortably ensconced in the top tier of his field and instrument, and with Blues In Other Colors he's throwing down the gauntlet, challenging other blues players to be similarly inventive in exploring the music's deepest sources in the Old World. He's doing it with all original songs blending aspects of traditional post-war urban blues with instruments and melodies found in the traditional music of other western and eastern cultures.
To get an idea of the scope and scale of this project, look no further than Maxwell's own liner notes. Blues in Other Colors, he writes, "represents a snapshot of the melding of traditional blues with music from other countries to which I've been drawn. There is a 'blues' sensibility in the vocal and instrumental folk and classical music from many places around the world. For instance, one can 'feel the blues' in some of the traditional music of Spain (flamenco), Northern and Western Africa, many countries in what is referred to as the Near and Middle East, as well as parts of Asia, India and Japan." (Blues In Other Colors was the Deep Roots Album of the Week, October 27. Click here to go to the complete review.)
35. I Belong to the Band: A Tribute to the Rev. Gary Davis, Rory Block (Stony Plain)
I Belong To the Band is a powerful album, the most emotionally charged of Rory Block's three "mentor" albums thus far, although it is a hard call between it and her tributes to Mississippi Fred McDowell (2011's Shake 'Em On Down) and Son House (2008's Blues Walkin' Like a Man). Still, perhaps owing to the obstacles she had to overcome to arrive at this level of playing, something in Ms. Block's performance says much was at stake here, not the least getting to the heart of the Rev.'s messages of salvation and the way to Heaven's gate. In the end she got it all right—the guitar, the voice, the song selection. Save your mortal soul and join the band. (Click here for the complete review in Deep Roots, September 7)
Rory Block, 'Twelve Gates to the City,' from I Belong to the Band: A Tribute to Rev. Gary Davis
36. I Win, Marvin Sapp (Verity Records)
Yes, he does. The gospel giant's new album was reviewed by gospel editor Bob Marovich in the April issue of TheBluegrassSpecial.com. Here's part of Marovich's appraisal: Marvin Sapp's ninth solo CD, I Win, could have easily been named for his current single, "My Testimony." The live recording has the performance elements of a cathartic testimony/lesson from a man who learned from experience that "what doesn't kill you makes you stronger."
Assessing Sapp's life by the Stellar Awards, hit records and accolades the Michigan-based singer and church founder has assembled over the past several years, one could conclude that he is on top of the world. His response would perhaps be that oft-cited line: "you don't know my story."
Indeed. The pain of losing his father Henry Lewis Sapp, Jr., musical mentor L. Craig Tyson (co-founder of Tyscot Records) and spiritual mentor Bishop William Abney within 90 days birthed Sapp's spontaneous and smash 2008 hit, "Never Would Have Made It." Then Sapp's wife MaLinda died of colon cancer in 2010.
I Win, recorded live at Evangel Cathedral in Upper Marlboro, Maryland, is Pastor Sapp's first CD since MaLinda died. No surprise, then, that triumph over pain through faith is a paramount theme.
37. Air: The Bach Album, Anne Akiko Myers (E1)
Anne Akiko Meyers hatched the idea for her latest recording, titled, Air: The Bach Album, after she purchased a rare violin, a 1697 Stradivarius called the "Molitor," for a then-record $3.6 million at an auction. Having already owned a prized Strad–a 1730 instrument called the "Royal Spanish"–she decided to do the next logical thing: feature both in a kind of duet with herself. Thanks to modern recording techniques, Meyers is able to play both solo parts in Bach's Double Concerto, one using the "Molitor," recorded in London with the English Chamber Orchestra, and another on the "Royal Spanish," recorded in New York. For the rest of the album she focuses on solo literature: Bach's First and Second Violin Concertos and new arrangements of the "Air" from the Suite No. 3 and the Bach-Gounod "Ave Maria." Both Strads are from Bach's time but the "Royal Spanish" has a notably darker quality than the "Molitor." One can hear the variances in timbre between the two instruments, and Meyers delivers crisp, nuanced and tastefully ornamented readings of both. She is equally persuasive in the two solo concertos and if the vibrato-laced "Ave Maria" isn't going to win any awards for historic authenticity, it is warmly felt nonetheless. (Anne Akiko Myers was the subject of a two-part Classical Perspectives featured in the April 2012 issue of TheBluegrassSpecial.com. Click here to go to the feature.)
Anne Akiko Myers plays Bach's 'Air' on her 1697 ex-Napoleon/Molitor Stradivarius violin. Performance filmed at New York City's Rubin Museum of Art; Reiko Uchida on piano.
38. Scratch Gravel Road, Special Consensus (Compass Records)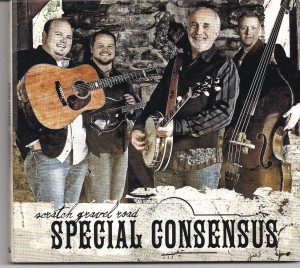 In its 37-year history Special Consensus has served as a kind of bluegrass farm team, seasoning musicians such as Josh Williams until they were ready to make their own statements. The SC constant throughout has been founder Greg Cahill, he of the sparkling banjo work and the ensemble vision. Scratch Gravel Road is the band's 16th recording, and one of its best, enhanced as it is by exceptional picking, heartfelt singing, strong songs from the likes of Mark Brinkman, Tim Stafford, Becky Buller and the late Harley Allen, as well as by Cahill himself (a white-hot instrumental, "Jacklene," with fleet, impassioned soloing all around, including a tasty banjo solo midway through by producer Alison Brown, who behind the board has fashioned a clean, uncluttered sound that gives the music a striking immediacy) and newest member Dustin Benson, a guitarist-vocalist whose "Mollie & Julie's Reel" is one of the album's high spirited highlights, fueled by jaunty soloing from Benson himself as well as memorable spotlight turns by Cahill on banjo, fiddler Stuart Duncan and mandolinist Rick Faris. The general consensus? A job masterfully done in all respects. Scratch Gravel Road is some kind of moment. (Scratch Gravel Road was reviewed in the May 2012 issue of TheBluegrassSpecial.com. Click here to go to the complete review.)
Special Consensus, the title track from Scratch Gravel Road
39. My Western Home, Ed Littlefield, Jr. (Sage Arts Records)
At only eight songs Ed Littlefield, Jr.'s second solo album may seem slight, but those eight songs add up to 59 minutes of music lovingly rendered, subtly performed and felt to the musician's core. Among those eight is a six-minutes-plus version of "Red River Valley"; an eleven-minutes-plus version of "Get Along, Little Dogies"; an eight-minutes-plus take on Ian Tyson's "Four Strong Winds"; and 15-minutes-plus of "Spanish Is the Loving Tongue." These expanded renditions of once concise canonical tunes might have some die-hard western song fans exercising the Barney Fife Dictum (i.e., "always keep the backs of your shoes polished because that's the last thing people see of you when you're walking away") and showing Littlefield the backs of their shoes in their umbrage over the liberties he takes with these beloved tunes, but then they would miss the many singular delights recommending My Western Home. He understands these songs' mystical connection to the land and a way of life from his own family's history as ranchers and his current life on his self-built Littlefield Farm, which includes a state of the art recording studio at which this album was recorded; and his warm, avuncular vocals are mellow but emphatic evocations of his bone-deep affection for the world and the values informing his repertoire. (My Western Home was reviewed in the February 2012 issue of TheBluegrassSpecial.com. Click here to go to the complete review.)
40. Hand to the Plow, Marty Raybon (Rural Rhythm)
Like Sara Gazarek, Marty Raybon might well have earned two places on this Honor Roll, as his late-year secular album, Southern Roots and Branches (see the September 7 review in Deep Roots), ranks among his finest work. Ultimately, though, his gospel album Hand to the Plow was such a strong and moving testimony that we opted to keep the focus on faith. Given Raybon's strengths as a balladeer, it's hardly news to report that the softer moments on Hand To The Plow have a special quality. "Walking With God At a Guilty Distance," a Raybon co-write with Gerald Crabb, opens quietly, rises briefly in intensity but returns to its interior quality as Raybon sings emotionally of a man in conflict with his faith. These reflective moments dominate the rest of the album, and this plays to Raybon's greatest strength, his sure way with a sensitive lyric. Dobro and acoustic guitar set the stage for an urgent Raybon vocal on Neal Thresher's "You Get Me," which might be a love song to a significant other, or a testimony to the power of God's love in his life; with its brisk pace it's hardly a ballad, but the Raybon-Peter McCann beauty "He's Still My Little Man (Matty's Song)," has ballad qualities in its story of a father's pride in his son growing to honorable manhood. Despite the big productions on several numbers, Hand To The Plow has an intimate feel about it, thanks to Raybon staying within himself and not getting caught up in the theatrics. The message resonates. (Hand to the Plow was featured in the April 2012 issue of TheBluegrassSpecial.com. Click here to go to the complete review
41. At His Best–Live, Sean Costello (Landslide Records)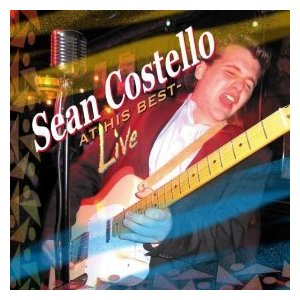 At His Best—Live may not be the final musical will and testament of Sean Costello (no word yet on whether more live or studio sessions remain unreleased) but it is at the very least a stirring reminder of, on one hand, how versatile a player and effective a singer he was, and on the other, of the hole blown into contemporary blues when he departed this mortal coil in April 2008, one day short of his 29th birthday. This live monument to an artist still growing is assembled from a variety of performances around the globe between 2000 and 2007. Nothing too unusual about that, except that some of the 17 cuts are studio-quality soundboard recordings, whereas others have been donated by Costello enthusiasts who taped his shows from their perches in the venues. No spotty audio here, though: the estimable producer/engineer Rodney Mills has done a superb job of polishing the homemade recordings without losing their raw edge—Costello sounds like he's snarling from inside a cave on "The Battle Is Over But The War Goes On," but all the air around his vocal, when coupled to the absolutely ferocious, biting guitar solo he executes, results in a you-are-there steamroller effect a soundboard or studio cut might have lacked.
The "set" is sequenced to replicate the flow and dynamics you would typically encounter in Costello's live shows. Which means a satisfying number of straight-ahead, no-frills blues are supplemented by several of his welcome forays into southern soul. Sean Costello was something special, and this disc captures much of what made him so. If there's more, bring it on. Note: Royalties from the sale of this CD will benefit the Sean Costello Memorial Fund for Bi-Polar Research. (At His Best—Live was reviewed in the February 2012 issue of TheBluegrassspecial.com. Click here to go the complete review.)
42. Stay Tuned, Brand New Strings (Rural Rhythm)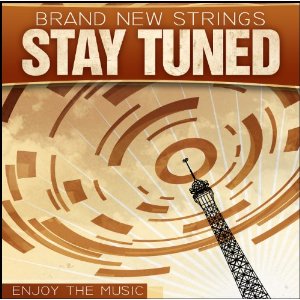 Though the latest word from Brand New Strings is but seven songs total clocking in at a bit more than 21 minutes playing time, the quintet's music is so effervescent and so honestly rendered you feel like you've heard more than the disc offers. Which may speak to the substance the songs offer but also says a lot about the depth of singing and playing offered by this slightly reconfigured lineup (bassist Tony Mowell and hotshot fiddler Preston Schmidt are new to the lineup that recorded the band's acclaimed 2010 debut, No Strings Attached, with founding members Randall Massengill, Mike Ramsey and Stuart Wyrick still holding down the fort).
Six of the seven tunes are band originals, with the lone cover being a delightful, bluesy sprint through "I Washed My Hands In Muddy Water" featuring an emphatic lead vocal from Ramsey along with tasty, discursive solos by Wyrick (banjo), Schmidt and Brandon Bostic on resophonic guitar. Ramsey is especially effective, and the smooth harmonies most affecting, in extolling Christ's humanity and sacrifice in the Ramsey-penned, upbeat gospel celebration, "Behold the Lamb," with the accompanying instrumental solos striking a balance between exuberance and reverence, in perfect sync with the tune's ambiance. Of two Massengill originals, the opening barnburner, "Other Side of Lonesome," to which Massengill contributes an emotional lead vocal ahead of Ramsey's rousing mandolin break, speaks to the singer's heartache even as it can be read as a missive from the struggling 99 percenters. Yes, you wish there were more, but there will be. Stay tuned: Brand New Strings is in a good groove. (Stay Tuned was reviewed in the April 2012 issue of TheBluegrassSpecial.com. Click here to go to the complete review.)
Brand New Strings, 'Other Side of Lonesome,' from Stay Tuned
43. Surrender, Shekinah Glory Ministry (Kingdom Records)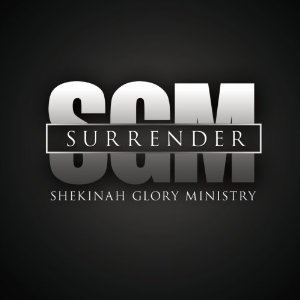 Although Shekinah Glory Ministry's 2010 Refreshed By Fire debuted at #1 on Billboard's Top Gospel Albums chart, there were some who felt the two-disc set did not produce a new batch of infectious praise anthems for which the Chicago-based group has been known to deliver. Worship leaders who eagerly await SGM's latest offerings with the same zeal that gospel chorus directors once anticipated Thompson Community Singers releases will be pleased.  Surrender, SGM's new disc and fourth original CD, sounds tighter, leaner, and more vigorous than Refreshed. It may be its best album since Praise Is What I Do in terms of song quality and variety. (Surrender was one of gospel editor Bob Marovich's Gospel Picks in the October 12 Deep Roots. Click here for the complete review.)
Shekinah Glory Ministry, an album preview of Surrender
44. The Blanco Sessions, Janis Martin (Cow Island Music)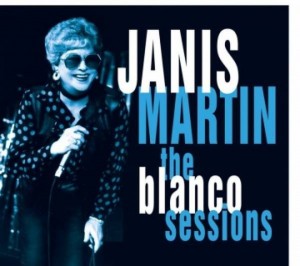 As a 15-year-old teen rocker out of Virginia, Janis Martin was signed to RCA and aggressively promoted as "the female Elvis." Between 1956 and 1958 she cut 26 sides for RCA, one of which sold 750,000 copies. Her status as a mere footnote in rock 'n' roll history is one of those mysteries that cannot be attributed to inferior recordings, because hers were solid in every respect, including attitude. In 2006 dedicated Martin fan Rosie Flores got a team of ace musicians together and produced 11 choice tracks, all rock 'n' roll evergreens Martin had never before committed to disc. After shopping the album for four years to no avail, Flores launched a successful Kickstarter campaign and then got support from Cow Island Music, and those recordings, titled The Blanco Sessions, finally saw the light of day. Guess what? It's terrific. Comprised almost entirely of uptempo rockabilly and honky-tonk tunes, it rocks, it rolls and generally makes you want to follow the advice Martin suggests in the album's second track, from the pen of the great Charles Calhoun, namely to "Wham Bam Jam." And if in her younger years she worked in the shadow of Wanda Jackson, she had the last laugh, because Martin's sturdy, deep voice has aged far better than Jackson's, and man, does she ever have rock 'n' 'roll spirit to beat the band. Unfortunately, Ms. Martin passed away on September 3, 2007, only four months after finishing the sessions with Flores. Though it was not her fate to enjoy the acclaim that has greeted The Blanco Sessions, or the recognition of the contribution she made to rock 'n' roll history in her youth, Janis Martin at least departed this mortal coil certain she had given it her all, and her all was more than good enough, during those hectic two days in Texas. (Click here for the complete review in Deep Roots, Octobr 19.)
Janis Martin, 'As Long As I'm Moving,' from The Blanco Sessions
45. Safety Fifth, Mucca Pazza (Electric Cowbell)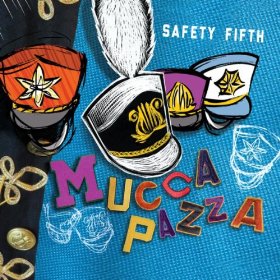 The next time you hear anyone disparage or mock school marching bands, please, first, call them to account for the disrespect they show for what it takes to be part of a good marching band; second, direct their attention to Chicago's irrepressible 30-piece self-described "circus punk marching band" Mucca Pazza, whose membership includes not only skilled musicians but cheerleaders and pom-pom girls as well. Third, maybe take any and all naysayers to see this delightful aggregate in concert (they're taking over the Double Door in Chicago on October 31–buy tickets here). And fourth, dig the band's third and latest album, Safety Fifth, on Electric Cowbell Records (its first long player since 2008's Plays Well Together, with a title that makes you wonder if it wasn't inspired by Harold Lloyd's classic comedy of 1923, Safety Last, which gave us the iconic image of Lloyd desperately grasping the hands of a clock as he dangles from the side of a skyscraper–somehow it seems to fit the Mucca Pazza aesthetic), a mish-mosh of so many influences it's fruitless to list them all. But at root, Mucca Pazza begins with a solid foundation of classic '60s soul music and builds on that with various rock, Latin and classical influences, with something of Spike Jones's anarchic sensibility thrown in for good measure. As a reporter for World Music News Wire noted, "They march in formation, rip through drum cadences, bust out cinematic stories, and incite mass dance outbreaks. They channel everything from Bartok to a love-struck Godzilla, re-imagine the uptight 19th-century march, and make up soundtracks for classic Egyptian movies that never happened." (Click here for the Mucca Pazza feature, "Revenge of the Band Geeks," in the October 12 Deep Roots.)
Mucca Pazza, official video for 'Boss Taurus' from Safety Fifth
46. He Keeps His Promise, Angela Spivey (Innovative Records)
He Keeps His Promise finds "The Princess of Gospel" in fine form, a wooden-church gospel shouters with the lung capacity of giants such as Pastor Shirley Caesar, Evelyn Turrentine-Agee, and Lemmie Battles. The songs on the CD are variously traditional and contemporary gospel, and almost uniformly about encouragement, hope, and deliverance. He Keeps His Promise suggests that no matter how adventuresome gospel music gets, no matter how much praise is channeled through techno and auto-tune, there will always be singers like Angie Spivey with the soul force to shout the rafters down. (He Keeps His Promise was a Bob Marovich Gospel Pick in the June 2012 issue of TheBluegrassSpecial.com. Click here for the complete review.
Angela Spivey, the Princess of Gospel, offers a fiery live version of 'He Keeps His Promise' at After Church Live.
47. Royal Southern Brotherhood (Ruf Records)
You may think these fellows rather audacious in naming themselves Royal Southern Brotherhood, but when you see their lineup includes an Allman, a Neville and a Zito, well, good to see you, fellows. As the good Count Dracula would say, "Welcome to my house. Come freely. Go safely; and leave something of the happiness you bring." No problem there, as the RSB's debut album is a solid, multi-textured, expansive and bracing exultation deeply rooted in southern rock and blues with lyrical aspirations to take you higher. The Royalty part of the lineup is one Devon Allman, son of Gregg, on guitar and vocals; one Cyril Neville, of Nevilles fame, on percussion and vocals; and Mike Zito, of Mike Zito fame, on guitar and vocals and continuing a successful resurrection after drug problems laid him low and homeless in Florida. This triumvirate is formidable indeed: the 63-year-old Neville, veteran of the bunch, carries the load vocally. His voice seasoned and lively, with an intriguing mix of grit and silk in it, gives the RSB personality to burn by being able to declaim ("New Horizon") and to ache ("Moonlight Over the Mississippi") with equal force. Allman and Zito comprise a daunting guitar duo, and though it's frustrating that the liners don't indicate which one is taking the lead on the various tracks, there seems to be a method in their madness in doing so, in the way their trebly, astringent runs and long, flowing lines seem to blend in one voice. What a great start for the Royal Southern Brotherhood, with an album of meaty, memorable original songs, spectacular instrumental fireworks executed with showmanship and nuance both in mind, and deeply felt vocals. How about that? In the end, rather than coast on their given surnames, they more than earned their self-bestowed sovereignty. (Click here for the complete review.)
Royal Southern Brotherhood, 'Gotta Keep Rockin',' filmed on location in New Orleans during the group's formative sessions
48. Still Called the Blues, Quintus McCormick (Delmark)
Singer, songwriter and stellar guitarist Quintus McCormick keeps adding to his fan base with each new album, and what blues fans in Chicago have known for a while might well become common knowledge among blues fans in other precincts around the country, namely that Mr. McCormick is one of the most reliable proponents and purveyors of in-the-pocket urban blues. He doesn't look to re-invent the wheel, but rather reminds listeners that the fraught territory of human interactions–especially that gulf between the sexes–is where this music lives, and it's still called the blues.
The male-female nexus brings out the best in McCormick's writing (and in his choice of outside material), and his guitar work follows in lockstep with his pointed, often humorous takes on his lovelife. In "That's My Baby," he extols the virtues of a woman sensitive and attentive to his every mood, a real gem he describes in this priceless observation: "On the streets she's straight Mary Poppins/in the sheets a diabolical freak," which is the best use of the word "diabolical" in a song in ages. No novelty tune this, though, but rather a sweet, pastoral, deeply felt love song with a '70s soul feel, thanks to Jerry DiMuzio's fluttering flute lines dancing like a butterfly around McCormick's Johnny Taylor-ish come-on. (Still Called the Blues was reviewed on October 12 in Deep Roots. Click here to go the complete review.)
49. U.S. 50, John Fries (John Fries Music) (Sept)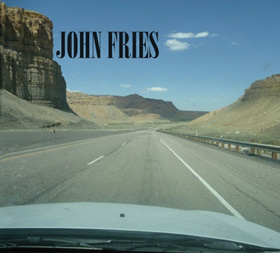 Titling his fourth EP after U.S. 50, one of America's legendary coast-to-coast highways (a stretch of which, in New Mexico, was dubbed by Life magazine as "The Loneliest Road in America"), New York-born, Connecticut-based blues singer-songwriter-guitarist John Fries (backed by his band The Heat—Pat Perry on bass, Ron Lewis on drums and percussion) makes it pretty clear which section of the road he's on—he's out there on desolate turf, "a million miles from home," as he sings in the opening track, "Another Love," trying to make sense of himself in the throes of heartbreak. In his husky, Bob Seger-like rasp and bluesy moan, Fries first admits as to how a certain significant other has really got a hold on him (again, "Another Love," spiked with a furious blast of Fries's own electric guitar howls), before turning on a dime in the funky, Allmans-like "Defeat" and announcing, "Say goodbye to you and me/seems clear we won't make it to the end." Nothing good really happens in "Defeat," but the sparkling twin-guitar leads, the soaring, fat-toned solos, the jittery rhythmic pulse and Fries's equanimity in facing reality suggest resilience on his part—a premature judgment, perhaps, because in the next song, the amusingly titled "My Dearest," he's stalking his woman, and suggesting in ominous terms, "If I can't have you, no one will," as his dark, ruminative guitar soloing gradually intensifies until it returns to a full, searing howl, his terse, searing lines elevating and soaring overhead. (U.S. 50 was reviewed in Deep Roots, September 7, 2012. Click here for the complete review.)
John Fries and The Heat perform the title track of his U.S. 50 album at Hygienic Art Park, July 3, 2010
50. All the Way to Bethlehem, Donna Ulisse (Hadley Music Group)
From the first brisk, fingerpicked acoustic guitar notes on the album opening hosanna, "I See the Light of the World," to the near-identical melody and spirit summoned by the fiddle, mandolin and pennywhistle on the closing exaltation, "Morning In Bethlehem," and the vignettes and music that fall in between these bookends, Donna Ulisse's song cycle All the Way to Bethlehem is not merely close to perfection, it's a work of art.
Employing most of the stellar cast she teamed with on 2009's Walt This Mountain Down and 2011's An Easy Climb, both of which easily earned rave reviews in TheBluegrassSpecial.com, Ulisse has crafted a musical novella capturing multiple scenes and points of view relating to the birth of Christ, from the foretelling of his arrival to the trials of Joseph and Mary as they sought a safe place for the child's birth to the ecstatic celebrations of God's son arriving in corporeal form. It's not a Christmas album, in the sense almost every other album reviewed in this issue is a Christmas album; it's not even a holiday album. It surmounts those limiting categories by humanizing the story's major players (and in one instance a minor but key figure in the whole scheme of things), by allowing listeners to eavesdrop on their intimate interior monologues—or how Ulisse (who wrote some songs by herself, and others with collaborators familiar to those who have followed her career, namely Marc Rossi and her husband Rick Stanley, son of Ralph) imagines those to have been—during the run-up, if you will, to Christ's birth. In this sense, All the Way to Bethlehem combines the themes of her previous two albums in delving into matters of faith and its practical application in our daily lives (Walk This Mountain Down) and deeply personal ruminations on faith, love and commitment (An Easy Climb). (Click here for the complete review.)
Mary takes a moment to enjoy her newborn baby before giving him to the world in 'Let the World Wait For a Little While,' from Donna Ulisse's All the Way to Bethlehem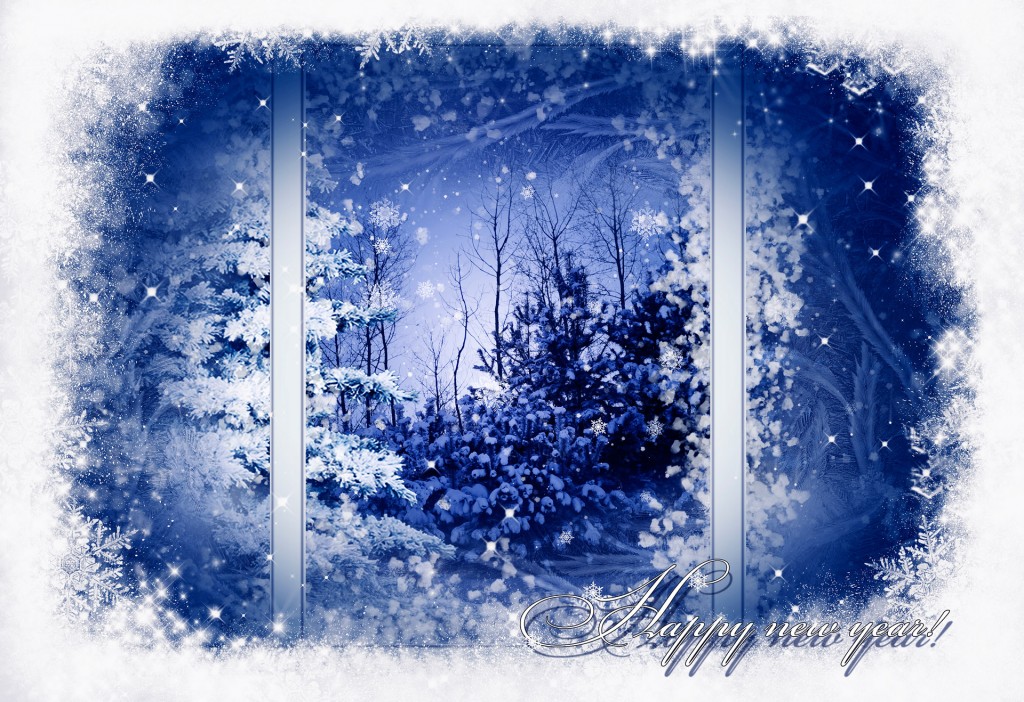 Click here for the first half of the Elite Half Hundred