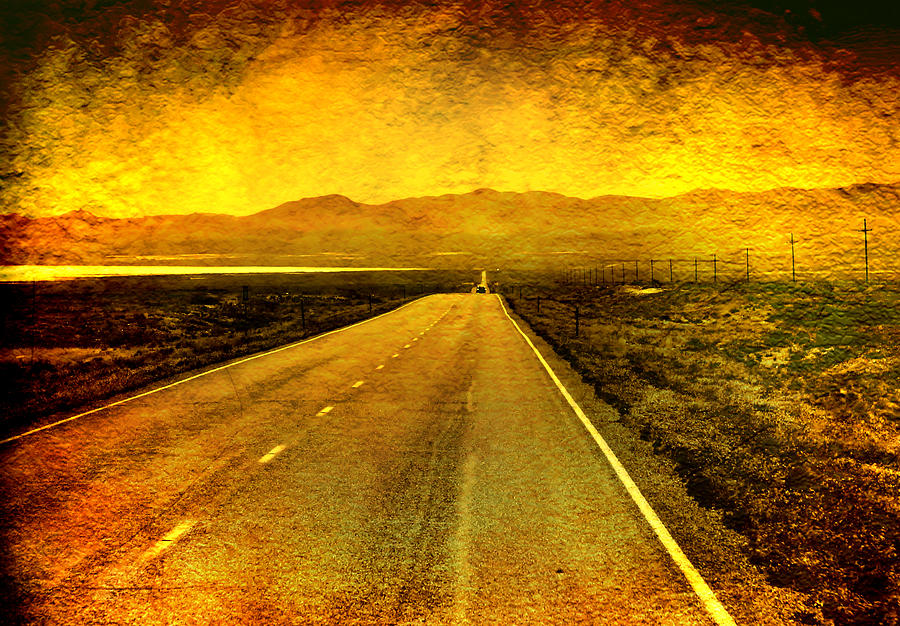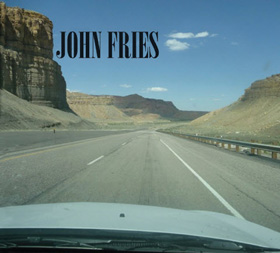 U.S. Route 50 lives in the shadow of Route 66 in the lore of legendary American highways, but it's no less awesome as either myth or fact. Built in 1926 as part of the original U.S. Highway system, Route 50 runs east and west across the nation, some 3,000 miles, from Ocean City, Maryland, to West Sacramento, California. Of course, just as the rise of the Interstate system doomed Route 66 to near-oblivion, so has U.S. 50 met a similar fate, though more of it is intact than exists of Route 66 these days. More important to the discussion here, Nevada is home to a section of U.S. 50 so bereft of services or civilization—a 287-mile "stretch of next to nothing," as Suzy Guese describes it at onetravel.com–that Life magazine dubbed it "The Loneliest Road in America."
[divider]
John Fries & The Heat (with Nancy Parent on keyboards) perform the title track from U.S. 50 at the Eugene O'Neil Theatre in Hartford, CT.
Titling his fourth EP after U.S. 50, New York-born, Connecticut-based blues singer-songwriter-guitarist John Fries (backed by his band The Heat—Pat Perry on bass, Ron Lewis on drums and percussion) makes it pretty clear which section of the road he's on—he's out there on desolate turf, "a million miles from home," as he sings in the opening track, "Another Love," trying to make sense of himself in the throes of heartbreak. In his husky, Bob Seger-like rasp and bluesy moan, Fries first admits as to how a certain significant other has really got a hold on him (again, "Another Love," spiked with a furious blast of Fries's own electric guitar howls), before turning on a dime in the funky, Allmans-like "Defeat" and announcing, "Say goodbye to you and me/seems clear we won't make it to the end." Nothing good really happens in "Defeat," but the sparkling twin-guitar leads, the soaring, fat-toned solos, the jittery rhythmic pulse and Fries's equanimity in facing reality suggest resilience on his part—a premature judgment, perhaps, because in the next song, the amusingly titled "My Dearest," he's stalking his woman, and suggesting in ominous terms, "If I can't have you, no one will," as his dark, ruminative guitar soloing gradually intensifies until it returns to a full, searing cry, his terse, searing lines rising and soaring overhead. The affecting "We Can Lie," a sister song to "Another Love," finds Fries again rapturously recalling the good times, and the grip a particular woman has on his heart; it's the EP's most arresting moment, a pure, unbridled (and unambiguous) pledge of love on Fries's part, expressed in a tender, blue-eyed soul vocal of wondrous feeling, cushioned by the warm, surging horns of Curt Ramm (trumpet) and Bill Holloman (tenor and baritone sax) and sensual, understated keyboard work of Kerry Pulaski. Funky and slow boiling, "Technicolor You," with its scalding, trebly guitar solo and percolating keyboards (Kerry Pulaski again), recounts Fries's ill-advised effort to revisit an old flame, only to find some memories are better left alone; the simmering soul ballad "Tomorrow," however, finds him remorseful over his impetuousness in chasing his gal away—typical of the schizoid nature of the internal battles he fights in these songs.
John Fries, a solo acoustic version of 'Technicolor You' from U.S. 50
Nearly six minutes long, the title track closes the EP on a reflective note. Singing over his delicately fingerpicked guitar and Nancy Parent's softly moaning pedal steel, Fries is at large on the land, kissing off the love he's leaving behind ("I miss you more than ever, but your dreams were never mine…") for "some peace of mind/learn to love again someday." With this the resilient character we met in "Another Love" returns, but with more resolve to open his heart anew. Pulaski's keyboards evoke a mood of spiritual solemnity, Fries injects a bright gleam into the melody he's picking out on his guitar, and as his spirit elevates he announces: "somehow the open road doesn't feel so all alone this time/there's a lonely stretch of U.S. 50 starts to feel like home, yeah…" When he exits with a whispered, "you know I miss you, baby, more than you ever know/you know I miss you, darlin'/you know I had to go-oh…" the strength in his voice is that of a man made whole again. However it may look to the naked eye, seems there's a whole lotta life yet to be found on the Loneliest Road in America. On U.S. 50, John Fries charts the journey of a wounded wanderer who struck a motherlode of healing out there.