The next time you hear anyone disparage or mock school marching bands, please, first, call them to account for the disrespect they show for what it takes to be part of a good marching band; second, direct their attention to Chicago's irrepressible 30-piece self-described "circus punk marching band" Mucca Pazza, whose membership includes not only skilled musicians but cheerleaders and pom-pom girls as well. Third, maybe take any and all naysayers to see this delightful aggregate in concert (they're taking over the Double Door in Chicago on October 31–buy tickets here). And fourth, dig the band's third and latest album, Safety Fifth, on Electric Cowbell Records (its first long player since 2008's Plays Well Together, with a title that makes you wonder if it wasn't inspired by Harold Lloyd's classic comedy of 1923, Safety Last, which gave us the iconic image of Lloyd desperately grasping the hands of a clock as he dangles from the side of a skyscraper–somehow it seems to fit the Mucca Pazza aesthetic), a mish-mosh of so many influences it's fruitless to list them all. But at root, Mucca Pazza begins with a solid foundation of classic '60s soul music and builds on that with various rock, Latin and classical influences, with something of Spike Jones's anarchic sensibility thrown in for good measure. As a reporter for World Music News Wire noted, "They march in formation, rip through drum cadences, bust out cinematic stories, and incite mass dance outbreaks. They channel everything from Bartok to a love-struck Godzilla, re-imagine the uptight 19th-century march, and make up soundtracks for classic Egyptian movies that never happened."
Mucca Pazza is, in short, the revenge of the band geeks. They win.
Mucca Pazza performs 'Boss Taurus' from its new album, Safety Fifth, at its CD release party at The Hideout in Chicago.
"We look like a marching band and occasionally behave like a marching band, but we don't sound like one," explains Gary Kalar, mandolin player and member of Mucca Pazza's "freak" section of stringed instruments and accordion. "We care about the music we play; it's not a novelty thing. We just don't fit into any hyphenated genre."
"We're a marching band that thinks we're a rock band," adds sousaphone player Mark Messing.
Perhaps to emphasize that point, every Sunday morning when in Chi-town, the entire group gets together for open-air rehearsals in gritty factory parking lots, where their music plays out against a backdrop of twisted metal and piles of slag and before a growing number of dedicated fans that revel in the locale's Rust Belt authenticity and in the lively, spirited music so at odds with the mise-en-scene.
One can only ask why.
"We figured no one would bother us in an industrial area," responds Messing. "It was also weirdly inspiring to be there, by ourselves on the Chicago River, among all these big scrap yards. We felt like we were putting together something from scrap.
A sampling of tunes from Mucca Pazza's new album, Safety Fifth
"We came together in a whole bunch of ways. The connections were pretty random," says trombonist Elanor Leskiw. "Some of us met while protesting the war here in Chicago. Many of us are involved in theater and music for theater. About seven of us wanted to explore playing original compositions and just have an outlet. As a composer, you don't have an ensemble to try out new music, unless you're at an academic institution or orchestra. It grew from there. We were having so much fun playing at the parking lot at noon. People would show up to listen every week, with donuts and coffee."
"All the rock bands and the singer-songwriters have a place to be, but we grew up in school bands," Messing adds. "We had to come up with our own alternative that was fun."
The alternative evolved during those impromptu Sunday sessions, melding a devil-may-care rock vibe with the devil's-in-the-details focus and precision of the best marching bands. Cheerleaders praising the wonders of integers and verbs-or staging bold rallying cries against the Dewey decimal system-became part of the team, as did a motley crew of unexpected instruments.
Mucca Pazza helps its fellow Chicagoans celebrate National Bring Your Marching Band to Work Day on August 12. Video posted on YouTube by MuccaPazza.
For example, when guitarist Jeff Thomas approached the band, psyched about the music but dismayed that he only played guitar, the helmet amp was born: a hockey helmet DIY-melded with a tiny loudspeaker. "The hockey helmet has this strange resonance, which was odd at first," Thomas says with a laugh, "but it frees you." The same setup allows mandolin, accordion, and violin to march alongside the brass, glockenspiel, and drum corps, and sparked the Mucca Pazza section lovingly dubbed "the freaks."
Freakdom adds a fresh layer to the marching band sound, as funky guitar lines talk back ("March Anormale," a slightly twisted take on 19th-century military band music) or the accordion sets the pace (the whimsical beauty of "Tube Sock Tango").
Like the band, the music also came together from disparate, awesome bits: Quirky winks at TV shows' theme songs ("Maui Waui 5-0" is a '70s-style car chase of a romp, for example) meet garage band songs gone drum and brass (the bad-ass "Boss Taurus"). A fascination with the work of Ennio Morricone (audible in "Hang 'Em Where I Can See 'Em") crosses paths with an evocative tango of love between the Mummy and Godzilla (the Tom Waitsian "Monster Tango"), complete with twangy, surf-style guitar and a cornucopia of whizzes, bleeps and blurts out of the Spike Jones bible of musical mayhem.
The fluid movement between genres, styles and influences matches the band's mobility. Even when performing in canoes on the Chicago River–the wild idea of an environmental non-profit that put the band in boats–the group uses formations familiar from their band geek days and high-energy drum cadences (like "Coolashell") to transition from place to place, from piece to piece. They can also set a whole audience marching-sometimes right off the street and into the club.
This dynamism is tangible in the music and makes for an audience experience that's up close and personal. "I never moved around much when I played in rock bands. I was chained to an amp," notes an appreciative Thomas. "The helmet was liberating. I could explore my body more, and it actually affected the way I played. Because of the directional quality of the helmet, I have to get really close to people. When I perform in the audience, I love getting obnoxiously close."
Mucca Pazza at New York City's The Knitting Factory, performing 'Sexy Bull,' September 12, 2009
Personal space issues aside, Mucca Pazza pushes the envelope, bringing punk aesthetics to the parade and marching band chops to the rock club. "We were marching in the Kentucky Derby parade in Louisville, with all these 100-member marching bands," Thomas recounts. "We'd march like a regular band and then with a whistle blow make these random honking noises. At the point when a TV newscaster started to announce us on the air, we started honking away, and the announcer stopped mid-band name. He said, 'I don't think we've seen anything quite like this before.'"
Courtesy World Music News Wire, with additional reporting by David McGee of Deep Roots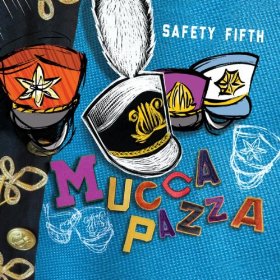 Mucca Pazza's Safety First is available at the Mucca Pazza website, along with a host of other cool merchandise and free song downloads.