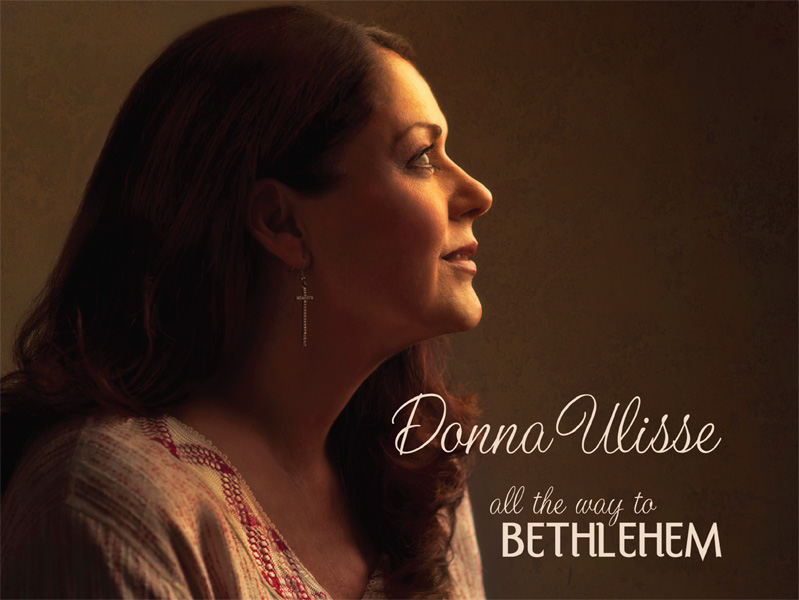 ALL THE WAY TO BETHLEHEM
Donna Ulisse
Hadley Music Group
From the first brisk, fingerpicked acoustic guitar notes on the album opening hosanna, "I See the Light of the World," to the near-identical melody and spirit summoned by the fiddle, mandolin and pennywhistle on the closing exaltation, "Morning In Bethlehem," and the vignettes and music that fall in between these bookends, Donna Ulisse's song cycle All the Way to Bethlehem is not merely close to perfect, it's a work of art.
Mary takes a moment to enjoy her newborn baby before giving him to the world in 'Let the World Wait For a Little While,' from Donna Ulisse's All the Way to Bethlehem
Employing most of the stellar cast she teamed with on 2009's Walt This Mountain Down and 2011's An Easy Climb, both of which easily earned rave reviews in TheBluegrassSpecial.com, Ulisse has crafted a musical novella capturing multiple scenes and points of view relating to the birth of Christ, from the foretelling of his arrival to the trials of Joseph and Mary as they sought a safe place for the child's birth to the ecstatic celebrations of God's son arriving in corporeal form. It's not a Christmas album, in the sense almost every other album reviewed in this issue is a Christmas album; it's not even a holiday album. It surmounts those limiting categories by humanizing the story's major players (and in one instance a minor but key figure in the whole scheme of things), by allowing listeners to eavesdrop on their intimate interior monologues—or how Ulisse (who wrote some songs by herself, and others with collaborators familiar to those who have followed her career, namely Marc Rossi and her husband Rick Stanley, son of Ralph) imagines those to have been—during the run-up, if you will, to Christ's birth. In this sense, All the Way to Bethlehem combines the themes of her previous two albums in delving into matters of faith and its practical application in our daily lives (Walk This Mountain Down) and deeply personal ruminations on faith, love and commitment (An Easy Climb).
Donna Ulisse discusses the genesis of All the Way to Bethlehem
With Keith Sewell again producing (as well as sitting in on guitar, fiddle and banjo and singing harmony vocals), and the band being an awe-inspiring lineup of Andy Leftwich (fiddle), Rob Ickes (dobro), Byron House and Viktor Krauss (upright bass) and John Mock (concertina, penny whistle), Ulisse deploys her dulcet, ringing voice in a way that is both movingly expressive and penetrating but also free and soaring—Dickens said he would laugh and cry along with his characters as he wrote his novels and stories, and you can hear that kind of keenly felt emotional investment in every nuanced phrase Ulisse shapes.
From All the Way to Bethlehem, Donna Ulisse and the Poor Mountain Boys perform 'You Cannot Stay Here.' Band members include Greg Davis (banjo), Tony King (flat top lead), Rick Stanley (acoustic rhythm), Jon Martin (mandolin) and Bobby King (bass).
The storyline goes thusly after "I See the Light of the World" opens the proceedings: "You Will Be Delivered," the angel delivers news of the virgin birth, set to an arrangement rooted in old English folk songs and addressing the couple's puzzlement over the events predicted to transpire. The briskly paced "Elisabeth" recounts the post-conception relationship between Mary and her cousin, Elisabeth, who was married to Zacharias, and presumed to be sterile, before an angel visited Zacharias and promised his wife would bear him a song, who would be John the Baptist. In fact, Elisabeth's pregnancy preceded Mary's, and when Mary went to visit Elisabeth, and first spoke to her, John is reported in Luke 1: 41 to have leaped in his mother's womb. In the song, the cousins—speaking "woman to woman, miracle to miracle," as Ulisse sings—celebrate the beauty of what has happened to them. "He's Not Mine" (written with Kerry Chater and Lynn Gillespie Chater), a soft, thoughtful ballad with soothing choruses and evocative support from Leftwich on fiddle and mandolin both, finds Joseph coming to terms with fathering a son not of his own seed, a topic that has fascinated songwriters going back at least as far as the early 15th century Feast of Corpus Christi, when "The Cherry Tree Carol" was purportedly unveiled, featuring a testy Joseph bristling at Mary for telling him to pick cherries for them to eat, to which he suggests the unborn child's father should do it instead (at which point Jesus, speaking from the womb, commands the cherry tree to lower its branches to within Mary's reach, leading a repentant Joseph to apologize for his indiscretion). The Joseph of Ulisse's song is conflicted but ultimately accepting of his fate, vowing to love the child as if He were his own. "All the Way to Bethlehem" and "You Cannot Stay Here," the former loping but with a certain urgency of the moment, the latter, keyed by Sowell's stark, lonesome banjo, recount the travails of the journey to Bethlehem: the title track is a dialogue between a weary, frazzled Joseph (realized in a spot-on, slightly wobbly vocal by Sowell) and a trusting Mary regarding the wisdom of their long and trying journey to Bethlehem, whereas the latter song, a somber, plaintive ballad, finds the couple encountering resistance from an innkeeper when seeking shelter in Bethlehem but being offered instead accommodations in his stable (written solely by Ulisse, this song contains one of her most beautiful lyrics, to wit: "Innkeeper, my wife Mary carries part of Heaven/please don't turn us away"). To Rick Stanley's heart tugging melody, lovingly enhanced by strings, mandolin and, from Leftwich, exquisite, aching fiddle support, Ulisse assumes Mary's voice in "Let the World Wait For a Little While," in the uncommon role of enjoying her baby's birth before she gives him to the world; or as Ulisse explains in her liner notes, "I grieved a little for Mary and wanted her to have her baby all to herself if only for a brief time. Long enough for her to marvel over his little fingers and toes, to cuddle him and share her new love with Joseph and her Messiah son." The fear and wonder of the shepherds in the fields at the news delivered by Gabriel of the Savior's arrival is vividly imagined in the hymn-like beauty of "He Is Here," whereas the Star of Bethlehem eagerly accepts its mission as a guiding light in the jubilant, fiddle-fired bluegrass workout of "I'm Gonna Shine," and the three Wise Men, beneficiaries of the Star's commitment, announce their single-minded mission, no matter the dangers posed by King Herod's decree, in the denouement, "We've Come to Worship Him," all bright, buoyant and driving, with key atmospheric propellants in the form of Ickes's swooping dobro lines and Sowell's eager banjo plunking beneath Ulissse's triumphant exhortations. All of which sets up the closing perorations—that same melodic strain we heard at the start that ties everything together at the end–of the aforementioned "Morning in Bethlehem."
In 'I'm Gonna Shine,' the Star of Bethlehem eagerly accepts its mission as a guiding light for the three Wise Men. From All the Way To Bethlehem, performed by Donna Ulisse and the Poor Mountain Boys on the Tennessee Mornings TV show.
The Christmas story and something more, All the Way to Bethlehem transcends not only the timeframe of its narrative but our own time as well. It belongs, at once, to all seasons and to the ages.
Follow this link to TheBluegrassSpecial.comj's January 2009 review of Donna Ulisse's Walk This Mountain Down.
Follow this link to TheBluegrassSpecial.com's September 2011 review of Donna Ulisse's An Easy Climb.
And follow this link to TheBluegrassSpecial.com's CHRISTMAS 2012 issue, 'In Dulci Jubilo,' featuring Donna Ulisse's All The Way to Bethlehem as one of our 2012 Picks.