…the focus is on joy and optimism…
LIMITED EDITION
Bryan Wilson
Bryan's Songs Records (2012)
"This is the best time of my life," Bryan Wilson sings on the opening track of his new CD, Limited Edition. It sounds like it.  Wilson channels positive energy through his voice and the electric crispness of the production.
Released in late September, Limited Edition is a collection of new Bryan Wilson recordings, of which only one—his recent single, "Expect You Now"—will appear on his forthcoming full-length project, due out in 2013. It is indeed a limited edition, with only a few pressed, but executive producer Bil Carpenter reports that it has already received remarkable support from college radio.
Wilson has to be happy about that, too. Joy and optimism, in fact, are the focus of this collection, both in terms of lyrics and melody. In particular, "It Will Happen," "El'gebra (You And I = 1)," and "Everybody Clap Your Hands" bristle with hopeful enthusiasm.
Bryan Wilson in a soul stirring workout on Eugene Smith's classic gospel blues, 'I Know the Lord Will Make a Way,' in a live performance at his CD release party in Champaign, IL. Video produced by Bryan Crowdson, edited by Jon Schwab and posted at YouTube by Brian Crowdson.
The album also finds Wilson shuttling back and forth between urban AC and traditional approaches to sacred music. He can be hip, as on "Everybody Clap Your Hands," with its chirpy motive, then hit otherworldly high notes on an updated arrangement of "I Need Thee Every Hour." Wilson riffs on Eugene Smith's classic gospel blues, "I Know The Lord Will Make A Way," recorded during a live performance in 2008. Another song from the live performance is "If You're Talking About Jesus," where he assumes a sanctified preacher's tone to lead the congregation on this aisle dancer. For the concluding "Just Fine," Wilson plants one foot in each camp.
There's no doubt that Bryan Wilson is a talented singer and that his debut as a child with the Mississippi Mass Choir was just the beginning of a long career. Whether contemporary or traditional, the music on Limited Edition leaps off the disc.
Picks: "Expect You Now," "If You're Talking About Jesus."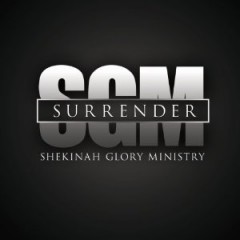 '…tighter, leaner, more vigorous…'
SURRENDER
Shekinah Glory Ministry
Although Shekinah Glory Ministry's 2010 Refreshed By Fire debuted at #1 on Billboard's Top Gospel Albums chart, there were some who felt the two-disc set did not produce a new batch of infectious praise anthems for which the Chicago-based group has been known to deliver.
Worship leaders who eagerly await SGM's latest offerings with the same zeal that gospel chorus directors once anticipated Thompson Community Singers releases will be pleased.  Surrender, SGM's new disc and fourth original CD, sounds tighter, leaner, and more vigorous than Refreshed. It may be its best album since Praise Is What I Do in terms of song quality and variety.
Shekinah Glory Ministry, a live version of 'Champion,' the first single from Surrender
SGM demonstrates plenty of extroverted energy out of the gates. The first three tracks—"Worthy," "Open Up the Heavens," and "Come On"—are perky and hard hitting, with fundamentally simple, easy-to-teach lyrics and melodies. The songs also have pronounced hooks, whether it's the choir's wordless vocal riffs during "Open Up the Heavens" and "Without You," or the punchy urban AC-style rhythm on "You God." "By Faith" even contains a smidgen of a sanctified beat.
"Champion," the album's current single, is basted in SGM's cool-down, hypnotic ambience, though the female lead, Danielle Nightingale Cargo, has a heraldic voice that raises the temperature of the praise to near boiling. "Broken" is a dramatic soliloquy about discovering the unexpected prices associated with discipleship. "Peace For My World" is bittersweet: its meditative message encourages peace in daily life, but the vocalist, Pepe Epting, passed away in June.
Whereas Refreshed By Fire was a Shekinah Glory Ministry worship service in a box, Surrender is a series of SGM P&W songs that should please worship leaders and fans alike.
Picks: "Worthy," "By Faith."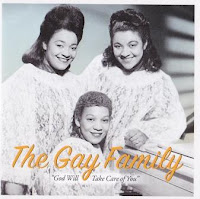 a marvelous tribute to gospel pioneers
GOD WILL TAKE CARE OF YOU
The Gay Family
Ask someone to name a female gospel group from Chicago, and he or she is likely to answer, "the Caravans." And that makes sense, as the Caravans were one of the most popular gospel groups of all time.
But before, during and after the Caravans were the Gay Sisters of Chicago. Evelyn, Mildred, and Geraldine Gay (their brother Donald joined them later) defied the prevailing stereotype of the Pentecostal singer by dressing in the finest clothing and infusing hymns and gospels with harmonies performed with sweetness, precision, and that straight-outta-Chicago lyric attack.
Thanks to Per Notini and Gospel Friend Records, a collection of classic Gay Family recordings from the 1940s to the 1970s is commercially available on CD for the first time. God Will Take Care of You, named for the Gay Sisters' first single and biggest hit, is a roughly chronological sampling of the family's recordings for Savoy, Decca, Rush, Song Bird, PEA, B&F, Davis, and other labels. The CD also includes their first, and extremely rare, single, "Just A Little Talk With Jesus," recorded in 1948 for Dolphin's of Hollywood.
If you, like me, have heard many of these recordings before, you will be pleased to listen to them cleanly remastered and without the snap, crackle, and pop of used vinyl. What also struck me in hearing the 27 selections in sequence is just how dominant was the jazz influence on the Gay Family's music. From Mildred and Geraldine's piano styling (Geraldine was referred to as the "Errol Garner of Gospel") to Donald's chesty baritone, the drive of urban jazz is evident throughout. On "I'm a Soldier," Evelyn plays the piano as if she took lessons from Arizona Dranes. On tracks such as "So Glad I Know" and "Heavenly Home," it is easy to imagine that Donald and Evelyn, respectively, could easily have become successful jazz and blues singers.
Among the musicians and singers assisting the Gay Family on various selections are Jessy Dixon and the Gospel Chimes, saxophonist Ben Branch, organist Willie Webb, and violinist William Petty. Petty has been forgotten today, but in the 1940s and 1950s, he was quite popular among gospel and classical artists alike.
Robert Sacre's liner notes, informed by a lengthy interview with Donald Gay, are fascinating and describe a circumstance in Geraldine's life that took me by surprise when I first heard of it, but I won't spoil it here. You'll have to read it for yourself.
God Will Take Care of You is a marvelous tribute to the Gay Sisters. It will whet appetites to learn more about the group, and hear more of their music.
Picks: "I'm Goin' to Walk Out in His Name," "I Shall Not Be Moved."
a sacred love treatise
RELATIONSHIPS
Darryl Henry
Rhema Records, Inc.
www.reverbnation.com/darrylhenry
Sacred love songs are the rage these days.
Fred Hammond's recent two-disc Love, God & Romance, put it all in perspective. Kevin Levar's wedding-day ballad, "We're Just Getting Started," was made into a single. The most popular essay on The Black Gospel Blog is a list of gospel songs suitable for weddings.
Singer-songwriter Darryl Henry contributes to the sacred love oeuvre with Relationships. It is a full-length and (basically) quiet storm-accompanied treatise on making relationships work. On the opening track, "Teach Me How To Love," Henry sets the record straight for those who may think his album is a secular offering in inspirational clothing: he calls on God for instruction on how to be a good husband. He follows this track with "I Love You," a song of love for God who was there for him when times were rough.
From there, the songs on Relationships are about love for man, woman and God. Sometimes the lyrics are explicit about the love interest and sometimes they invite interpretation. For example, on "Now That I'm Yours," the lovely-voiced Shamica Muniz seems to be singing about a human love interest, though the song could just as easily be interpreted as a song about love for God. Muniz assists Henry throughout the project, providing the female perspective.
One of the album's more energetic tracks, "Build Me Up," calls for couples to use supportive words to build up, not knock down. Similarly, "Dialog" offers lessons for better one-on-one communication.
While Relationships stays on point, some melodies and lyrics work better than others. The final track, "If You Stay," concludes that we all make mistakes because we are works-in-progress. Its story line could have been woven through the CD as a series of interstitials, not unlike what Hammond did on his project. Nevertheless, Relationships has its finger on the pulse of Christians looking for love in all the right places.
Picks: "Now That I'm Yours."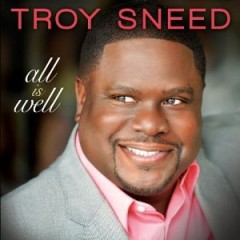 'one of the most consistent gospel singers around'
ALL IS WELL
Troy Sneed
Emtro Records
If, to paraphrase the subtitle of Anthony Heilbut's The Gospel Sound, gospel music is good news in bad times, Troy Sneed's All Is Well fits the definition.
Snuggled in on Sneed's new album, among a handful of songs expressing praise and gratitude, are poignant and relevant gospels searching for answers to today's pressing problems. On the title track, Sneed tells of his own confrontation with bad times and reminds listeners that to find the good news, they need to "give it all to Jesus." On the current single, "Lay It Down," Sneed recommends laying problems "at the feet of Jesus." While the ubiquitous James Fortune interjects in assent, Sneed expresses his inner search in the prayerful, "I Know You Hear Me."
A stirring inspirational message from Troy Sneed's All is Well album, 'Lay It Down'
The Grammy-nominated Sneed is one of the most consistent gospel singers around. Not a histrionic singer by any stretch—the finest arrow in his quiver is an impressive soaring falsetto—Sneed croons troubles over. Although he wrote the title track, he relies on a stable of songwriters to fill out his album.  Producer James Johnson, who delivers a crisp product, is among the songwriters. An especially fine contribution from him is "God Will Show Up." It is a Sunday song about faith and belief with the timeless quality of a contemporary hymn by Donald Lawrence.
The title track from Troy Sneed's All is Well
Dr. Leonard Scott's "Bless the Lord," a tuneful praise song with jazz in its DNA, is blessed by the brassy work of Mo' Horns. Give me real horns over synthetically produced brass on a keyboard any day.
With relevant lyrics and a Sunshine State breeziness, what's not like about Troy Sneed's All Is Well.? All is well, indeed.
Picks: "Lay It Down," "God Will Show Up."
Bob Marovich is a gospel music historian, radio announcer and author. His "Gospel Memories" radio program of vintage black gospel music and artist interviews airs live first Sundays from 3 a.m. to 7:30 a.m. on Chicago's WLUW 88.7 FM, and streams live at the station's website. Snippets of recent broadcasts can be heard online at the Gospel Memories Radio Show. Bob is also founder and editor of The Black Gospel Blog.