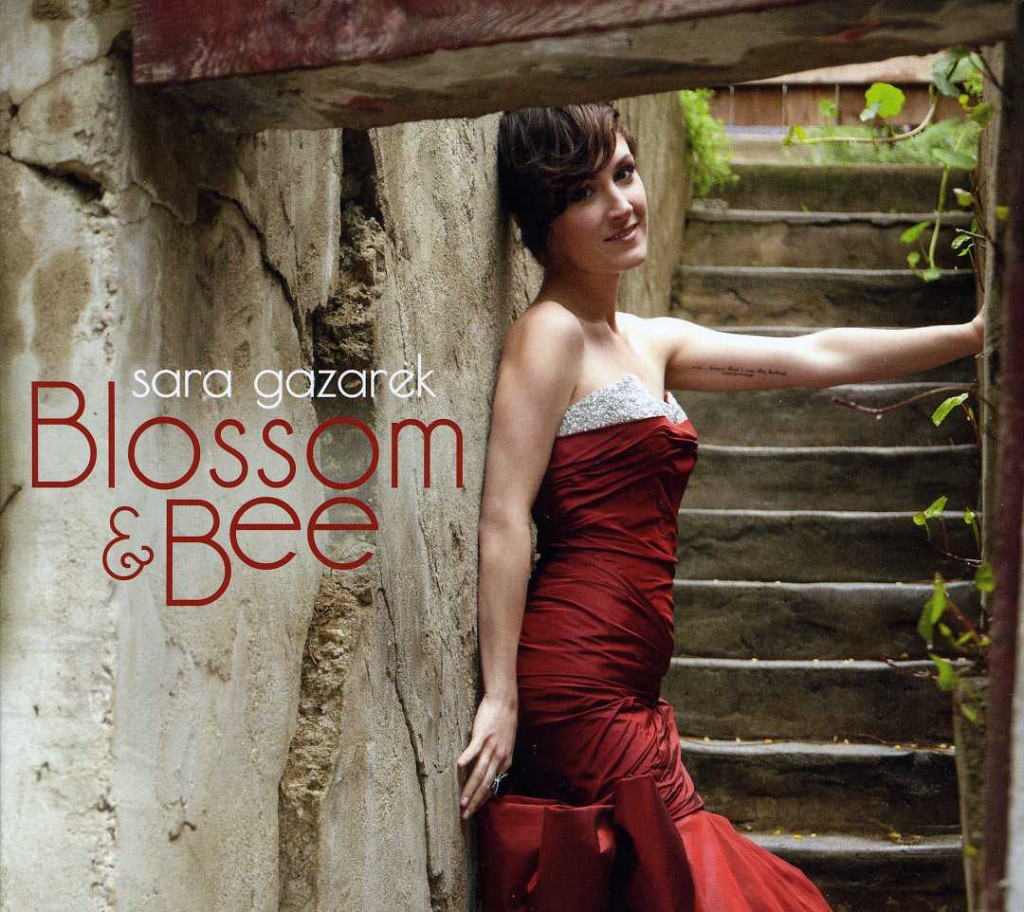 Although she has been compared favorably to Blossom Dearie, Seattle-born, Los Angeles-based pop-jazz singer-songwriter Sara Gazarek, while displaying a semblance of Ms. Dearie's wit and unusual phrasing, is closer in spirit and style to, on the one hand, Tierney Sutton, with whom she studied at the USC Thornton School of Music and shares a penchant for working wonders with the Great American Songbook; and the young Ella Fitzgerald, from whom Ms. Gazarek seems to have learned much in the way of a spirited, rhythmically charged attack (including a certain affinity for scatting). Sure enough, as a high school senior she was awarded the first-ever Ella Fitzgerald Charitable Foundation Outstanding Jazz Vocalist Award at the Essentially Ellington Festival in New York City. Yet another formidable vocalist with whom Ms. Gazarek strongly resembles at times is the towering Doris Day, she of the sweet but slyly sultry delivery that translated into millions upon millions of records sold.
The last we heard from Ms. Gazarek was this past spring, when she joined in with Bernhard Schüller's Triosence, singing lead and co-writing the original songs for the German trio's compelling study of aspects of love, Where Time Stands Still (reviewed in the May 2012 issue of our previous incarnation as TheBluegrassSpecial.com). Blossom & Bee, her new solo album, is, however, her first in five years, following 2007's impressive Return To Yours, which included both original songs and revitalized covers of Billy Joel's "And So It Goes" and Joni Mitchell's "Carey" (who also belongs on the list of influences Ms. Gazarek has absorbed); she even applied a fresh coat of paint to Leonard Cohen's oft-covered "Hallelujah," with a measured vocal over a minimal, chamber-like arrangement. No mean feat, that.
From Blossom & Bee, a live version of 'I'm Old Fashioned,' from the 1942 film You Were Never Lovlier, starring Fred Astaire and Rita Hayworth. This performance was captured during the artist's July 2012 appearance at Anthology in San Diego. The band includes Sara on glockenspiel, Josh Nelson on piano, Dave Robaire on bass and Zach Harmon on drums.
On Blossom & Bee Ms. Gazarek leans more on the Great American Songbook than she did in 2007, but supplements songs by Mercer-Kern, Harburg-Arlen, Rodgers-Hart, Comden-Green-Bernstein, et al., with a smattering of more contemporary material, original and otherwise. No matter the songs' sources, the singer emerges triumphant–more mature in the thoughtfulness of her singing and bracingly confident in her sense of her voice as an instrument. Be it messy or enthralling, love remains her dominant theme, and this album is yet another of her attempts to get a handle on it.
Those who have compared her to Blossom Dearie will be strengthened in their conviction by two warm covers of songs Dearie also put her stamp on. The one that will likely stay with listeners is her spare, piano-and-vocal take on Francesca Blumenthal's "The Lies of Handsome Men" (covered not only by Ms. Dearie but also memorably by Margaret Whiting, in 1986, and Cleo Laine, in 1994). The lyrics find the singer admitting to longing for affection so much she'll pretty much fall for any line from any man, no matter how obvious or insincere his ploys. In her liner notes Ms. Garzarek says the song's concept is one "I wish I didn't identify with, but sometimes seeing what we want in a situation is easier than facing the truth." She proceeds to sing it that way too. Josh Nelson's piano is a haunting model of discreet near-silence in underpinning a pensive vocal articulated with precisely enough caution to admit a scintilla of regret into her nonchalant pose, tipping us off that she recognizes the truth of her attitude even if she cannot face it. On a more whimsical note, she closes this project with George Newell's "Unpack Your Adjectives," a song he wrote for the popular Schoolhouse Rock animated children's educational TV show that aired on ABC from 1973 to 1985. Blossom Dearie recorded the tune in 1975, a delightful, playful version, heavy on woodwinds, perfect for the late, great Ms. Dearie's girlish voice and all the more appealing for its ramshackle, funky feel. Ms. Gazarek supplants the woodwinds with Josh Nelson's piano and Larry Goldman's organ, adds Hamilton Price on bass and Zach Harmon on drums, then assays it as a midtempo romp with pronounced jazz overtones in giving the keys room for improvisational commentary while her cheery, carefree voice glides through the arrangement.
The EPK for Blossom & Bee
As Ms. Gazarek thus honors Blossom Dearie's influence, so does she do herself proud as a writer. The title tune, her co-write, celebrates one of the best forms of love, that which arrives unexpectedly and fills up an empty place theretofore unknown to its host, so remote were her thoughts of its absence. In her style of never going overboard emotionally, Ms. Gazarek imparts her newfound joy in cool, matter of fact terms as her quartet plays a soft, jazzy shuffle, and guest vocalist-guitarist John Pizzarelli adopts the role of her equally cool suitor, seductive in his sotto voce repartee with her until they break out in the chorus with a hearty unison cry of "Love! Love! Love! Simple and true (him)/love is easy when my heart's with you!" (her). "Fly Away Birdie," another Gazarek original (co-written with Josh Nelson), counsels self-reliance and self-assurance, the trio playing it solemn as a hymn (Nelson's churchy organ emphasizes such a mood), but taking off in one passage on a bit of seemingly improvisational dialogue between organ, drums (Zach Harmon) and bass (Hamilton Price).
From Blossom & Bee, 'The Lies of Handsome Men,' written by Francesca Blumenthal. Josh Nelson on piano. At the Cotton Club in Tokyo, July 2012. In her album liner notes Ms. Garzarek says the song's concept is one 'I wish I didn't identify with, but sometimes seeing what we want in a situation is easier than facing the truth.'
Those who might have looked askance at the earlier reference to Doris Day need only spend a few minutes with Ms. Gazarek's version of the old chestnut  "Tea for Two" (from the 1925 Broadway show No, No, Nanette, with lyrics by Irving Caesar, music by Vincent Youmans). In the 1950 David Butler-directed film titled after the song, Ms. Day performed "Tea for Two" with a full orchestra and the lush support of a troupe of backup singers. Strip those embellishments from her recording and place her warm and oh-so-suggestive vocal in a slinky trio arrangement perfect for wee small hours snuggling, and you have Sara Gazarek putting her stamp on "Tea for Two" in most alluring fashion. From the 1942 film You Were Never Lovelier, starring Fred Astaire and Rita Hayworth, comes "I'm Old Fashioned." In the film, Astaire's part of the duet with Hayworth is strong and assertive in contrast to the demure cooings of a tradition-minded woman resisting the advances of a more worldly courtier. The Hayworth part (her singing voice was dubbed by Nan Wynn) is admirably transposed here in Ms. Gazarek's tender torch-style reading, before the trio cuts loose in a spirited instrumental break that evokes the Astaire character's solicitations. From Walt Disney's Cinderella, singer and trio offer a brisk, Latin-tinged take on "So This Is Love" (written by Hal David's brother Mack, along with Jerry Livingston and Al Hoffman) in which Ms. Gazarek breaks out into Melody Gardot-like scatting, and Nelson's piano solo dashes and darts around the track as if summoning the spirit of Vince Guaraldi.
Sara Gazarek and her group perform 'Blossom & Bee' (music by Larry Goldings, lyrics by Sara Gazarek & Bill DeMain), the title track from her new album, at Vitello's Jazz & Supper Club in Studio City, CA, August 19 2012. The band includes Larry Goldings on piano, Hamilton Price on bass, Zach Harmon on drums and Graham Dechter on guitar. On the album John Pizzarelli sits in on guitar and vocal.
Though it was far from the most popular song to emerge from the 1949 film musical On the Town, starring Frank Sinatra, Gene Kelly, Ann Miller and Betty Garrett, with music by Leonard Bernstein, book and lyrics by Betty Comden and Adolph Green, "Lucky To Be Me" has had strong legs over the years, covered as it has been by some of the finest singers around (including Tony Bennett–with Bill Evans–Jessye Norman, Jane Monheit, and, yes, Blossom Dearie. One of the most appealing versions of the song came by way of the only album yet released by the Broadway actress Rachel Bay Jones. 2009's Showfolk. Ms. Jones was profiled in the June 2009 issue of TheBluegrassSpecial.com and basically hasn't been heard from since, unfortunately.) Ms. Gazarek renders her version from the standpoint of someone who can't quite believe she's found someone who really loves her and suddenly feels a revived sense of self-worth. The dreamy nature of her reverie is emphasized in a low-key trio arrangement, in a welcome departure from the golly-gee-whiz exuberance the song often receives. At the 3:32 mark, following the band's energetic instrumental outpouring, the singer returns to announce, over Nelson's soft, unaccompanied piano, in slightly above a whisper, "I am simply thunderstruck/at this change in my luck/I knew at once I want you/never dreamed you'd want me too," and only then allows herself a moment, at last, to revel in her newfound joy, as the band brings some heat behind her. What she started on the Triosence album earlier this year she reminds us of on Blossom & Bee: however strange it may be, love is a many splendored thing. Some things simply cannot be stated too emphatically or too often, and few are examining this fact more effectively of late than Sara Gazarek.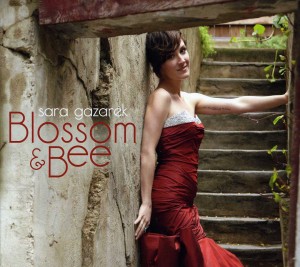 Blossom & Bee
Sara Gazarek