Only two years have passed since we've had a batch of all-new Ricky Skaggs music, that being 2010's Mosaic, but even a cursory listen to the vibrant, heartfelt performances on Music To My Ears will have Ricky's fans thinking, It's good to have him back. Not that last year's Country Hits Bluegrass Style was anything to sneeze at, but its scintillating bluegrass versions of many of Ricky's #1 country singles had previously appeared on a Cracker Barrel album called High Notes, which prompted an Amazon reviewer to declare Skaggs either had writer's block or "is winding down his career."
Only one song on Music To My Ears bears Skaggs's writer credit (the instrumental "New Jerusalem"), which may not appease the aforementioned disgruntled Amazon reviewer, but with his band Country Thunder giving a peak performance and Ricky singing with conviction and soul—in addition to playing eight instruments—the idea that this bluegrass giant is winding down his career is laughably misguided.
Barry Gibb joins Ricky Skaggs and Kentucky Thunder at the Ryman Auditorium on 'When the Roses Bloom Again.' Skaggs's new album, Music to My Ears, features a Gibb-Skaggs duet on the Gibb song 'Soldier's Son.'
As he did on Mosaic, Skaggs is co-producing with Gordon Kennedy (who cannot be mentioned without referencing Eric Clapton's "Change the World," a Kennedy co-write and doubtless a formidable royalty check to boot), who also co-wrote three of the album's songs (including the witty and warm Bill Monroe tale, "You Can't Hurt Ham," a collaboration with Ricky). The result is a sonic landscape of lustrous, potent presence in the balance of vocals and instruments that captures the fluid, intuitional cohesion the musicians have developed along with the freewheeling energy of their dialogues.
Naturally, this being a Ricky Skaggs album, the songs honor faith, family and tradition. As per the latter, the opening, midtempo heartbreaker, "Blue Night" (by David Kirk McGee, no relation but perhaps kin to the late, great old-time stringed instrument master, Kirk McGee, born David Kirkland McGee), laments a lost love in keening terms a la Bill Monroe, with Ricky taking that vocal way up there and also adding a couple of tasty, blues-tinged mandolin solos to an arrangement further propelled by weepy solos from Justin Moses (banjo), Andy Leftwich (fiddle) and Cody Kilby (guitar). Later in the album Skaggs assays yet another broken hearted melody in the classic mountain strains of Carter Stanley's "Loving You Too Well," concerning a fellow who lost his long-time love to another man, with Skaggs enhancing his own lead vocal with a high tenor harmony that adds an extra layer of hurt to the performance. And nowhere is Bill Monroe better or more explicitly evoked than in "You Can't Hurt Ham." Though a Kennedy-Skaggs co-write, this rousing story-song about a ravenous Bill Monroe and band finding themselves without dining options after a show and having to make do "with a greasy little sack tucked way in the back of the bus," containing moldy, two-day old biscuits and a country ham, sounds like something Ricky knew as fact, especially the line he attributes to Monroe: "You can't hurt ham." Moses leads the charge with a cheery, rolling banjo riff, Leftwich adds some jolly fiddle work and Skaggs eats up, you might say, the lead vocal before fashioning a fleet, succinct mandolin solo to, you might say, spice up the serving. The band seems to have its most fun here, but a close second would be their lively workout on the Monroe-like sprint written by Don Stover, "Things In Life." With a serious message about persisting in faith in spite of all the toils and troubles a person encounters from the cradle to the grave, Stover's song receives a buoyant treatment by the hard charging band that is in and of itself uplifting, especially when the fiddle (Leftwich) and banjo (Moses) step on the gas, and Ricky brings it all home with a freewheeling vocal bright with hope. Not the least of the tributes here is the one tune actually listed as a tribute—"Tennessee Stud (Tribute to Doc Watson)." Skaggs and band play this one close to the vest with a performance faithful to Doc's affectionate take on the horse to beat all horses, with Leftwich's fiddle adding a little extra giddy-up-go to the arrangement.
Although a case could be made that several of the songs have religious overtones (even Stanley's "Love You Too Well" leans on faith in the end in the singer's hope that his prayers to God will compel his wayward woman "to wander back some day"), the title track is bluntly and sincerely faith-oriented. Deliberately paced, solemnly but not somberly rendered, "Music To My Ears" ascribes elemental joys (the ephemeral "peace of all nations," "children's laughter," witnessing for Christ) to a faith-based life that mitigates the quotidian human condition (described as a "veil of tears").
Vintage Ricky, with Doc Watson, Earl Scruggs and Alison Krauss on 'Banks of the Ohio.' Ricky's Music To My Ears album features a faithful version of 'Tennessee Stud,' his tribute to Doc, who crossed over on May 29, two months after Earl's homegoing on March 28. 
Going for the affecting big finish, Ricky saves the out-and-out love song "You Are Something Else" (a Kennedy co-write with Wayne Kirkpatrick and Melinda Schneider) for his penultimate track, and it's a gem of high, keening testimony of his affection for his significant other. Its lyrics extol her virtues over those of various wonders in the natural and man-made worlds ("weepin' willows, perfect rainbows.." and "the Eiffel Tower, Van Gogh's Sunflowers") and are set to an arrangement with lovely, close harmonies and a lilting pop-country feel with modest bluegrass flourishes. To close the proceedings Ricky affirms his values in "Nothing Beats a Family," another Kennedy co-write (with Ben Cooper). This captivating acclamation not only takes comfort in the nuclear family of the here and now, but emphasizes the inviolable link we share with generations past and generations hence. Gently played but firmly delivered, the song fades out softly with the elegiac, ould sod strains of Jeff Taylor's tin whistle, a sound that speaks to the ages as surely as the song it closes–and the album it concludes–urges we do the same. Duly noted.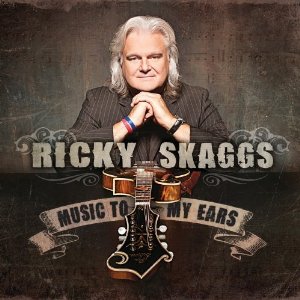 MUSIC TO MY EARS
Ricky Skaggs
Skaggs Family Records