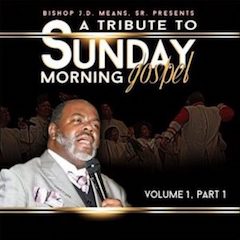 26. BISHOP J. D. MEANS SR. Presents A Tribute to Sunday Morning Gospel, Volume 1, Part 1
Mean Means Music Group, (http://bishopjdmeanssr.com/)
In his introductory remarks on A Tribute to Sunday Morning Gospel, Volume 1, Part 1, Dr. R. L. White Jr. says that we have greatness all around us but we fail to recognize it. He is speaking specifically of the greatness of Bishop J. D. Means Sr., but his words also ring true about the venerable hymns and gospels of the church. In our quest for the newest and hottest, we leave some of the most meaningful music gathering dust in hymnbooks.
'Tell the World,' Bishop J.D. Means Sr., from A Tribute to Sunday Morning Gospel, Volume 1, Part 1
Not if Bishop Means can help it. The Senior Pastor of The Pleasant Grove Baptist Church in Newborn, Georgia, loves the old-time way, and is clearly not afraid to sing about it. On Tribute, he and a congregation of vocalists and choristers delight in the stalwart songs of the African American church. No stranger to traditional gospel—he has worked with Evangelist Dorothy Norwood and other legendary artists, and has impacted gospel radio with his own trad fare—-Means uses this hour-plus CD to reminisce about the "old church." His quartet-fired voice leads the raising of one classic after another. Complete review by Bob Marovich here…
***
27. DENNIS JOHNSON & THE MISSISSIPPI RAMBLERS, Rhythmland (Root Tone Records)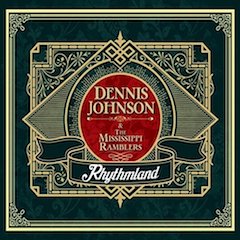 If you're looking to get down and rocking, Dennis Johnson & The Mississippi Ramblers' Rhythmland might be just what the doctor ordered. On the other hand, if you're looking to feed your soul as well as your body, Dennis Johnson & The Mississippi Ramblers' Rhythmland might be just what the doctor ordered. A rollin' and tumblin' workout on Robert Johnson's "Walkin' Blues" kicks off the album on a rousing note, propelled as it is by Johnson's muscular slide work, the band's right-there support and a gritty Johnson vocal. Johnson is invoked by name later, on the album's penultimate track, "Southbound Train," a melancholy reflection on both the loss of blues giants over time but the music's persistence as a life force; it's appropriate Johnson should follow this with the heated "Revolution," a chronicle of an earlier generation taking to the streets in protest of authoritarian policies, which sounds right on time for the current era. In between the start and the close of the album Johnson and his ace band (Tim Metz on drums, Jonathan Stoyanoff on bass, Craig Long on keyboards and background vocals) offer a feisty "Timbale"; a raucous blues workout on "High Heel Shoes," concerning a certain fashion essential that makes a certain gal the life of the party; and a honky-tonkin'-styled homage to "Fillmore Street." But there's also a somber, sober cry of the heart in the stark vocal-and-guitar howl, "That Way No More," emerging from the depths of a shattered love affair; a cool, bluesy "My Love Is Here for You," terms of endearment made richer by Long's tasty keyboard solo followed by Johnson's understated slide solo; and most profoundly, "Faith," austere and hymn-like with a rich, deeply felt Johnson vocal conveying the uplifting message of persistence in the face of dispiriting events, personal and otherwise: "You can feel it in a waterfall spray," Johnson sings, "you can feel it in the wind on your face/you can feel it in the love someone gives/you can feel it if you let yourself live." Minus these latter songs, Rhythmland is still a superb album; with them, we can talk about it being a great album, and certainly Dennis Johnson's finest hour. David McGee
'Southbound Train,' Dennis Johnson & The Mississippi Ramblers, from Rhythmland
***
28 RAPHAËL PICHON & PYGMALION, Stravaganza D'amore! (Harmonia Mundi)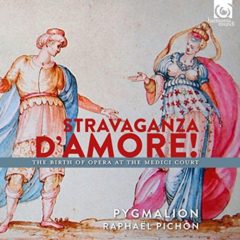 The earliest operas were not operas at all, but music theatre entertainments. This new disc from Raphael Pichon and Pygmalion, Stravaganza d'Amore! on Harmonia Mundi, aims to re-capture some of the excitement of the earliest days of opera at the Medici court in Florence. Rather than play a disc of excerpts, Pichon has created a series of Intermedi made from music by composers who created the earliest operas. …
Dramatically, musically and scenically sophisticated, these Intermedi were such a success that they were repeated without the play. The first attempt at opera seems to have been Jacopo Peri's La Dafne in 1596/97. By 1600 at the wedding of Maria de Medici and King Henri IV of France, the celebrations included two fully sung dramatic entertainments, some of the first operas, Il rapimento di Cefalo by Giulio Caccini and others, and L'Euridice by Jacopo Peri.
Stravaganza D'amore! Raphael Pichon & Pygmalion. Album presentation video.
Only fragments of Dafne and Cefalo survive, so what we have here are newly created Intermedi—"All'imperio d'Amore," "La Favolla d'Apollo," "Le Lagrime d'Orfeo," "Il Ballo degli reali amanti"–weaving music from all these early operas and intermedi forming a delightful potpourri. A more didactic approach, such as scenes in chronological order, might have been more satisfying intellectually but Pichon has gone for a more creative approach, re-constituting fragments into a new whole. Complete review by Robert Hugill here… 
***
29. DAVE ADKINS TRIO, Turn To Jesus (Mountain Fever Records)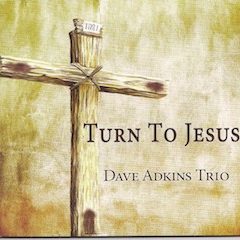 As far as Deep Roots is concerned, Dave Adkins can do no wrong. His 2013 debut album with Republik Steel, That's Just the Way I Roll, was an Album of the Week selection here; his second solo album, self-titled, checked in at #44 on our Elite Half Hundred of 2016. In between these two efforts he released his first solo album and a duo album with Edgar Loudermilk that earned raves across the board in the bluegrass world. What we learned from these four projects was twofold: Adkins is simply one of roots music's finest vocalists, blessed not only with a powerful, emotionally gripping style but also a sense of the moment that allows him to shape his approach to a lyric in such a way as to heighten the import of each song's message. And the message delivered with heart has always been paramount in Dave Adkins's art. …
Released on April 7, Turn to Jesus is not an Easter album per se but its songs are focused on the fulfillment a life in Christ promises, and in this way it celebrates the Resurrection, Christianity's animating event. This idea is better articulated in a 2009 Easter Sunday sermon, "Steadfast and Immovable," by John M. Buchanan, Pastor of Chicago's Fourth Presbyterian Church. Pastor Buchanan cited Serene Jones, the then-new President of Union Theological Seminary in New York City "and a very distinguished academic," who claimed "Easter is not, finally, about ideas, theories, or even creedal affirmation, hypotheses about possibilities of resurrection; it is about our personal relationship with God. She writes, 'Like Mary we long to be known by God, to be held in God's gaze, to be seen by God as the object of God's love and care.' The astonishing news of Easter is that it is exactly how he comes—not only to introduce God's new creation into history, but to you and me, to call us by name and to invite us to live lives that know that death has been overcome, that because he lives, we shall live also." Complete review here…
***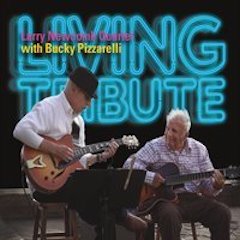 30. LARRY NEWCOMB QUARTET with BUCKY PIZZARELLI, Living Tribute (Essential Messenger)
Let's state this at the outset: Living Tribute is a beautiful, serene, engaging album, and this statement would be true even if Bucky Pizzarelli wasn't lending his six-string mastery to the superb Larry Newcomb Quartet. The Quartet, with Bucky sitting in on seven of the 11 tracks and Leigh Jonaitis adding to the appealing atmospherics with two personable vocals on Newcomb originals, plays with expected precision and synchronicity, but not without a certain swinging je ne sais quoi—that is to say, they feel the music, the four tasty covers as well as the seven Newcomb-penned tunes. Maybe everyone heard a special calling to the project's concept. Living Tribute is an album title but there is no title song. Newcomb's notes, however, specify each number as being dedicated to someone important in his life: to his wife and to his sons, naturally enough; to a spiritual mentor; and mostly to three guitar beacons, players he admired and from whom he learned life as well as musical lessons, namely two deceased greats in Dick Hall and Jim Hall, and to Bucky. So if there's a little extra glide in the musicians' stride, maybe spirits were convening to boost their efforts. Which is not to suggest they're only this good when given extra motivation. All evidence points to the contrary. Complete review here…
'I Remember You,' the Victor Schertzinger-Johnny Mercer gem from 1942's The Fleet's In, as performed by the Larry Newcomb Quartet with Bucky Pizzarelli on Living Tribute
***
31. SARAH BEATTY, Bandit Queen (King of the Road Records) Review/interview by John E. Simpson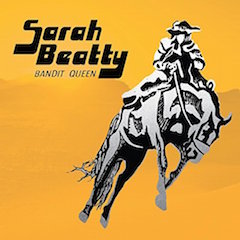 Sarah Beatty's Bandit Queen album neither needs nor offers apologies for itself. From the first track through the last, it lays out challenges and rewards for even a casual singer-songwriter fan: trainsong rhythms, slow and fast; slow blues and angry heartbreak; politics and pop culture; Latin-infused swing and American folklore. That Beatty succeeds in juggling all this without a trace of slapdash, kitchen-sink pastiche says much about the Hamilton, Ontario native's confidence in herself and in her audience
'Slaves and Kings,' Sarah Beatty, from Bandit Queen
Start at the beginning, of course. The subtle opener, "Slaves and Kings," might have appeared on a Simon & Garfunkel playlist, circa the "Scarborough Fair" era–chimes, soft guitars and vocal, brush drums and lyrics like these:
I came up for a breath,
I came up for a breath,
All I could hear were things the ocean said
I kept a knife between my teeth, every time I went to sleep
How was I to know, oh how was I to know?
Click here for the complete review by John E. Siimpson)
***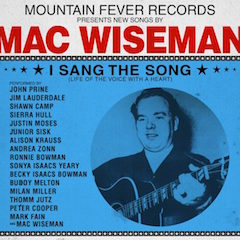 32. MAC WISEMAN, I Sang The Song (Life Of The Voice With A Heart) (Mountain Fever)
Failing to find ways to improve upon Peter Cooper's introduction to this fine album, allow me to quote Mr. Cooper directly, from notes he penned for the liner booklet:
Sunday afternoons the great man sat in the easiest of easy chairs, spinning stories from ninety-one extraordinary earthly years.
The sharp pain of bare feet on frosted October dirt…The train that sped past his family's Crimora, Virginia, farm at twilight, carrying silhouetted strangers to a far-away city…The catalogue guitar, neck like a wagon tongue, that became his dear companion and, eventually, his travel ticket…The thrill of cashing a $240 check that he got in 1946, for playing a recording session with Molly O'Day…The time he made it all the way to Calais, France, and found that women's laughter and babies' cries bridged cultures as common language. 
'I Sang the Song,' John Prine (lead vocal), Peter Cooper (harmony vocal), Sierra Hull (mandolin), Justin Moses (fiddle, dobro), Thomm Jutz (guitar), Mark Fain (bass). From Mac Wiseman: I Sang the Song.
Now indeed 91, roots music legend Mac Wiseman is in fine voice sitting in on I Sang the Song, a tribute to himself, in fact, steered by Peter Cooper and Thomm Jutz, who collaborated with Mac on 11 tunes based on the Bluegrass Hall of Famer's hardscrabble life and times, as Cooper outlined in his notes. Describing his trusted partner Jutz as "a guitar virtuoso raised in Germany's Black Forest" and himself as "a South Carolina-reared jack of all hillbilly trades," Cooper rightly hails this project as "a concept album about the happiest and most unusual of concepts: Mac Wiseman." Complete review here…
***
33. DUDLEY TAFT, Summer Rain (American Blues Artist Group)
The merciless sonic blitzkrieg of electric blues and rock fueling Dudley Taft's 2014 scorcher, Screaming in The Wind, continues unabated on Summer Rain, but lyrically Taft is now focused on what a woman did, or does, to him. This fixation reaches a truly baroque high point on the title track, when his gruff vocals are augmented by a gospel backing chorus shadowing his assertion of love's healing sensations while his guitar snarls, struts and wails. On the other hand, "Edge of Insane" finds him turned inside out with physical fever and fervor for a woman who engaged him in a bout of "surreal love making" before taking her leave and "pushing me off/right off the edge of insane." Pressing the point, Dudley cuts out on a blistering solo evoking his inner tumult as drummer Jason Patterson propels the onslaught forward and the legendary organ master Reese Wynans fleshes out the track, you might say, with full, robust soloing. In a big finish, two songs, "I Lost My Way" and "Find My Way Back Home," both bluesy, thoughtful and self-lacerating, offer searing guitar and the artist's resolve to rectify his past wrongs in matters of the heart. To be continued. David McGee
'I Lost My Way,' Dudley Taft, from Summer Rain
***
34. BIANCA ROSSINI, Vento Do Norte (BDM Records)
Vento do Norte is Bianca Rossini's great leap forward as a musical artist. Much like Melody Gardot, she captures the flavor of the past with enough modern flair to make it all sound fresh. In addition to a seductive voice blending Astrud Gilberto's sensual breathiness with a clear, resonant tone along the lines of, say, a classic pop stylist of yore such as June Christy, Rossini writes her own lyrics (and some of her own music), offering her unique take on the glory and mystery of love. Clearly she has enough confidence in her own voice—as a writer and as a singer—to dispense with the seemingly de rigueur Jobim and/or Gilberto covers. And despite using multiple producers—often a sign of problems in the studio that manifest themselves as a disjointed program on disc—Vento do Norte is seamless in sound and ambience; perhaps credit in large part is due to multi-instrumentalist Peter Roberts, who produced or co-produced all of the album's 10 tracks; apart from Michael Levine, whose only credit is as co-producer, with Roberts and Rossini, of "Paris in Beverly Hills," all the co-producers are also playing on the album, namely Patrick Lockwood, Mark Nilan, Jon Gilutin, Steven Rawlins and Marilyn Berglas, and all are, like Roberts, playing multiple instruments and writing arrangements. On the basis of sound and style, of framing Ms. Rossini's personable voice in ways that both complement and enhance her readings, this team, largely held over from Kiss of Brasil, is seasoned and of championship caliber. Complete review here…
'Doce Amor,' Bianca Rossini, from Vento Do Norte
***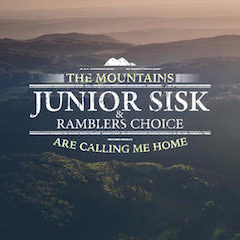 35. JUNIOR SISK & RAMBLERS CHOICE, The Mountains Are Calling Me Home (Mountain Fever Records)
On their latest offering, Junior Sisk & Ramblers Choice kick off with a dark but driving lament (driven by Jamie Harper's howling fiddle and Jason Davis's unrelenting banjo) of a mountain-born man decrying his wanderlust while yearning to get back to where he once belonged. It's an apt theme for an album brimming with betrayals, regrets and loss chronicled by protagonists looking to make things right in different psycho-spiritual ways. …
'The Mountains Are Calling Me Home,' Junior Sisk & Ramblers Choice, from The Mountains Are Calling Me Home
Junior has earned the raft of awards he's won over the past few years, and he's likely in a position to cart a few more home with this album. More important than the awards honoring Junior's music is the way in which Junior honors his music. It's brimming with life–not always life as we wish it were but true to some of the hard facts of people trying to get along with each other while also holding fast to the values necessary to keep their hearts whole. Complete review here…
***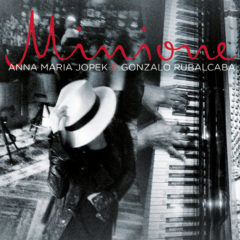 36. ANNA MARIA JOPEK WITH GONZALO RUBALCABA, Minione (Universal Music Polska)
Anna Maria Jopek is one of her native Poland's musical treasures, and she in turn celebrates her Polish heritage both in interviews and in her music. But over the course of an award winning 20-year career, Ms. Jopek has exhibited unceasing musical wanderlust, spicing, enhancing and augmenting her original songs with the sounds and textures of music from other worlds. Her journey continues unabated on her new Universal album, Minione, featuring the sultry singer-songwriter interpreting pre-war Polish tangos and other '30s tunes to the accompaniment of the master improvisational pianist Gonzalo Rubalcaba, a Cuban native, and his jazz trio featuring Ernesto Simpson on drums and Jose Amrando Gola on bass—a triumvirate of Cuba's most respected and sought-after musicians. The 11 songs range from flirty come-ons such as "Kogo Nasza Milość Obchodzi," which leaves room for Rubalcaba to fashion a fanciful piano solo; the moody "Co Nam Zostalo Z Tych Lat," wherein Ms. Jopek demonstrates the art of vocal seduction with an attack both vulnerable and yearning, as the trio backs her with spare, subtle atmospherics, especially as provided by Rubalcaba's searching right-hand musings on the tender instrumental "Co Nam Zostalo…Wybrzmienie." Complete review here…
'Czarne slowa (Black Words),' Anna Marie Jopek and Pat Metheny, from Upojenie
***
37. PELLINGMANS' SARABAND, Twenty Waies Upon The Bels (Pellingman Records) (Review by Robert Hugill)
The intriguingly named Pellingmans' Saraband is the husband and wife duo of Jacob Heringman (lute) and Susanna Pell (viols). On this disc, Twenty waies upon the bels, they are joined by Faye Newton (soprano), Edd Igham (tenor), Giles Lewis (baritone), Chrisopher O'Gorman (tenor) and John Potter (tenor) for a program of English rounds and grounds from the 16th and 17th centuries.
The program explores what Jacob Heringman in his booklet note calls "circular music," thus the divisions on a ground for lute and viol, songs over a ground bass with lute (and viol) and rounds and catches from those collected and composed by Thomas Ravenscroft.
'Greensleeves,' Pellingmans' Saraband, from Twenty Waies Upon The Bels
There is something profoundly satisfying about the circularity of this music, and something timeless too, whether it be the multiple parts fitting together in the catches and rounds, or the sense of improvisation over a ground bass in the other items. Three types of pieces, interspersed on the disc, comprise an appealing mix. Complete review by Robert Hugill here…
***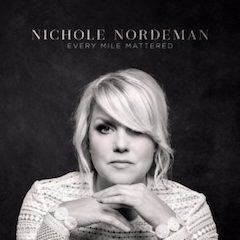 38. NICHOLE NORDEMAN, Every Mile Mattered (Sparrow Records/Capitol CMG Label Group)
Christian singer-songwriter Nichole Nordeman has a lot to say in her new album, Every Mile Mattered, and we need to hear it.
In a hauntingly beautiful voice that evokes contemporary folk artists Beth Nielsen Chapman and Alice Peacock, Nordeman offers a theology stripped of fiats and thou shalts. For her, it's simple: Jesus is everywhere, at all times, and in every moment of our lives. For example, in "You're Here," Nordeman hears God saying that "the only invitation that you need, is the very air that I breathe." She sings in "Lean" that Jesus loves us not in spite of our faults but because of them. Similarly, the lullaby-like chorus of "Hush, Hush" confirms that God is covering us, so we "don't have to have all the answers."
'Dear Me,' Nichole Nordeman, from Every Mile Mattered
The melodies and arrangements are accessible, and Nordeman is at her most potent when simply accompanying herself on piano. Every thought matters on Every Mile Mattered. One of the best albums I've heard this year. Complete review by Bob Marovich here…
***
39. NATASHA OWENS, We Will Rise (Maharlo Records)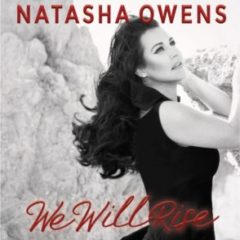 Sometimes new beginnings flower from the most terrible tragedies. That was the case for Natasha Owens. Seven years ago, her father was cleaning a gun when it misfired, killing him at age 58.
In the midst of her grieving, Owens was invited to serve as her church's worship minister. She wrote songs for her church to sing. Through music ministry, she found that the more she poured into the congregation, the more she got back. A trip to the recording studio to memorialize her songs produced a CD, the tellingly titled I Made It Through, that set her on a path to a solo career.
'We Will Rise,' Natasha Owens, official video of her new album's title track
Owens' latest full-length project, We Will Rise, is the result of her having more songs and ideas to share. The album sails along on radio-sized worship songs that outline the many ways Jesus has impacted the singer's life and, by extension, the listener's. Owens' soprano runs from coquettish to bracing, but mostly bracing as she belts out earnest messages so even the back row of a megachurch can appreciate them. Complete review by Bob Marovich here…
***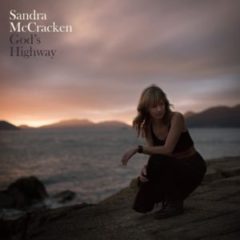 40. SANDRA MCCRACKEN, God's Highway (www.sandramcracken.com)
Modern day hymnist Sandra McCracken's latest CD, God's Highway (also available on vinyl), continues where her 2015 Psalms left off: new songs based on Biblical texts and that sound as if they came from the Primitive Baptist Church hymnbook.
McCracken's beguiling voice combines the cry of Beth Nielsen Chapman and the world-weariness of Emmylou Harris. Her lonesome singing combined with an understated combo and songs with heavy chords but bright melodies give listeners a sense of eavesdropping on the prayers of someone emerging, victorious but weary, from the throes of tragedy.
'Steadfast,' Sandra McCracken, from God's Highway
Still, there's a comfort in McCracken's songs. They are warm blankets over a shivering soul, especially the songs set in 3/4 and 6/8 time, which soothe with the steady rhythm of a rocking chair. Complete review by Bob Marovich here…
***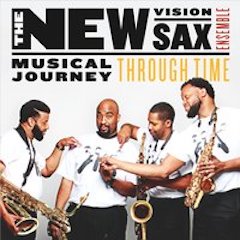 41. THE NEW VISION SAX ENSEMBLE, Musical Journey Through Time (www.zakipublishinginc.com)
In the spirit of the 29th Street Saxophone Quartet and the legendary, trailblazing World Saxophone Quartet, the South Florida-based New Vision Sax Ensemble is a woodwind answer to the classical string quartet; unlike its esteemed predecessors, the New Vision Sax Ensemble—at least on this, its first album—offers no original material but rather focuses on jazz and classic pop and show evergreens. The musicians—Diron Holloway (soprano, clarinet and alto sax), James Lockhart (alto sax), Jason Hainsworth (tenor sax), group founder Melton R. Mustafa (baritone sax)—are all professional music educators as well. To many that would mean they mostly color within the lines, but in fact their music making is anything but a sterile, academic exercise. You wouldn't expect four saxes to equal, say, the wild-ass baroque ride given Dizzy Gillespie's "Night in Tunisia" by Art Blakey's Jazz Messengers in 1957, but the New Vision Sax Ensemble's five-and-a-half-minute interpretation is a medium-cool delight in its own right. Mustafa's baritone holds down the famous bass part with authority, as the conversation between the tenor and the altos becomes more heated, producing scintillating textures of soft and light, even capturing some of the freewheeling energy of Blakey's version while paying homage to Dizzy's original. Purists may be more appeased by the quartet's version of Monk's "'Round Midnight," with soothing ensemble passages colored by melancholy. The horns' restraint here has the effect of summoning both loneliness and sensual longing—you have to figure Monk would approve. Complete review here…
'Night in Tunisia,' New Vision Sax Ensemble, live performance of the Dizzy Gillespie tune featured on Musical Journey Through Time
***
42. ILYA TOSHINSKY, Red Grass (Hadley Music Group)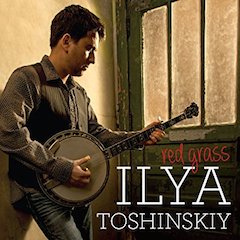 Remember Bering Strait, that fine all-Russian, bluegrass-based quintet that made its debut with a Grammy-nominated splash in 2003 but split up three years later, after releasing its sophomore album? Founding member Ilya Toshinsky, who played electric and acoustic guitars and banjo, left prior to the band's dissolution and proceeded to carve out an award winning career as a session guitarist. Now comes his solo debut, Red Grass, on which he focuses his attention on the banjo in offering 10 pleasing original songs of varying moods and textures and as producer shows a sure hand for clean, intimate sonics. Sterling support comes from indisputable A-listers including Bryan Sutton, Andy Leftwich, Jerry Douglas, Bryan House, Luke Bulla, Aubrey Haynie, Sam Bush and Jake Stargel. Their conversations range from the title track's full-on bluegrass barnburner fueled by multiple, heated solos from an assembled sextet (Bulla's fiddling is a wonder) to a haunting theme-and-variation composition for duo ("Birch Leaf," with House's droning bass under Toshinsky's rolling banjo figures), leading to a concluding solo chamber work, "Swang Song," on which Toshinksy's trills, rolls and jazzy swing licks seem to summarize what came before and suggest a way forward from here. Come back soon, y'hear? David McGee
'Close to Home,' Ilya Toshinsky, from Red Grass
***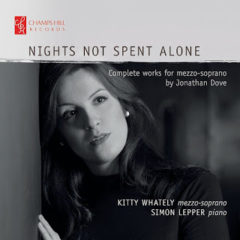 43. KITTY WHATELY (MEZZO-SOPRANO), SIMON LEPPER (PIANO), Nights Not Spent Alone: Complete Works For Mezzo-Soprano By Jonathan Dove (Champs Hills Records) Review by Robert Hugill
This new disc from Kitty Whately and Simon Lepper on Champs Hill Records presents Jonathan Dove's complete works for mezzo-soprano, setting to music for piano texts by Ursula Vaughan Williams, Mary Wortley Montague, Matthew Prior, Vikram Seth, Edna St Vincent Millay and Federico Garcia Lorca.
'Nights Not Spent Alone: II. What Lips My Lips Have Kissed,' Kitty Whately (mezzo-soprano), Simon Lepper, Jonathan Dove, from Nights Not Spent Alone: Complete Works for Mezzo-Soprano by Jonathan Dove
The works on the disc cover a wide range of Dove's career from 1996 through to 2015, and the songs present a more varied, and perhaps more intimate, view of Dove's composing than we get from his operas. In fact, some of the songs were premiered with the composer at the piano. Complete review by Robert Hugill here…
***
44. SULTANS OF STRING, Christmas Caravan (CEN)
Here is the best—and what promises to be the most enduring—Christmas album of the 2017 Yuletide season. Even as Canada's Sultans of String and their guests put a new spin on traditional favorites, they never get so far out as to render those tunes unrecognizable. That is, the spirit of the season gets a makeover, but is still the spirit we've known for bringing good tidings of great joy. Three-time JUNO nominees in their native Canada, the Sultans of String quintet makes a musical case for inclusiveness and diversity on their first holiday outing, and what impressive support they enlisted. Many of the names here have earned fans beyond the world music audience and all have done exemplary work in their time. We're talking about the likes of the Chieftains' great Paddy Moloney; Ruben Blades; Nikki Yanofsky; Sweet Honey in the Rock; Cameroon's stellar Richard Bona; sitar virtuoso Anwar Kurshid; JUNO award winning country singer (now based in Nashville) Crystal Shawanda, whose string-enhanced, impassioned reading of "Jesous Ahatonhia (Huron Carol)" is a thing of beauty; a recording collective of Turkish Roma violinists from Istanbul adding exotic majesty to "Greensleeves" in a riveting album opener; the October Project's Mary Fahl, in a swirl of percussion and strings, soaring soulfully on "Jesu, Joy of Man's Desire," a big, orchestrated production that lacks the intimacy of Leo Kottke's instrumental version and Stevie Wonder's spiritualized reading on his Someday at Christmas long player from 1967 but adds appealing tension and urgency without sacrificing reverence.
Celebrate the Holydays,' Sweet Honey in the Rock with Sultans of String, from Christmas Caravan
Sweet Honey in the Rock get things rocking with the jubilant "Celebrate the Holydays," a pulsating workout hailing the vital message "pure rebirth and healing/peace and love and giving/share the joy of living!" with exuberant handclaps and a lively guitarist and fiddler fueling the fast-paced proceedings. At the other end of the spectrum, bathed in strings and subtle interjections from guitar and fiddle, Nikki Yanofsky embraces a classic pop-style treatment of Mel Torme-Robert Wells's beloved "A Christmas Song" and turns in a beautiful reading both warm and sensual. The Sultans get their star turn on the crazy-quilt titled "A Django Christmas," which is not variations on the great Reinhardt's 1937 recording "Christmas Swing" (which itself grew out of an earlier Django recording, "Swinging with Django" and was more a showcase for the violin pyrotechnics of Michel Warlop) but rather an orchestral-backed medley of Yuletide favorites with a flavor of Le Hot Club, especially in the sprightly violin work of the Sultans' Chris McKhool, with no small contribution, of course, by fleet-fingered guitarist Kevin Laliberté. Latin music legends Ruben Blades and Luba Mason turn John Lennon's "Happy Xmas (War Is Over)" into more of a traditional carol, with Blades adding a verse in Spanish, in a tour de force notable on its own as a deeply felt message, ever relevant in our chaotic age.
Arguably the album's most irresistible moment is provided by Quebec's Benoit Bourque (of the Canadian folk band Bottine Souriante) on the high-spirited, Cajun-flavored romp through the blending of "Les Agnes Dans Nos Campagnes/Cootes Paradise Reel" (the former better known as "Angels We Have Heard on High," although the literal translation of the title here is "Angels In Our Countryside"). Strangely, Leonard Cohen's "Hallelujah" is here too, as the penultimate track, in a wonderful treatment by Canada's Rebecca Campbell with sensitive support by the Sultans needlessly bolstered by gratuitous orchestral flourishes.
A Christmas keeper, this, and by its very being a strong rebuke to those inveighing against the inclusiveness this album champions. Christmas Caravan is your must-buy this Christmas season. Bravo Sultans of String! –David McGee
'A Django Christmas,' Sultans of String, from Christmas Caravan
***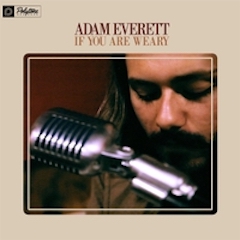 45. ADAM EVERETT, If You Are Weary (Polytone Records)
If John Hiatt made a gospel album, it would sound like Adam Everett's If You Are Weary.
This eight-track collection of hymns and newly-composed songs, generously infused with southern soul horns, is the product of a new breed of young alt-gospel artists such as the Eagle Rock Gospel Singers (who opened for Everett's album release party), Liz Vice and Eli "The Paperboy" Reed. Together, they are taking to church the Americana soul-country-rock melange refined by JJ & Co and Neko Case (who has covered some gospel on her albums).
'Pressing On,' Adam Everett, from If You Are Weary
The most resplendent moment on If You Are Weary is "Jesus (What Grace Have I Found in Thee)." Set in the rocking chair rhythm characteristic of traditional black gospel, the song builds in intensity as blue notes and organ speckle its countrified foundation. Complete review by Bob Marovich here…
***
46. MONSWEZi, A JE (Riverboat Records)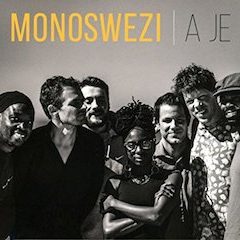 African-Nordic jazz alchemists Monoswezi explore new sonic worlds in their third Riverboat Records album. A Je features the compositions of bandleader Hallvard Godal with a fresh hosting of new musical collaborators. Expanding their sound even further afield, Monoswezi's minimalist global groove is chic as ever and well ahead of the curve. Inspired to introduce chord textures to Monoswezi's vernacular, the band augments its lineup to include Indian harmonium, Malian ngoni and African-American banjo.
The name Monoswezi is an amalgam of the four founding member's nationalities represented in their lineup–Mozambique (Mo), Norway (No), Sweden (Swe), Zimbabwe (Zi)–and the influence from each culture is audible.
African music remains central to Monoswezi's inspiration. Their compositional approach draws on Hope Masike's Zimbabwean and Calu Tsemane's Mozambican musical heritage alongside the rest of the band's Nordic jazz tilt. In conversation Hallvard remarks on his earliest encounters with the music of Mozambique: "the music felt like a wheel, spinning, without beginning or end." Opening track "Loko U Muka" really catches this sentiment with rippling cyclical mbira and banjo lines atop interlocking bass line and Calu's vocal.
'Loko U Muka,' Monoswezi, from A Je
The West African musical powerhouse that is Mali makes its way in via Sidiki Camara. Monoswezi first played with Sidiki at the London Jazz Festival in 2013. On this album he contributes calabash percussion and plays an 8-string lute called an ngoni on tracks "Dzimani" and "Esta Bem."
All of the tracks here feature Norwegian jazz improviser Kim Jo hannesen's banjo and were written with the instrument's idiosyncratic sound and flailing playing style in mind. The banjo's crystalline cut and dry sound alongside the ngoni's more dampened deep plucked punctuations contrast well. Though different the two instruments are historically linked: the ngoni, alongside other West African lutes, was transported to America and the Caribbean during the dreaded slave trade, manifesting in Creole culture and influencing the emergence of the modern five-string banjo.
'A Djaha,' Monoswezi, from A Je
Parallel to their African explorations, Monoswezi draw on Pakistani qawaali tradition on this album. Hallvard's interest in the music of Nusrat Fateh Ali Khan manifests in his use of Indian harmonium, which reverberates smoothly amid the texture.
Monoswezi's strength lies in their endless curiosity for new sounds. Salve to the ears of those tired of cosmetic "world fusion" bands, Monoswezi plunge across international waters to meld musical styles in an affecting way—thoughtfully planned, well executed and truly an audio pleasure worth devouring. –Courtesy World Music Network
***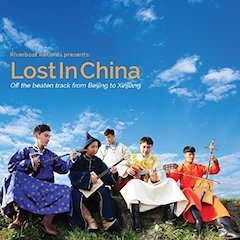 47. LOST IN CHINA: Off The Beaten Track From Beijing To Xinjiang (Riverboat Records)
From the bustling chaos of Beijing to the deserts of Xinjiang, Lost In China celebrates a new generation of artists who, united by their desire to explore and at times confound local traditions, have not previously been heard outside their homeland.
Manhu, from the Stone Forest area of China's Yunnan province, perform 'Moon'
The ethnic and cultural diversity of the world's most populous country is often overlooked in an age where media images of grey conformity, polluted cities and military parades dominate our impressions. However, music—like almost nothing else—has the power to capture the imagination and promise a different world beyond these images. Lost In China is a compilation of music that blows away stereotypes of what Chinese music can be, revealing the ethnic patchwork that lies quietly below the surface of the national narrative and leaving us wondering if we really know anything about this country at all. Complete review here…
***
48. DARRELL MCFADDEN & THE DISCIPLES, Covering All Areas: Phase OnE (EP) (DMDMG)
This five-track EP by Brooklyn quartet Darrell McFadden & the Disciples may not, as its title suggests, cover all areas, at least in terms of musical styles. What it does, however, is uplift the traditional sound in some instances and modernize it in others, and that's good enough for me. Complete review by Bob Marovich here…
'Lord, You've Sure Been Good to Me,' Darrell McFadden and the Disciples, from Covering All Areas: Phase One
 ***
49. MUSICA SECRETA & CELESTIAL SIRENS, Lucrezia Borgia's Daughter (Obsidian)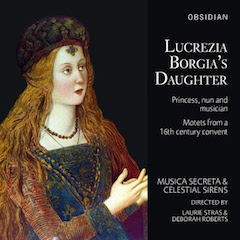 The motets on Lucrezia Borgia's Daughter: Princess, Nun and Musician, were published anonymously in Venice in 1543, and though still anonymous when republished in 1549, there is good reason to believe they are the work of Suor Leonora d'Este, the daughter of Lucrezia Borgia (yes, that Lucrezia Borgia) and Duke Alfonso I d'Este of Ferrara.
The disc, on the Obsidian label, supported by the Ambache Trust, presents motets by Suor Leonora d'Este performed by Musica Secreta and Celestial Sirens, directed by Deborah Rogers and Laurie Stras. A selection of motets was performed at Brighton Early Music Festival in 2016, and on this disc we hear 16 of the 23 motets, written in a style that is some of the most advanced of the period. We know little about Leonora; she was four when her mother died and she was placed in the convent of Corpus Domini in Ferrara (lacking a near female relative). At age eight she told her father (firmly) that she wished to be a nun, and so became Abbess of Corpus Domini at 18. She was also very musical and from a musical family. Complete review by Robert Hugill here…
Musica quinque vocum (Attrib. to Leonora d'Este): Felix manqué es sacra (from the Musica quinque vocum motteta maternal lingua vocata). Musica Secreta, from Lucrezia Borgia's Daughter
***
50. ROYCE LOVETT, Love & Other Dreams (Motown Gospel) Review by Bob Marovich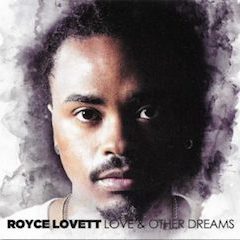 Royce Lovett is one of the most distinctive voices on the Motown Gospel roster. Not surprisingly, his new album, Love & Other Dreams, is as artistically unpredictable as its creator
The guitar-playing Tallahassee, Florida, singer-songwriter splashes a palette of neo-soul on coded messages about survival in modern society. The album feels like a somnambulant journey of a soul gasping, as if drowning, for the oxygen of freedom.
'A Hero Song,' Royce Lovett, from Love & Other Dreams
Where can lung-expanding oxygen be found? Lovett answers on the album's hypnotic current single, "Up for Love:" it's in the clouds, where there are "no distractions" and a person can live at one with love. I do not believe he means Heaven but rather sees clouds as a metaphor of liberation. Complete review by Bob Marovich here…
Click here to go to the Deep Roots Albums of the Year (2017)
Click here to go to The Elite Half-Hundred of 2017 (Part 1)