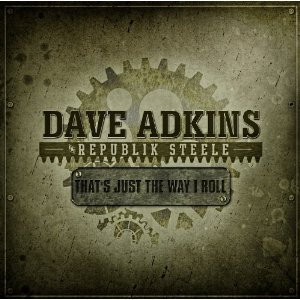 THAT'S JUST THE WAY I ROLL
Dave Adkins and Republik Steel
Rural Rhythm
Republic Steel was a large coal mining company that employed the fathers and grandfathers of three of the five members of a band calling itself Republik Steel. Coal mining is a hard, dangerous job and the men of the Republik Steel band play music with the seriousness of purpose and the gumption a man needs in order to survive the ordeal of extracting coal from the bowels of the earth. They have to be this good, because they must be up to the task posed by lead vocalist-rhythm guitarist-songwriter Dave Adkins, who emerges on this debut album as one of the most powerful, affecting voices in all of roots music. You don't have to get seven songs into That's Just the Way I Roll to figure this out, but that seventh song, an Adkins original titled "Don't they Know He's Watching," a dark, apocalyptic number warning "the rich man in the penthouse or the homeless on the street" of divine retribution for aberrant behavior, will nail you to the wall. In his gritty, muscular voice, Adkins thunders like the Biblical Amos (the Old Testament prophet who "gave prophets a bad name," according to The Rev. Victor Lee Austin, theologian-in-residence at St. Thomas Episcopal Church in New York City) heralding the wrath of God visiting corrupt politicians, hypocritical clergy ("you can't be a truthful liar/and you can't serve to gods/you can't solve the problem and contribute to the cause…") and the like. At the end, he brings it all back home, delivering the title sentiment in a wrenching howl, stretching out the word "watching" until his voice almost breaks, and he takes a breath before signing off with a solemn, "you and me-e-e." Some are going to hear shades of the young Kenny Rogers in Adkins's voice and sense of drama, but here and elsewhere Adkins, evincing a blues singer's understanding of the games people play, plumbs depths of a bedeviled soul that Rogers could never get to.
Dave Adkins discusses the backstory of the songs on That's Just the Way I Roll, he and his band Republik Steel's debut album
More of Dave Adkins discussing the making of That's Just the Way I Roll
By the time they arrive at "Don't They Know He's Watching," Adkins and Republik Steel are deep into a hard-edged, impassioned bluegrass groove. Sparked by Matthew Cruby's hard charging banjo, the band comes charging out of the gate with the spirited title track (written by the imposing trio of Terry Herd, Steve Gulley & Tim Stafford; Gulley, by the way, also produced the album; co-wrote, with Stafford, the abovementioned "Don't They Know He's Watching"; and penned the album's closing number, a stunning guitar-and-vocal song of praise and redemption, "The Storm," that Adkins delivers with fervent but nuanced urgency—this comes under the heading of "embarrassment of riches" for the band). The protagonist here is exactly the sort of wayward soul Adkins cites so caustically in "Don't They Know He's Watching," as we learn immediately when he enters crowing, "on the corner of careless and out of control/what doesn't kill me is taking its toll…" and, spurred on by Republik Steel's punishing pace, goes on to sing defiantly of his dissolute lifestyle and kiss off any detractors with "That's just the way I roll." If this isn't a concept album, then it's close to being one, because the songs are at least loosely connected with respect to painting a portrait of a spiritual wanderer.
Dave Adkins & Republik Steel's cover of 'Rose Colored Glasses,' live at the Foggy Valley Farm Bluegrass Festival in Hillsboro, KY, August 2, 2012
The same guy who boasts of his bulletproof hedonism in "That's Just the Way I Roll" reveals a little more of himself in a stunning cover of "Rose Colored Glasses"—yes, that "Rose Colored Glasses," the classic, career defining mega-hit that permanently ensconced John Conlee into the ranks of country's great neo-honky tonk singers in 1978 but is here modeled after a memorable 1979 treatment by J.D. Crowe & the New South, when the late, lamented Keith Whitley was singing lead.  With guest fiddler Justin Moses contributing yet another of his depthless, aching solos behind him, as Don Gulley adds soulful harmonies, and mandolinist Kenny O'Quinn crafts mournful fills, Adkins digs deep to enhance the narrator's delusional belief that he can rekindle the flame of lost love. Here he gives a glimpse of the prideful, self-centered man of "That's Just the Way I Roll," but also modulates his attack with enough solemnity to let us know he's not entirely oblivious to the truth, even if he can't admit it. It's a line Conlee walked majestically in his powerful original, but Adkins and the band's relatively spare version is a shattering, unforgettable statement on its own merits. Another familiar cover, Dave Loggins's "Please Come to Boston," is arguably even more effectively rendered than "Rose Colored Glasses." Those who found Loggins's original a bit too syrupy as a pop mainstream item will hear it with new ears when Adkins cries it as a blues-tinged country ballad, softly framed by an evocative acoustic guitar, courtesy Republik Steel's teenaged wunderkind Wesley Wolf, with O'Quinn's mandolin and Moses's dobro quietly augmenting the soundscape as the tune blossoms. It doesn't hurt, either, to have Dale Ann Bradley seconding Adkins's voice in the choruses with her own plaintive plea.
Dave Adkins & Republik Steel perform the title song from their album, That's Just the Way I Roll, at Musick's Mountain Theater in Pigeon Forge, TN
Dave Adkins & Republik Steel, 'Working on a Building, live at the Foggy Valley Farm Bluegrass Festival in Hillsboro, KY, August 2, 2012
Interestingly, the Conlee and Loggins songs bookend a lively Adkins original, "Heartstrings," a toe-tapping, banjo- and fiddle-drenched celebration of true love and a fruitful relationship, the truth of it evident in the lightness in Adkins's voice as tells how "my whole world sings" when he's with the gal of his dreams. The album's sub-theme of spiritual striving is reflected in another triumvirate of songs, with Mark "Brink" Brinkman's spirited "Laura Mae," concerning a man putting his wanderlust to rest by going home to Montana to settle down with his gal (with bright, energetic fiddle and banjo solos by Moses and Cruby underscoring the singer's resolve), nestled in between Adkins's "Get 'Em Up," an upbeat southern gospel quartet number announcing Christ's return and the dire warnings of "Don't They Know He's Watching." The album's penultimate tune, the reflective, moderately paced "Chasin' a Dream" (a Brinkman co-write with Dale Pyatt), doesn't fit the conceptual model described here but is a thoughtful and positive mission statement describing a musician's calling, no matter its everyday obstacles. Then comes the aforementioned Steve Gulley gem, "The Storm," with only young Wolfe's subtle, delicately picked acoustic guitar supporting Adkins's heartfelt expression of gratitude to the Almighty for His guiding hand ("with you leading me I can weather the storm"). It ends not with dramatics but with reverence, a soft musical exhale by Wolfe and Adkins at journey's end suggesting, at last, a soul at peace with itself. Regardless of whether you buy the idea of this as being akin to a concept album or simply a collection of fine and meaningful songs masterfully realized in all aspects by exceptional musicians that call Kentucky, Virginia and Tennessee home, That's Just the Way I Roll is an impressive calling card for a band of bluegrass newcomers that values its message as much as it does its musicianship. And that is some way to roll.