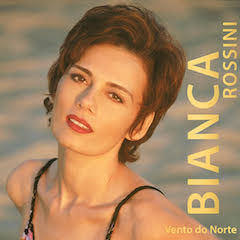 VENTO DO NORTE
Bianca Rossini
Apaixonada Music/BDM Records
Even if it's not the cultural phenomenon it was in the late '50s into the early '60s—when the likes of Gilberto, Jobim and Getz were riding high–Bossa Nova is very much with us in these inclusive times, and Rio native Bianca Rossini might well move into the front ranks of impressive youthful practitioners with her third album, Vento do Norte (translation: North Wind).
Ms. Rossini is a Renaissance woman with a serious resume. Born in Rio de Janeiro, she began performing at age three. After moving to the U.S. as a teenager (she now lives in Beverly Hills), she began her journey in academia, attending the U. of Maryland and George Washington University for dance and theater, and concurrently attended the Washington School of Ballet. In addition to choreographer credits in film and video, she has been a runway model; an actress with movie and TV credits (Chicago Hope, among them); a poet and published author of three book; an arts columnist and host of a weekly cable TV talk show with a national following. According to her official bio, her first two recordings, Kiss of Brasil and the EP Meu Amor, "have been featured on over 100 jazz radio stations in more than 15 countries in the United States, Europe and South America," in addition to her music being number one on Pandora's Bossa Nova radio and amassing a million streams on Spotify.
'Paris in Beverly Hills," Bianca Rossini, from Vento do Norte
'Coração de Ouro' ('Golden Heart'), Bianca Rossini, from Vento do Norte
Vento do Norte is her great leap forward as a musical artist. Much like Melody Gardot, she captures the flavor of the past with enough modern flair to make it all sound fresh. In addition to a seductive voice blending Astrud Gilberto's sensual breathiness with a clear, resonant tone along the lines of, say, a classic pop stylist of yore such as June Christy, Rossini writes her own lyrics (and some of her own music), offering her unique take on the glory and mystery of love. Clearly she has enough confidence in her own voice—as a writer and as a singer—to dispense with the seemingly de rigueur Jobim and/or Gilberto covers. And despite using multiple producers—often a sign of problems in the studio that manifest themselves as a disjointed program on disc—Vento do Norte is seamless in sound and ambience; perhaps credit in large part is due to multi-instrumentalist Peter Roberts, who produced or co-produced all of the album's 10 tracks; apart from Michael Levine, whose only credit is as co-producer, with Roberts and Rossini, of "Que Cor," all the co-producers are also playing on the album, namely Patrick Lockwood, Mark Nilan, Jon Gilutin, Steven Rawlins and Marilyn Berglas, and all are, like Roberts, playing multiple instruments and writing arrangements. On the basis of sound and style, of framing Ms. Rossini's personable voice in ways that both complement and enhance her readings, this team, largely held over from Kiss of Brasil, is seasoned and of championship caliber.
'Vento do Norte' ('North Wind'), Bianca Rossini, title track from her new album
'Ipanema Paraíso' ('Ipanema Paradise'), Bianca Rossini, from Vento do Norte (also featured on her debut album, Kiss of Brasil)
Unsurprisingly, Ms. Rossini is fluent in Portuguese and English and employs both in her songs—sometimes in the same song, in fact, as in the languorous, lovestruck beauty of "Paris in Beverly Hills" and in "Why I Smile," a lush, string-enhanced, gently swinging accounting of a paramour's irresistible qualities.
Elsewhere the narratives span sensual yearning (viz., "Doce Amor" ["Sweet Love"] with support from understated strings and Brubeck-like piano) to flirty, swaying come-ons ("Tic Tac do Amor") to a tender, piano-based rapture, "Meu Sonho." You don't have to understand a word of Portuguese to feel the sensual reverie consuming her as she luxuriates in "Ipanema Paraíso" ("Ipanema Paradise," also featured on her first album, Kiss of Brasil), but Peter Roberts, in piano, and Jimmy Roberts on sexy sax turn up the heat with tasty, concise soloing guaranteed to raise the swoon level. In the irregular phrasing of Jon Gilutin's piano and the song's jazz harmonies, I swear I hear a debt being paid to Burt Bacharach (in the six-degrees-of-separation department, shall we note a Stan Getz album of Bacharach's music released in 1968?) in "Que Cor" ("What Color"), whereas the air of mystery infusing the pop-jazz of "Coração de Ouro" ("Golden Heart"), augmented by an atmospheric vibes solo courtesy Marilyn Berglas and subtle, fleet guitar punctuations from Robert Montero, is practically an homage to Mancini.
In short, Bianca Rossini has put it all together. With sonics as rich as its texts and vocals, Vento do Norte touches the heart in a lasting way. –By David McGee