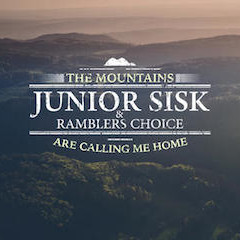 THE MOUNTAINS ARE CALLING ME HOME
Junior Sisk & Ramblers Choice
Mountain Fever Records
On their latest offering, Junior Sisk & Ramblers Choice kick off with a dark but driving lament (driven by Jamie Harper's howling fiddle and Jason Davis's unrelenting banjo) of a mountain-born man decrying his wanderlust while yearning to get back to where he once belonged. It's an apt theme for an album brimming with betrayals, regrets and loss chronicled by protagonists looking to make things right in different psycho-spiritual ways.
In "What Goes Around Comes Around," Sisk, one of traditional bluegrass's revered vocalists, bares his glee over romantic misfortune visiting the woman who dumped him—with a spirited assist from Davis's banjo, he lays on the schadenfreude so thick a listener can only cheer him on. In the somber, banjo-driven "It's So Cold," a man whose soul is as frigid as the night admits he won't be whole absent his wayward lover. Jonathan Dillon's tasty mandolin work embroiders a tough Sisk vocal directed witheringly at a duplicitous woman in "I'm Not Listening Anymore," and Davis and Dillon team again to buttress the sprightly no-nonsense decree of the self-explanatory "Shape Up or Ship Out." In this context, an item as outwardly cheerful as the hard charging "What a Way to Go"—a scintillating showcase for Davis's precision in executing a driving song-length banjo solo—the singer's comparing his condition to that of Romeo and Jack (of Jack & Jill) and positing his beloved's affection as being "poison," adds a dark shadow to what is meant to be a humorous refrain, to wit: "If loving you is killing/Lord, what a way to go." To a faithless significant other Junior leaves no room for ambiguity in describing her duplicitous ways and announcing his weariness with and wariness of her hollow excuses amidst another upbeat background in "I'm Not Listening Anymore."
'What Goes Around Comes Around,' a live version of the opening track on The Mountains Are Calling Me Home, Junior Sisk & Ramblers Choice at Delfest, May 31, 2017. Posted at YouTube by Kenny Jones Jr.
SELECTED TRACK: 'Take Time for Little Children,' Junior Sisk & Ramblers Choice, from The Mountains Are Calling Me Home
Amidst the unrepentant kissoffs, Junior and company do offer some constructive advice about feeding the soul. One of the beauties in this category is a tender, fiddle-laced advisory, "Take Time for Little Children," an appeal to adults to spend meaningful moments with little ones, "show them you love them/morning, noon and night." The song brings out the best in Junior's voice, with his measured, warm tone exuding unassailable sincerity in service to a timeless message. Similarly, "Money (Will Not Save You)" is a quiet, thoughtful spiritual advisory, counseling "you can save all your money/your money will not save you" when it comes to getting closer to the source of salvation. On the topic of faith and salvation, "Dying to Live Again," a lively outing fueled by banjo, fiddle and Kameron Keller's thumping bass, Junior recounts the final moments of a mother's life, when she says bedside goodbyes to her loved ones by assuring them she's going on to another life in Heaven, where she'll see them all by and by.
'The Mountains Are Calling Me Home,' Junior Sisk & Ramblers Choice, from The Mountains Are Calling Me Home
Junior has earned the raft of awards he's won over the past few years, and he's likely in a position to cart a few more home with this album. More important than the awards honoring Junior's music is the way in which Junior honors his music. It's brimming with life–not always life as we wish it were but true to some of the hard facts of people trying to get along with each other while also holding fast to the values necessary to keep their hearts whole. –By David McGee